Top Christmas Book Gifts for Kids: A Magical Reading List!
As the festive season approaches, there's no better gift to give a child than the joy of reading. Books2Door believe in the magic of storytelling and its ability to transport children to enchanting worlds filled with wonder and imagination. We have carefully curated a list of the top Christmas book gifts for kids that encompass timeless classics, captivating box sets, and heartwarming holiday tales that will ignite young minds and create cherished memories that will last a lifetime.
Top Christmas Book Picks for Kids: A Magical Reading List!
Imagine cosy evenings spent curled up with your little ones as you embark on literary adventures together. Whether introducing them to The Night Before Christmas or delving into The Snow Queen, our list is designed to inspire a lifelong love of reading while spreading the joy of Christmas through the pages of these delightful books. So come along as we explore this magical reading list that promises to make this holiday season unforgettable for children everywhere!
1. The Night Before Christmas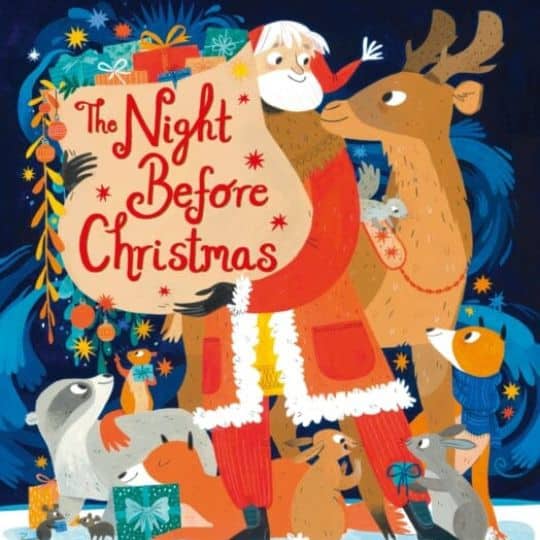 The Night Before Christmas, illustrated by Stacey Thomas, is a delightful rendition of the beloved holiday tale. The illustrations are charming and evocative, perfectly complementing the timeless story. This book has become a favourite in our household during the holiday season, as children and adults enjoy flipping through its beautifully illustrated pages. It's a must-have for anyone who appreciates heartwarming holiday stories brought to life through stunning artwork.
2. The Nutcracker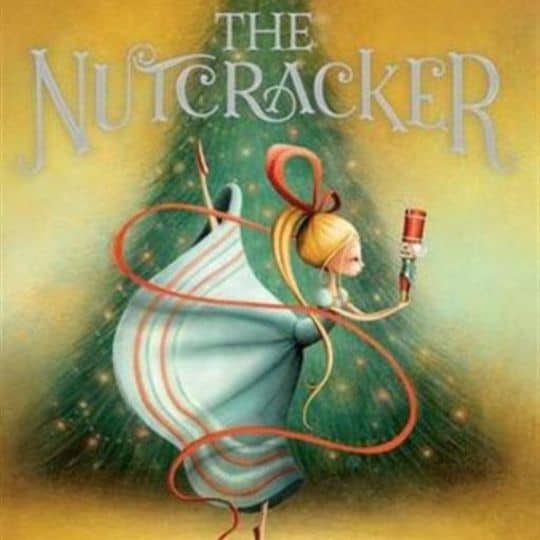 Introducing The Nutcracker by Simon & Schuster Ltd., a delightful retelling of the timeless classic that will captivate readers of all ages. This enchanting edition brings to life the magical world of Clara, the Nutcracker Prince, and the Land of Sweets with stunning illustrations and engaging storytelling. Dive into a world filled with wonder and excitement as you follow Clara on her extraordinary journey through the wondrous realms of fantasy.
Immerse yourself in the exquisite prose and captivating artwork that grace every page, transporting you into a realm where dreams become reality. With its luxurious presentation and meticulous attention to detail, this edition will become a cherished keepsake for generations. Whether enjoyed as part of holiday traditions or simply as an escape into imagination, The Nutcracker promises to weave its magic into your heart and leave you spellbound.
3. The Snow Queen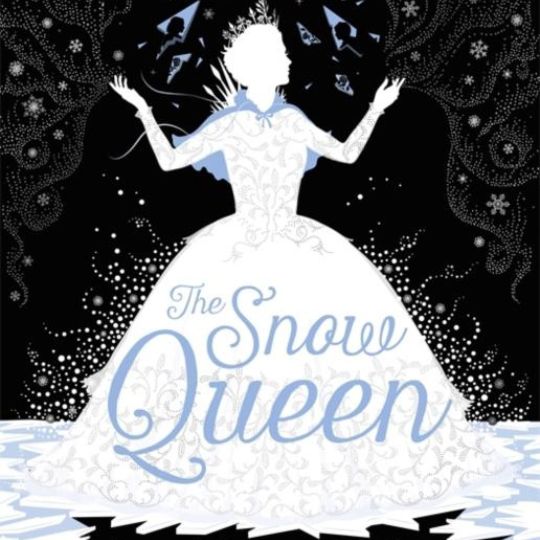 Step into the enchanting world of Hans Christian Andersen's The Snow Queen with this beautifully illustrated edition by Geraldine McCaughrean and Laura Barrett. Immerse yourself in a timeless tale of friendship, bravery, and adventure as you follow Gerda's captivating journey to rescue her friend Kai from the clutches of the icy Snow Queen. With stunning illustrations that bring each page to life, this book is a feast for the eyes and a delight for readers, young and old.
Each turn of the page reveals intricately detailed artwork that transports you to snow-covered landscapes, mystical palaces, and thrilling escapades. The storytelling prowess of Geraldine McCaughrean breathes new life into this classic fairy tale, while Laura Barrett's evocative illustrations capture every emotion and moment with breathtaking beauty. Whether savoured alone or shared as a family read-aloud, The Snow Queen will ignite imaginations and spark conversations about courage, loyalty, and love.
4. The Twelve Days of Christmas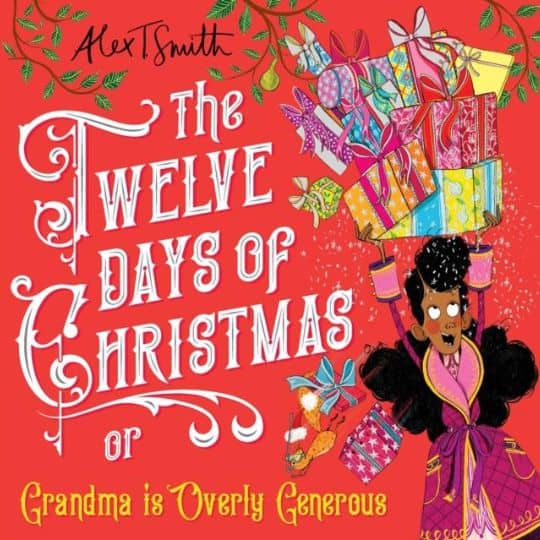 Introducing The Twelve Days of Christmas, or Grandma is Overly Generous by Alex T. Smith, a delightful and heartwarming tale that will capture the imagination of children and adults alike. Immerse yourself in the charming illustrations and relatable story as you follow the adventures of a young girl receiving increasingly extravagant gifts from her overly generous grandma. This book is not just a retelling of the classic song; it's a modern twist that celebrates family, love, and the joy of giving.
With its vibrant illustrations and engaging storytelling, The Twelve Days of Christmas will captivate young readers and spark their imaginations. The book also serves as an excellent conversation starter about generosity, gratitude, and family relationships within a contemporary setting. Through humour and warmth, Alex T. Smith has created a story that brings to life the magic of Christmas while imparting important lessons about appreciating what truly matters.
5. Mr Men Christmas Collection (14 Books Set) by Roger Hargreaves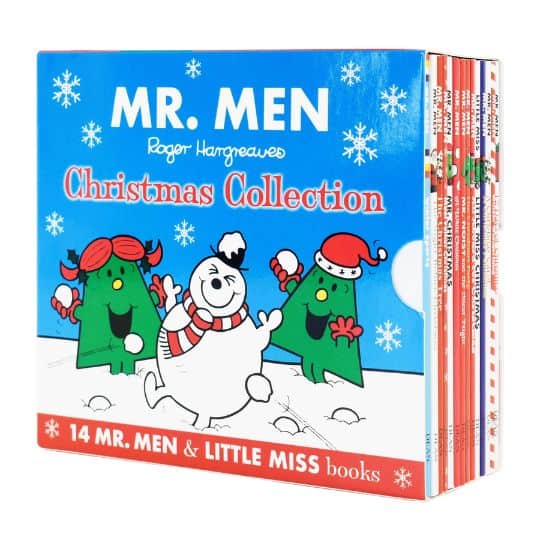 The Mr Men Christmas Collection by Roger Hargreaves is a delightful set of 14 books guaranteed to bring joy and laughter to children aged 0-5. Each paperback book is beautifully illustrated and filled with heartwarming stories that capture the magic of the holiday season. Perfect for bedtime reading or as a special gift, this collection will spark imagination and create lasting memories for young readers.
With this enchanting set, children will embark on exciting adventures with beloved characters like Mr. Happy, Little Miss Sunshine, and Mr. Snow. The charming illustrations paired with simple yet engaging storytelling make these books an ideal introduction to reading for little ones. As they flip through each page, youngsters will learn valuable lessons about kindness, friendship, and the true spirit of Christmas.
6. Kipper the Dog Collection (10 Books Set) by Mick Inkpen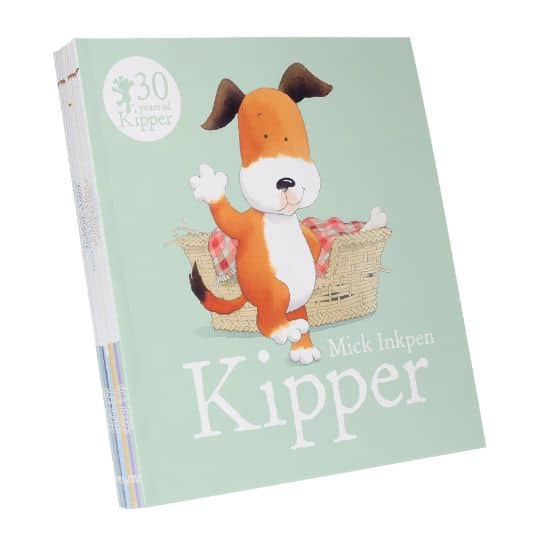 The Kipper the Dog Collection 10 Books Set by Mick Inkpen is a delightful and heartwarming series designed to captivate young readers aged 3-5. Each paperback book in this set is filled with charming illustrations and engaging stories that will ignite children's imagination and love for reading. With lovable characters and relatable adventures, these books are perfect for introducing little ones to the joy of storytelling.
This collection offers a myriad of benefits for both parents and children. Parents can rest assured that their child enjoys high-quality literature that promotes early literacy skills while fostering a love for reading from an early age. The vibrant illustrations paired with simple language make it easy for young readers to follow along, building confidence in their reading abilities. Additionally, each book in the set provides a valuable opportunity for bonding as families explore Kipper's adventures together, creating cherished memories that will last a lifetime.
7. All Creatures Great and Small: The Complete James Herriot (8 Books Box Set)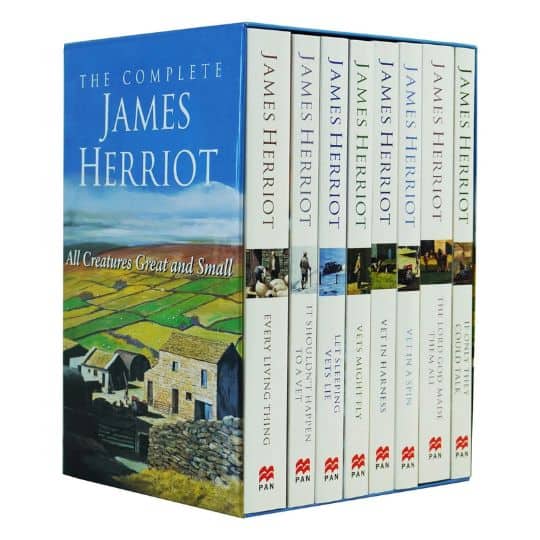 Discover the heartwarming and captivating world of James Herriot with the All Creatures Great and Small 8 Books Box Set! Immerse yourself in the delightful tales of a country veterinarian in Yorkshire, England, as he encounters many beloved animal characters and their quirky owners. With this complete collection, you'll be transported to a simpler time filled with laughter, love, and life lessons that will stay with you long after you finish reading.
Each book in this box set has charming anecdotes showcasing Herriot's keen observations and gentle humour. As you turn each page, you'll find yourself drawn into the vivid landscapes of rural England and enveloped by the warmth and kindness that infuses every story. Whether it's an amusing escapade involving mischievous pets or an emotional journey through the bond between humans and animals, these books offer endless joy for all animal lovers.
8. Christmas Storybook Collection (10 Books Set Ziplock)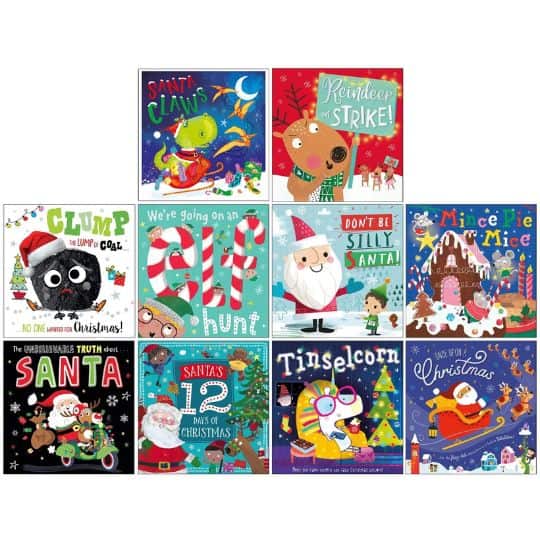 Unwrap the magic of Christmas with this enchanting Christmas Storybook Collection! Delight your little ones with ten beautifully illustrated books that capture the season's spirit. From heartwarming tales to festive adventures, each story captivates young minds and creates cherished holiday memories. Packaged in a convenient ziplock bag, this collection is perfect for on-the-go entertainment during family gatherings or cosy bedtime reading.
Made for children ages 0-5, this set encourages early literacy skills and fosters a love for reading from an early age. The durable paperback format ensures that little hands can easily handle the books without worry of damage, while the vibrant illustrations bring each festive tale to life. Whether it's introducing classic Christmas characters or teaching important values such as kindness and generosity, these stories are sure to become treasured favourites in your child's library.
9. My First Behaviours Touch & Feelings (4 Books Gift Box Set) by Naira Wilson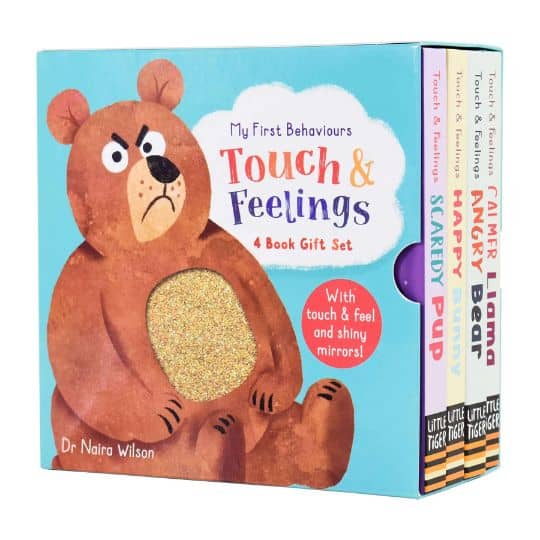 Introducing the My First Behaviours Touch & Feelings 4 Books Gift Box Set By Naira Wilson – the ultimate educational experience for your little one! This delightful board book set is designed for children ages 0-5, providing a unique opportunity to learn about emotions and behaviours through interactive touch and feel elements. Each book in this set features vibrant illustrations and tactile textures that engage young readers, making learning an immersive and enjoyable experience.
With these books, children will develop essential sensory skills and understand emotions and behaviour early. As they explore each page with their tiny fingers, they'll be introduced to feelings such as happiness, sadness, excitement, and more. The engaging touch-and-feel elements allow them to interact with the stories deeper, enhancing their comprehension while stimulating cognitive development.
10. Little Learner Slide and Seek Library (4 Books Children's Collection Set) by Sophie Ledesma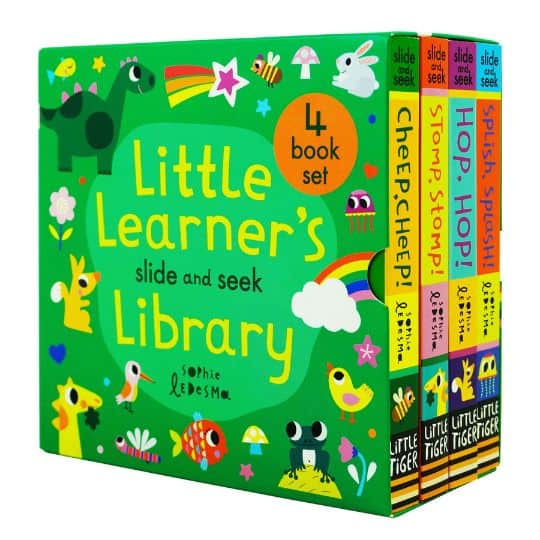 Introducing the Little Learner Slide and Seek Library 4 Books Children's Collection Set by Sophie Ledesma – the perfect educational and interactive experience for children ages 0-5. This captivating collection of board books is designed to engage young minds with its clever sliding panels and exciting seek-and-find elements. Each book is beautifully illustrated, capturing children's attention while stimulating their cognitive development in a fun and engaging way.
The set includes four delightful titles that cover a range of early learning concepts, from shapes and colours to animals and everyday objects. These books promote sensory development, fine motor skills, and language acquisition in the youngest readers by encouraging hands-on exploration. With durable construction designed for little hands, this collection provides hours of entertainment while fostering a love for reading from an early age.
11. Stories for Christmas (10 Books Collection Box Set)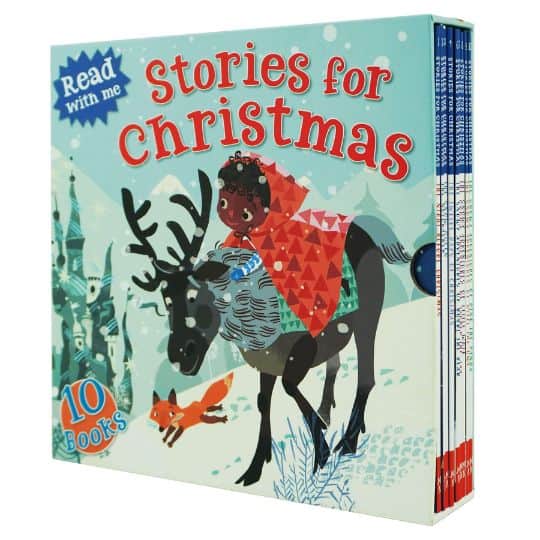 The Stories for Christmas 10 Books Collection Box Set is a treasure trove of holiday tales designed to ignite the imaginations of children aged three and up. This delightful collection offers a diverse range of heartwarming stories featuring beloved characters and enchanting illustrations that will transport young readers into the magical world of Christmas. From tales of Santa's adventures to heartwarming accounts of friendship and kindness, this paperback set will captivate young minds and create lasting memories during the festive season.
Each book in this collection is carefully crafted to engage young readers with vibrant imagery and simple yet impactful storytelling. The charming narratives are designed to instil important values such as empathy, gratitude, and generosity in an entertaining way that resonates with children. As kids immerse themselves in these captivating stories, they'll expand their literary horizons and gain a deeper understanding of the true spirit of Christmas.
In conclusion, this list of top Christmas book gifts for kids offers a delightful selection of magical and heartwarming stories that will spark the imagination and bring joy to young readers. From enchanting tales of holiday adventures to timeless classics that capture the spirit of the season, these books provide the perfect opportunity for families to come together and share in the magic of Christmas through the power of storytelling. Whether cuddling up by the fireplace or reading together before bedtime, these books will create cherished memories that will last a lifetime. So, this holiday season, add these magical reads to your child's bookshelf and let their imaginations soar with the wonder and delight of these festive stories.