This time last week . . . Wroxham Barns AGAIN!!!
Yes you read right, Wroxham Barns AGAIN!! I wasn't trying to recreate my previous holiday, if you saw my last post about Wroxham Barns you will have seen that I wasn't overly happy with the service I had received in their Coffee Shop. Well the switched on people at Wroxham Barns spotted my post and wanted to make amends so they invited us back to be their guests for the day at Junior Farm and treated us to lunch.
As usual we'd had a slow start to the day and by the time we arrived it was nearly lunchtime so we thought we would head straight to the restaurant. Upon entering it looked like everyone else had the same idea because it packed out, not a chair left. The staff were understandably very busy but managed to stop quickly to recommend that we come back in about half an hour.
Little Bean was very excited about the thought of going back to Junior Farm because she remembered that she was able to bottle-feed a calf last time. Once inside Curly was keen to feed all the animals and quite happily held his hand out so that the goats and sheep could take the food straight from him. Little Bean wouldn't do this last time as she was frightened and despite my best efforts at showing her how gentle they were she wouldn't listen, so I wasn't surprised at all when Curly said "it's ok its doesn't hurt" and just like that she held her hand out and allowed them to eat from her. Little girls and their big brothers!!
Since our last visit there was a new addition to Junior Farm in the form of these gorgeous little piglets who were born at the beginning of August. Gorgeous to look at but smelly little things!
When lunchtime came around we made our way back to the restaurant where they had a table reserved for us. Looking around at some of the other diner's meals my mouth began to water and I quickly began scanning the menu. I am so dull when it comes to choosing food and opted for good old Jacket Potato and Mature Cheddar cheese but I'm so glad I did, it was deeeelicious!!! We also asked if they could make Beanie Boy a scrambled egg even though it wasn't on the menu. The waitress was very polite and said that she wasn't sure as they were so busy but she would check with the chef and Beanie Boy was more than happy when a bowl appeared before him with his new favourite food.
Our experience on this occasion was a far cry from previous experience at Wroxham Barns and I am pleased that we went back as it has changed my opinion. But our day didn't end there, first we headed back to Junior Farm so that Curly and Little Bean could feed the calf. Curly loved it and was surprised by how much the calf pulled at the bottle. Little Bean attempted to hold the bottle but dropped it before I could take a photograph this time as she became nervous so I was able to have a go instead. I was surprised by how quickly the calves had grown since the last time I saw them, I still thought they were gorgeous though!! I'm not sure Hubby would let me keep one in the back garden.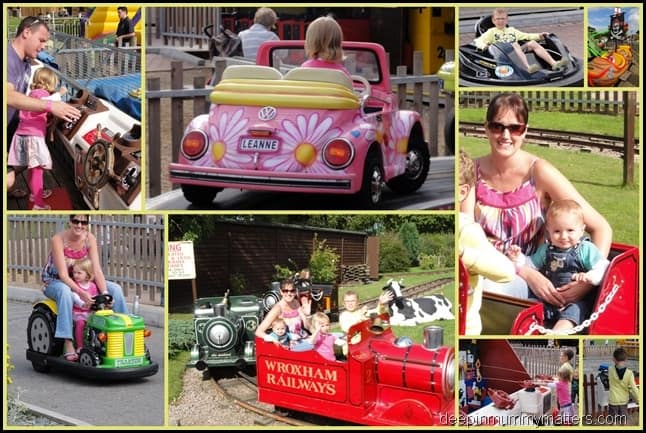 We finished off our day at Wroxham Barns on the children's rides at the back of the shopping centre and the children had a blast. It wasn't expensive at all, we paid £10 for 14 tokens and each tide was only 1 token so the children were able to have 7 rides each. If you are in Norfolk I would recommend Wroxham Barns for a family day out as there really is something for everyone. We didn't actually go in one shop this time because we were having too much fun elsewhere and that's saying something for a shopaholic like me!