This time last week . . . Cheddar Gorge and Caves
It was hard to believe that our holiday was coming to an end already but we weren't going to let that spoil our fun. We might be moving out of our caravan but we could certainly find something fun to do on the way home, and we did, in the form of Cheddar Gorge and Caves.
We arrived at the office just in time to catch the open top bus for a guided tour through the Gorge. It was probably a bit naive of me but I hadn't realised that there were caves at Cheddar Gorge too, I just assumed it was a big open Gorge with not much else to look at but how wrong could I have been.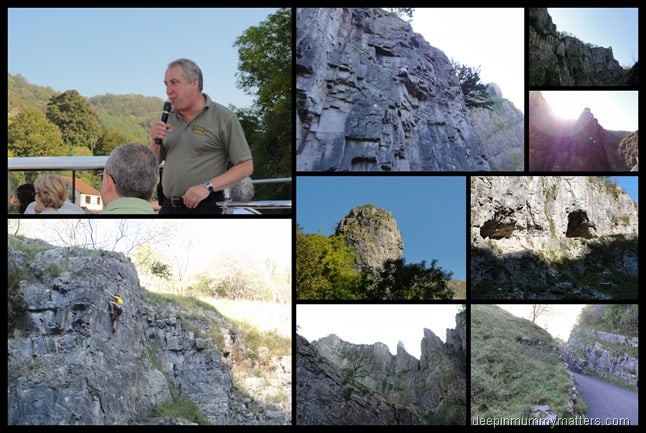 Cheddar Gorge was brimming with visitors of all ages, some walking with pushchairs, some with wheelchairs, some on bikes, some in cars and others, well hanging off the rock face – as you do! It brought back fond memories for me of a rock climbing adventure at Edale when I went on a School residential trip. I looked on in awe has men and women were hanging on my what looked like their fingertips. I can only begin to imagine the views they saw when they reached the top and the feeling of accomplishment.
The guided tour was very informative but with a bit of humour added in for good measure. Cheddar Gorge was formed around the time of the Ice Age when the river cut down through the Mendip Hills. Each summer as the ice and snow melted the muddy water would rush through cutting the Gorge deeper. In the warmer climates the river would sink down underground forming caves which are still there today. Gough's cave is believed to date back to the last interglacial period 100,000 years ago. Caves found higher up are believed to be four or five times older. Today, the Cheddar river is forming a new underwater cave which divers are currently exploring. To ensure the safety of visitors to the Gorge, the rock faces are checked often and any loose rocks are removed.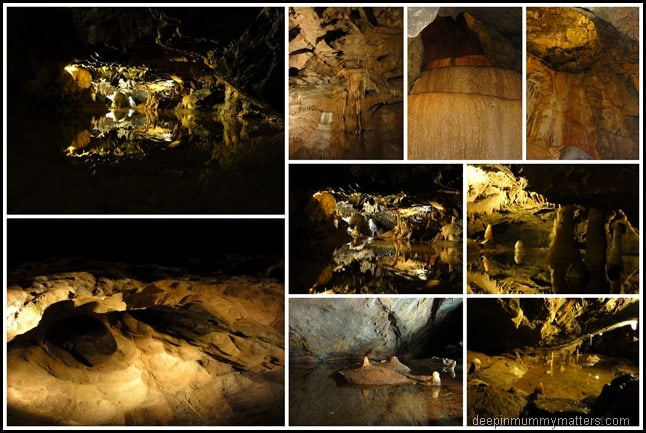 We ventured into Gough's cave first which was very chilly compared to outside, luckily we had taken our jackets so we were all ok. Personally I love exploring caves, I think I have visited most caves in the UK and quite a few abroad too, I find them fascinating but unfortunately Little Bean didn't feel the same as her Mummy. She really didn't like the darkness at all and clung to Daddy like a limpet to a rock. Beanie Boy seemed quite at home with 'ooohs', 'ahhhs' and 'wassat' all over the place! The majority of Gough's cave was ok to use the pushchair, we just had to leave it for a short time whilst we climbed some steps and then retrieved it again on the way out.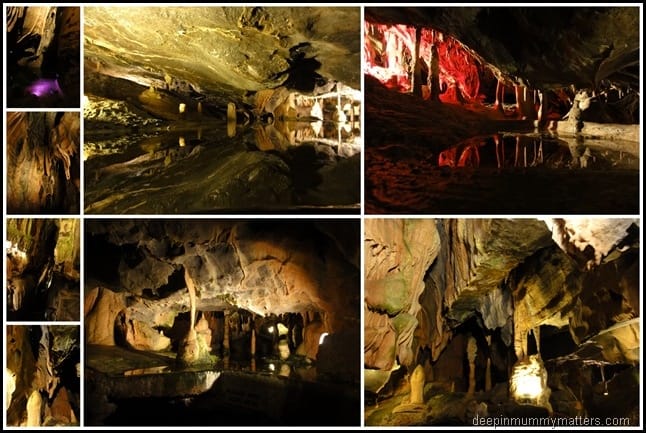 Next we visited Cox's cave which I felt a little bad for, as a Mummy I guess I should have done my homework before taking Little Bean in (especially since she didn't really like Gough's cave). Cox's cave was much smaller and closed in than Gough's cave and so we were unable to take the pushchair. The cave had some beautiful features but towards the end there is a Fantasy Grotto with the Crystal Quest adventure. This is aimed at older children not really recommended for small children unless they are very brave as there were goblins around the cave with glowing red eyes and then Molden, the Lord of Darkness appears which frightened the socks of Little Bean.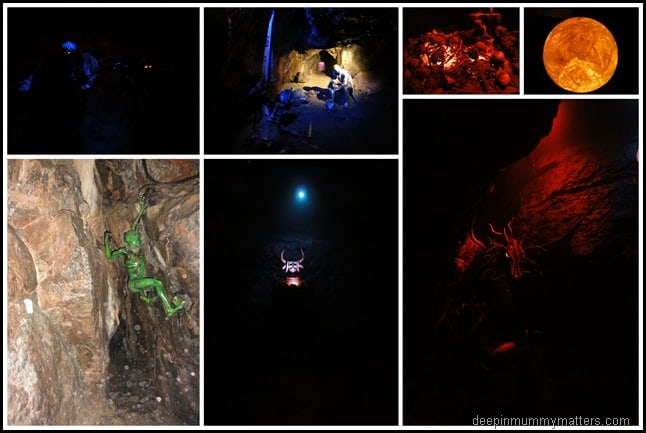 We were given the Explorer's Ticket which also entitled us to visit the Museum of Pre-History which was really well done. The museum celebrates the life and times of Homo britannicus from the earliest Homo sapiens to the Roman farmers who colonised Cheddar Gorge. It is a fascinating insight into how our ancestors lived. You can see actual artefacts from 13,000 years ago and modern replicas. There is an interesting exhibition on cannibalism displaying 12,500 year old skulls which show the markings from where they were cut. There were tools, cave paintings and sculptures, Little Bean even had the opportunity to try out a little cave painting of her own.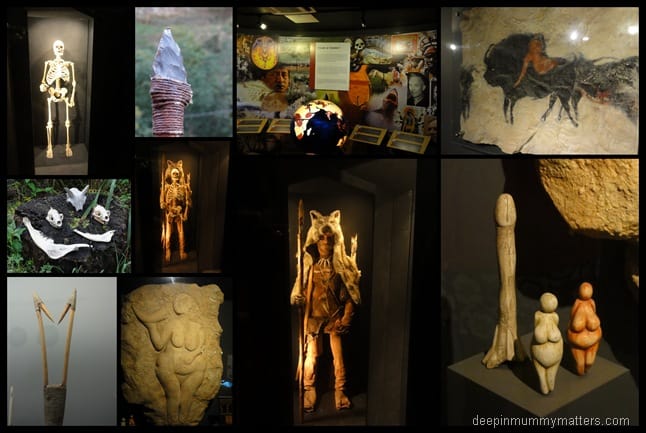 Our ticket also gave us access to the Lookout Tower which is set at the top of the Gorge. There are 274 steps to climb up the side of the Gorge which take you to the Tower set on the top of the hill. With the two small children in pushchairs Hubby and Mum decided to wait at the bottom in the shops whilst I 'ran' up the steps to see what great pictures I could take. I set off in earnest and soon had reached 3/4 of the way up the stairs before realising that I was completely alone, no-one above me, no-one below me and then my mind went into overdrive and I freaked myself out!!! I wouldn't go walking in woods on my own so why was I walking up 274 steps into woodland on my own? I told myself to stop being a wimp and carried on to the top of the steps, had a quick look around and couldn't see the Lookout Tower, decided there was probably a madman on the loose up there and ran down the steps as fast as my wobbly legs could carry me with no photographs!! I felt extremely daft when I got to the bottom but there was no way my legs would carry me back up.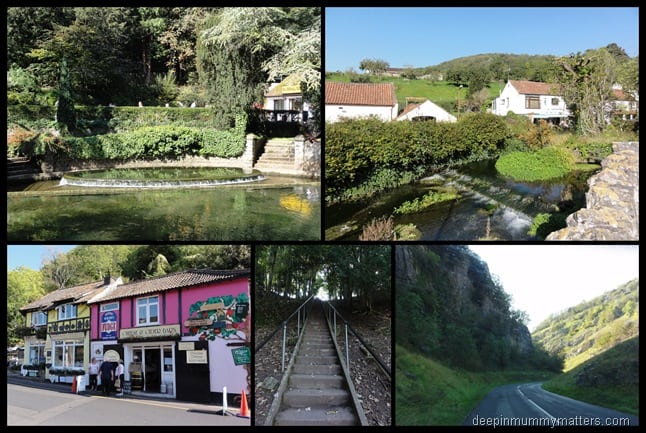 And for those of you who just like to take things easy there were loads of lovely shops to choose from, even a Christmas shop with some beautiful decorations for the fast approaching festive season! There were various cafes and restaurants to choose from as well as areas where you could sit with a picnic so there really was something for everyone.
We had a thoroughly enjoyable day and will definitely be going back in the future for another trip and to see if there are any new developments with the caves. The ticket we were given is valid for 10 years!!! I thought they were joking but no, it really is valid for 10 years so I had better keep it somewhere safe.
Disclaimer: For the purpose of this review we were given tickets to Cheddar Caves and Gorge. All words, opinions and photographs are my own and may not be copied without my express permission.