Theraline Animal Neck Pillows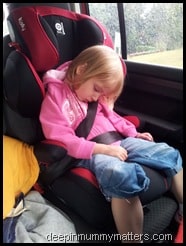 It's no secret on Mummy Matters that I am quite the fan of Theraline Products, their maternity pillow was a godsend through my pregnancy and again after the birth of Beanie Boy. Then the Theraline Baby Pillow was perfect for my little man's head when he was a young baby, well now it's been Little Bean's turn to try out a theraline product in the form of their Animal Neck Pillows.
Neck Pillows for Kids
My biggest bugbear with children in car seats is how their heads fall forwards when they FINALLY nod off to sleep, it was always a problem with Curly too. There is nothing worse than seeing your little one fast asleep in these positions because you just know that when they wake up there will be tears, lots and lots of tears. When I spotted the Animal Neck Pillows I asked if they would fit inside a child's car seat as I had purchased many types of neck pillows in the past but they were all too big to fit inside and so just became cuddlies instead.
The pillow is super soft and filled with fine sand-like microbeads which give the support needed. The pillows come in two different sizes and three designs. We chose the blue Dragon neck pillow which is so eye-catching and Little Bean loves it.
Unfortunately, the headrests on her Kiddy car seat still do not give enough room for the Theraline Animal Neck Pillow, although she has used it successfully in the Britax Duo Plus in Daddy's car and in the Maxi-Cosi Tobi in Nanna's car. Curly has used the Animal Neck Pillow too and I think it is perfect for him because he no longer sits in a car seat he generally slumps next to Little Bean or Beanie Boy's car seats (he is always asleep before we even leave our town!!!) and so at least now he can sleep comfortably.
The Animal Neck Pillows are the perfect accessory for your children for long journeys whether they are in a car, on a plane or a train, obviously, it will depend on whether your child is using a car seat so you may need to check first that there is sufficient clearance around your child for the pillow to fit.
Theraline Animal Neck Pillows
Large: Approx 85cm x 15cm £19.90
Small: Approx 65cm x 10cm £18.90
For more information on the Animal Neck Pillows and where to buy them or to find out more about Theraline's fantastic products click on their logo below.