The Ultimate Young Person's Christmas Gift Guide
#AD – some of the items in this guide have been gifted samples.
As the jingle bells start to ring, and the mistletoe is hoisted up, parents and family members alike begin the merry quest for the perfect Christmas gifts for young children. Worry not; our Christmas gift guide is here to sprinkle your holiday season with a touch of magic and a dash of wonder!
Our curated list includes gifts for young children bound to make their eyes twinkle with joy. From educational toys to heartwarming companions, we've scoured the festive market to bring you the top presents for little ones at Christmas. So sit back, sip on some eggnog, and let us guide you through a wonderland of holiday gift ideas for young children.
For the Budding Environmentalist: Green Bean Eco-Friendly Toys
Discover the Green Bean Collection, where sustainability meets playtime. These eco-conscious toys provide hours of fun and teach young children the importance of taking care of our planet. A thoughtful stocking stuffer for young children that promises a greener future.
For the New Arrival: Nanobebe Newborn Set
Welcoming a new member to the family this Christmas? The Nanobebe Ultimate Newborn Baby Bottle Set is a practical and useful gift designed to ease the transition from breast to bottle feeding, making it a perfect present for both parents and infants. Nanobebe is an innovative solution designed to make feeding time a breeze for both babies and parents. This set includes everything you need to feed your newborn as naturally and comfortably as possible. The unique breast-like shape of the bottles helps preserve breastmilk nutrients and aids in smooth latching, making it easier for babies to transition between breast and bottle feeding.
The Nanobebe bottles are not only functional but also aesthetically pleasing, featuring a modern design that can be easily stacked to save space in your kitchen or diaper bag. The included warming bowl allows you to quickly and evenly warm milk without destroying its beneficial properties using hot water or microwave steam, ensuring that your baby receives every nutrient with every feed. Additionally, the thoughtful design of these bottles reduces air ingestion, helping prevent colic and providing a calm feeding experience for your little one.
For the Story Lover: Toniebox Audio Adventures
#Gifted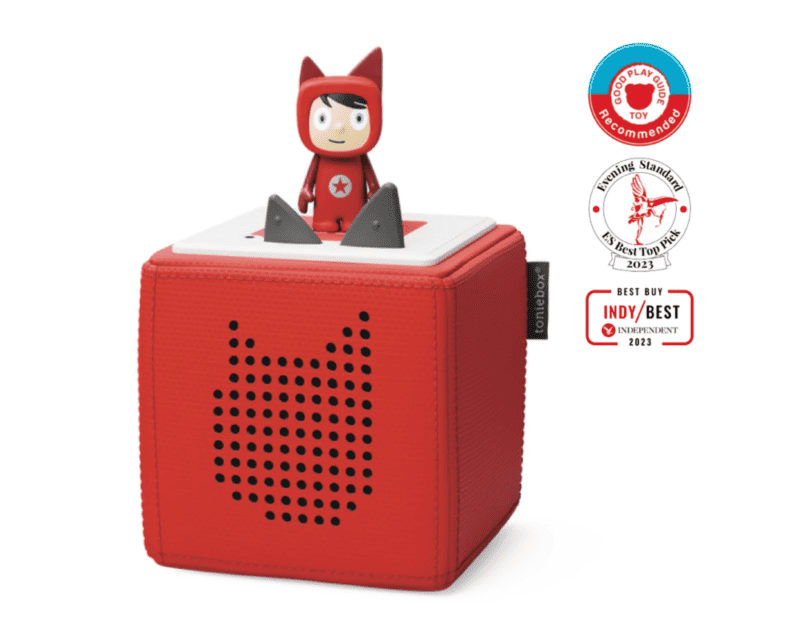 Introducing the Toniebox audio box and characters – a revolution in children's entertainment! This innovative product brings storytelling to life like never before, captivating young minds with its interactive design and engaging characters. The Toniebox allows children to listen to their favourite stories, songs, and educational content simply by placing a whimsical character figurine – called a Tonie – on top of the box.
With the Toniebox, kids can immerse themselves in a world of imagination and creativity. Each charming character holds pre-recorded content from beloved authors and storytellers, providing endless entertainment for curious young listeners. Not only does this innovative device encourage independent play and exploration, but it also promotes language development, listening skills, and cognitive abilities as children engage with different stories and music.
Designed with durable materials and soft edges, the Toniebox is safe for little hands to handle while remaining sturdy enough to withstand everyday use. Its simple operation makes it easy for even the youngest users to enjoy without adult assistance. Plus, with customizable content options available through the companion app or website, parents can ensure that their child's listening experience remains tailored to their individual preferences while offering peace of mind over screen time limits.
For the Little Traveler: Stokke JetKids BedBox
Stokke Jetkids BedBox is the ultimate travel solution for families on the go. This innovative and multifunctional product not only provides children with a comfortable bed during long flights but also serves as a practical ride-on suitcase and in-flight play area. The BedBox is designed to make travelling with kids stress-free and enjoyable for both parents and little ones.
With its sleek design and high-quality materials, the Stokke Jetkids BedBox offers exceptional durability while remaining lightweight and easily manoeuvrable. The ample storage space ensures all of your child's essentials are securely stowed away, allowing them to have their favourite belongings close at hand throughout the journey. Furthermore, its thoughtful functionality means that it can be effortlessly transformed from a suitcase into a cosy bed in mere moments – providing peace of mind that your child will rest comfortably during travel hours.
For the Animal Lover: Safe Haven for Donkeys
Looking for a meaningful Christmas gift for your little one? Why not adopt a donkey in your child's name through Safe Haven for Donkeys and teach compassion this holiday season? By gifting this unique experience, you'll not only be introducing your toddler or preschooler to the joy of helping animals but also instilling in them the values of kindness and empathy. Imagine the delight on their faces when they receive a personalized adoption certificate with their chosen donkey's photo and learn about how their contribution is making a difference in the lives of these gentle creatures.
This heartwarming present goes beyond material possessions and offers an opportunity for children to develop an understanding of care and responsibility towards animals. Through adopting a donkey, kids will embark on an educational journey as they discover interesting facts about these lovable animals' habits, needs, and well-being. The act of choosing which donkey to support sparks creativity while encouraging mindfulness as children develop compassion by learning about the challenges faced by donkeys worldwide.
By choosing this thoughtful gift from Safe Haven for Donkeys, you're not only fostering a love of animals within your child but also supporting an organization dedicated to providing shelter, care, and protection to vulnerable donkeys around the world.
For the Aspiring Shopkeeper: Playmobil Take Along Grocery Store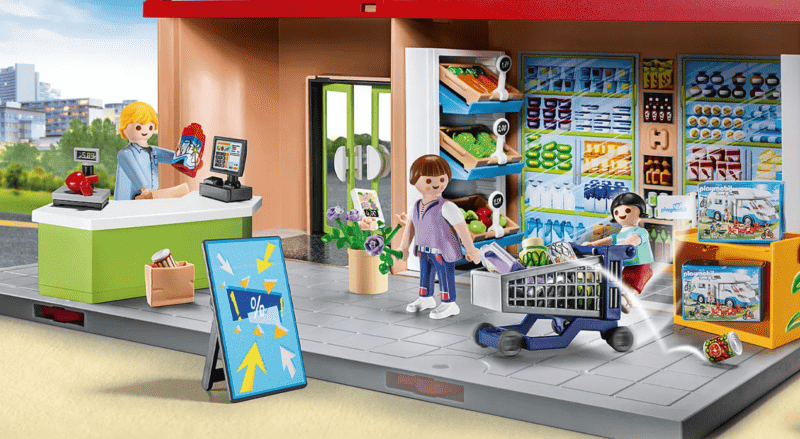 Step into the world of entrepreneurship with the Playmobil Take Along Grocery Store, designed for the aspiring shopkeeper in your child. This portable playset offers a realistic shopping experience with detailed grocery store accessories and interactive features. The set includes shelves with products, a working cash register, and even a mini shopping cart for little hands to manoeuvre around. The compact design allows kids to take their store on the go, making it perfect for imaginative play at home or while travelling.
With its vibrant colours and intricate details, this playset stimulates children's creativity and role-playing skills as they take on the role of a shopkeeper. Through engaging in pretend play scenarios, kids can develop essential social and emotional skills by interacting with others as they shop or work in the grocery store setting. Additionally, this toy encourages fine motor development as children handle small items such as groceries and money while operating the cash register.
The Take Along Grocery Store provides endless entertainment and educational benefits that promote cognitive development through imaginative play. Young entrepreneurs will enjoy running their shop and learning about money management through playful exploration.
For the Little Foodie: Thermos FunTainer Food Flask
Packing lunches is more fun with the Thermos FunTainer Food Flask. Its whimsical designs will make your little pirate or princess eager for lunchtime, ranking it high among trendy and exciting Christmas presents for children.
Match the flask with a Rachel Ellen Pirate Lunch Bag to keep those snacks fresh and adventures exciting. It's an affordable holiday gift for kids that combines practicality with sheer fun.
For the Music Maestro: WHSmith Fungi Frankie
Get ready to light up the holiday season with Fungi Frankie, the Singing Mushroom from WHSmith! This adorable musical plush is not only a charming addition to any festive decor but also an entertaining activity for kids and adults alike. With its delightful tunes and soft, huggable design, Fungi Frankie brings joy and merriment to every home during the holidays. Perfect for gifting or keeping as a special treat for yourself, this lovable singing mushroom is sure to add a touch of magic to your celebrations.
Immerse yourself in a world of musical enchantment as Fungi Frankie serenades you with cheerful holiday melodies that are bound to uplift your spirits. Whether placed under the tree as a delightful surprise or adorning your living space as a whimsical decoration, this singing mushroom brings both visual appeal and auditory delight into your home. Additionally, its soft, plush exterior makes it an ideal companion for cuddling up by the fireside on chilly winter nights. Embrace the warmth and joy of the season with Fungi Frankie by your side.
For the Aspiring Stunt Performer: Rampage R1 Complete Stunt Scooter
#Gifted
Get ready to kick off the holiday season in style with neo chrome stunt scooters like the Rampage R1 Complete Stunt Scooter. This eye-catching scooter features a stunning neochrome and black finish that's sure to turn heads at any festive gathering. Designed for toddlers and older kids, this scooter is not only visually striking but also built for durability and performance. With its smooth ride and sturdy construction, it will be a hit with kids looking to show off their stunts in the neighbourhood or at the local skate park.
The Rampage R1 Complete Stunt Scooter is more than just a toy – it's a way for kids to express themselves while staying active and having fun. The vibrant neochrome colour scheme adds an extra element of excitement, making it a standout gift under any Christmas tree. Parents can rest assured knowing that this scooter is designed with safety in mind, featuring quality materials and reliable components that ensure a secure ride every time. With its sleek design and high-quality construction, the Rampage R1 Complete Stunt Scooter is sure to bring joy to kids of all ages throughout the holiday season.
This festive season, give the gift of unforgettable fun with the Rampage R1 Complete Stunt Scooter whether they're performing tricks or simply cruising around.
For the Creative Stylist: Rainbow High Hair Chalk Studio
#Gifted
Unleash your child's inner stylist with the Rainbow High Hair Chalk Studio. This fun and educational gift for kids allows them to safely experiment with colour and style, creating a festive look that's as unique as they are. It's a creative and interactive toy that doubles as a thoughtful stocking stuffer for young children with a flair for fashion.
For the Little Manicurist: Rainbow High Nail Polish and Toe Spacers Gift Set
#Gifted
Add a pop of colour to your little one's Christmas with the Rainbow High Nail Polish and Toe Spacers Gift Set. It's the perfect present for those who love a bit of pampering. This set is not only trendy and exciting but also provides an affordable way to bring the salon experience home for the holidays.
So there you have it, a treasure trove of Christmas toys for toddlers and beyond. Whether you're looking for fun and educational gifts for kids or simply the top presents for little ones at Christmas, our guide is your one-stop shop for all things merry and bright. Remember, the best gifts come wrapped in love and tied with care. Wishing you a holiday filled with joy, laughter, and moments that turn into cherished memories. Merry Christmas!