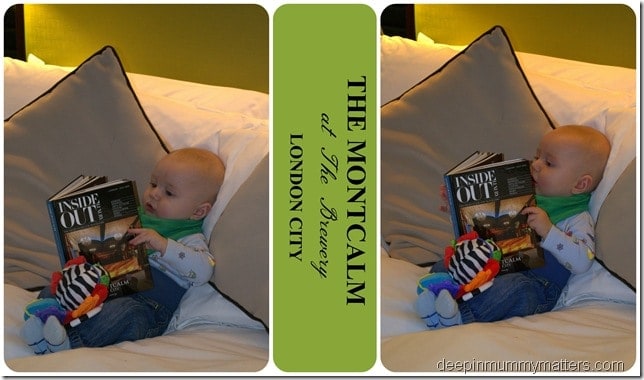 The photograph from #BritMumsLive I forgot to share!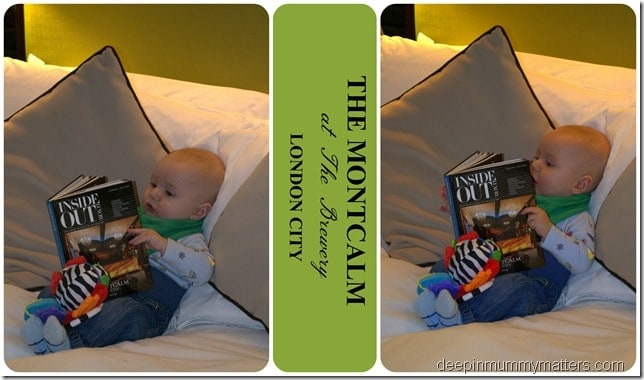 When we attended #BritMumsLive last month (was it really only a month ago??) I was lucky enough to stay at The Montcalm London City which is situated right at the entrance to The Brewery. This was perfect for me since my Mum had come along to help out with Jelly Bean, it meant that I was able to pop back during the day to feed him and the rest of the time he was free to chill out with Mum in the room or go for a walk around London.
When we first arrived he grabbed the Inside Out book to get himself acquainted with The Montcalm and all they had to offer. He said that he found Mummy's bed to be extremely comfortable, he was very impressed with the travel cot they provided for him, the bathrooms were amazing and he said that Nanna particularly liked the complimentary toiletries but more than anything he thought the service at The Montcalm London City was second to none. Nothing was too much trouble and the kind gentlemen didn't even bat an eyelid when they had to lift Jelly Bean's pushchair up and down the front step 15 times in one day! Given half a chance we would love to stay at The Montcalm again but if not we would be happy to recommend it to anyone else looking for somewhere to stay.
DISCLAIMER: I was sponsored by Coca Cola to attend #BritMumsLive and subsequently they arranged my Hotel stay. All words, opinions and images are my own and may not be used without my permission. I was not asked to write this post.