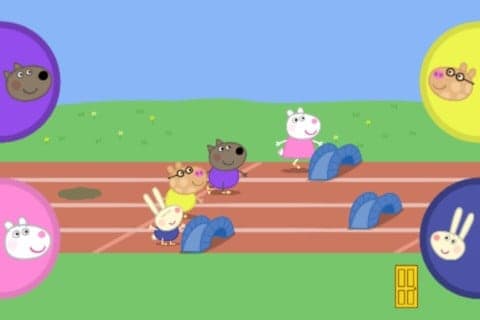 The Latest Apps for Children
I have a confession to make, we have been so busy playing these games over the summer that I totally forgot I needed to tell my readers all about them. We have spent the summer travelling up and down to London on the trains, up and down the country in the car and days out in the area, that has been a lot of time where the children have had the opportunity to get fed up in the car so the iPad has been taking a battering and I was overjoyed when I was asked if we would like to review some of the new children's apps available on the market.
Peppa Pig's Sports Day
With all summer of sports we have just experienced here in the UK it's been great to have an app for the children to play getting them into the spirit of it all and who better to fire up their enthusiasm than children's favourite Peppa Pig. From P2 Games comes the app with solo and multi-player options and six different sporting and creative games to choose from; Obstacle Race, Long Jump, Tug of War, Making Rosettes, Bicycle Race and Ice Cream Making (I'm sure every sportsperson likes the odd bit of ice cream now and then!). Little Bean has loved this app and has played against big Bro Curly a number of times, they can be quite the competitive pair (must get it from their Daddy!). Even Beanie Boy has had a play, I don't think he really understands it yet but he likes to feel like he is getting involved.
Peppa Pig Sports Day is available from the App Store for £2.99  and can be downloaded for iPad, iPhone or iPod touch
Bob the Builder®'s Playtime Fun
Available for the iPad, iPhone and iPod Touch from P2 Games Bob the Builder's Playtime Fun is the first Bob the Builder game app giving preschoolers an interactive learning opportunity. The game features 6 mini-games which are great for pre-schoolers. Little Bean really likes 'Clean the Can Do Crew' where you select your muddy character and then have to cover them in bubbles, rinse off with a hose and finally polish with a cloth. This is great for hand-eye co-ordination, even Beanie Boy is getting the hang of this one. Mix and Paint is Beanie Boy's favourite, just select your character and then paint away being as creative as you like. In 'Who Is It?' you are shown the outline of characters from the show and you need to guess who it is, 'Picture Puzzle' has two levels; Easy and Hard. Easy are 4 piece puzzles, great for Beanie Boy to get started on and Hard are 12 piece puzzles which Little Bean is getting to grips with really well. Little Bean's favourite game hands-down is the Memory Game, again this comes in two levels Easy and Hard. In the easy level you need to find 4 pairs and in the hard level 8 pairs. Little Bean has got quite the knack for this and plays it over and over again!! With each game you are awarded stickers for successful completion and then you get to place your stickers in your sticker book so you get to be creative too.
Bob the Builder's Playtime Fun is available from the App Store for £1.99  and can be downloaded for iPad, iPhone or iPod touch
Magic Belles – Magic Music – a must-have app for wannabe fairies!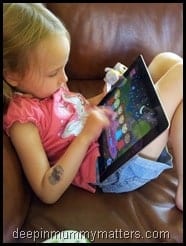 This is the perfect game for pink princesses and wannabe fairies (Little Bean is definitely one of those!). Magic Music consists of 7 mini-games aimed at girls aged 3-6 years and each game features a really cute musical fairy called a Magic Belle. Each Magic Belle has her own special game and personal jingle which creates a beautiful symphony when joined by her friends. The bright colours and the captivating music make Magic Belles a really special app for your girls and Little Bean loves it. As Little Bean is learning and beginning to recognise numbers, she is quite enjoying the Dot-to-Dot game where she must join the numbers to create a picture and a tune at the same time. I love that the games have a learning aspect to them. Little Bean's favourite games is the musical picture where she must take food from the picnic basket and place it on the picnic blanket to create a melody whilst making it look pretty too.
Another good learning game is the Rainbow Game as it helps to recognise colours. You begin by filling the paint pots from the rainbow and then paint the toadstools. Each colour plays a different note and as you play you uncover butterflies which when tapped as they fly away reveal different sounds. Once you have uncovered all the butterflies a pretty tune is played as a reward.
Magic Belles: Magic Music is available from the App Store for £1.49  and can be downloaded for iPad, iPhone or iPod touch