Through the blogging community I have heard about a Blog called Sticky Fingers created by Tara Cain.  Part of her blog is "The Gallery" where each week she provides a "theme" and other bloggers can join in if they choose to by taking photos to suit the theme or post an old photo and write about it.  Bearing in mind Photography is a big passion of mine I couldn't resist the opportunity to join in.
This weeks theme is Portrait.  It can be a portrait of me, my hubby, my children, my family in total.  Whatever I decide fits my version of Portrait!
I love this photograph from our wedding day – for one thing I look slim and would LOVE to fit in my dress again some day! I love the colour that it has been printed it, I just think it looks really classy and pretty much sums up the theme of our day.  It was truly magical and a day I will always treasure!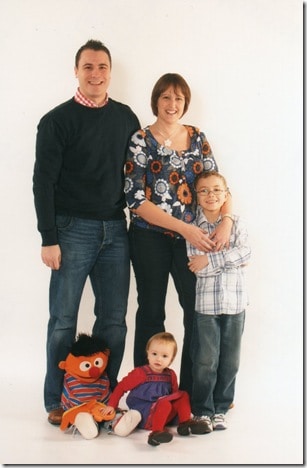 This is my family as it stands at the moment – we had this photo taken in January this year.  I guess you could say the puppet (sorry Sesame Street fans can't remember his name, I think its Bert or Ernie?) is a stand in for the new baby I'm carrying.  Little Bean as usual was not really up for a photo shoot, hence her very unladylike post at my feet!  Curly loves having his photo taken and will jump to it when faced with a camera.  For once me and Hubby are reasonably pleased with the way we look, I think we have dressed to suit our figures for a change!
This was a very proud Curly last week when he was presented with his orange belt and certificate at Kick Boxing.  He started kick boxing just over a year ago with me and Daddy because he was getting bullied at school and had very low self-esteem.  I only managed 6 weeks before I fell down the stairs and very badly sprained my ankle but he and Daddy have continued and love it. 
I took this photo last night whilst out for a walk with Hubby and Little Bean.  She doesn't normally look such a, dare I say "chav" but I think she looks hilarious in this outfit.  She has been obsessed with Daddy's cap so my Mum bought her a pink one of her own which she insists on wearing backwards.  Looking at this picture I can't believe how much she has grown, where has my baby gone?
This is the other very important lady in my life – my Mum!  I have chosen this photograph of her which was taken at our wedding because it is one of the only pictures of herself that she actually likes!  My Mum is my best friend (along with Hubby of course).  We see each other most days and have always been lucky to have a great relationship.  My Mum is the person who made me who I am today and she did it on her own – I'm very very proud of my Mum – she is my inspiration and I hope that I can be as good a Mum to my children as she has been to me.