The cheapest way to straighten your teeth
If you're looking to straighten your teeth, you'll quickly discover that there are many different options available to you.
If you're on a budget, you may be searching for the cheapest brace treatment, but be wary of false economies. Saving money on your braces now could cost you more in the future.
Mail-order braces
Mail-order braces are one of the most affordable ways to straighten your teeth. Instead of visiting a dentist or orthodontist for your treatment, you'll receive clear aligners through the post.
The marketing for online orthodontics can be slick, and prices can be 60% less than treatment with an orthodontist.
However, what you save in money, you'll lose in quality of care. You'll be missing out on regular check-ups and the skill and experience of a specialist. Someone who will oversee every step of your journey and be there to help you if you have any concerns.
According to NatruSmile, Approximately 4 million Americans, primarily teenagers (80%), wear braces, while an estimated 25 to 50% of children will also experience wearing braces.
It's easy to think of your aligners doing all the hard work, but it's the orthodontist who has the expertise and know-how to achieve the very best result.
If you choose a clear aligner system like Invisalign, which is only available to dentists and orthodontists, you'll have a very different experience compared to mail-order aligners.
Dentist-led treatment
Both dentists and orthodontists can provide orthodontic treatment. Orthodontists undergo three years of full-time training in orthodontics. After they've passed their exams, they register as specialists with the General Dental Council.
Once qualified, specialist orthodontists only provide orthodontic treatments, so they quickly gain experience treating a wide range of cases and patients.
Dentists tend to offer a wider choice of treatments, including check-ups and fillings. There's no minimum training required for dentists to provide braces, so their knowledge and experience varies considerably.
Usually, braces cost less with a dentist than a specialist orthodontist, although this isn't always the case.
If you are shopping around and comparing prices between dentists and orthodontists, find out more about their experience and ask to see some finished cases and testimonials.
There are a wide variety of braces options. Just because you aren't sold on mail-order braces doesn't mean you need to steer clear of clear aligner treatments altogether.
There are plenty of doctor-led clear aligner treatment options, like Invisalign or ClearCorrect. In addition to being the two biggest clear aligner brands out there, these treatments offer a best of both worlds scenario: discreet treatment with robust doctor oversight.
Clear aligners are nearly invisible, so you can discreetly straighten your smile without changing up your appearance. Since they're removable, you can take them out for meals. This means you won't have to restrict your diet during treatment like you would with traditional options.
Clear aligners are highly popular, but they aren't the only contemporary braces option. Specialty options like clear or ceramic braces blend in with your tooth's natural color, so they are much less noticeable than traditional options.
Self-ligating braces eliminate the need for elastics, which means your treatment check-ins won't need to occur as frequently. Self-ligating braces can be made of metal or of ceramic. Lingual braces are bonded on the backs of the teeth instead of the front, so treatment occurs completely out of sight.
Every orthodontic treatment has its advantages and disadvantages. At a treatment consultation, your dentist or orthodontist will help you determine which of these options will be the best compliment for your lifestyle.
They'll also offer lifestyle tips like how to properly clean your appliances and what foods to avoid (if you choose braces).
NHS braces
If you are under 18, you may qualify for NHS braces, and the full cost of your treatment will be funded by the National Health Service.
NHS funding is only available to help children who need treatment for dental health reasons. To find out if you're eligible for NHS braces, your dentist will need to refer you to an NHS provider for an assessment.
During your assessment, your orthodontist will evaluate your teeth using a set of measurements to see if you fulfil the criteria for NHS funding. If your case is purely cosmetic, you are unlikely to qualify for NHS funding.
In exceptional circumstances, adults can sometimes qualify for NHS treatment.
There's a huge demand for NHS braces, so if you do qualify, you may need to join a waiting list before you start your treatment.
Teeth contouring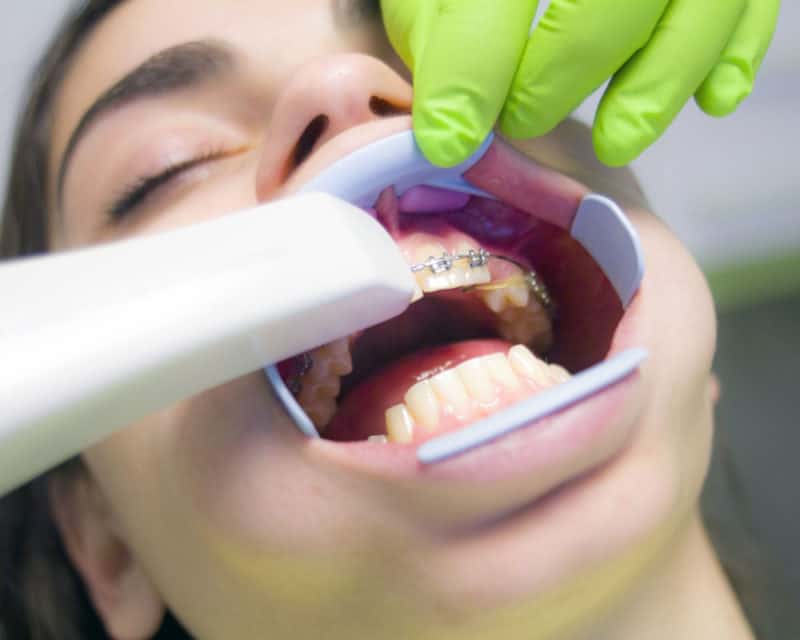 If your teeth are very slightly crooked or crowded, you may want to consider alternatives to orthodontic treatment. Teeth contouring is a quick and affordable way to reshape your teeth.
During your treatment, your dentist will carefully remove tiny amounts of enamel from the contours of your teeth to create a straighter smile.
Contouring is a straightforward procedure, and it's completely pain-free. You won't need any anaesthetic, and there's no downtime required.
Enamel is your tooth's protective layer, so only very small amounts can be removed. The results are subtle, but for the right cases, contouring can look fantastic.
You can even combine contouring with bonding, which involves building up your teeth to change their shape.
To learn more about your teeth-straightening options, do your research to find the best providers in your area and arrange some consultations.