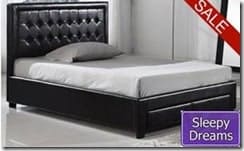 Sweet Dreams and Style Combined, with a Leather Bed
There's something about leather beds that makes them impossible to resist. They possess a feel of inviting warmth that makes you just want to climb inside, and have the best night's sleep you've had in a long time. But what is it about them that makes them so desirable and popular?
Firstly, leather inevitably gives a feeling of luxury and quality. However, these days there are a range of well-designed faux leather beds that match up just as good and make an impressive feature in your bedroom.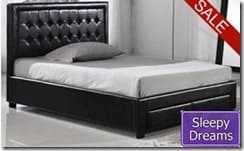 Contemporary and stylish beds
The faux leather bed is probably one of the most popular styles with customers, the Verona Leather bed range is one of the most sought after collections.
There are many different designs available from high buttoned headboards for a traditional look, to smooth, scroll top head board and footboards with elegant hardwood legs. Whatever you're looking for, depending on your preferred style and the décor in your bedroom, there will be a faux leather bed to meet your needs.
Comfortable and supportive
The main thing about a bed is that it is comfortable, and faux leather beds provide a soft, yet supportive frame that guaranteed a great night's sleep. You can relax by sitting up and read, resting your head and back on the soft faux leather, then lie down to sleep on a strong, supportive bedframe.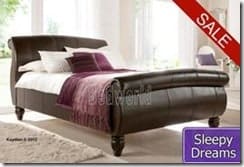 A strong feature for your bedroom
The bed is the main focal point in your bedroom, so you want to ensure it ties in all of the key design features in your room. There are many different designs of faux leather beds available, from simple to elaborate, depending on your taste. The beauty of faux leather is that it can be dyed in a large variety of colours to complement your decoration, so you can choose a bed that will perfectly match your room.
However, black and brown tend to be the most popular choices, as they complement a neutral bedroom but will also fit in with bolder colours too.
Some beds come with storage solutions too if you're tight on space, which is really handy. And they are also available in single, double or king size to fit in with however much space you have available.
Leather appearance brings with it an air of sophistication, luxury and comfort, so check out the range at Cut Price Mattresses for the faux leather bed of your dreams.