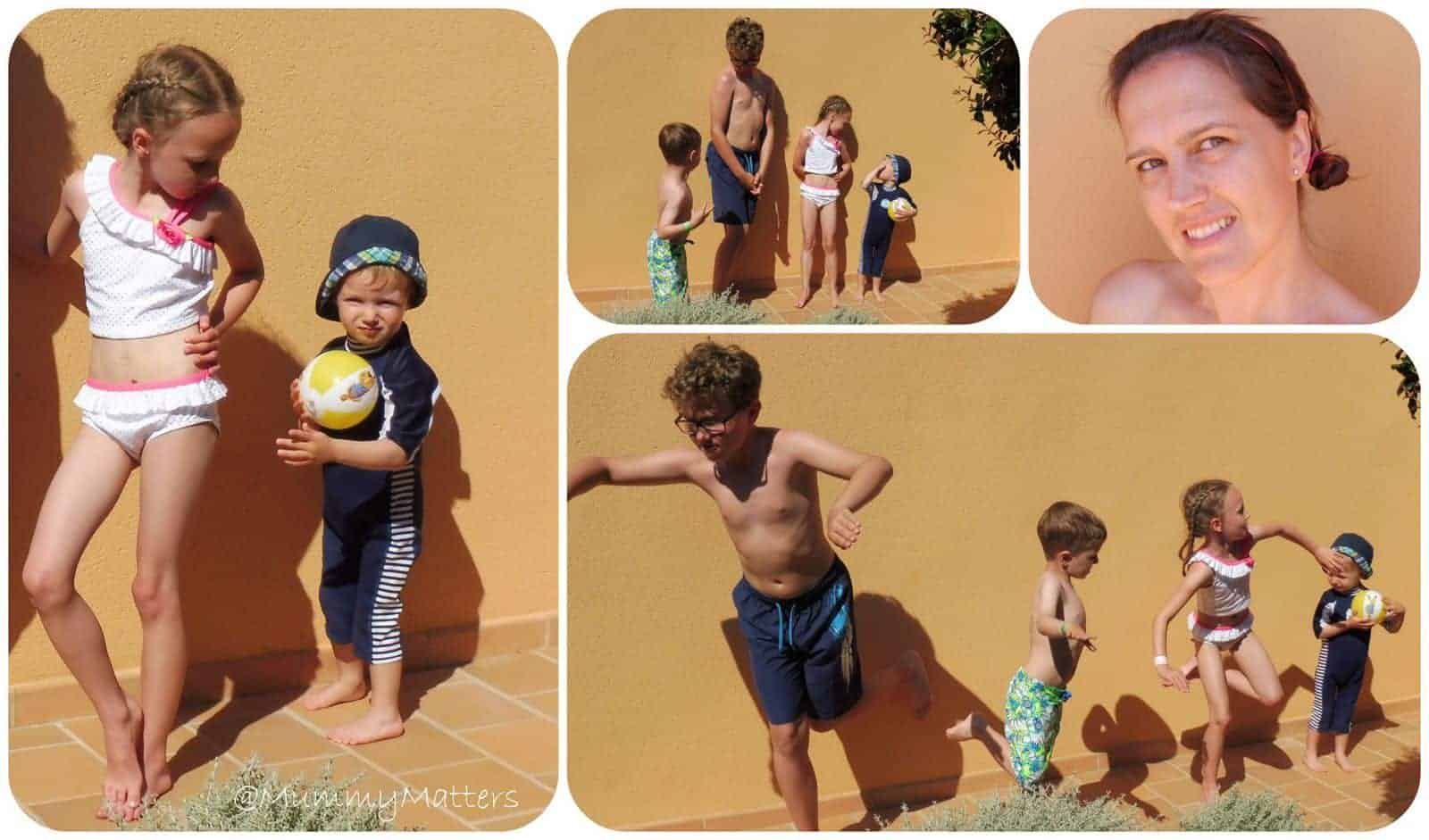 Squeezing out the last of Son Bou at the end of our long weekend . . .
We always knew that our weekend would pass by in the blink of an eye but unfortunately with Hubby's new job that was all the time that he could afford to take off so we had to be grateful for the opportunity and see it as a chance to see whether a holiday under foreign skies was for us and unanimously we agreed that it most definitely was. The Beans woke slightly earlier on our last full day in Son Bou but that meant that we could squeeze every last minute of time that we had. We asked the Beans what they wanted to do with their day and they all agreed that a morning by the pool followed by a walk into Son Bou, perhaps a walk to see the Beach and then shops, tea and home to bed. It sounded like a pretty good plan!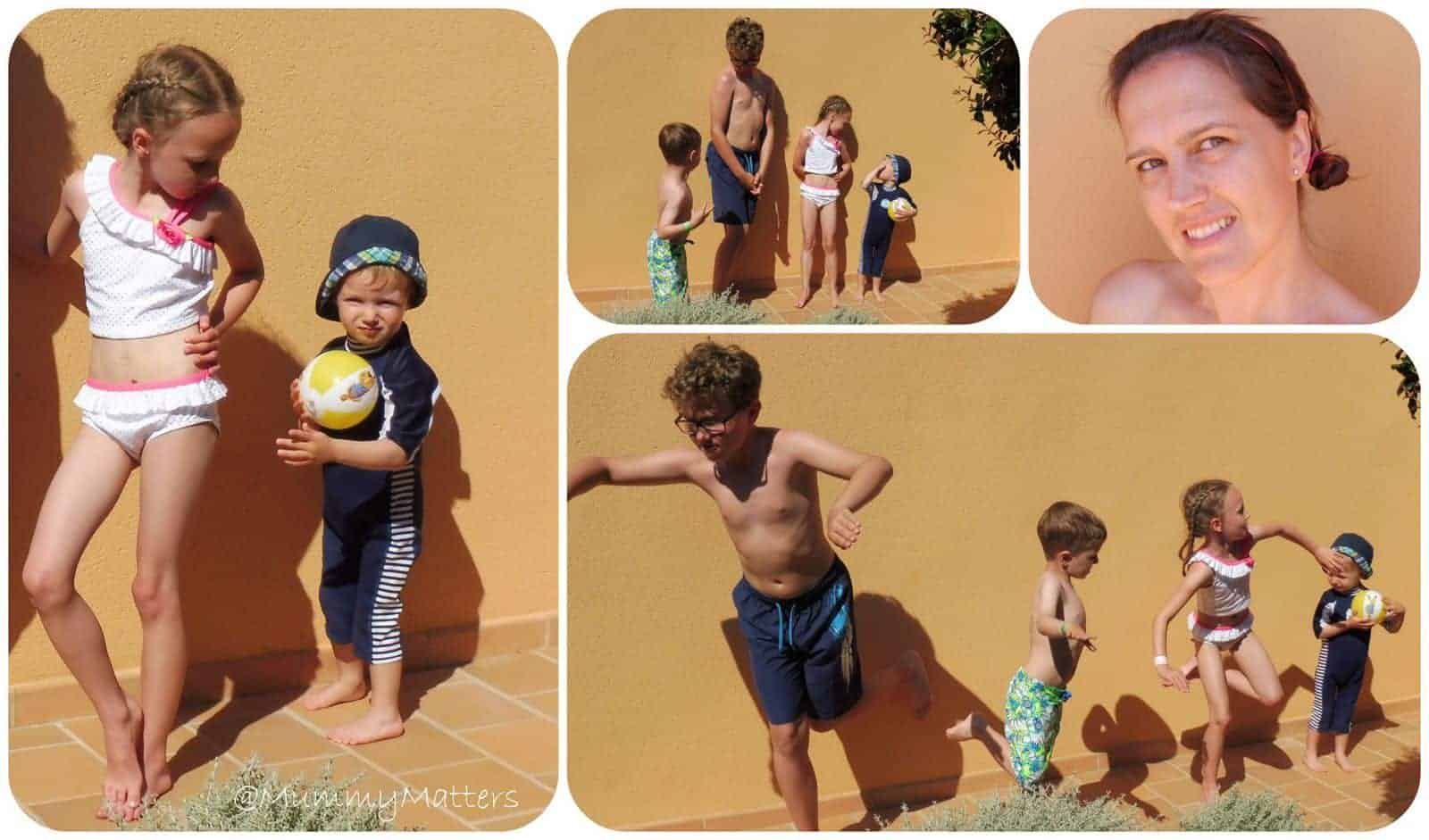 Sunday (our last full day) was to be the hottest yet in Son Bou at 36C, it was H.O.T!!!!!! We made sure that we reapplied the Beans suncream regularly but unfortunately neither Daddy nor I had noticed that despite having two bottles of the same suncream, one said that it was suitable for up to three hours of pool play and the other said suitable for one hour of pool play. We were using the 'one hour' bottle second and by the time we realised what it said it was too late for Little Bean who had sunburn on her shoulders which was very sore indeed so she had to swimming in her poolside dress for the rest of the day to keep covered. Mental note to self: buy the Beans UPF Sun tops.
Whilst Hubby and I sat watching the Beans playing by the pool we noticed their were conspiring over something . . . we were about to find out why. They said that they wanted to thank us for their holiday in the sun by putting on a little 'pool theatre' for us to watch. If you decide to watch the video then you will see that it was very 'ad lib' but it made us giggle nonetheless. I have managed to edit it down to about 3-4 minutes, in reality I believe it was something like 30 minutes although it felt much longer!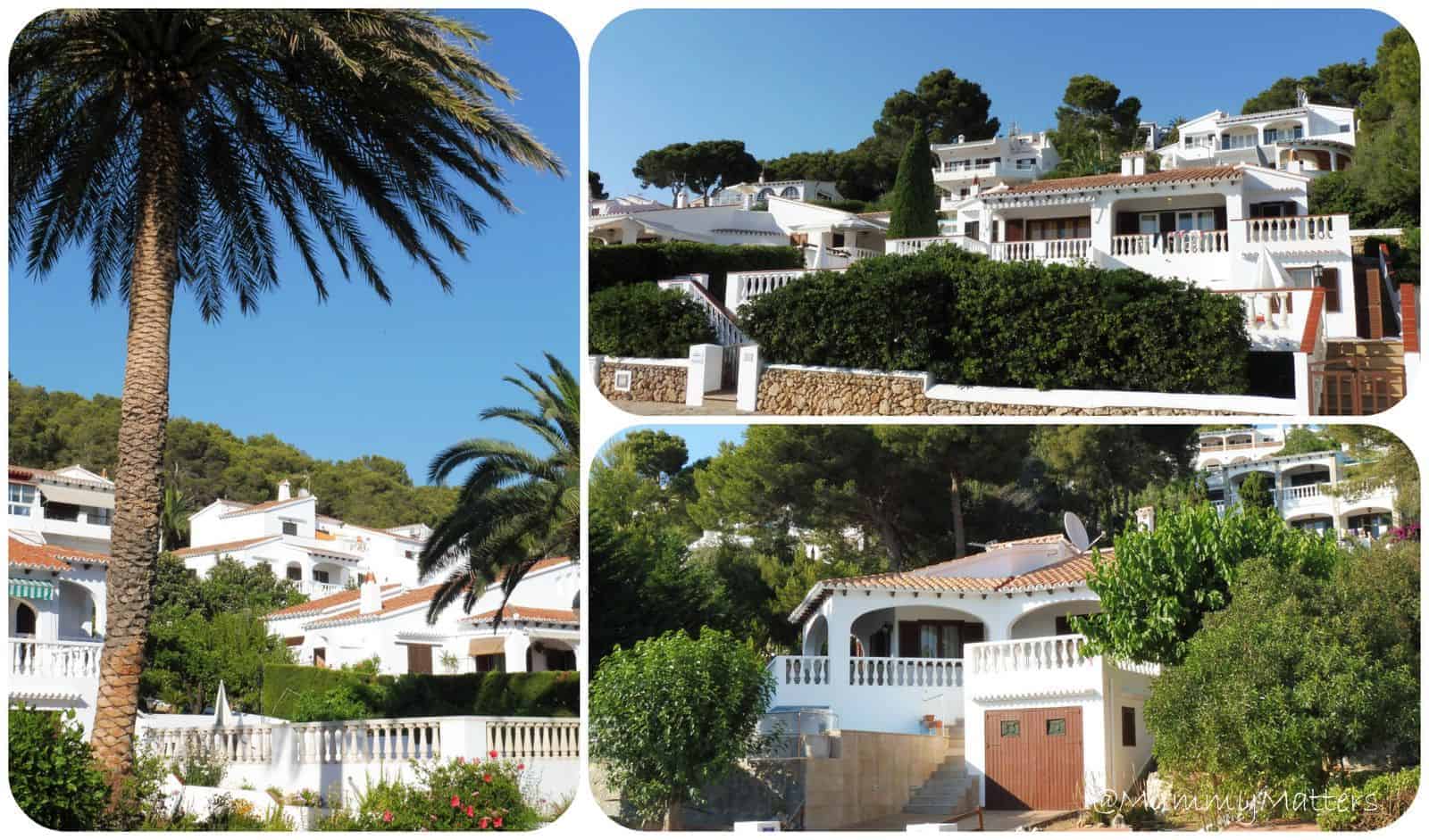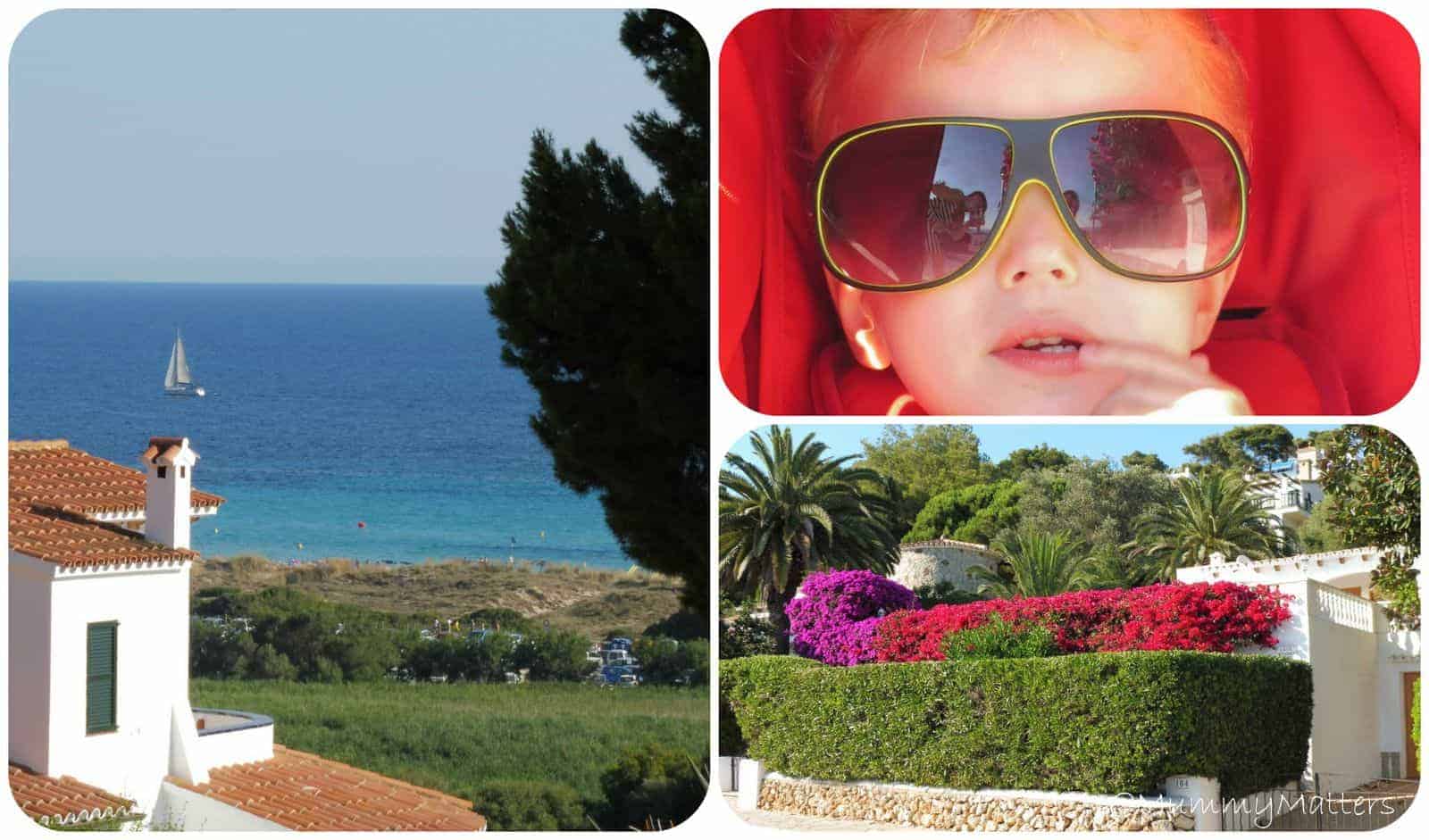 After the Beans' siestas we walked into Son Bou again, this time our destination was the beach which is the longest stretch of beach on Menorca. To the far West of the beach is a naturist area so families might want to avoid it. Access to the beach is via a system of boardwalks up through the sand dunes, there was a large car park which was full when we arrived and there are picnic benches spread out under the shade of the trees which was lovely and cool. The sea at Son Bou is the prettiest topaz blue, I had spotted it as our coach drove down the hill into Son Bou on Friday and I wanted to jump right in. As we reached the end of the boardwalk we saw all the pampass grass parasols and sunloungers spread out along the beach and there was a large (inflatable we think) pontoon out on the water, a type of obstacle course for the 'big kids'. As we stepped onto the sand it felt the soles of our feet had been melted right off, the Beans didn't like it one bit and decided they had seen enough of the beach for one day. Mental note to self: buy beach shoes in future.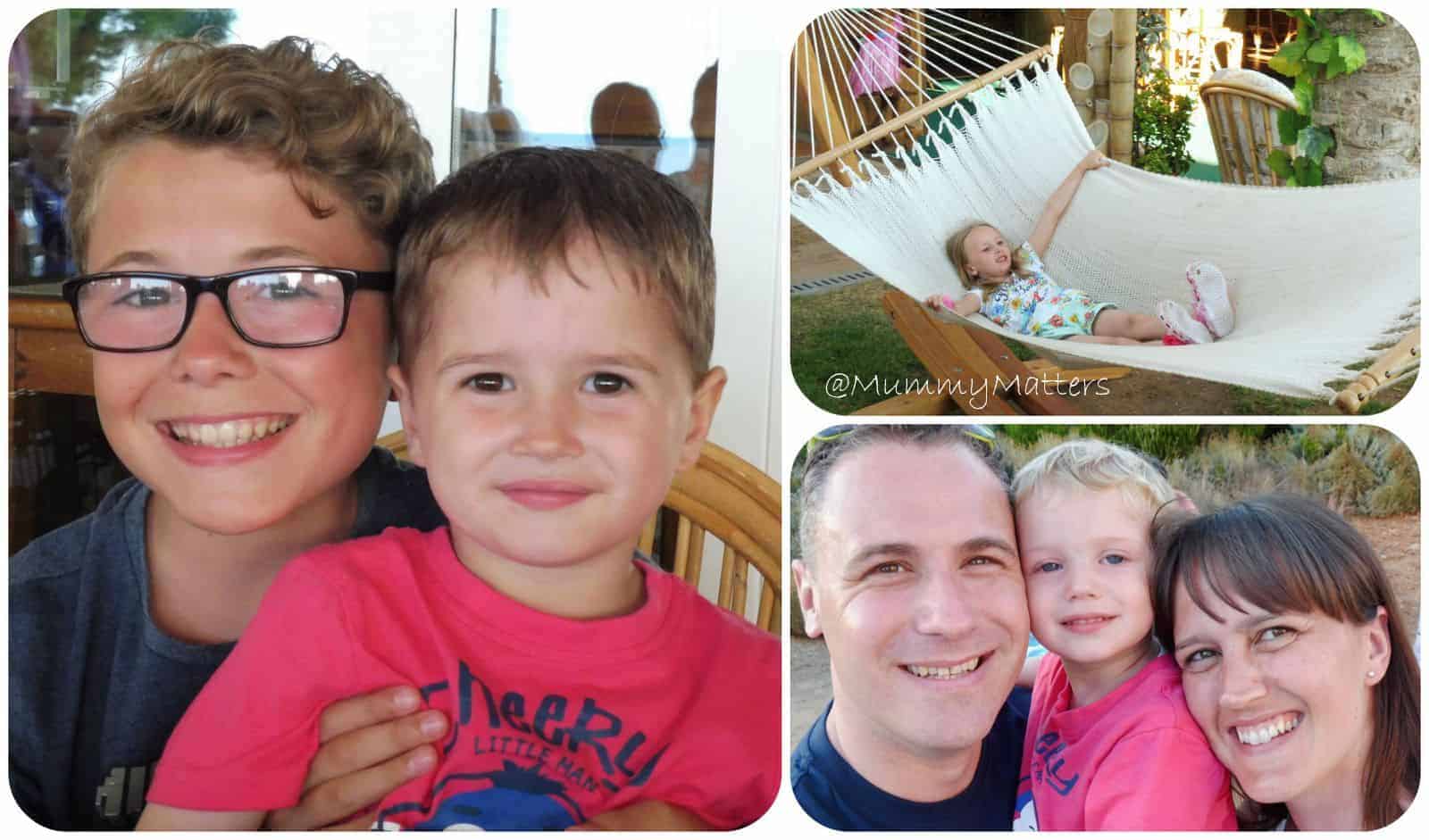 On our first night in Son Bou the Beans had spotted an adventure area next to the large hotel on the seafront with big bouncy castles and a few smaller rides so we had agreed that we would go there on our last night. We asked the Beans where they wanted to eat and they all said Arthurs again so we enjoyed another lovely meal with great service at Arthurs, visited a couple of shops so the Beans could spend the last of their holiday money which was burning holes in their pockets and then went to play. For the large inflatables you had to buy tickets which would give you 15 minutes of bounce time on one of the inflatables. I think we paid around 15euros for 6 tickets. This meant the three older Beans could go on the Bouncy Castles whilst Jelly Bean went on rides with Mummy or Daddy. He particularly loved the boats although it did make Mummy feel a bit dizzy!! Mental note to self: don't wear a dress when there is a possibility of going on rides!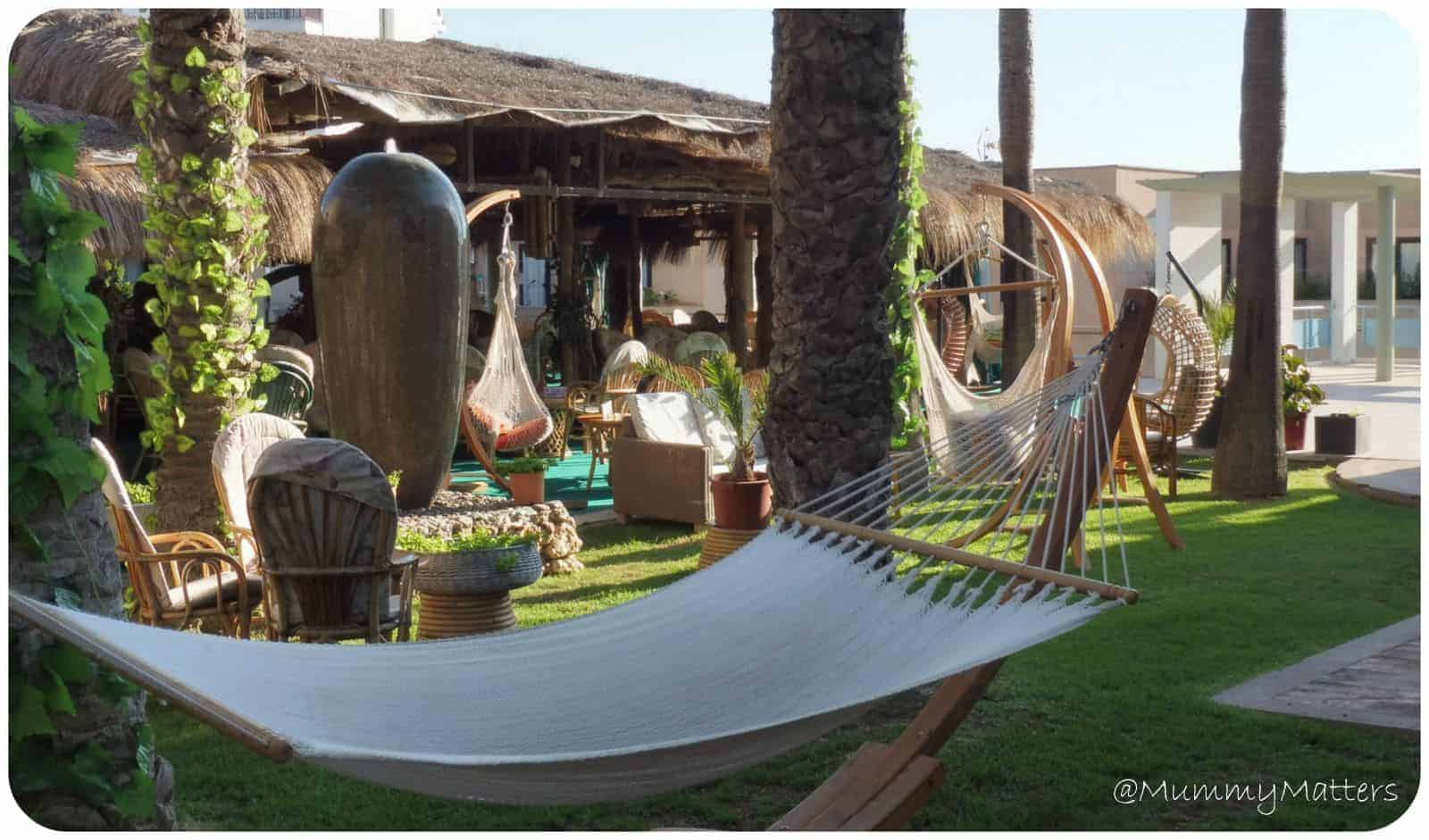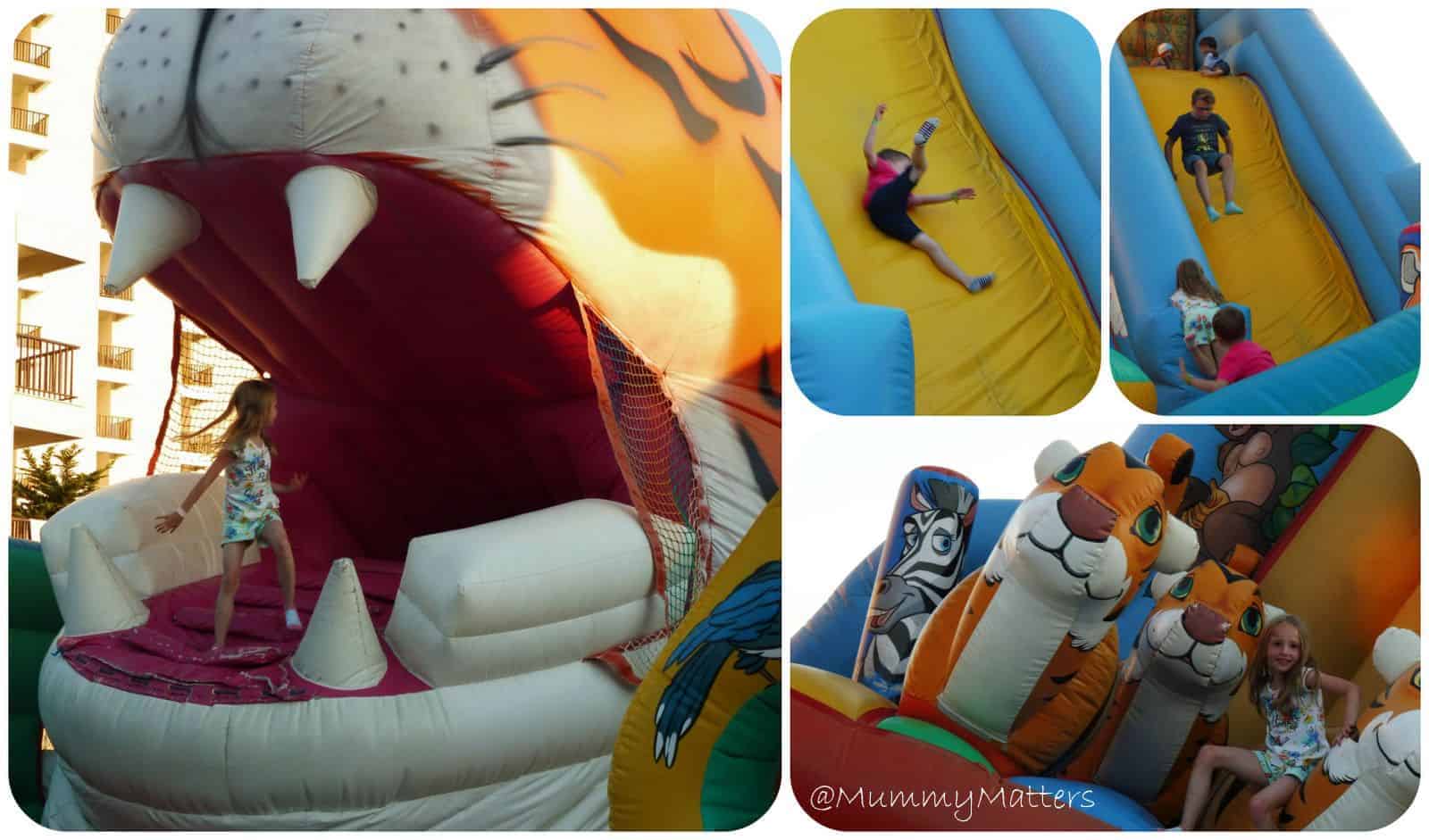 The Beans then decided they wanted to have a ride on the cars and motorbikes which were 1euro a ride. As I was getting the money out of my purse Little Bean said that she needed to go to the toilet so I said "ok just one minute". Daddy was busy getting Jelly Bean out of his pushchair and suddenly there was a commotion as I saw Daddy run like lightening across the motorbike track into a hut at the back which it turned out was the toilets. Little Bean had been too impatient to wait for me and had gone into the toilets without either of us noticing. As it turned out the door had slammed shut behind her locking her in and there were no lights so she was in darkness. I hadn't heard her screams until I saw Daddy running, then I heard screams like I'd never heard before. Daddy tried opening the door but it wouldn't open, he ended up having to kick the door open to get her out. By the time we got her out she was shaking like a leaf with tears pouring down her face. It frightened us all very much. How do you teach a child to stop running off?!
When we had finally calmed her down they all jumped onto the motorbikes and cars for one last ride before heading over to Taay Delicious for a yummy icecream and then boarding the land train back to our villa.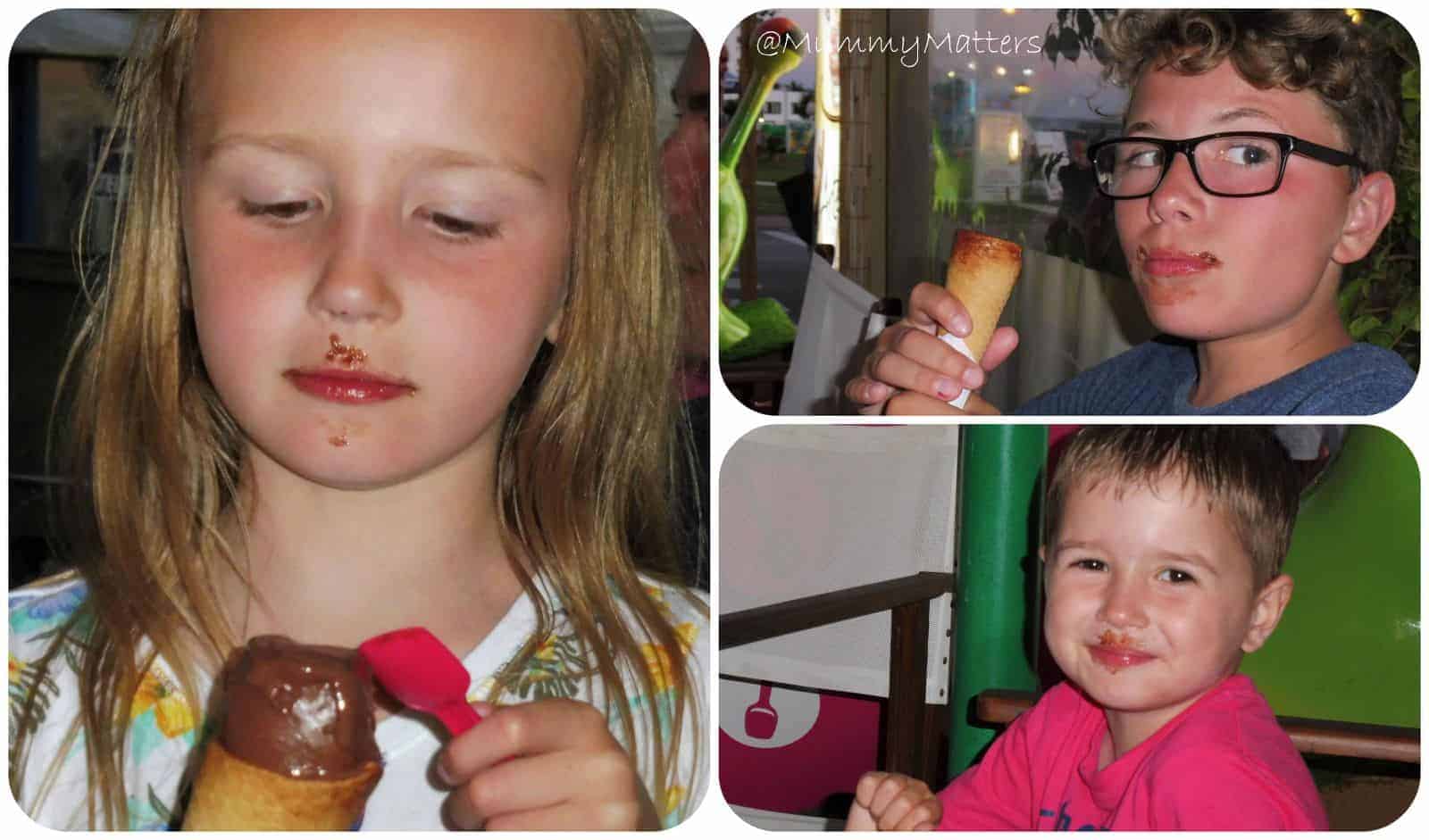 Before we went away I worried that going to Menorca for a weekend wouldn't be long enough, but at just two hours for the flight we were able to really make the most of our first day so we felt like we'd had three full days out there. The Beans really enjoyed their holiday and have asked repeatedly since we returned when we would be going back. Daddy told Beanie Boy that we would need to save up the pennies first to which Beanie Boy replied "well stop going to the shops and spending money then we can go back sooner" good logic but we still need to eat.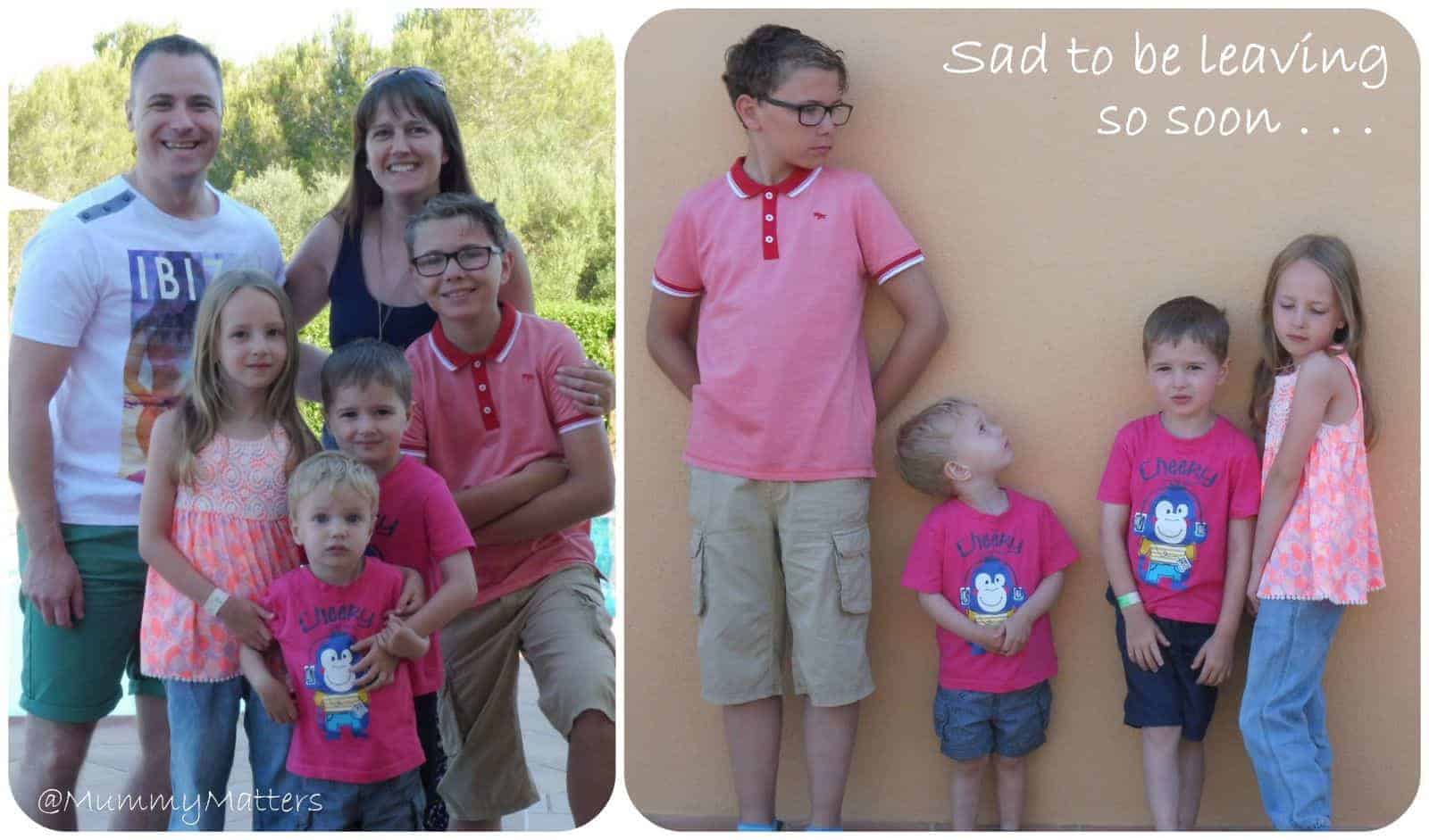 On Monday morning our transfer back to the airport was booked for 9.10am and the really good part was that the bus would collect us from outside our Villa so we didn't have to worry about getting into town with our luggage. We really liked Mahon Airport, the only major delay was at Check-in because we seemed to pick the slowest queue to stand in but the rest of it flowed very quickly and before we knew it we were in the departure lounge eating brunch before boarding our flight home.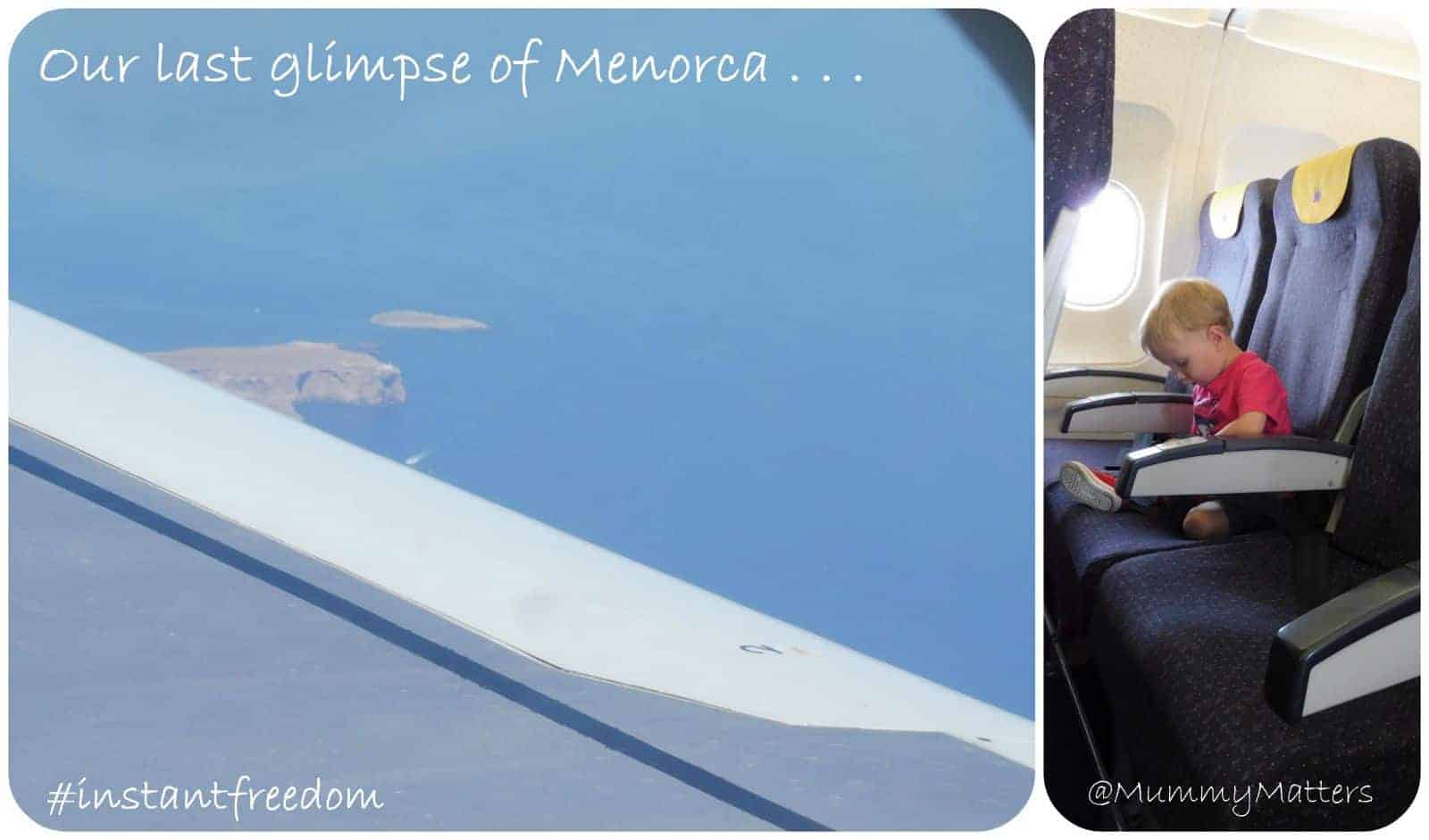 The flight seemed to pass by in no time at all, it was a smooth flight and a steady landing. We couldn't have asked for more from the Beans first experiences of air travel. It was a surreal experience to get off the plane in the UK to find that the weather was just as we had left it in Menorca, not great when your air conditioning has broken in your car. It made for a rather stifling drive home. By 4pm we were home, unpacked and had the first load in the washing machine. I don't think we could have picked better flight times, it meant that we could relax in the evening before getting everyone back to their usual bedtime routine ready to get back to school and work the following morning.
As a blogger, we never take for granted the opportunities that are offered to us. We know that we are very lucky and we are grateful to have been granted this first family holiday in the sunshine by Villas.com. As for Son Bou, you haven't seen the last of us!!!!