Spongebob Squarepants 'Pebble' Wheeled Case
When I was asked if I would like to review the Spongebob Squarepants 'Pebble' Wheeled Case I knew there was only one person for the job, Curly! He LOVES Spongebob and is always re-enacting scenes from the latest episode he has seen – unfortunately I'm NOT a Spongebob fan so it takes all of my best (and they are not good) acting skills to sound as amused by it as he was.
I didn't tell Curly that the case was coming I just placed it on the floor in the middle of his bedroom so that he would see it when he opened his door. I waited until he went upstairs and stood at the bottom to hear his reaction, "oh wicked, thanks!". I think it was fair to say that he liked it!
The case is a really good size for a child and has brilliant compartments inside to keep everything organised. The wheels are sturdy and Curly liked them because "they look like my scooter wheels", you see it's the important things that matter to children. For ease of manoeuvrability there is a telescopic handle too and the whole of the outer shell has a Spongebob Squarepants design.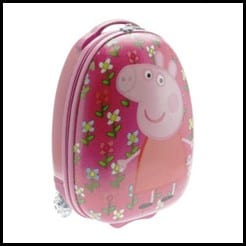 Fear not parents of little girls for whom only pink will do the job as there is a pretty Peppa Pig design especially for the girlies.
With an RRP of £46 some parents might think this is a little on the expensive side but when you consider all of the social events which children go to (far more than the parents!) it will get its use on holidays, sleepovers at friends and grandparents, school trips, Scout/Brownie camps and school trips. Children aren't the gentlest of creatures so you will want to be sure that the contents of their cases arrived unblemished and with the pebble case you can be sure that everything will arrived as perfectly as when it was packed.
DISCLAIMER: We received the Spongebob Squarepants 'Pebble' Wheeled Case for the purpose of this review. All images, words and opinions are my own and may not be copied without my permission.