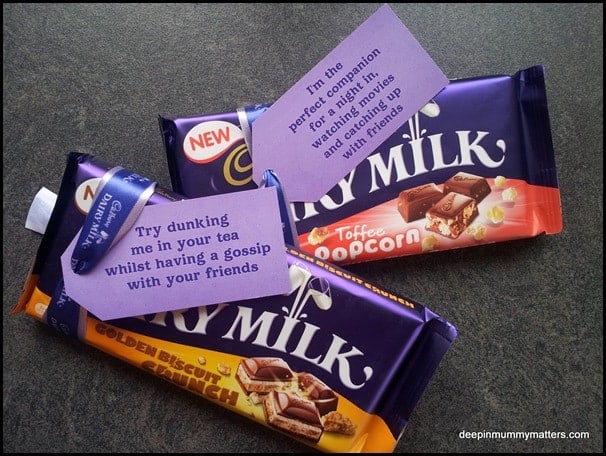 So many new Cadbury's to choose from . . .
It's a Friday night . . . let's have some chocolate
It's Monday night . . . let's have some chocolate (in fact insert any day!!)
It's been a bad day . . . let's have some chocolate
Shall we watch a dvd . . . let's have some chocolate
The diet begins tomorrow . . . let's have some chocolate
I'm pregnant . . . let's have some chocolate
These are pretty much the way things work in our house, Hubby and I both LOVE chocolate and we do consume a fair amount between the two of us so it's always nice to find a few new flavours to tickle our fancy and now Cadburys have come to our rescue and this is where I absolutely LOVE being a blogger, especially when a parcel turns up on your doorstep being delivered by the oh-so-grumpy Postman (seriously, just smile man!!) and then you open it up to find CHOCOLATE!!! Sometimes when it arrives I think to myself, "I don't have to tell Hubby", "I could just eat it all and he would never need to know" but I'm a good girl and Hubby works hard so I always save it and go halves with him.
Recently these are some of the yummy new taste sensations that we have been getting up close and messy with;
Cadbury Dairy Milk Golden Biscuit Crunch – this is my kind of chocolate, I love anything with a crunch to it, although I'm not a particularly nutty person (some might disagree) so biscuit is the perfect option for me. I have tried and tried to suck the chocolate chunks to really taste the biscuit but nope, sorry I just can't.
Cadbury Dairy Milk Toffee Popcorn – hmmm now this one had me all confused to start with, I LOVE chocolate, I LOVE toffee and I LOVE popcorn but I just wasn't sure about putting it all together. Then Hubby tried it and made noises that sounded pretty positive and I was sucked in so I tried some and it was so yummy I ate it all before I even thought to take a photograph.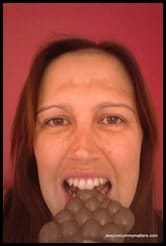 Cadbury Dairy Milk Mini Bubbly – I feel that I should rave about these because it's good to have a pocket-sized bar of chocolate right? WRONG!! I'm sorry but chocolate bars should only come in one size if you ask me and that's big bars and no they are not for sharing (just don't tell my children I said that!). As delicious as this chocolate really is, it just totally melts in your mouth (and I have found that it's great for a tickly cough – no really one of my readers told me so and I agree!!). IF, I said if you are trying to be good and cut down on your chocolate intake, or for some strange reason you prefer a smaller bar of chocolate though, this really is the perfect pocket sized/handbag sized/changing bag sized bar.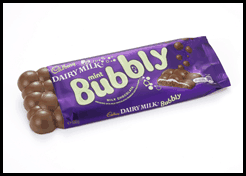 Cadbury Dairy Milk Mint Bubbly – nope sorry this one is not for me, I'm not a mint fan so Hubby got to enjoy this one all by himself. He IS a huge Chocolate/Mint fan and despite arguing that he was only getting half a bar of chocolate because the air bubbles were taking up space where the chocolate should be, he really enjoyed this and has since been spotted sneaking the odd bar into the weekly shop – thank you Cadbury!!
Our house is now a total Joyville Zone and we love it!
Want to find out more about the new chocolate sensations and meet other chocoholics in Joyville, then head on over to their Facebook page now or tweet them @DairyMilk.
DISCLAIMER: We were sent the above bars of chocolate for the purpose of this review. All words, opinions and images are my own and may not be copied without my permission.