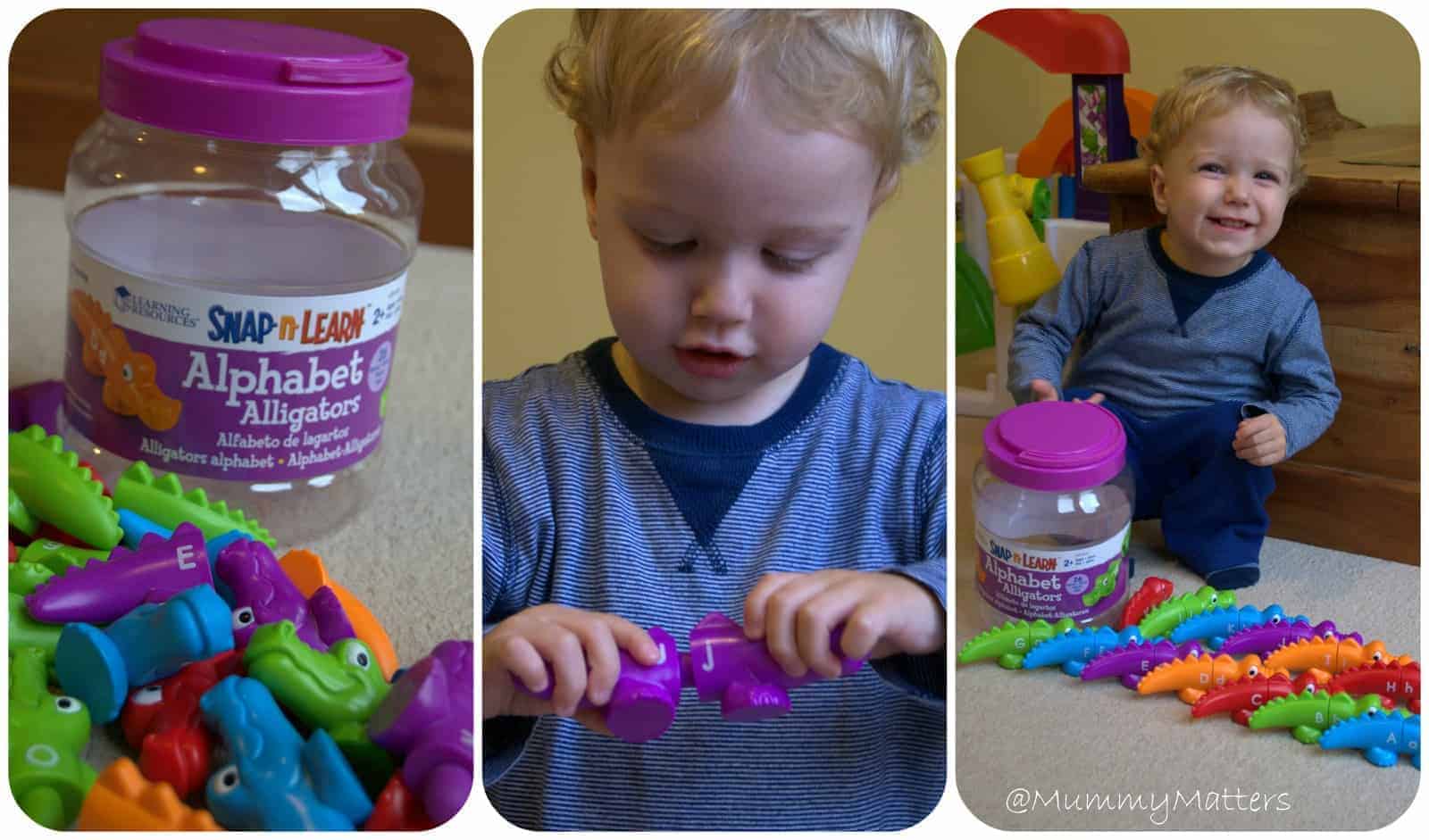 Snap n Learn Alphabet Alligators
When do you think about teaching your children their ABC's? Is it from the moment they can talk? When they start preschool? When they start primary school? OR when they are ready??
Personally I think it helps to give them an understanding of their ABCs, to be able to sing the song and to at least recognise their own name before they start at primary school. If you take it too far then you run the risk of them being bored at school so you have to strike the balance just right.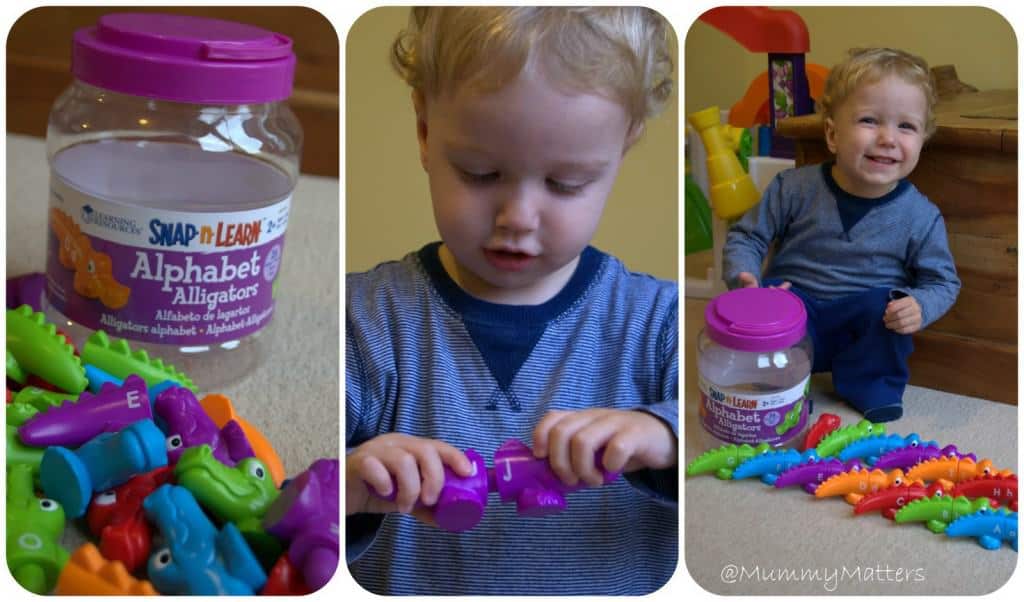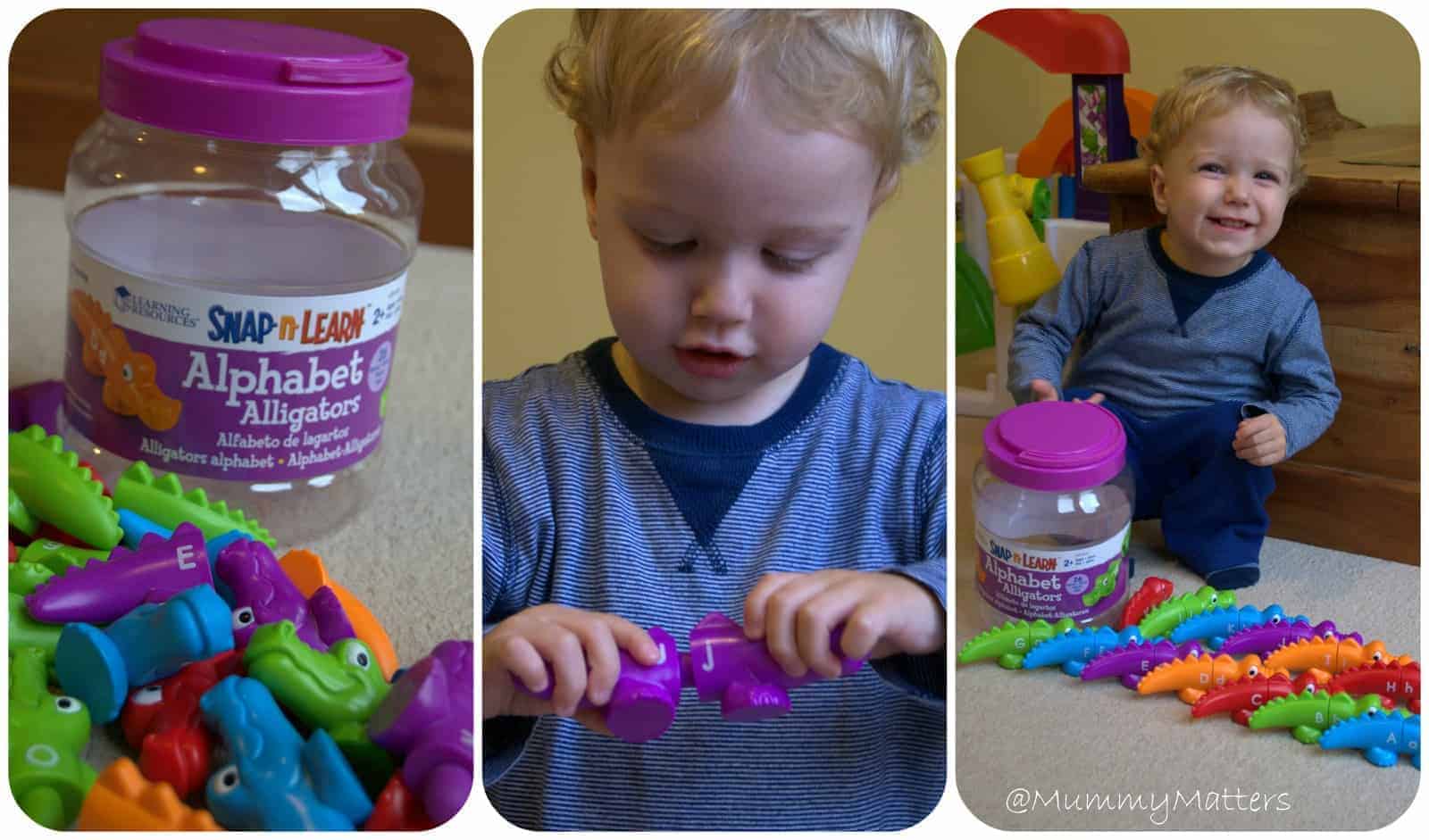 I have started to do little things with Jelly Bean so that he 'sees' letters around him and hopefully will start to take an interest. At the moment we are having lots of fun with these Snap'n'Learn Alphabet Alligators from Learning Resources. Aimed at children aged 2-6 years means that all of the younger Beans are showing a keen interest in them. Jelly Bean loves their bright colours and testing out his dexterity in pulling the two pieces of the alligators apart and pushing them back together again. He has also very quickly grasped how to unscrew the lid by himself too, all great for building his motor skills. Not to mention the obvious game of just playing with the Alligators because he can.
Beanie Boy being 4 years old is just starting to recognise a few letters, he can write and recognise his own name and is good with colours so when I ask him to make up all the blue alligators he is able to do it. If I ask Beanie Boy to make up all of the Alligators in their correct colours with their matching head and tail he will sort his alligator parts into matching colours and from there will select the right upper and lowercase letters to go together even though he doesn't know what the actual letters are yet, he recognises them by shape so it's helping him to build up his knowlege of the alphabet.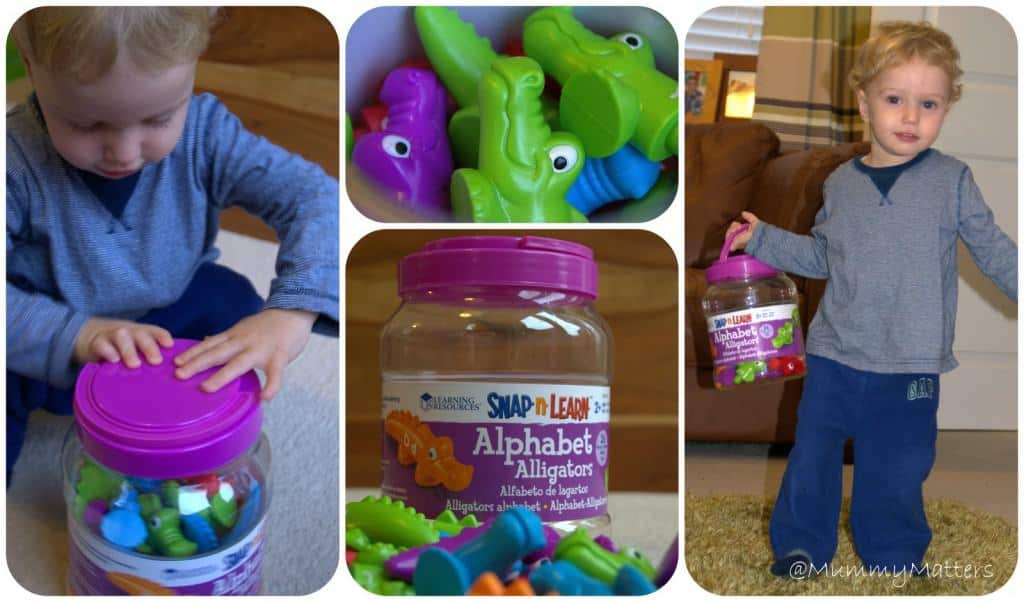 Little Bean at 6 years old still gets to have fun with them as I will play a game with her and Beanie Boy where we mix up the Alligator Heads and Tails in the container. Taking it in turns we have to pull out an Alligator piece and come up with the name of an animal (or whatever topic we choose) beginning with that letter. If we correctly come up with one we get to keep the Alligator piece but if we don't and someone else does they get to steal the Alligator piece. At the end of the game when all Alligator pieces have gone from the container we have to make up as many letter pairs as we can with the pieces we have won, the person with the most complete Alligators is the winner. It's a fun and simple game which gets everyone thinking.
The Snap'n'Learn Alphabet Alligators contains 13 whole Alligators which split into 26 pieces. Each Alligator represents two letters, one one each side so they aren't ideal if you want to use them for spelling but then again that isn't the point of them, they are designed to build letter recognition, motor skills, matching pairs and learning colours. There are no parts which can snap off or break so they are great for little hands.
DISCLAIMER: We were sent the above Alphabet Alligators as Learning Resources Bloggers. All words, images and opinions are my own and may not be copied without my permission.