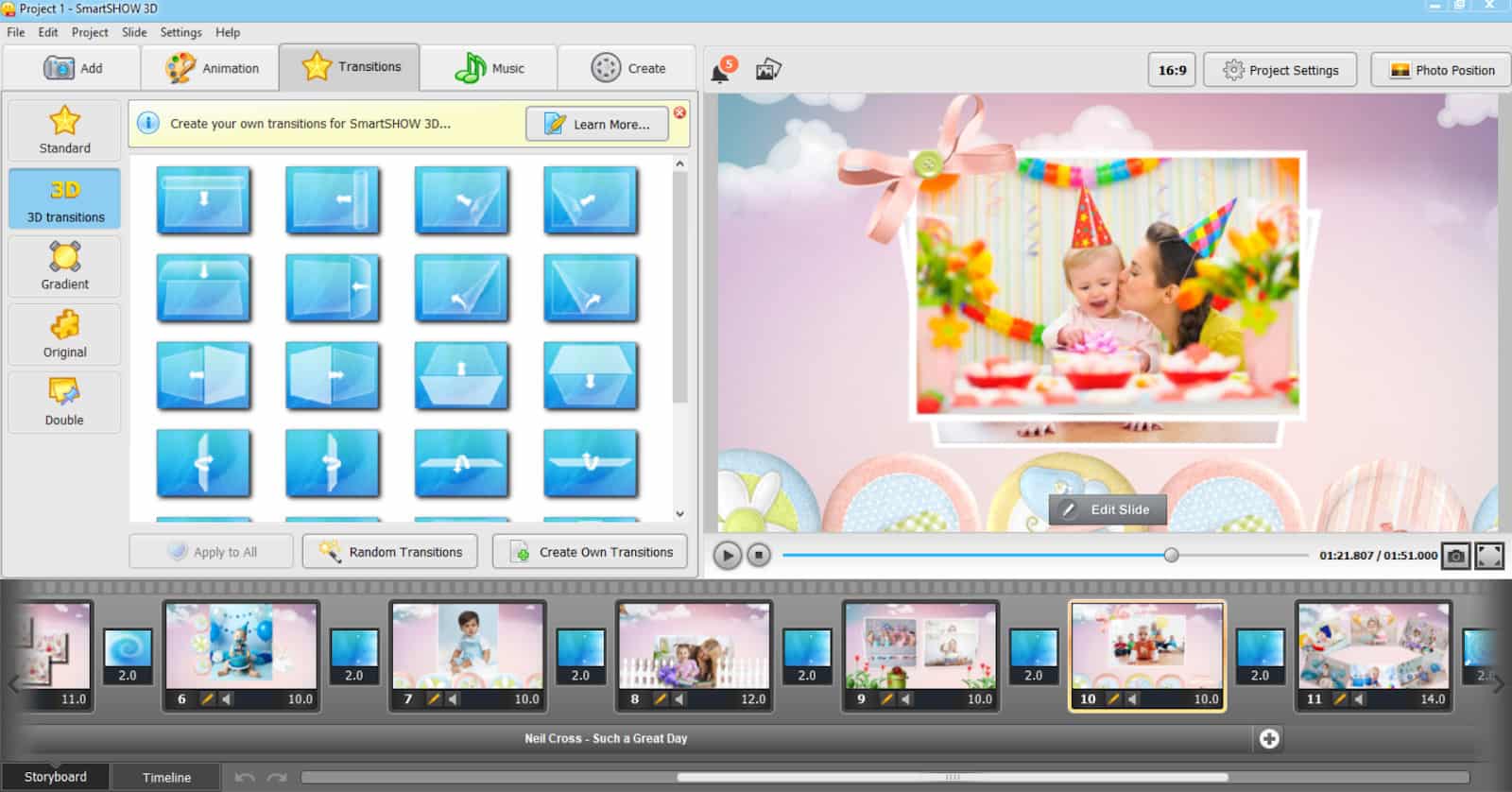 SmartSHOW 3D: Baby Slideshow: How to Share the Excitement for Motherhood in a creative way
The other day I have realized that I have gathered many photos of my little ones and it is time to organize them. So I started thinking of ideas to put them in order and preserve these truly cherished memories in the most convenient and efficient way. After spending some time researching I have discovered an amazing solution – baby slideshow. This way one can share many photos at once, by making a spectacular slideshow with adorable music and cool animation effects in five minutes. This short and simple guide will demonstrate how to make a baby slideshow easily and quickly.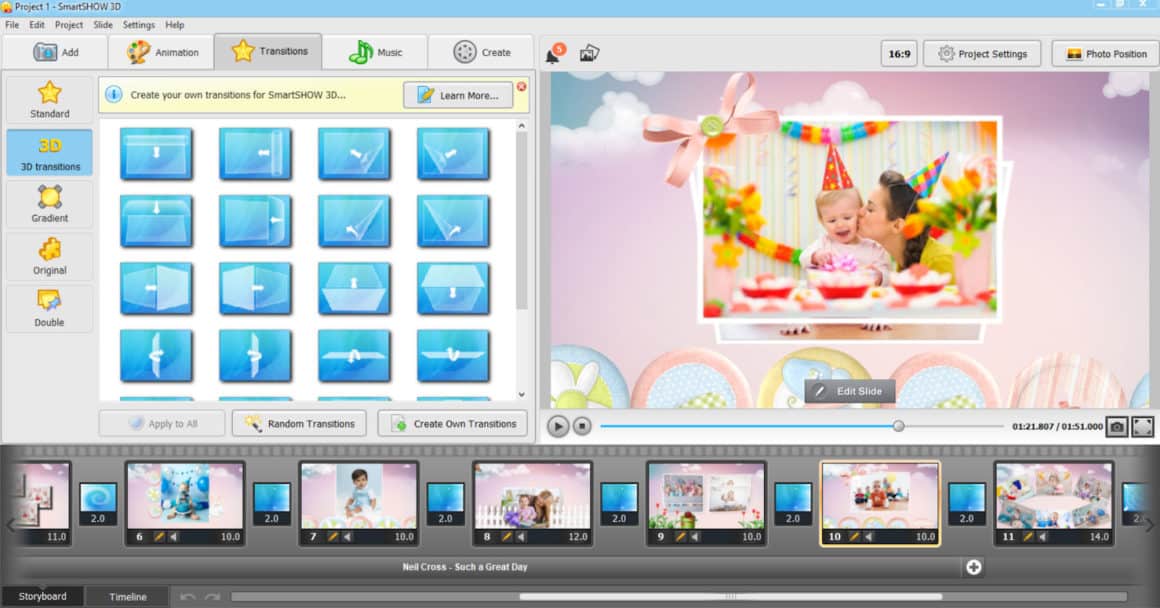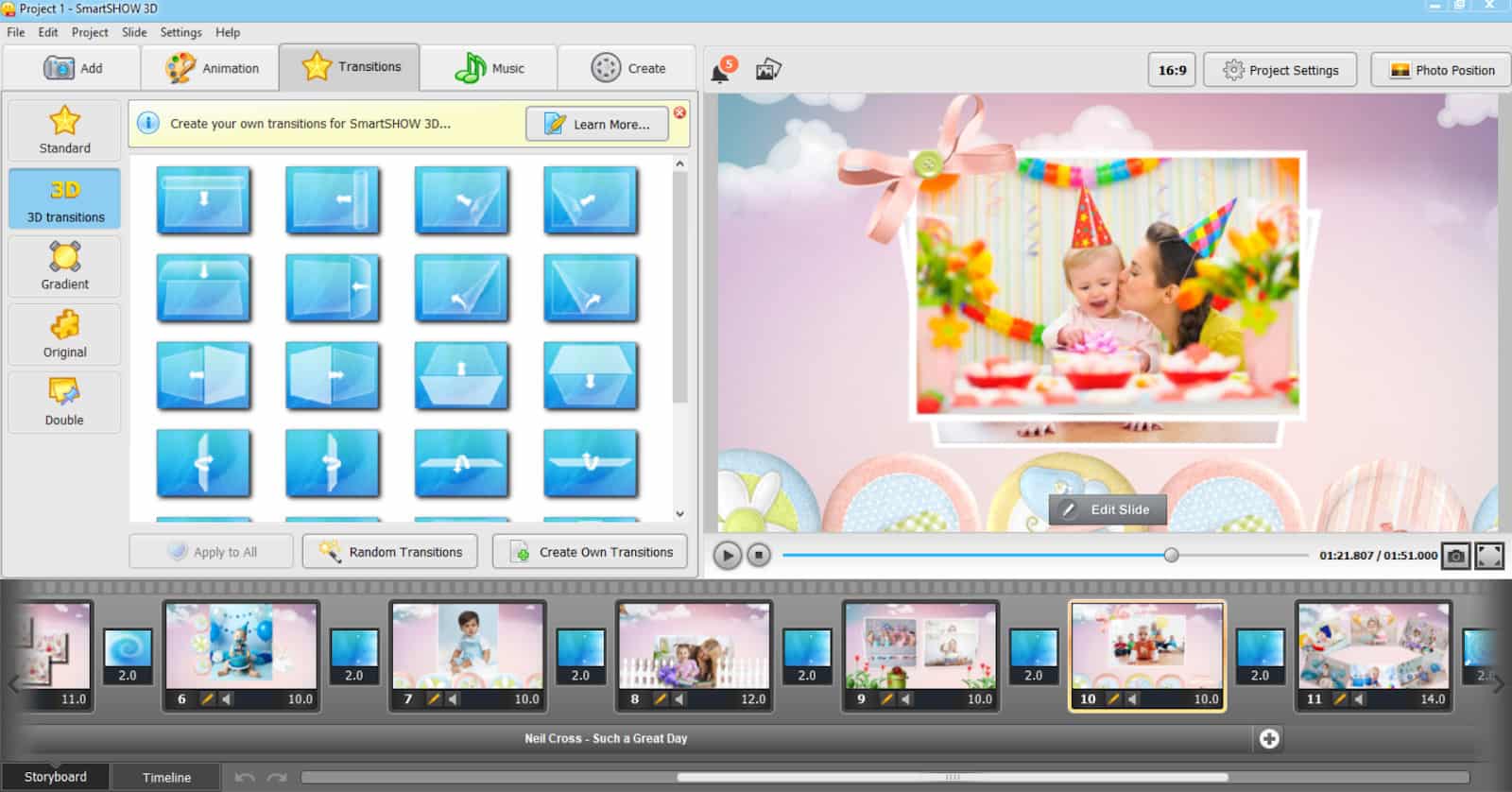 Sounds fascinating? Then follow the link and download a free version of the SmartSHOW 3D program and create your unique baby slideshow with more than 350 transition and animation effects, a large collection of best music and sound effects and other great features.
Whether you want to create a video for your baby's first birthday, or as a present for a new grandmother or you simply cannot wait to share your joy with your friends, this tool will give you endless options to create an exceptional memory, that you and your family will cherish for many years to come.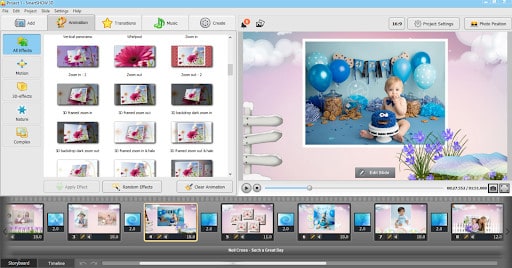 Advance Your Intuition with an Intuitive Interface
The program is very easy to use, thanks to self-explanatory and helpful features but there are some tricks, that I am going to share to make your baby picture slideshow memorable and exciting. But first things first: take your time and choose the best baby pictures, I know, it is hard to sacrifice even one, however, a perfect slideshow should not be longer than an average song. Pick top 12-15 photos and place them on the storyboard at the bottom of your screen. 
If you absolutely cannot decide and want to use more than 15 pictures, pre-designed collages are there to help you. Go to "Collages" and you will discover over 200 templates, some of them allow you to fit up to ten photos!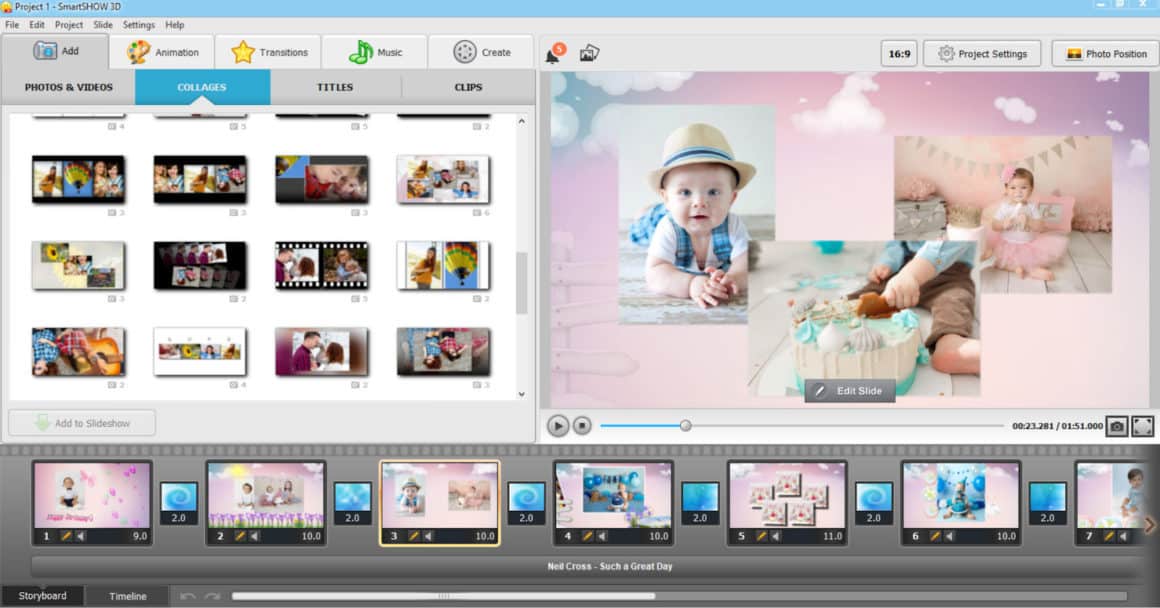 No Such Thing as a Boring Transition
Once you have placed all the photos on the storyboard, go to "Animation" and check out a huge collection of slide transitions. Found something you like? Select it and drag it to the small square between the photos and your slideshow will come to life. 
Now let's look at the impressive selection of animation options. You can click on them and see how they will look in your slideshow. Pick the one you like and drag it to the photo. If you are not happy with the duration of the animation, go to "Edit Slide" and set the duration you prefer but watch out, don't make it too fast. Here you can also alter the photo itself, by making it bigger, smaller, brighter, darker, etc. 
Furthermore, here you will discover the most sensational feature – 3D effects! Play with it: try to use it on a photo or add some 3D text to the slide. Additionally, you can brighten your slideshow with some amazing effects, for example, use snow effects to make it look Christmassy.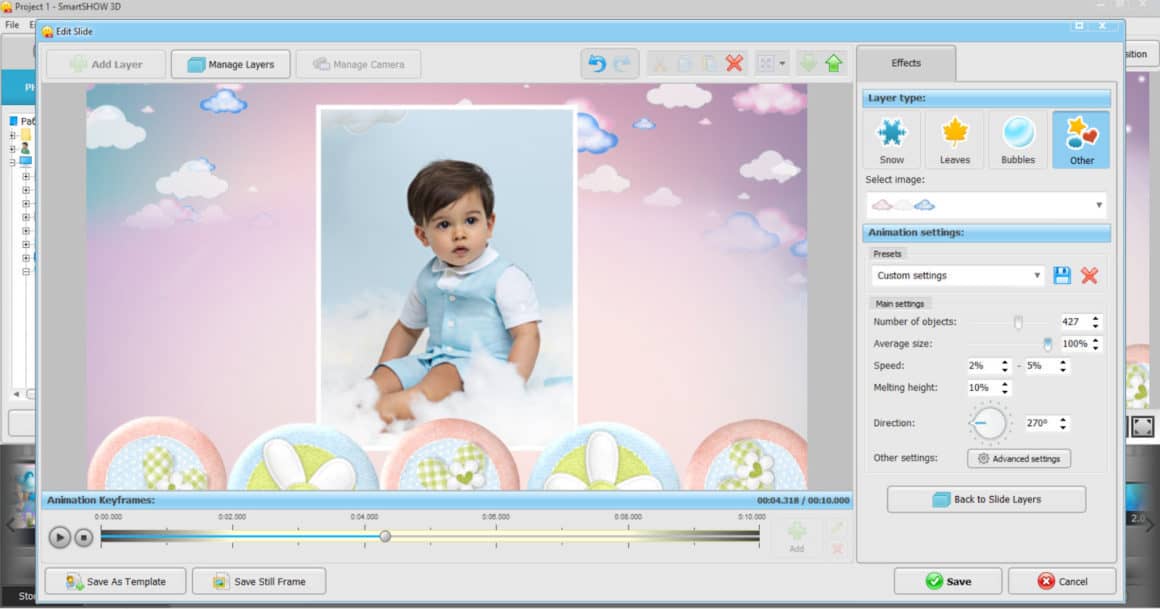 'Without Music, Life Would Be a Mistake.'
Time to spice up your baby slideshow with some music! Go to "Music" and discover over 200 songs or choose one from your PC. Baby slideshow songs should be slow-paced, cute and kind. If you are struggling to find a suitable song, use some of my ideas:
Love of My Life – Carly Simon

Child of Mine – Carole King

In My Daughter's Eyes – Martina McBride

Kisses And Hugs – Michael James

Safe and Sound – Matthew West

Goodnight My Angel – Billy Joel
You can also record your own voice or funny adorable sounds that your baby makes and add it to the slideshow.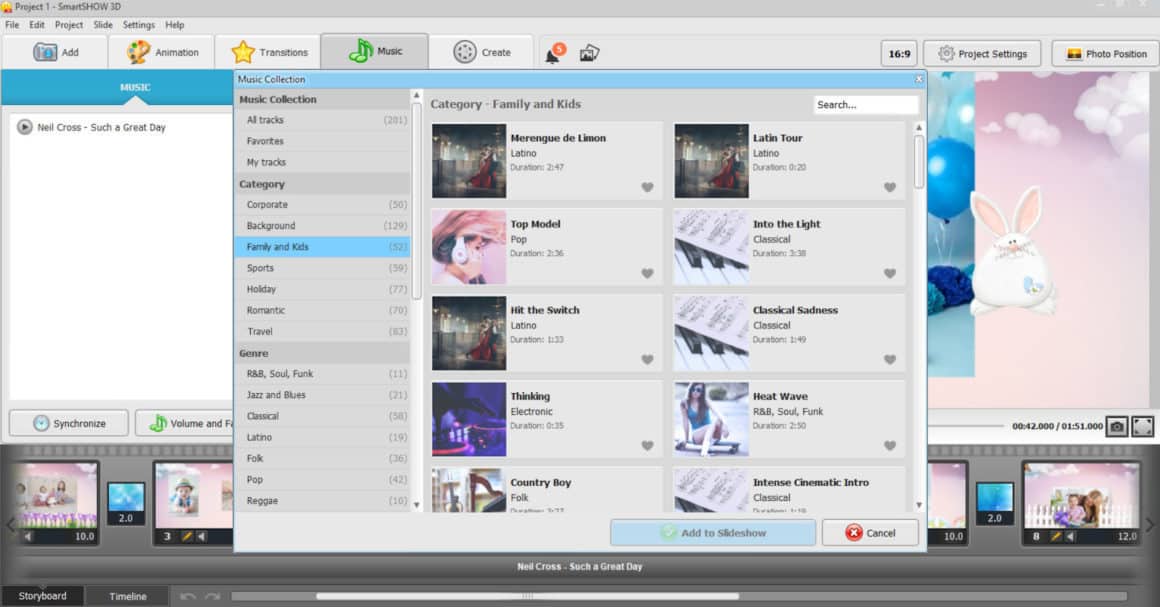 Let the World Know!
This great tool allows you to convert your slideshow in 30+ video formats as well as to share it on your social media. Simply go to "Create" and choose the appropriate option. 
While the software has its downsides like it doesn't run on Macbooks, it is still overall a very well structured and easy-to-use platform to boost your creativity. Hopefully, you have had a lot of fun mastering the baby slideshow maker and have created something very special. Regardless of your computer skills, you will get hold of SmartSHOW 3D very quickly and effortlessly and enjoy the process immensely. Have a creative day!