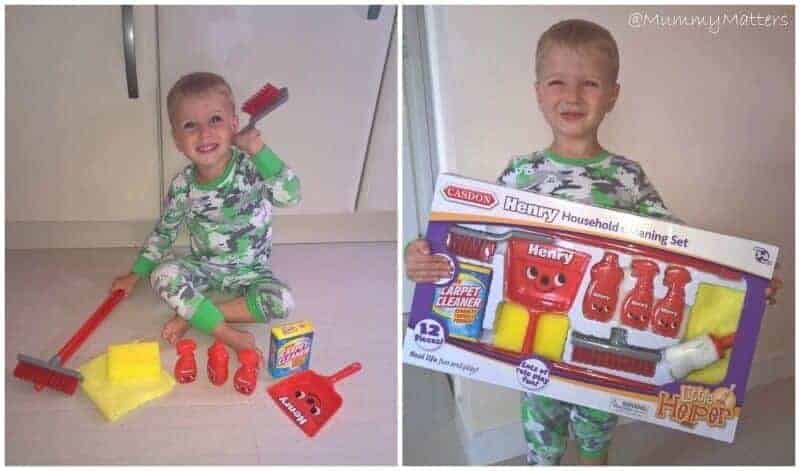 Setting the boys to work with Casdon Henry Cleaning Set
Let me tell you a little story . . .
Loyal readers of my blog will know the cheeky face of Jelly Bean, a real Mummy's boy who likes to help out around the house. Everyone who knows him loves him and his funny little ways, he can generally raise a smile from most people. Well a few months ago, during one of this 'helpful' sessions, he decided to take it upon himself to help Mummy to do the cleaning. I was upstairs doing jobs and he (as far as I was concerned) was playing in the playroom with his brother Beanie Boy.
He helped himself to the Mr Sheen furniture polish and a duster and proceeded to polish around the house as he has seen Mummy do lots of times before. Only he didn't just still to the wood furniture, he decided to polish the marble floor in the kitchen. I came down into the kitchen ready to head out of the door, dashing around as I do and managed to do my best impression of Bambi on ice! My legs went akimbo and my left knee smashed to the floor – I cried like a baby. Poor Jelly Bean cried too, because he thought he was helping, he didn't know that he was doing anything wrong. Just as I didn't many years ago when I decided to be the little helper and use the Mr Sheen to polish my Mum's open wooden staircase – yes I did!!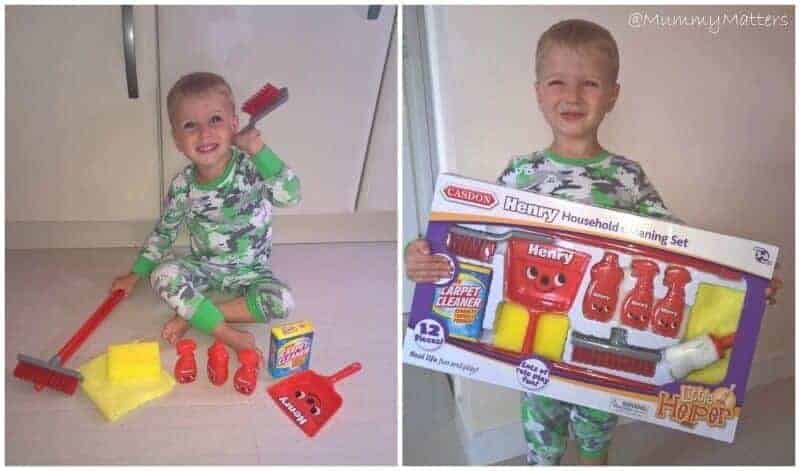 Sooooo, when an email landed in my Inbox asking if we would be interested in trying out the new Casdon Henry or Hetty Cleaning set there had to be only one answer – for the sake of our family safety if nothing else.
Jelly Bean's reaction
When it arrived I showed it to Jelly Bean and he squealed, hugged my legs and said "oh thank you Mummy" in his cute little manner. We took it out of the box straight away and he called Beanie Boy to come and take a look, he said "look i'm going to clean Mummy's house" and they set to work on cleaning my kitchen. This time I was safe because all of the bottles are of course pretend, so no slippery sprays or fluids to panic about.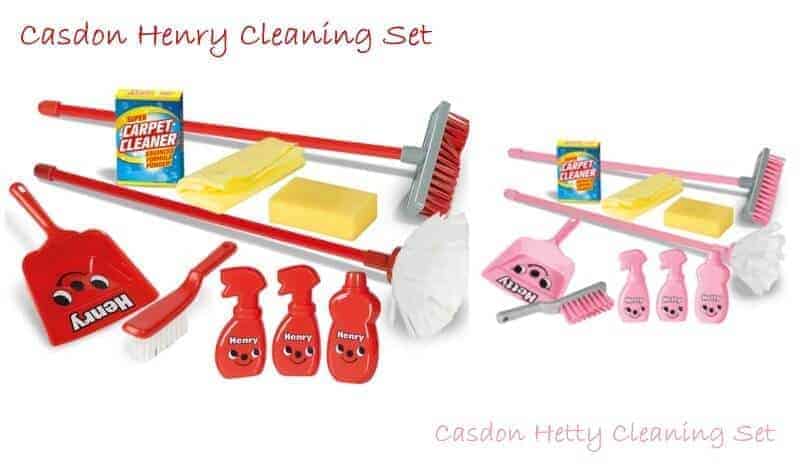 What's in the box?
The cleaning set can be purchased for just £10 which is amazing considering how much is in the box;
Cleaning mop
Long handled broom
Dust-pan and brush
2 x Spray bottles
Cleaning fluid bottle
Sponge
Cleaning cloth
Carpet cleaner box
The Henry Cleaning set contains all red items but there is also a Hetty Cleaning set which contains pink items.
What do we think?
My children are rather like bulls in China shops so when they test a toy, they really put them through their paces. Think along the lines of the preschool room Sunnyside Daycare  in Toy Story and you'll get the idea. Unfortunately the Carpet cleaner box lasted less than 30 seconds because Jelly Bean tore it open to see what was inside. However, everything else is still perfectly intact AND is still being played with weeks later.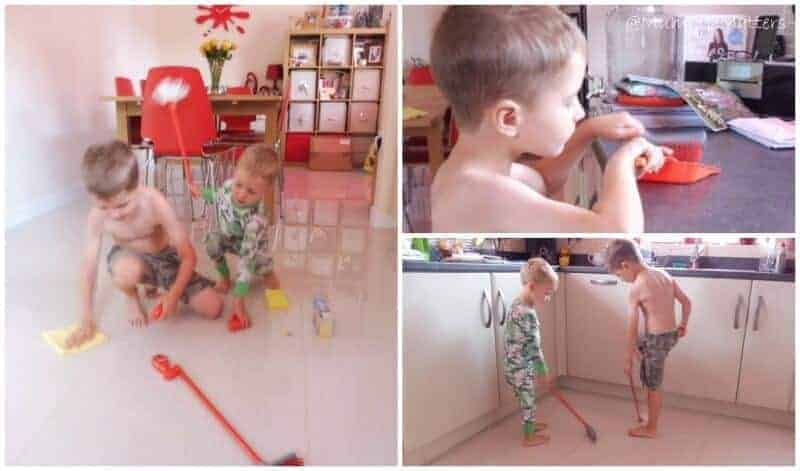 The Beans have great imagination and love role play so when they are being pirates, they have to get out the mop and someone will be deck hand and have to mop the deck, if they are playing at schools one of them will be the caretaker and clean around the school. Jelly Bean likes to help Mummy so if I am doing the cleaning around the house, he will run to fetch his cleaning equipment and will get stuck in.
One other thing which Jelly Bean likes to do often is help himself to cereal from the cupboard and will sometimes drop the box and the cereal all over the kitchen floor. Last week I heard one such commotion and went to tidy up but he had beaten me to it, he had collected his dust-pan and brush from the playroom and was sweeping it up himself so he got a House Point for tidying up his mess.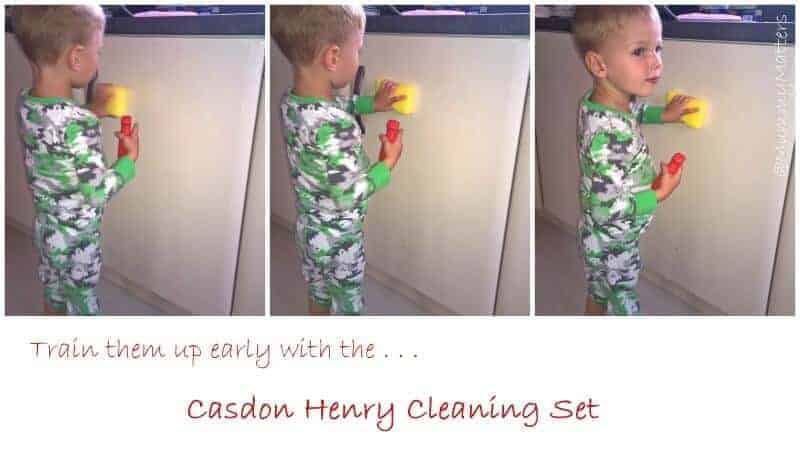 Role play is such a powerful way for children to learn about the world around them and I'm hoping that by engaging my Beans' interest in taking care of the house, their future partners will thank me for it in years to come.
Finally, please the lack of picture quality, the boys love doing the cleaning so much I can barely get them to stand still to take a photograph.
Follow the Henry and Hetty fun online:
DISCLAIMER: We were sent the above Casdon Henry Cleaning Set free of charge for the purpose of this post. All words, images and opinions are my own and may not be copied without my permission. I have not been instructed what to write.