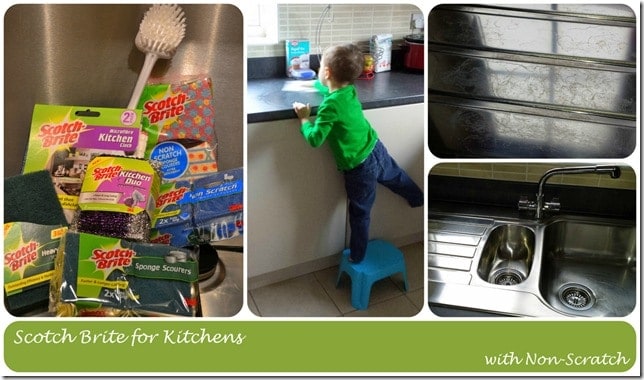 Scotch-Brite and Scotchgard keeping you sparkly and new
I don't mind cleaning, I wouldn't say that I LOVE it but I certainly don't mind it. At least when you're cleaning you get instant results, a kind of little pat on the back for your efforts. Of course in a household of 6 the results don't last for long but for a short period of time I am able to stand back and admire my lovely clean and tidy home. So when I was asked if I would be interested in reviewing a range of cleaning accessories from Scotch-Brite and Scotchgard, it was a no-brainer I had to say yes. They have got pretty much every square inch of your home covered, if only they made vacuum cleaners too I would be a really happy girl.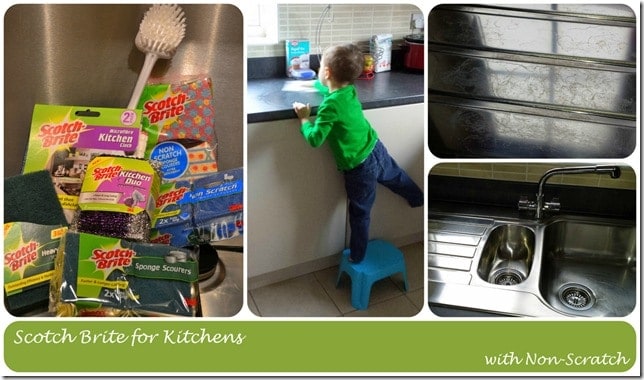 The room that I seem to spend the majority of my time in and cleaning has to be the kitchen, it's the room that looks the best when it's clean but it gets dirty in the fastest time but thankfully this last week I have had Beanie Boy and Scotch-Brite cloths and sponges on hand to make light work of it. There are cloths and sponges for every job possible in the kitchen but the ones that I couldn't wait to get out of the packaging were the Non-scratch flowery sponges that you see at the back of the picture to clean up my stainless steel. When I wash all of Jelly Bean's baby bottles and teethers I leave them on the drainer to drip dry so that leave lots of water marks which can be hard to shift. The Scotch-Brite sponges were perfect for this job, it took very little elbow grease and gave me a perfect shine. Beanie Boy loves to help me clean so he got to work on cleaning the worktops, table and floors (all for the price of a chocolate egg and a kiss from Mummy).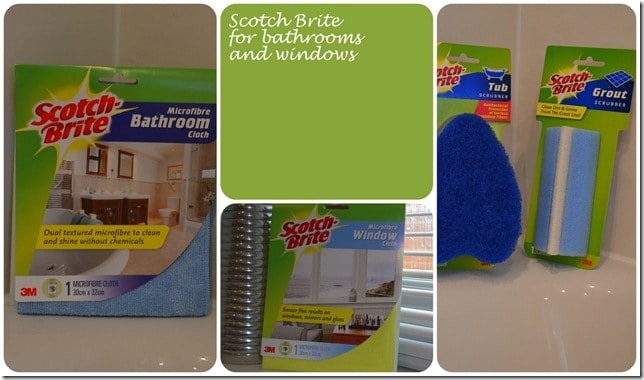 After the kitchen, the next room in the house to get the dirtiest would have to be the bathroom and Scotch-Brite won't let you down there either. The Tub Scrubber is shaped rather like an iron and has a handle on the back to make it super easy to scrub around the bath tub to get rid of the tide marks after cleaning those grubby children (ours like the outdoor life) and the Grout Scrubber is pointed along that white strip you see down the middle so that it fits perfectly between tiles to clean the grout with ease. When it comes to getting a high shine you'll want to switch to the Microfibre Bathroom cloth which is seriously soft to clean to a high shine without the need for nasty chemicals. Finally the Microbibre Window cloth is obviously perfect for cleaning the windows but I used mine to clean the mirrors too. It lifts and traps the dust better than ordinary cloths and doesn't leave annoying fleck behind for a smear-free/streak free clean without chemicals.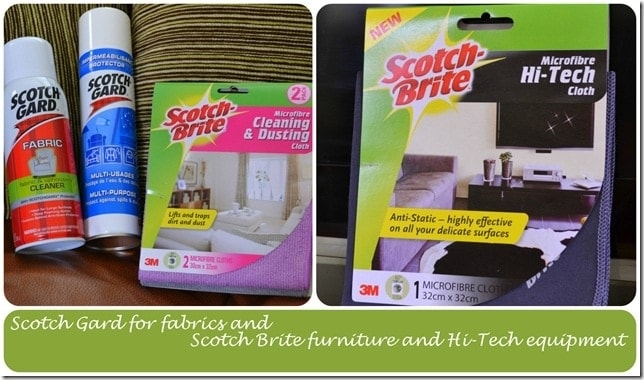 If you have young children and like us you haven't had the sense (or good walls) to hang your TV on the wall then you will surely know the state your TV screen gets into with sticky fingers. The Microfibre Hi-Tech cloth is the perfect partner for all your home entertainment systems. It is an anti-static cloth which removes the dust, dirt and stickiness with ease and leaves behind nothing but a shine.
I'm lucky because the tiddlers love to help me with the cleaning (I am very good at positive praise when it comes to cleaning) and so Little Bean was over the moon with a pretty pink cloth to help do the dusting of all the wood and metal furniture throughout the house. Beanie Boy wouldn't touch it with a barge pole because "it's pink, that's for girls" but then he was happy enough in the kitchen so that's fine.
When it comes to looking after the fabrics in the home, Scotchgard is your friend. There is a Scotchgard Fabric & Upholstery Cleaner which you will need to do a small patch test with first to ensure colour fastness but providing there are no problems you are good to go. Just spray on a thin uniform layer of foam and then using a clean, damp sponge you need to work the foam evenly into the fabric using overlapping circular motion. Leave it to dry and then vacuum. Some problem spots may need several applications. The Scotchgard Fabric Cleaner acts as a protector too.
If you've just purchased new fabrics and want to keep them looking cleaner for longer then grab yourself a scan of Scotchgard Protector for Leather, Clothing, Soft Furnishings, Fabric and Upholstery. It will prolong the life of a fabric without affecting the feel, look or breathability of a fabric and so it is perfect for suits, jackets, coats, skirts and ties as well as sofas/chairs, table linen, throws and cushions.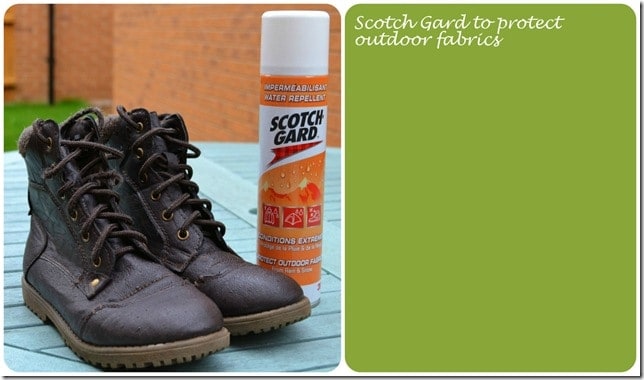 Whilst we are in the mood for protecting things, don't forget about the outdoor bits and bobs too. New pair of shoes that you don't want spoilt by the weather? How about a new tent that you don't want the English weather to ruin or even than warm winter coat? Look no further than the Scotchgard Water Repellent fabric protector which protects against rain and snow.
If you want to get your house in tip-top condition before the family descends at Christmas then stock up your cleaning cupboards with 20% off all Scotch Brite and Scotchgard protector products plus FREE P&P by visiting 3mdirect.co.uk/mums and then enter the discount code 'mums' when prompted.
DISCLAIMER: I was sent a box of the Scotch-Brite and Scotchgard products pictured above, free of charge for the purpose of this post. All words, images and opinions are my own and may not be copied without my permission. I have not been instructed what to write.
Commissioned Post