Scandinavian Biolabs – Hair Growth Routine
Before I became a Mum I used to love my long hair but a new baby constantly getting her hands tangled in it and postnatal hair loss saw me cutting it off short (and instantly regretting it). I have been searching for the perfect hair growth routine ever since, in the hopes of having longer hair. Lillie is now 12 years old and finally, I found one which I know is working so I'm going to let you in on my secret.
For the past two months, I have been using Scandinavian Biolabs Hair Growth Routine products which were gifted to me for review purposes. I tend to wash my hair 2-3 times per week depending upon how many times I have been working out at the gym (and get too sweaty to not wash it).
All of the ingredients are 100% natural and vegan. This video explains the scientific stuff about this natural hair care routine far better than I can.
Hair Strength Shampoo
The Scandinavian Biolabs Hair Strength Shampoo is a Bio-Pilixin formula which helps women who suffer from thinning or damaged hair. The shampoos scientifically created formula rebuilds damaged and thin hair to reveal beautiful healthy hair.
The shampoo is packed with natural ingredients which penetrate deep into the scalp and penetrate the hair strands giving new life to your hair, boosting the protein and extending the hair's growth cycle, rebuilding length and hair volume.
Hair Recovery Conditioner
This Pro-Biocap Recovery Conditioner comes from an advanced Pro-Biocap Formula which will strengthen the hair follicle growth and stimulates the growth of healthier, stronger hair with a longer lifespan of the hair shaft thanks to the deep conditioning which your hair needs.
Hair Recovery Serum
The Hair Recovery Serum is a Pro-Biocap formula which strengthens the hair follicle to improve follicle growth and strong, healthy hair. It has been scientifically created to restore the scalp's natural balance.
Why does hair loss occur?
Nothing affects self-confidence quite so much as hair thinning and hair loss. It is something which affects both men and women although it is more prevalent in men. Our hair follicles have a high turnover and active metabolism requiring a plentiful supply of nutrients and energy.
There are four stages hair goes through in its' lifespan; anagen, catagen, telogen and exogen. As we age the anagen stage decreases which results in weaker and thinner hair with each cycle. Calorie loss or a lack of several macros and micronutrients like proteins, minerals essential fatty acids and vitamins can lead to hair loss.
Does it work?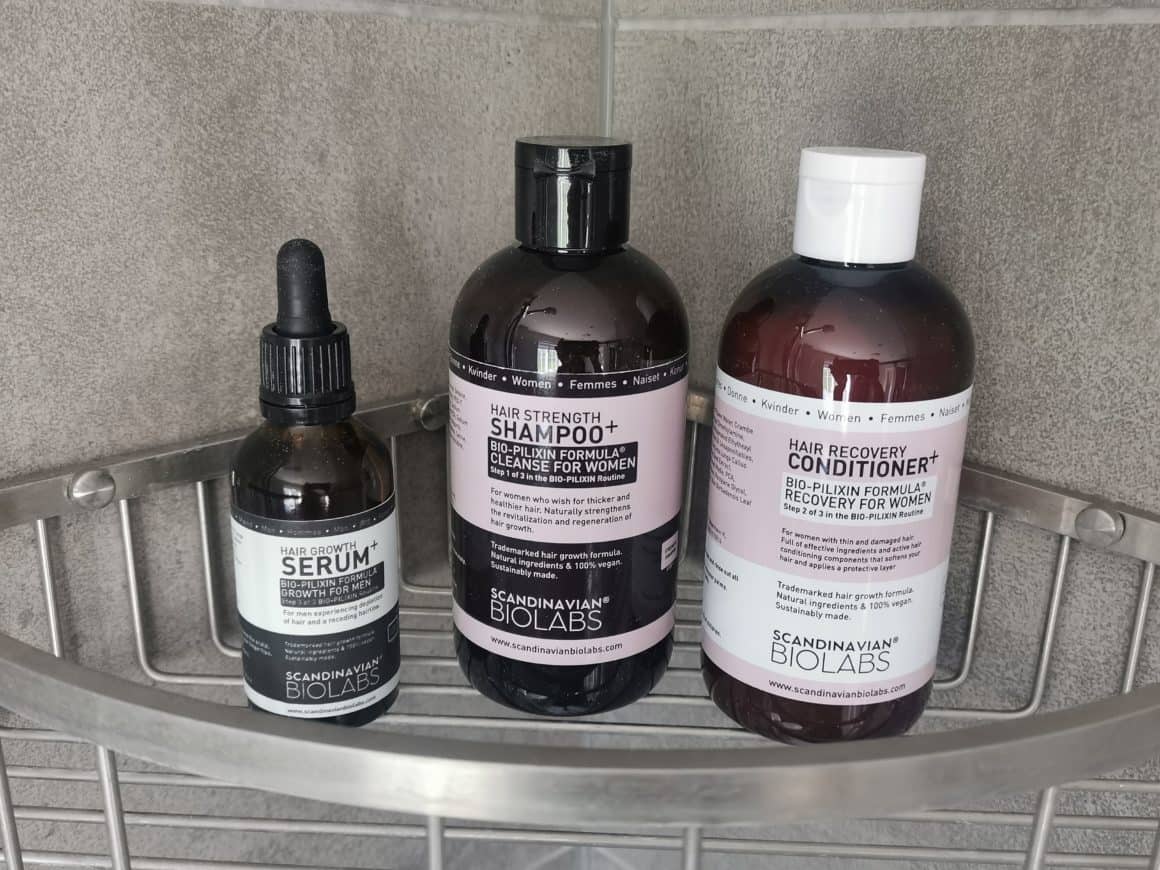 Scandinavian Biolabs are so confident in their hair products they offer a 150-day money-back guarantee. If you take a photograph of the damaged area before starting the programme and then taking another photograph 150 days later, they will refund you if there is no noticeable change.
Subscribe and Save
New customers can save 15% on their purchases when they subscribe:
Hair Growth Routine | For Men – £59.99 
Subscribe and Save 15% – £50.99!
Hair Growth Routine | For Women – £59.99 
Subscribe and Save 15% – £50.99!
Approximately 92% of their users have seen a marked improvement in hair growth.
Personally, I didn't have an area of noticeable hair loss however my hair did feel thin and weak before starting the new hair care routine. Now my hair feels thicker, longer and healthier than it has in a very long time. The deep conditioner has made a noticeable change to my split ends thanks to the additional moisture from the natural oils.