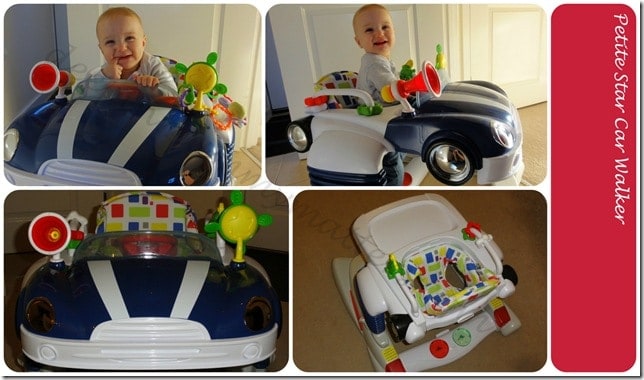 Review: Petite Star Car Walker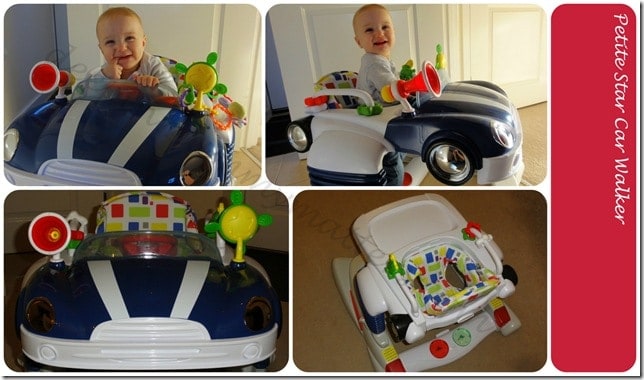 When Little Bean was a baby I used a baby walker and she would literally chase me around the house in it, you had to move quick or she would catch your ankles and let me tell you, it flipping hurt if she did. When Beanie Boy was a baby I only used one for a short space of time because he never really took to it in the same way so I sold it. When Jelly Bean came along I couldn't decide whether to take the plunge and buy another walker for him or not but then I was contacted to see if I would be interested in reviewing the Petite Star Car Walker with Jelly Bean and so I simply said "yes please". It was perfect timing as Jelly Bean had just turned 9 months which is the right time to start thinking about placing your little one in a baby walker. It isn't somewhere to dump your baby whilst you get on and clean your house or enjoy quiet time without a crawling baby getting into anything and everything. A baby walker should only be used for 15 minutes at a time and should always be supervised.
When the box arrived I was eager to put it all together and see what Jelly Bean's reaction was. It came with good instructions but you did need a little bit of brute force to make some bits click together. Attaching the side struts which hold the top and bottom together did get me saying a few choice words under my breath but with a little determination I did it. I will not be defeated! I also struggled a little when it came to attaching the 'windscreen' but again, I managed it.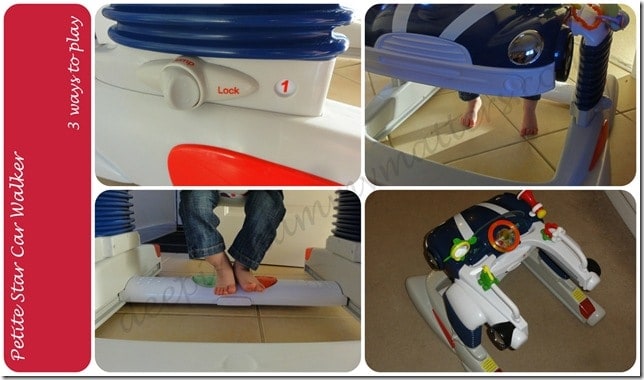 Before the walker arrived I hadn't read up too much on it, I like to form my own opinions and so I knew nothing of it other than it looked very similar to the Mini Car which is extremely cool in my eyes. What I didn't realise was that the Petite Star Car Walker has three different functions. When baby isn't quite at the stage of propelling himself forwards (or backwards) with his feet on the floor you can use the walker in bouncer mode by moving the kickbar forwards until it clicks into place. Jelly Bean is able to kick, stamp and jump on the footplate and is in turn rewards by fun sound effects to encourage him to do it more. At the moment Jelly Bean's feet don't quite reach the floor in the lowest setting (there are two height settings) because he is quite small for his age (the best things come in small packages) so at the moment we are mostly using it in the bouncer function.
To use the walker as a baby walker you simply slide the footplace backwards until it clicks into place and you're ready to go. The height is easily adjusted on the side and a twist of the knob will change it from jump to walk mode.
Finally once baby is old enough to start to walk unaided you just fold the seat away, slide it underneath the car 'bonnet' and slide the footplate all the way forwards and baby will have their very own walking frame to help them hone their skills before going it alone.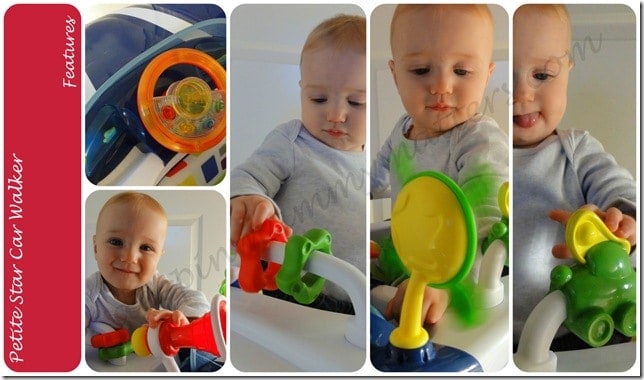 The Petite Star Car Walker has some cool toys to keep baby happy whilst in the driving seat including a squeaky horn, sliding rings and car on the side bars, a spinning 'daisy' wheel on the wing mirror and a flashing lights and sounds steering wheel. Then should you so wish you can remove the car bonnet so reveal a flat tray for play or snacks.
I have to admit, I'm seriously impressed with this baby walker, I am sure if Beanie Boy had one of these he would have shown more interest.
The Petite Star Car Walker is available to by exclusively from Nursery Value at £69.98
DISCLAIMER: We were sent the Petite Star Car Walker free of charge for the purpose of this post. All words, images and opinions are my own and may not be copied without my permission. I have not been instructed what to write.