Review: Currys Essentials Portable DVD Player with Screen
When it comes to spending money on holiday gadgets I don't like to spend a fortune and I don't see the point as you can buy some really good products at competitive prices.
I was asked by MoneySupermarket.com to review this Portable DVD player from Currys. It couldn't have come along at a better time since our previous one had just broken after 8 years of usage.
Portable DVD Player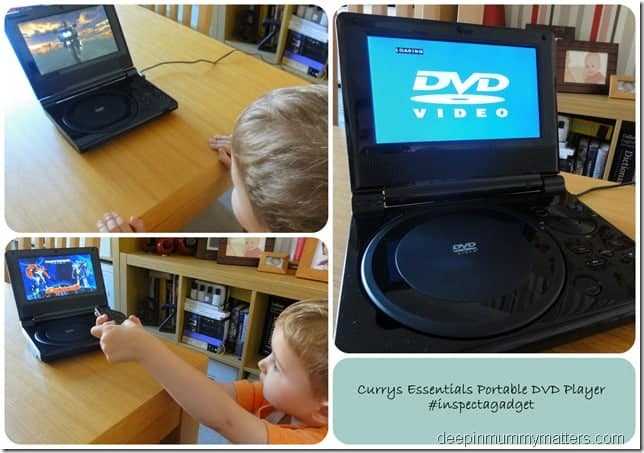 We first bought a portable DVD player for Curly because we became oh-so-frustrated at the 'are we nearly there yet' whining on long journeys. The portable DVD player soon became the first thing on our holiday checklist because it helped him to pass the time and not worry so much about how long the journey was.
Now that we have Little Bean and Beanie Boy too, the whining is tripled so we NEVER head off on holiday without checking and double-checking that the DVD player is packed.
First Impressions
On first impression Currys portable DVD player looks good, it is modern and sleek. It is also very lightweight, which for me is something I like but I think some people would argue it makes it feel cheap.
The compact size means it is perfect to fit in an overnight bag or suitcase for holidays, it would fit perfectly on a tray table for train travel provided you are near to power socket and its low weight means it would be comfortable to sit on your knee in the car powered by the in-car charger included in the box. Also included is a mains AC adaptor and a short scart cable which allows you to attach the DVD player to a TV to enable you to play DVDs through a larger TV either at home or in your holiday accommodation. Beanie Boy was particularly taken with the DVD players' remote control as it is rare for him to be able to take full control of a remote. Obviously, in a car or on a train, you wouldn't need the remote as you are close enough to press the buttons yourself but if using the DVD player in a hotel room then you can stay perfectly rested whilst letting the remote control carry out your commands.
The playback on the screen is clear and the volume is perfectly loud enough for its intended use. My only real complaint about the price is that it could have included a travel case to store the player and accessories but I suppose you can pick one of these up relatively cheaply from most online shops.
DISCLAIMER: I was asked by MoneySupermarket.com to carry out this review and was given the money to purchase the DVD Player which I am able to keep. I was not instructed what to write, all words, thoughts, opinions and images are my own. You are not allowed to copy or use any of my work without my prior permission.