Ocean Hotel – Butlins Bognor Regis
This time last week we were frantically running around the house packing the last few items for our week as Butlins Ambassadors at the Ocean Hotel, Butlins in Bognor Regis. Having never stayed at Butlins before our minds were whirring with what lay ahead of us. It's human nature to make assumptions about what to expect before you experience something for the first time.
First Impressions

When I had mentioned to people that we were going to be Butlins Ambassadors, some people said "wow you'll have a great time", others said, "ooh chavtastic". I wasn't sure which of them were going to be closest to the truth but we were about to find out soon enough . . .
We were onto a good start when the sun came out for the entire journey and the children slept on and off giving us bouts of peace and quiet. As we drove onto the grounds of Butlins we were greeted at the security gates by a very jolly chap who asked us if we had been there before and when we told him that we were first-timers he said "oh you're going to love it". He directed us to the car park for our hotel and told us how to get to reception, then suggested that we leave our bags in the car until we had checked in.
We had arrived later than anticipated (I know such a shock for us!!) so the car park was already pretty full but thankfully we managed to find a space big enough. The reception for the Ocean Hotel was on the Upper Ground floor so we needed to take the lift (because of the buggy). At the reception, we were greeted with a big friendly smile by a very pleasant lady who explained everything to us and told us that it would be a good idea to go and book our meal slot as our first stop to ensure that we were eating at a time to suit us.
A Room With a View

Our room was on the top floor right at the end of the corridor which gave us a fantastic view of the whole resort.
Twin Room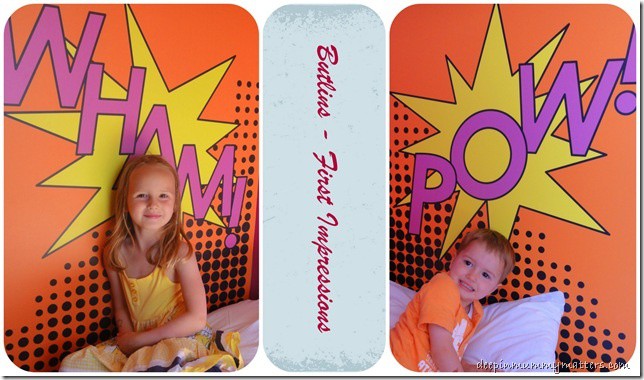 As soon as we opened the door to our room we were faced with the twin room which was brightly coloured and very child-friendly.
We were really happy to see that although there was a window (we don't like to keep them in windowless boxes) it didn't have an opener so we didn't need to worry about them accidentally falling out. There was a TV/DVD combi on the wall-mounted on a large circle which had a cool orange light behind it.
We would have used the orange light as a nightlight for them but Little Bean didn't want to. They both loved the brightly coloured cartoon writing on the walls and selected their beds accordingly. The beds each had a large space underneath with a big box for storing 'Stuff' which was great to keep their toys, books and cuddlies or clothing. Even with the boxes, there was still room for their cases too.
Finally, they had spotlights above their beds as well as a high shelf for storage. I hadn't realised that the room didn't have a door on it and was a little anxious about what that would mean for our bedtime routines since all of our children are used to sleeping with the door closed.
Bathroom
Next was the bathroom which was compact and modern but covered all our needs. Most importantly it was spotless, it was equipped with a shower, a bath, WC and a sink as well as ample towels and a cute little bag of toiletries with a shower cap and mending kit. The children were very taken with the colour changing lights in the ceiling which would later come in handy to act as a night light to provide a gentle glow for wandering toddlers!!
Master Bedroom/Living Area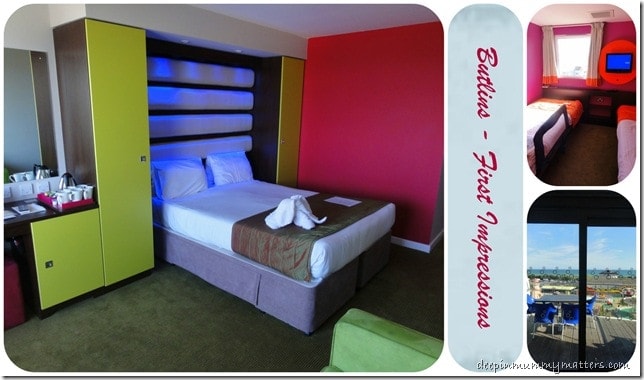 The main room was really funky with bright coloured walls and furniture, a king-size bed (which we both decided was far comfier than our bed at home) with colour-changing lights over as well as spotlights, a full-length single wardrobe with hangers, ironing board and iron, a single wardrobe with shelves and a free digital lockable safe. There was a set of drawers at the end of the bed and a TV/DVD unit wall-mounted above.
Our room also featured a metal-action sofa bed which was to be Curly's bed for the week and finally a chair and dressing table equipped with a hairdryer and tea facilities and a small refrigerator underneath.
From the main room, you stepped out onto a large balcony with a table and chairs. Initially, we agreed that no one would be allowed to use the balcony as we know what climbers our little monkeys can be, we worried that the rails weren't high enough to protect the children especially if they climbed on the chairs.
However, we did relent on our ruling and they were allowed out there but only if myself or Daddy was with them and under no uncertain terms were they allowed to climb on the chairs. The balcony made a really nice extension to the room and gave me somewhere to sit quietly whilst the younger boys were having their daytime naps.
Our rooms had certainly made a good first impression, so next, it was time to check out what the rest of the hotel and the resort had to offer . . .
DISCLAIMER: As a Butlins Ambassador we were sent free of charge for a Butlins Break of our choice in exchange for my reviews. All words, images and opinions are my own, I have not been instructed what to write and my review is honest. You may not copy my work without my express permission.