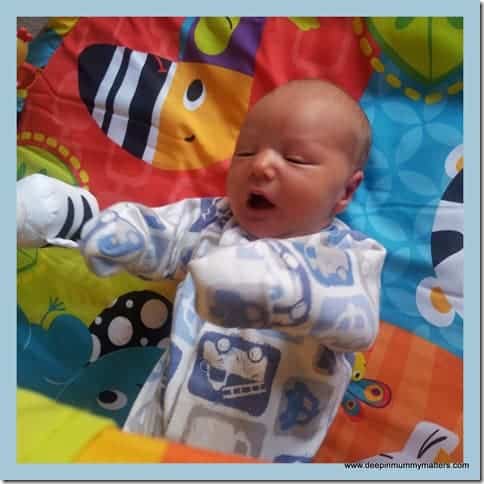 Review: Bright Start Zoo Tails Gym from Asda
Now that Jelly Bean is almost two weeks' old he is starting to have some really good alert time during the day and when he is awake he likes nothing more than to lay on his Bright Start Zoo Tails Activity Gym. The gym is really eye-catching with it's bright colours and dangling toys. Newborn babies like high-contrast because it's what they can see the best so they are especially attracted to black and white objects. The Bright Start gym has one arc which is black with white spots and the other is multi-coloured stripes. I lay Jelly Bean down so that he is facing the black and white arc and he really looks at it and is attracted to the black and white zebra which hangs close to his face. At only two weeks he doesn't have very much control over his hands and arms but every now and then he will hit the Zebra which rewards him with a jingle of a bell, it could be a fluke but of course I think that my little fella is being really clever.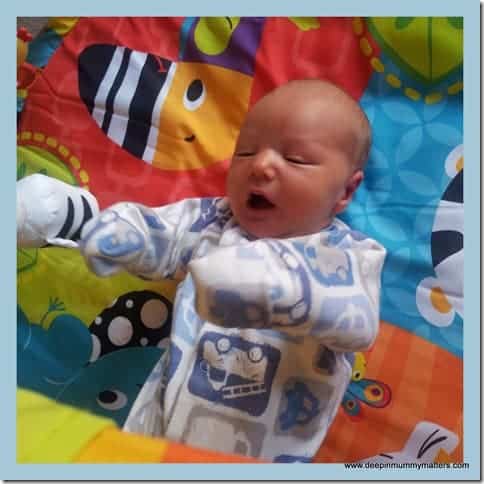 There is a round mirror which can be placed anywhere on the arcs so that Jelly Bean can look at himself (and think he has a friend), there are also loops around the arc where you can hang the other toys – a loop with balls in which rattles when shaken or hit and a butterfly which can be removed and used as a teether. When Jelly Bean is strong enough to enjoy some tummy time the mat has bright colourful characters to stimulate him and is machine washable to remove any baby spit-up or drool.
We like the fact that the gym folds up really flat when not in use and can be slotted down the side of the sofa so you don't need to have a house looking like a baby store all the time.
The only issue that we had with the gym was when removing the ties which kept the arcs bent within the packaging they sprung out rather ferociously when cut so do make sure that baby or anything else fragile is out of range.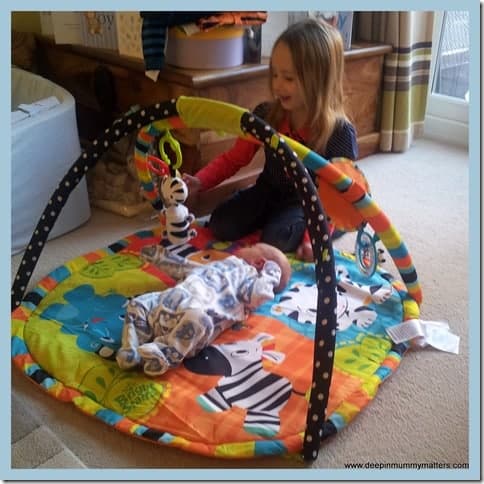 The gym comes at a very reasonable price of just £25.00 from Asda.
DISCLAIMER: We were provided with Activity Gym by Asda for the purpose of this post. I was not instructed what to write, all words, opinions and images are my own and may not be copied without my permission.