Ravensburger Mini Memory Games
I have always prided myself on having a good memory (well until Baby Brain struck!) and so now I love nothing more than watching Little Bean playing with toys that improve her memory skills. Apps on phones, board games, even just journeys in the car – she never ceases to amaze me and I see that she has inherited that from her Mummy.
Ravensburger Mini Memory Games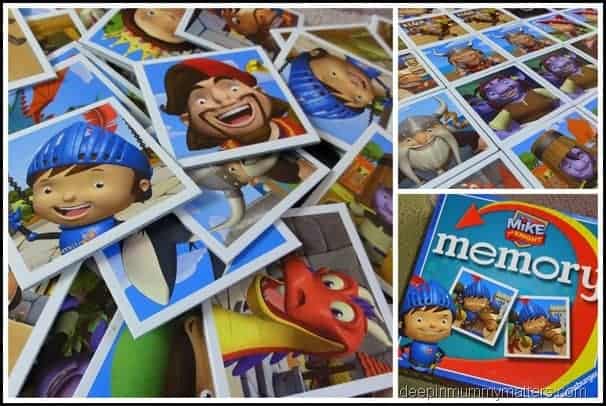 When we were sent one of the new Ravensburger Mini Memory Games to review Little Bean was in her element. We received Mike the Knight of which Little Bean is a very big fan. The game contains 48 high-quality memory picture cards making 24 pairs depicting a character from Mike the Knight.
Before being sent the cards I had spotted these in the shops and was impressed by the size of the box as it would be perfect for holidays or for us, travelling on the train. On opening the box I was further impressed by the quality of the cards, I expected them to be quite flimsy and easily bent or damaged but the cards are very thick and sturdy and should live up to a bit of rough treatment by younger children. Each card measures 5x5cm and is aimed at children from 3-5 years.
Little Bean is already quite adept at memory games so she was quite keen to get stuck in with large layouts of cards but if you have a child who is only just starting on memory games I would recommend starting off really easy with just mixing up 3 pairs of cards and then working up to larger numbers as their skill level increases.
The game couldn't be more simple, just select the number of pairs that you want to play with, shuffle them all face down and then lay them out on the floor or a table (still face down). Start by turning over two cards, if they match keep them face up if they don't turn them back over and then one by one turn over another two cards. If you turn over a card for which you have already seen its pair then the aim is to remember where you last saw its partner and turn it over. Keep going until you have found all your pairs. This is a great game for solo play or as a family, each taking it in turns to find a pair. The one who finds the most pairs wins – simples!
Other titles in the series include:
Bob The Builder
Minnie Mouse
Disney Princess
Disney/Pixar Cars 2
Dora The Explorer
Hello Kitty
Mickey Mouse Clubhouse
Octonauts
Amazing Spider Man
Thomas & Friends
DISCLAIMER: We were sent a Ravensburger Mike the Knight Mini Memory game for the purpose of this review. All words, images and video are my own and may not be copied without my permission. My opinion remains unbiased.