#RaceforLife – We did it!!
At 7am yesterday morning I was rudely awoken by an alarm, my alarm! It's been quite a while since I have been woken up in the morning by an actual alarm clock, I usually leave that to the children to do for me (they do it so well) but yesterday I needed to be sure that I was up and about early. On Saturday we had spent the day at Warwick Castle having fun as a family (more on that in a different post) but the result was two EXTREMELY tired children, I wasn't about to risk them sleeping in on such an important day – hence the alarm clock! We needed to be in Milton Keynes for 10am ready to join in with 3,000+ women and young girls to take our place in #RaceforLife.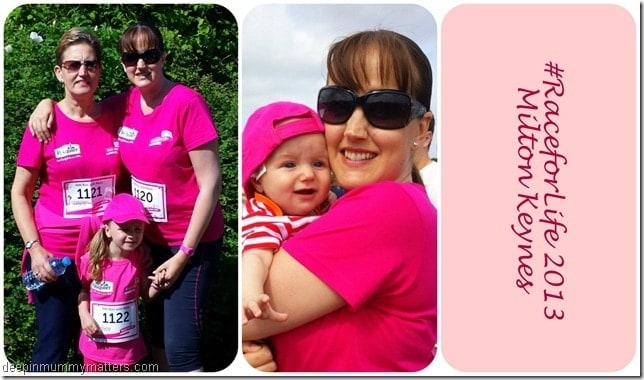 In case you haven't read any of my previous posts, we were asked by Brioche Pasquier if we would like to form a team for #RaceforLife and if so, they would donate £250 to our fundraising pot. I asked my Mum and Little Bean if they would like to form a team with me and they agreed so we set ourselves a target to raise £500 (doubling the donation). Unfortunately we didn't hit our target but we did raise £398 which we are very happy with – thank you to everyone who gave a donation for such a worthy cause.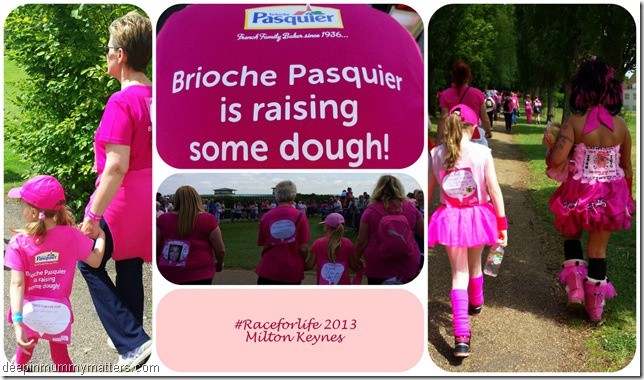 Little Bean really got into the spirit of the day, as we stood waiting for our call to start she told Mum and I how we needed to do our warm-ups and then proceeded to show us what to do.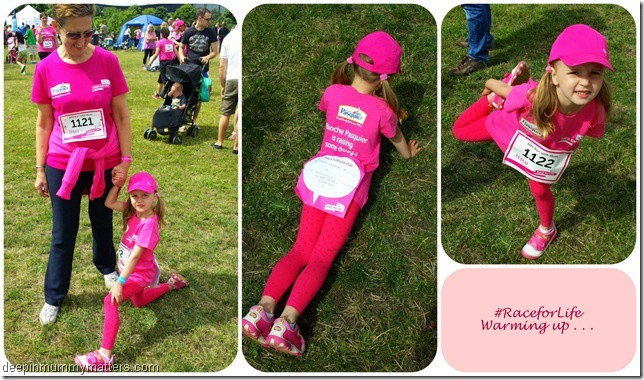 As we took our places to make a start we were surrounded by a sea of pink. It was at this point that I began to feel quite emotional because it was as everyone faced forward ready to go that you are faced with thousands of backs carrying the signs "I race for life for . . .". This is when it brings it home to you just how many people Cancer has and still is affecting. Our team "Run with Mum" had two special people in mind, my Grandad Terry Clancy who died when I was 21 years old. He was struck down with Cancer and it consumed him very quickly, within just two months we were saying goodbye to the most important man in our life. Secondly we were walking for my sister-in-law, Little Bean's Auntie who began her fight with Cancer just as I discovered I was pregnant with Little Bean. I am pleased to say that she put up a good fight and this year celebrated 5 years since she told Cancer to #jogon.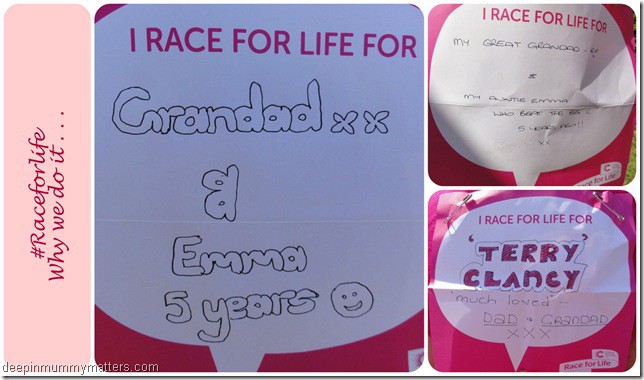 Before we began the wind started to pick up a little and we thought that it was going to be on the cold side but as we put our best food forward the sun gained strength and carried on shining for the rest of the day. The walk took us around Campbell Park in Milton Keynes which was huge, each turn of a corner offered something new which was great for keeping Little Bean going.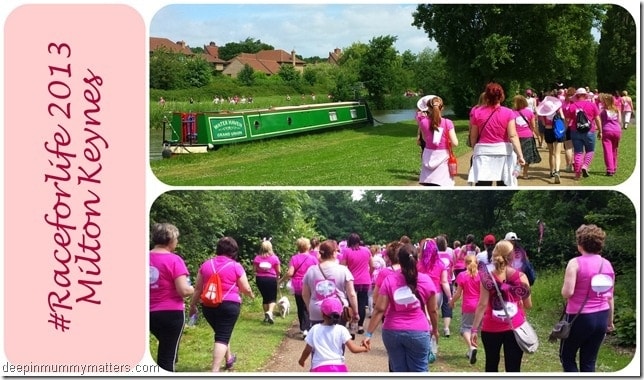 I am so proud of Little Bean, she started moaning that her legs were hurting after only 500 yards but with a little bit of coaxing and bribery we managed to keep her walking onwards until she completed the whole 5k. For Little Bean this is a big achievement as she is not keen on walking in the slightest. She was over the moon with her medal and declared "I've never even won anything before, I'm going to show this to my friends at school" quickly followed by "I'm never doing this again" but you know what? I don't think this will be our last #Raceforlife we have started something now . . .