Queensgate AW17 #QBlogger Challenge
Last week I was invited to take part in a very secretive #QBlogger Challenge at Queensgate Shopping Centre in Peterborough. My instructions were to meet my fellow #Qbloggers at Hotel Chocolat at 6 pm where I would be presented with an envelope containing instructions for my challenge.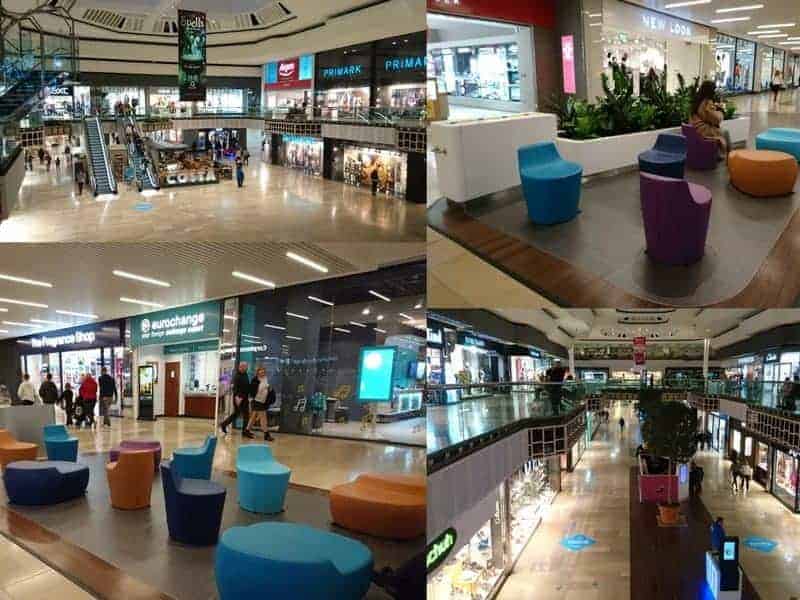 On arrival at Hotel Chocolat, I spotted Laura, Jaymee, Natasha and Rachel each holding a very LARGE Hot Chocolate, my eyes nearly popped out of my head. I introduced myself at Hotel Chocolat and in turn, was presented with an envelope marked 'Sabina' and closed with a gold waxed seal followed by my very own hot chocolate.
Hotel Chocolat Deluxe Hot Chocolate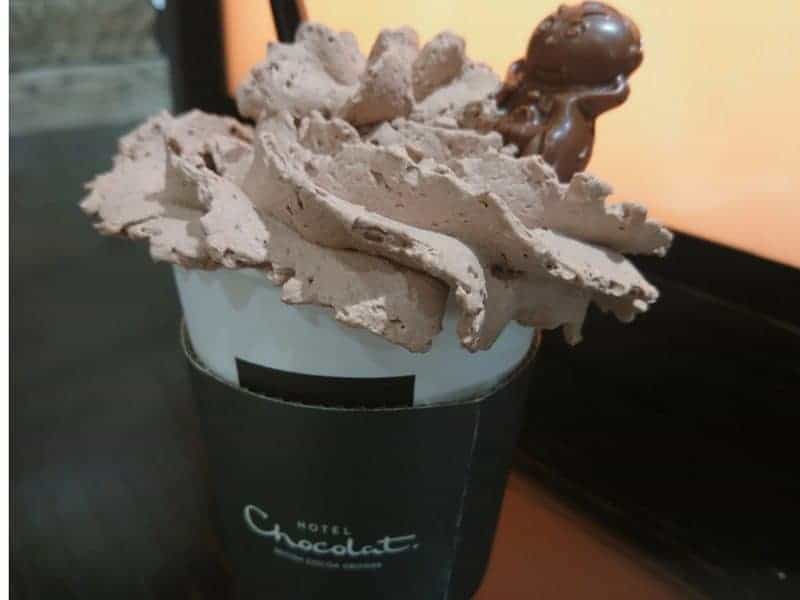 This was, without doubt, the best hot chocolate I have ever had. I didn't even want to think about the calories, so I didn't! The deluxe hot chocolate is a salted caramel hot chocolate topped with chocolate whipped cream and a Tiddly Chocolate Devil. It was pretty much a meal in a cup and definitely a good way to fill up with energy for a shopping trip!
Hotel Chocolat Halloween range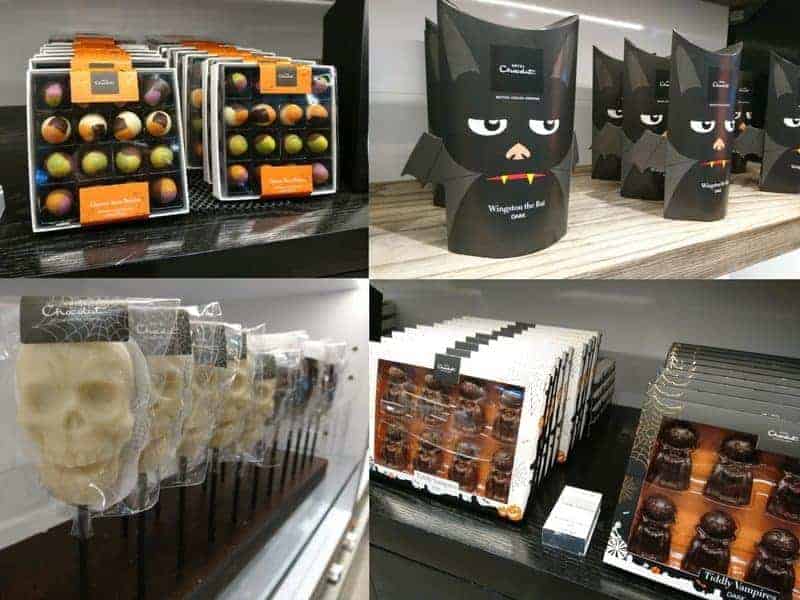 With Halloween just days away, you'd be crazy not to check out the scrumptious range of spooky treats in Hotel Chocolat. They have everything from skull lollies to 'Choose Your Poison' Halloween chocolates and special character Boo Boxes containing Bats, Skulls and Witches Fingers.
What's in the envelope?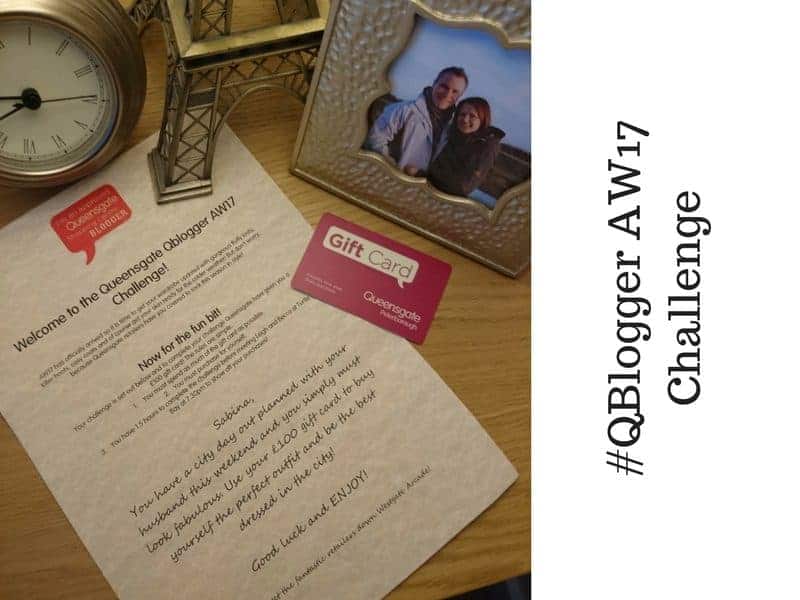 Inside the envelope was a letter addressed to me together with a Queensgate Gift Card. The letter read:
Sabina, you have a city day out planned with your husband this weekend and you simply must look fabulous. Use your £100 gift card to buy the perfect outfit and be the best dressed in the city!
On an ordinary day, I would find this kind of challenge quite easy BUT after catching up with the #Qbloggers, drooling over the chocolate and drinking my Hot Chocolate I had only 1hr 15mins left to complete my challenge before meeting up with everyone in Turtle Bay to show off our purchases whilst tasting the delights that Turtle Bay has to offer.
First stop – John Lewis
My first stop had to be John Lewis and I didn't want to waste any time so I enlisted the help of their ladieswear assistants who were extremely helpful and quite excited by the challenge. We did find a dress which I loved immediately and took to the changing rooms. Whilst I was busy trying on the dress, the assistant went in search of matching shoes and jewellery, she returned with beautiful Carvela shoes and a contrasting necklace, sadly the dress didn't fit my satisfaction so the shoes and necklace were surpluses to requirements. I did however spot a glitzy/casual top on the sale rail of Mint Velvet which was exactly what I was looking for. Khaki green is always a staple in my wardrobe since I love earth colours, this one was interwoven with silver for the glamorous twist and just £35 reduced from £45.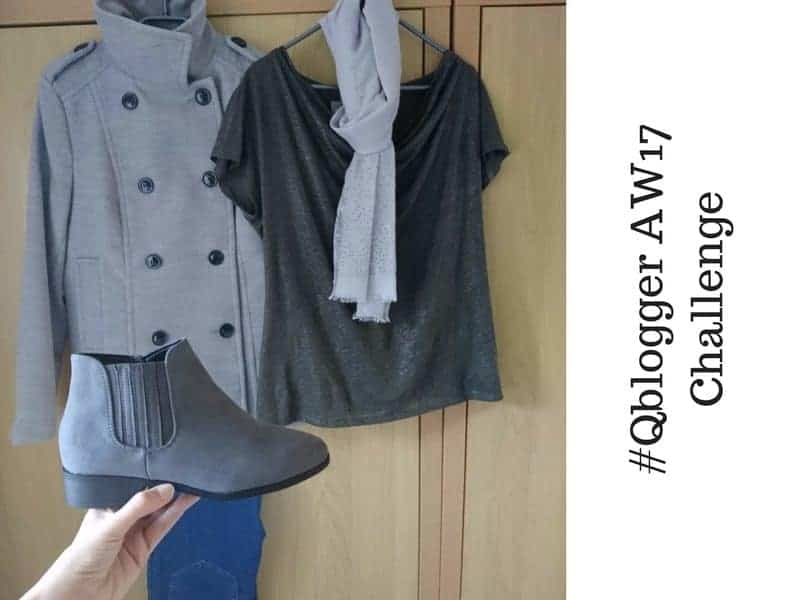 Over to H&M
H&M has long been a favourite of mine, their fashion is always current yet affordable and the quality of their items is extremely good for the price. I knew when I went into H&M I was looking for skinny jeans and hopefully a coat but I wasn't sure what style. It was then that I spotted the grey Pea Coat at just £29.99. The Pea Coat would be warm enough for a busy day sightseeing and popping into shops yet still looking trendy and stylish.
I must admit I haven't ever purchased H&M jeans before since I tend to favour their dresses and skirts. I was pleasantly surprised to find a pair of skinny jeans which were actually long enough for my 34inch inside leg AND with a high waist which is perfect for us Mums!! The best part? I took them to the till expecting to pay £17.99 only to find they had been reduced to £7!!!! Bargain!
The finishing touches at New Look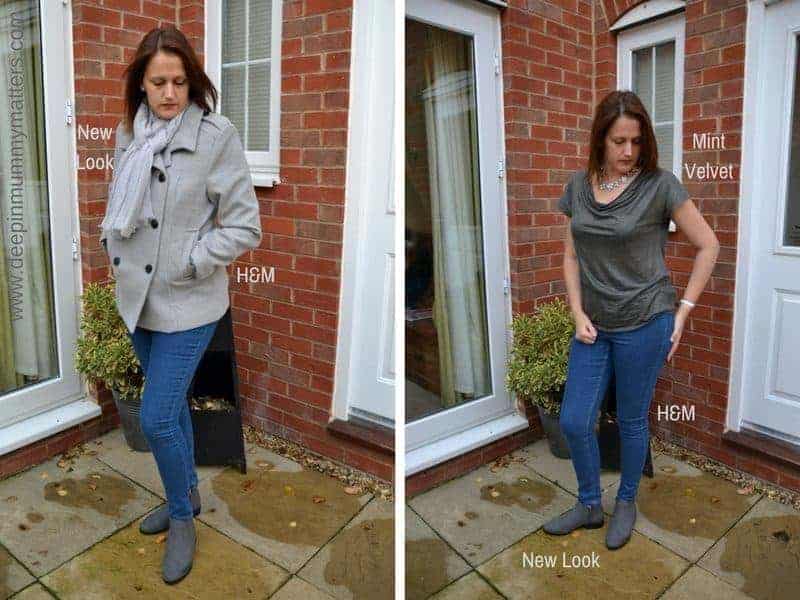 By this time I had been joined by my friend Rachel from Blogging Mummy. I told her that we were in search of low heel ankle boots and she suggested New Look. Once in the store, I enlisted the help of the Store Manager who was extremely helpful in helping me with the finishing touches of my outfit. She managed to find me the perfect pair of low heel ankle boots AND a pretty sparkly grey scarf to bring the whole outfit together.
Don't be afraid to ask
The thing to remember when you enter any store is to not be afraid to ask for help. The retailers want to make a sale BUT they also know fashion and love the opportunity to help you find what you are looking for, they can even help you find something when you don't know what you are looking for. I think many people worry about asking for help in case they are railroaded into buying something that they don't want but this isn't the case. If you say, you don't like something, the retailers can gauge more of your style and help you to find the perfect outfit.
Turtle Bay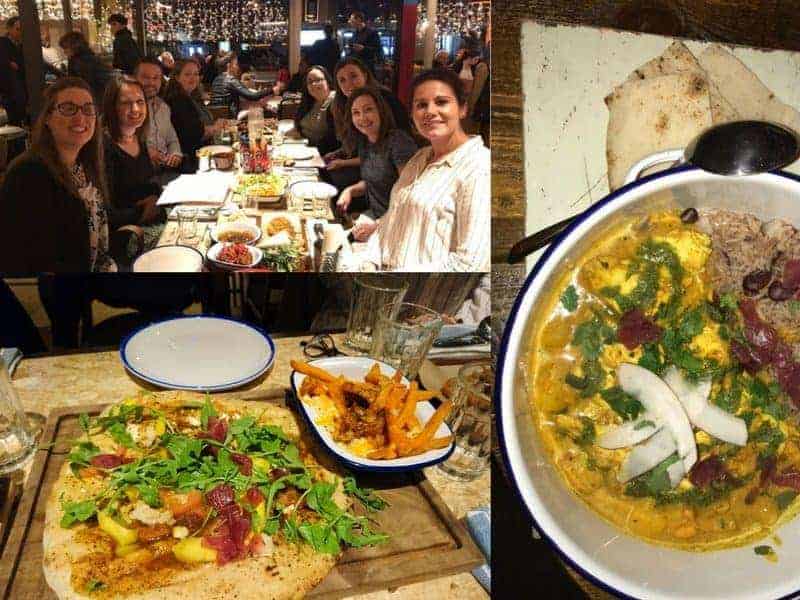 The instructions in my envelope said that I was to meet my fellow #Qbloggers at 7.30 pm in Turtle Bay for cocktails and food. Unsurprisingly, I got so carried away chatting to the lovely lady in New Look that I arrived 15 minutes late to Turtle Bay. Sadly, I wasn't available for the opening of Turtle Bay and haven't actually made it there before now so I was looking forward to finally giving it a whirl as I had heard so many great things about it.
The #QBloggers had commandeered a table in the middle of the restaurant, Rachel and I arrived just in time to order our mocktails (we were both driving) before the food was brought out. Everything looked and tasted delicious, although truth be told, I was still a little full from my delicious Hot Chocolate. I thoroughly enjoyed my mocktail of a Passionfruit Cooler and loved the sweet plantain and festival dumplings. There was a stunning array of food placed before us but I could barely eat a thing so I really must make a date to go back another time when I can concentrate on the amazing food.
The one thing that I will say about Turtle Bay is that the staff were very attentive and the atmosphere was electric. If you're looking for a night out with friends, family or work colleagues then Turtle Bay is the place to be.