Pizza Express Peterborough – our family's favourite restaurant!
When you consider how many blog posts I have written about our fussy eater Little Bean and the stress she can cause at mealtimes you'd probably think that we avoid eating out at all costs but last year sometime whilst out shopping in Peterborough we realised we needed to get some lunch as we still had more shopping to do. At this point, we would normally have headed to Maccy D's because it's easy but the truth is told, the children NEVER eat their Maccy D's they are only interested in their free toy and I never feel satisfied after my meal there so I suggested Pizza Express.
Pizza Express Peterborough
It was the best decision we could have made as it was the first time we ate out as a family without any stress whatsoever. It is now where we take the children for special treats because we know they will eat what they order and the service there is always brilliant. Last week I was asked if we would like to review the Pizza Express Peterborough menu, it was a no-brainer really!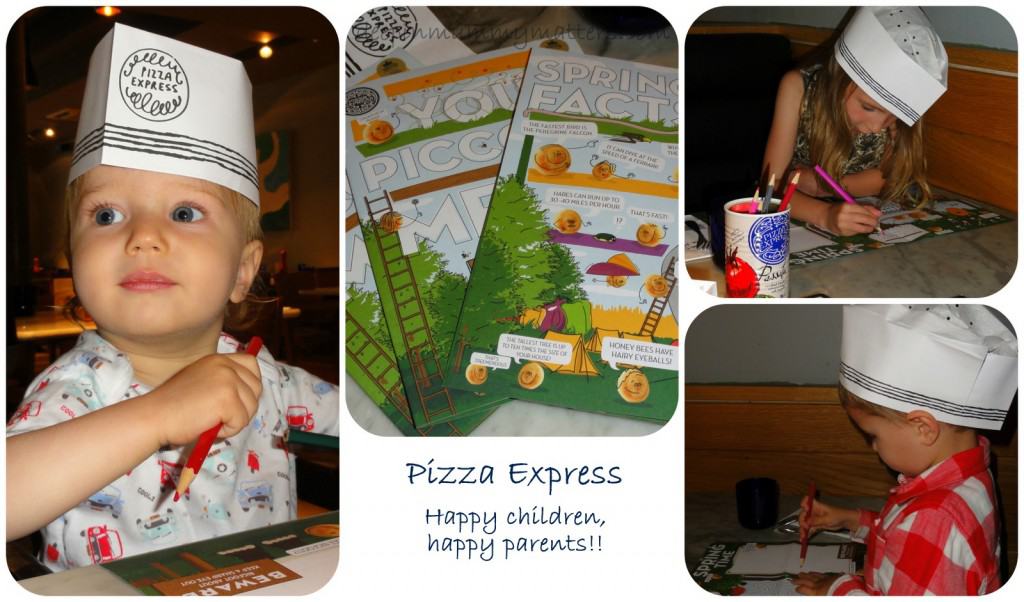 We were greeted by the friendly staff who showed us to our table where the children were presented with their menus that double up as activity books, their paper 'chefs' hats and a couple of pots of crayons to keep them amused whilst Hubby and I checked out what we were going to eat. Since Hubby and I have both been on a health kick recently we decided to try something different. I'm very much a creature of habit and will tend to stick to what I know but I have been trying to avoid eating bread and pasta as much as possible so pizza and pasta were out of the question.
Drinks
There is a comprehensive drinks menu to choose from so there is something for everyone. The Beans all chose blackcurrant squash, Hubby ordered an Aspinall's Cider and I ordered a white Wine Spritzer (well it was a celebration!) and then we had a jug of water for the table. My only little grumble was the waitress brought me Soda Water whereas I prefer it with Lemonade but I didn't mention it either so hey ho, I managed to drink it without fuss anyway.
Score: 9/10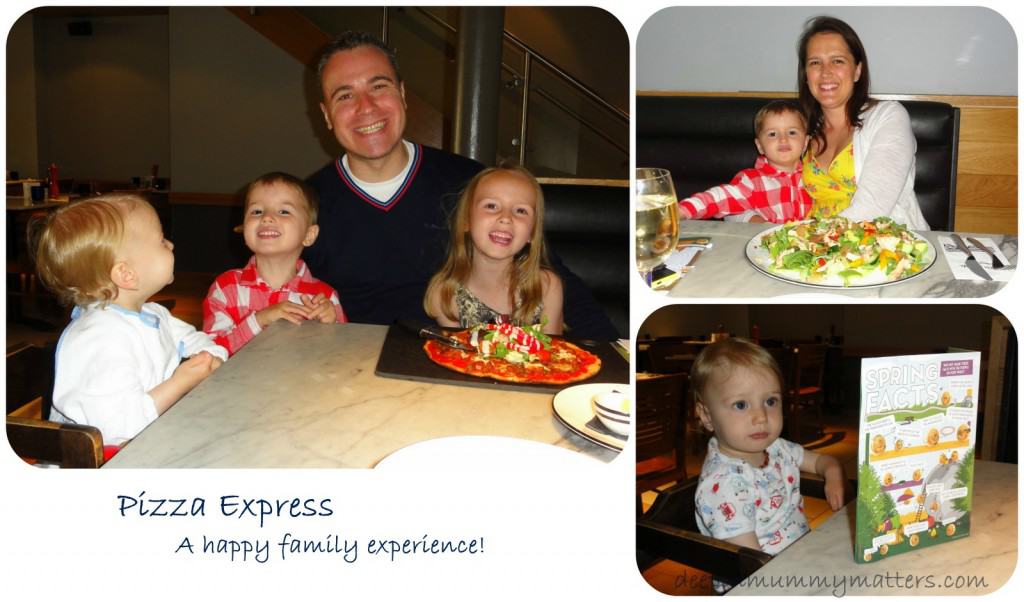 Menu Choice
I love that there is so much to choose from at Pizza Express and it's really clear to see if you need to order according to special dietary requirements. At a glance, you can spot the meals which are Gluten Free, suitable for Vegetarians or Contain Nuts. The Healthier Eating meals display the calorific values and if there is something that you like the sound of but feel that something is missing you can add your own ingredient for just £1.50 per ingredient, choose from; chicken, goats cheese, pancetta, pepperoni, Sloppy Giuseppe mix or chargrilled vegetable.
Score: 10/10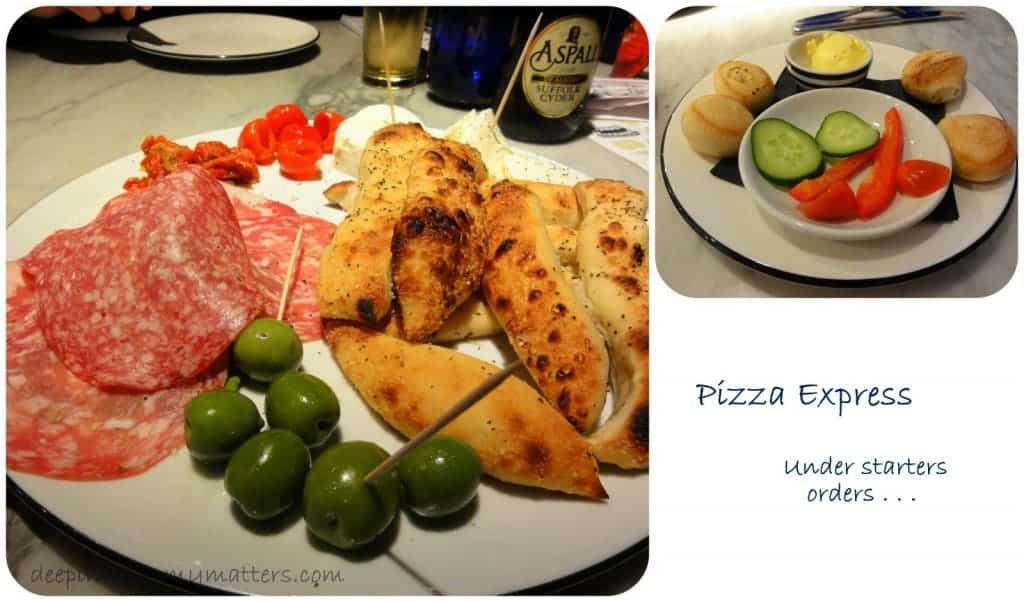 Starters
Hubby and I opted to have the sharing platter – Classic Italian Antipasto of Cured Italian meats with large green Sicilian olives, roasted tomatoes, baby mozzarella, sweet peppadew peppers and rocket with warm dough sticks. The only thing that we were both dubious of is the Olives because it's not something we normally would eat and although they were better than we anticipated, we probably won't be eating them again any time soon. The rest of the platter was mouth-wateringly good though, even the Beans ended up digging in and stealing the dough sticks.
For the Beans, they stuck to what they know and ordered Baked Dough Balls with Side Salad and surprised us even further when they picked up their knives and spread the garlic butter on before tucking in (they won't normally touch butter!) and Beanie Boy polished off all three small bowls of salad too!
Score: 9/10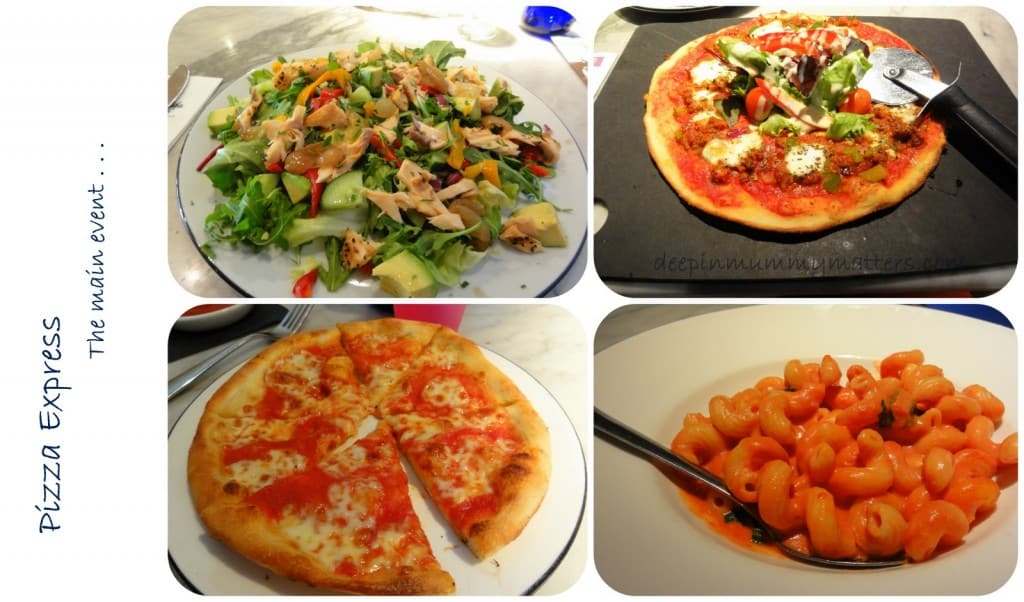 Mains
The last thing that I would normally order when in a restaurant is salad because I've always considered it to be rabbit food but seeing as though we were all being a little daring I decided to try the Leggera Salmon Salad – Oak-roasted peppered salmon fillet, chargrilled red & yellow peppers, sweet baby onions, cucumber, avocado, red onion, mint, rocket and seasonal mixed leaves with parsley and fresh lemon juice. It is Gluten-Free AND under 500 calories which are great if you're trying to watch what you eat. My eyes nearly popped out of my head when the waitress approached me with the plate which was the same size as the empty sharing platter she had just taken away. As you would expect there were a plethora or sauces, peppers and cheese etc which could be sprinkled over my salad but I'm a plain Jane when it comes to food so I ate it just as it came and it was delicious. Salmon is one of my favourite foods and the addition of the pepper was just enough to add a little something to the flavour. Unfortunately for me, Jelly Bean took quite a shine to it too so he ate about half of my Salmon!!! All of the flavours mixed so well together and yet each mouthful tasted different depending upon what I managed to balance on my fork. The avocado was my favourite. I was defeated about 3/4 of the way through my plate though so it just goes to show that salad is definitely not just for rabbits!
Hubby's usual meal of choice would be a Calzone but since he too is trying to slim down for summer he took the healthier option of the Leggera Sloppy Giuseppe Pizza – Hot spiced beef, green pepper, red onion, light mozzarella and tomato. The Leggera Pizza is a classic-sized ring of thinner, crispier Romana dough; the hole in the middle is filled with a fresh salad finished with a light house dressing. All for under 500 calories. (Pat on the back to us for being a good boy and girl). Hubby really enjoyed his pizza, he said that it had just enough of a kick for him and he didn't feel all bloated and over-full at the end of the meal.
The Beans both opted for Pizza from their Piccolo menu – Little Bean chose Margherita and Beanie Boy chose Pepperoni. They both promised that they would eat their whole pizza (which they have never quite managed before) but surprisingly they did, even though they had stolen our warm dough sticks and Beanie Boy had eaten all the additional salad. For Jelly Bean we chose Napoletana Pasta and were very impressed when they even thought to bring out an extra side plate so that we could cool some of the pasta for him separately (it's the little things that count). Jelly Bean did enjoy his pasta but sadly once he had a taste for my Salmon, the pasta didn't even get a second glance.
Score: 10/10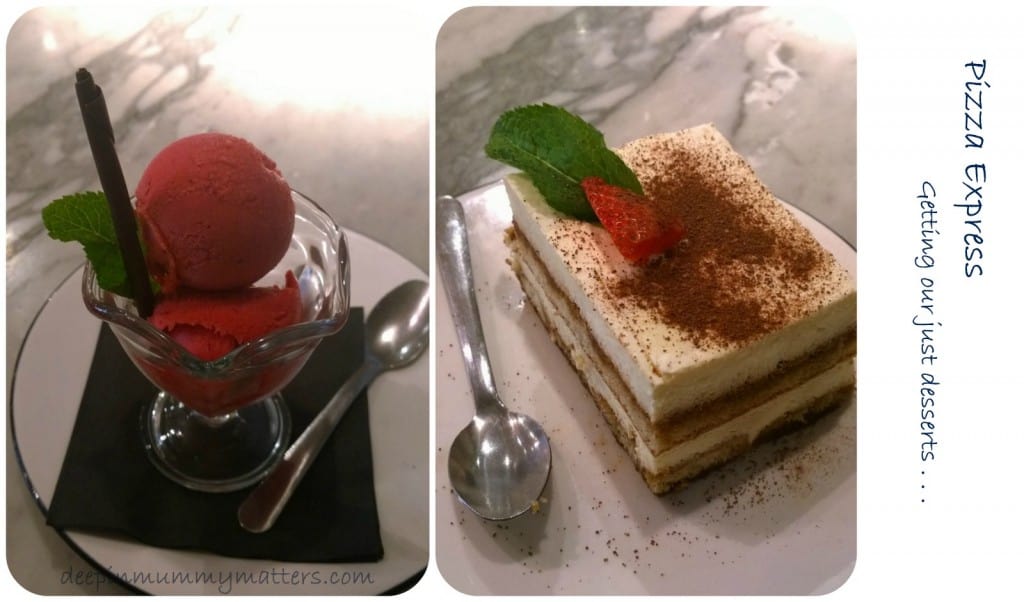 Desserts
This is without doubt Little Bean's favourite part of the meal, she even asked me at the start of the meal if she could have her dessert first but a Mummy has to keep something back for leverage if she isn't eating nicely. I managed to grab the waitress out of Little Bean's earshot and asked if they could stick a candle or sparkler in her dessert for her birthday which they did, and they even sang Happy Birthday to her which Little Bean LOVED!
So for desserts, Hubby ordered his favourite dessert of all time Tiramisu – Coffee, cocoa, cream, mascarpone, marsala wine, sponge fingers. To his delight it was HUGE!!! It's a good job he saved up the calories on his main course that's for sure. I stuck to the lighter side of the menu and chose Leggera Sorbet – Two scoops of lemon curd or dairy-free raspberry sorbet served with a chocolate straw and fresh mint. I had the raspberry which really packed a punch with the old taste buds and had me unwillingly winking at anyone who happened to pass by! The Leggera Sorbet is Gluten Free and comes in at under 200 calories. For once I left a restaurant feeling comfortable and not like I needed to be rolled down the street because I had eaten sensibly.
The bigger Beans chose a Piccolo Sundae – one scoop of vanilla Gelato or dairy-free raspberry sorbet and finish with chocolate, toffee or fruit sauce. All topped with a baby cone and for Jelly Bean we chose a Mini Chocolate Fudge Cake which he devoured without so much as a hiccup! That boy sure does love his puddings.
Score: 10/10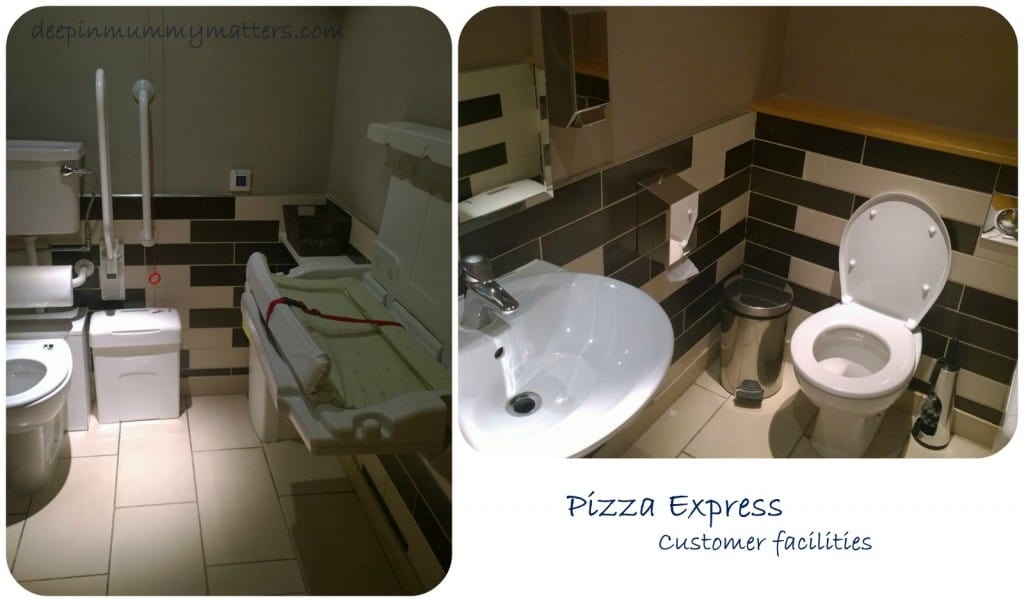 Facilities
During the two hours that we were at Pizza Express, I would estimate that we visited the toilets around 5 or 6 times (what is it with children?) and I am pleased to say that we always found them to be clean and presentable. They are upstairs which can be a bit of a trek but that is often the case in restaurants these days. What we like from a family point of view is that each toilet is one small bathroom with a sink, dryer and toilet so it's great for taking young children and keeping them together. Downstairs there is also a disabled/baby change room which again is spacious and clean with a pull-down changing table with a clean changing mat.
Score: 9/10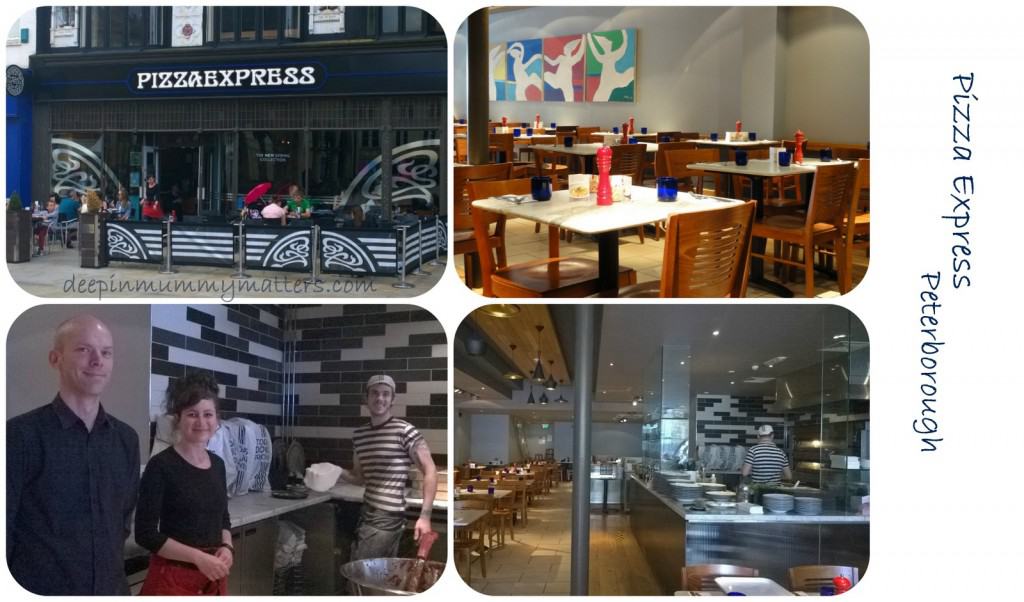 Staff
All of the staff in Pizza Express Peterborough are very friendly and efficient. In the year that we have been going, I haven't noticed a massive change around in staff which I always think is a good thing as they must be nice to work for. The Manager is always 'hands-on' clearing tables and serving food along with the Waiting Staff but on hand, if you need to speak to him at all (we have only had to moan once on one of our visits because the extra dough balls we ordered were forgotten but everyone makes mistakes and it was rectified quickly).
Score: 10/10
Total Marks for Pizza Express Peterborough – 9.5/10