The sun rose much earlier than we did on the second day of our #instantfreedom break to Son Bou in Menorca. Thankfully, the early morning get up and the late-to-bed of the previous day meant the Beans had a little lie in and a fairly chilled breakfast at the Villa. We decided that our morning would be spent with a walk to the park at the end of the road followed by fun in and around the pool. Had we been staying for a full week then we would have welcomed the opportunity to explore the Island a little further but none of the scheduled excursions were available for the days that we were there and we decided not to hire a car on this occasion so our time would be spent relaxing and just having fun together.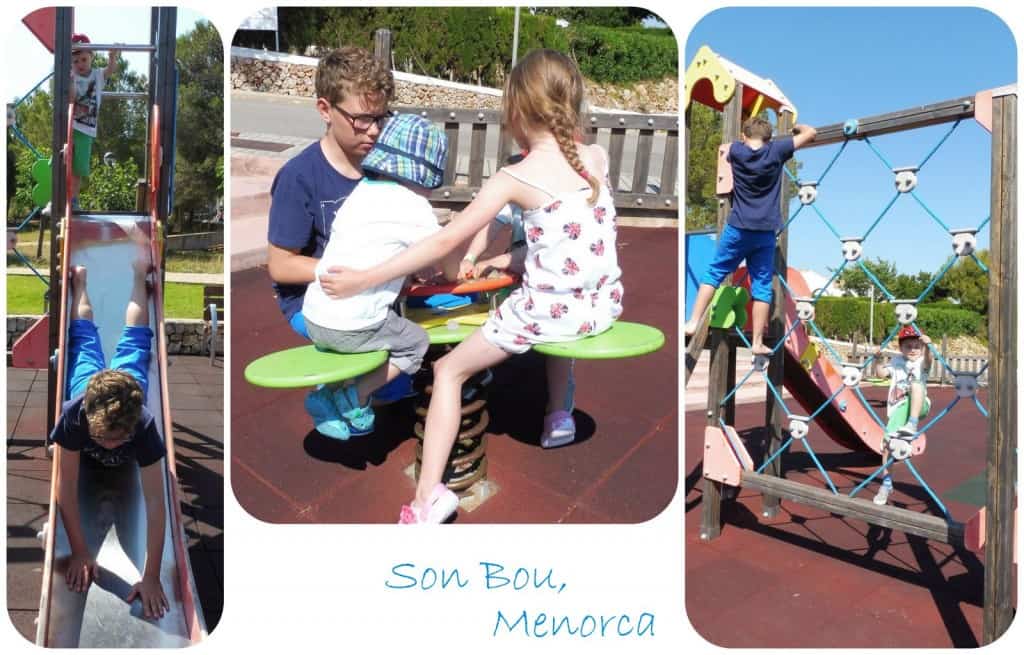 Day-to-day life at home is always spent rushing from one thing to another or trying to get caught up on 'jobs' . . . why so many jobs? Getting Daddy away from home and work meant that we could really take the time to have fun as a family unit without outside distractions.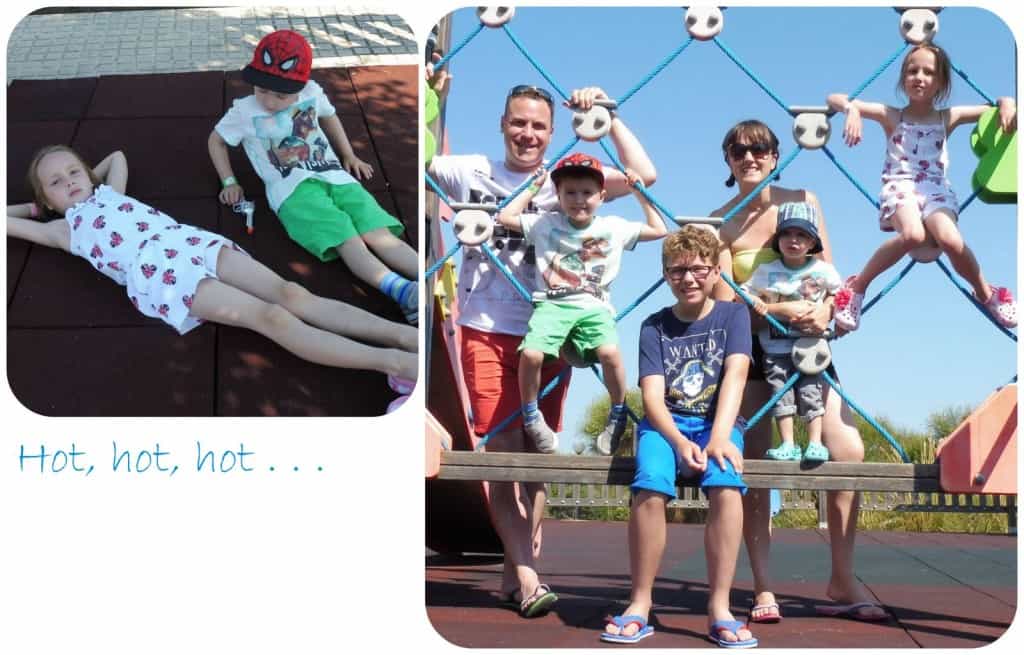 By the time we arrived at the park it was around 9.30am but it was already blazing heat outside, Curly didn't consider this when going hands first down the slide and got quite a shock when he touched the metal. At the park were swings, a climbing frame, slide and wobble seats, all with the protective cushioned floor underneath and set well back from the road with fencing around so it was safe for them play. There were just enough activities for our Beans but within 20 minutes they took themselves over to the shade of the tree and said they couldn't play anymore because they were too hot so we retreated the cool waters of our pool.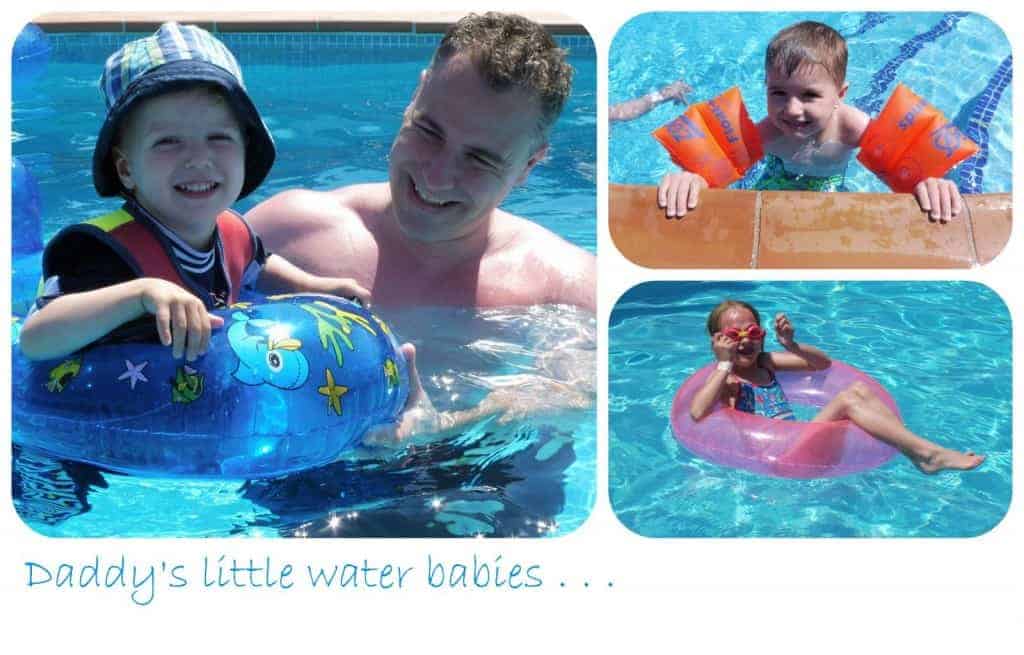 Before we went away I worried about how we would keep Beanie Boy and Jelly Bean entertained since neither of them are overly keen on swimming pools. They both get very anxious when they go into the water but with arm bands and a big rubber ring Beanie Boy was in his element and it was more of a struggle to get him out of the pool than into it. Jelly Bean was still a little reluctant but loved watching his older siblings play and would come into the water in his little inflatable boat whenever Daddy or I went into the water with him.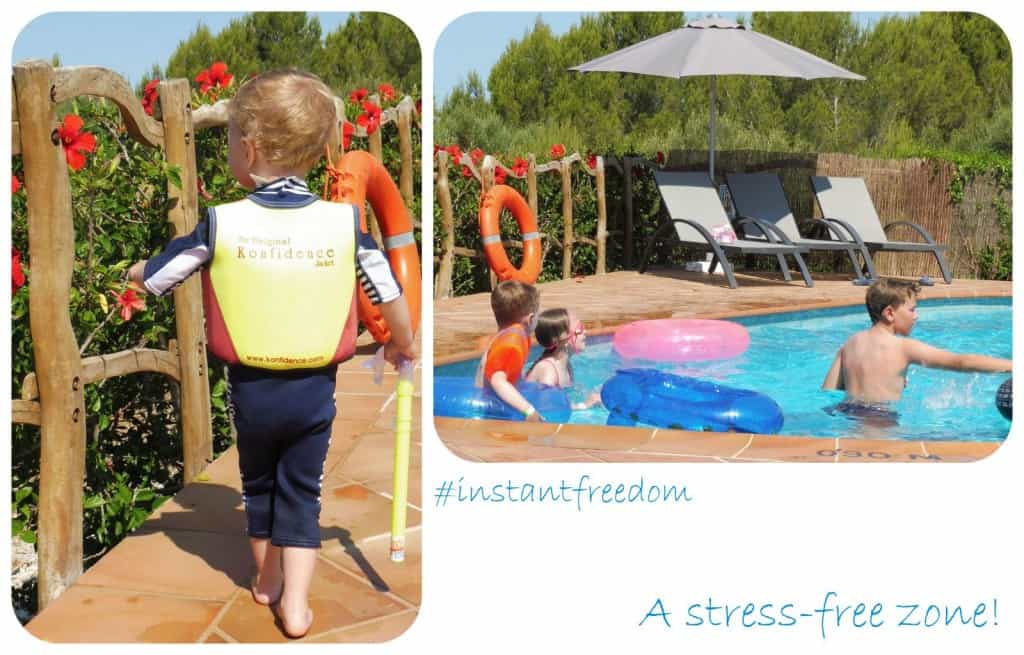 Curly is a complete pool magnet and would have spent the entire holiday in there given half the chance. Little Bean perhaps surprised me the most, she has been having swimming lessons for four years now and does very well with her swimming during lessons but she lacked confidence on holiday and insisted on always having the rubber ring (although she did like to swim underwater every now and then). I think if we had stayed for a full week her confidence would have improved.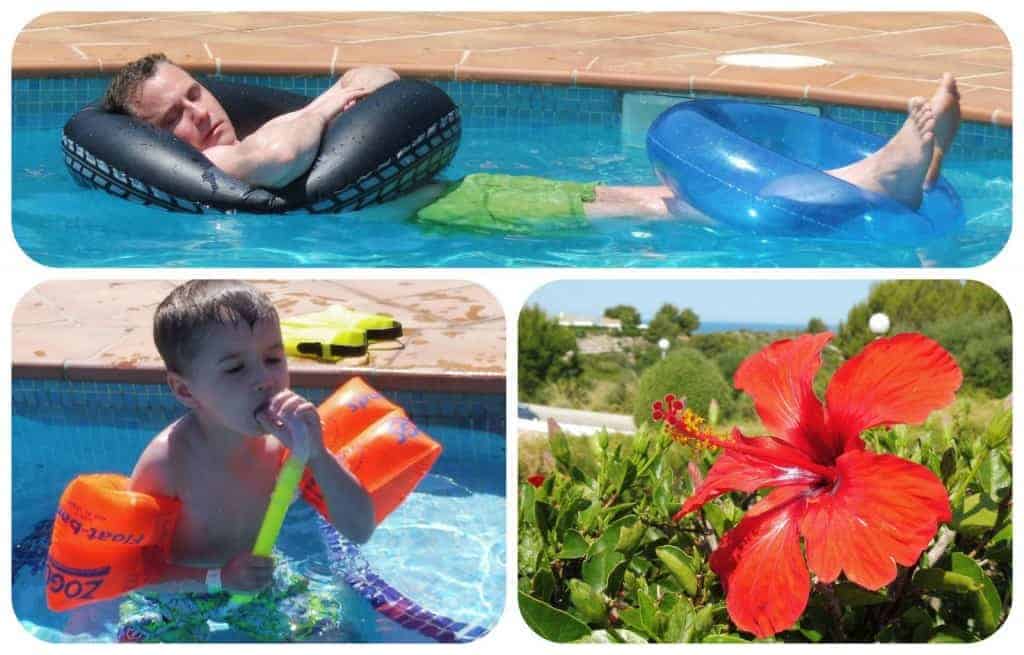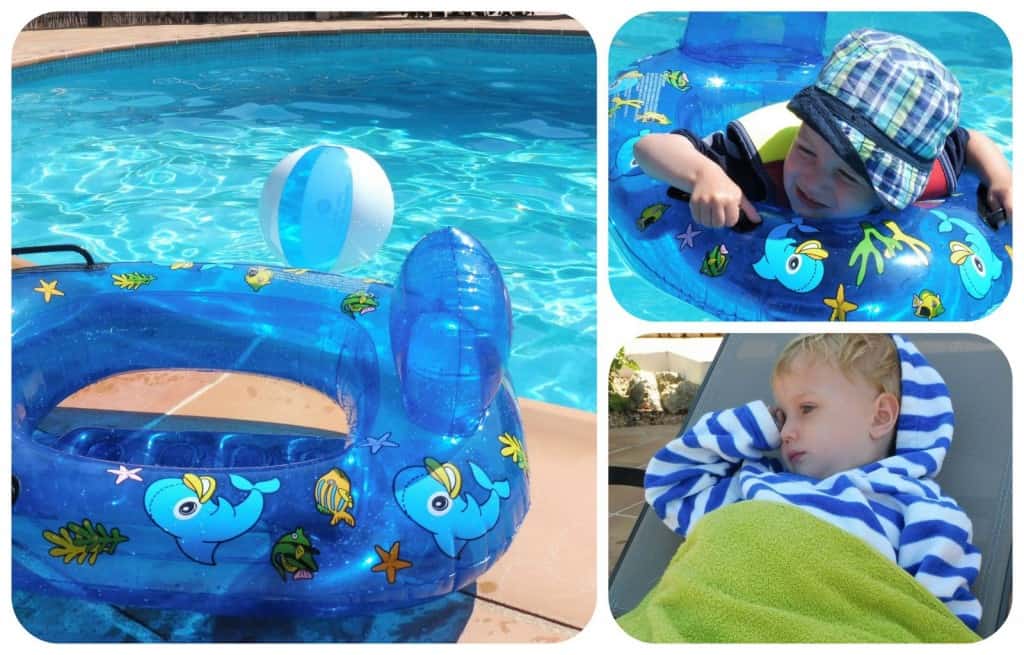 At lunchtime we managed to keep the Beans out of the sunshine by sitting them in the shade to eat their lunch and then encouraged the younger ones to have a 'siesta' whilst the older Beans read their books and chilled out which of course meant that Daddy and I were free to do the same (though Daddy's snoring would indicate he didn't read very much of his book).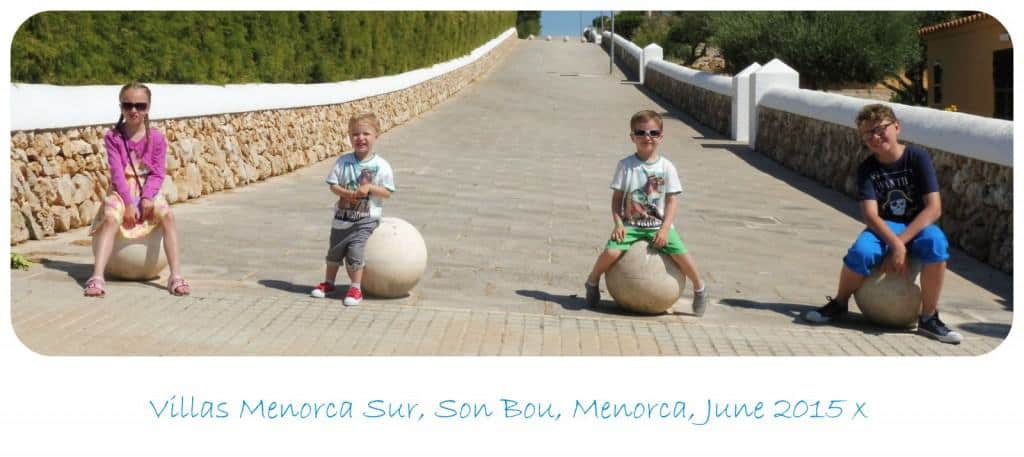 During the late afternoon we decided to go for a walk down the steep hill into Son Bou and have a little exploration to see what the town had to offer. I was totally blown away by how pretty and how quiet the town was. Everywhere you looked you could see people around the pools at the Villas and at the hotels, there were cars parked along the roadside but it still felt like a quaint Spanish town. It didn't feel like it had been spoilt by tourism as some resorts can. Hubby and I both commented that we would definitely return to Son Bou with the Beans in the future, there would be no doubt about it. We felt like the weight of the world had been lifted from our shoulders and we were free to just be. Isn't that what a holiday is all about?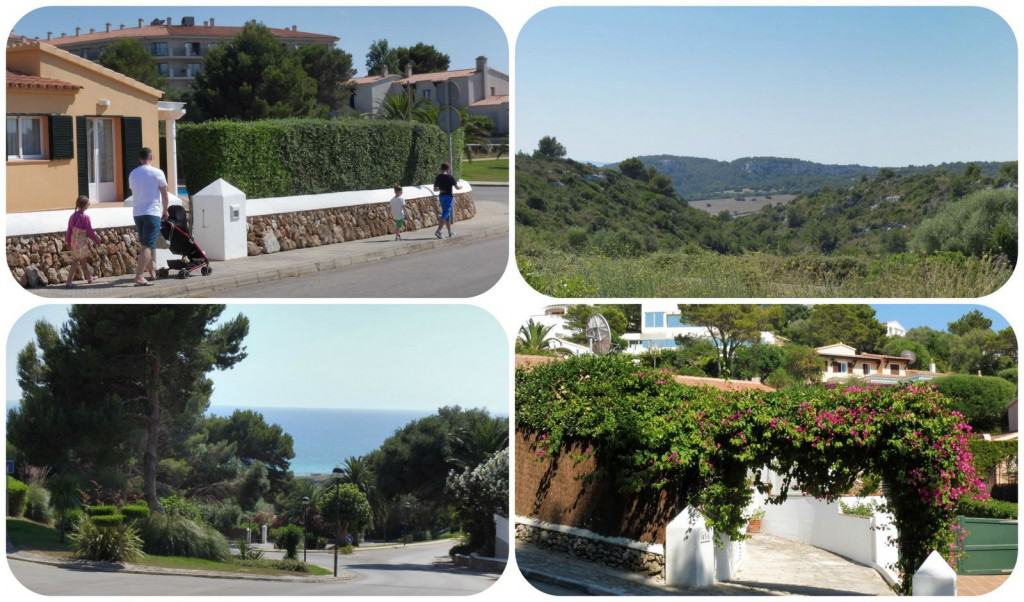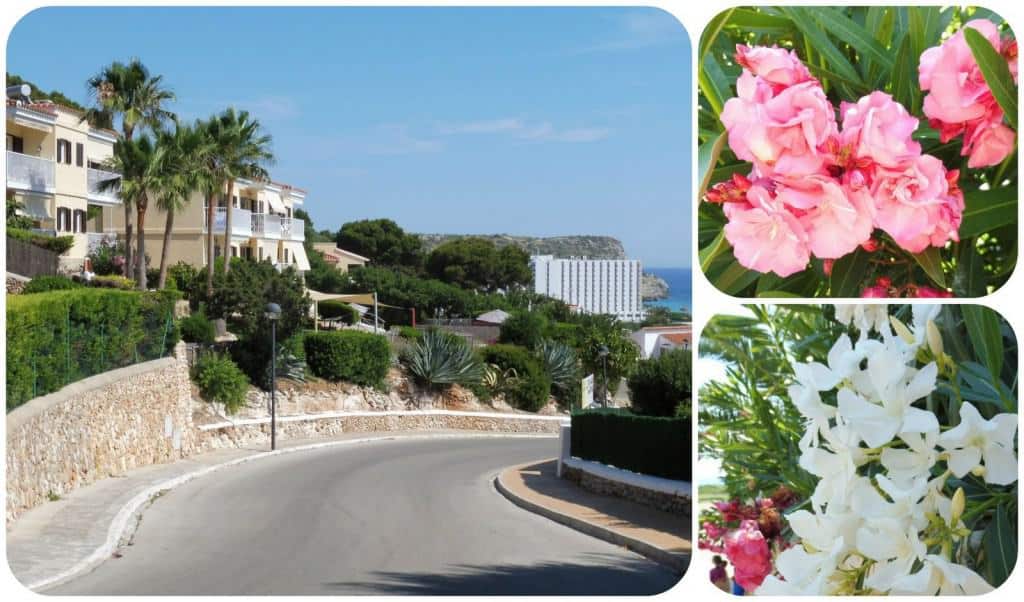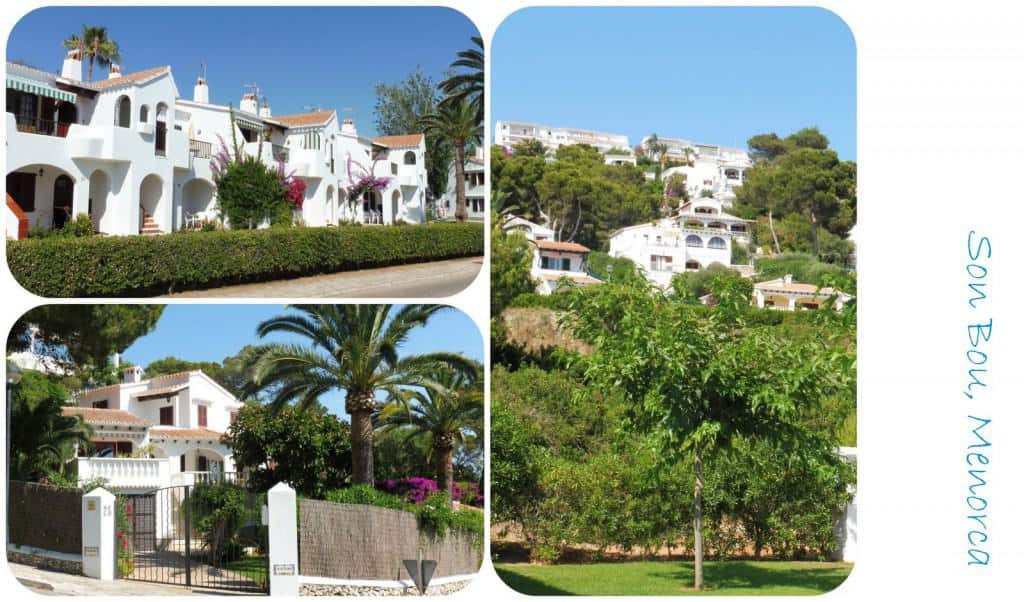 The walk down the hill was a little taxing on the calf muscles and I certainly wouldn't have wanted to attempt it with uncomfortable shoes on. Little Bean isn't a great fan of walking so she did moan (a lot!) but somehow we made it down and the lure of the shops and the possibility of spending some of her holiday money kept her going and we did have to promise the Beans that we would get a taxi back to the top in the evening.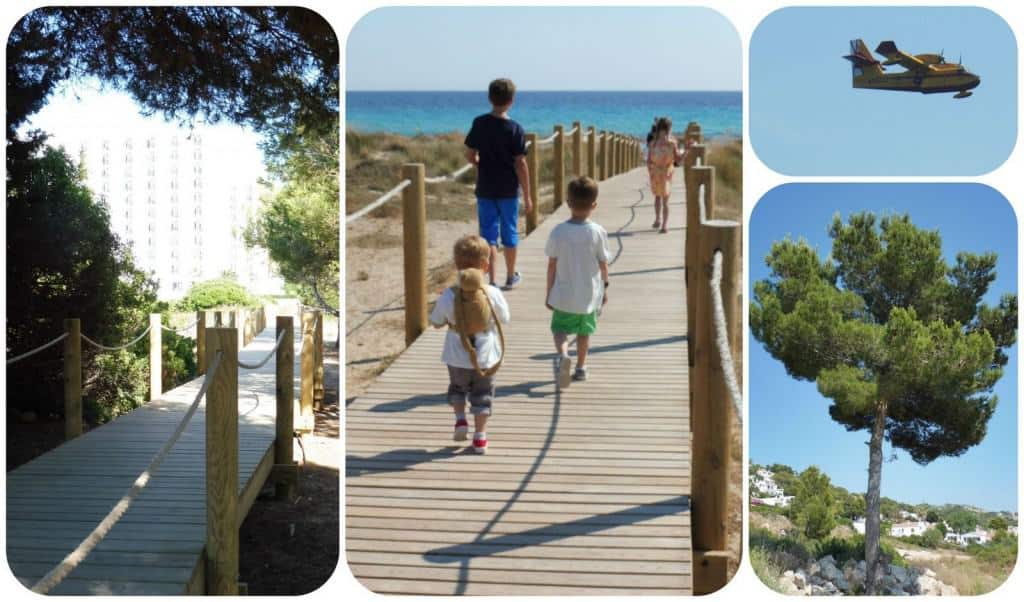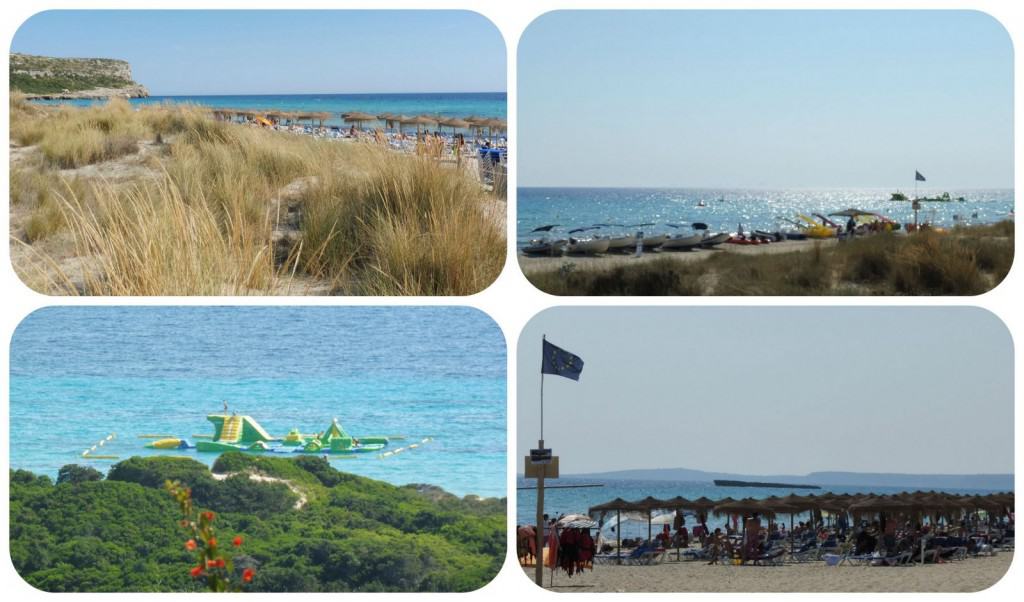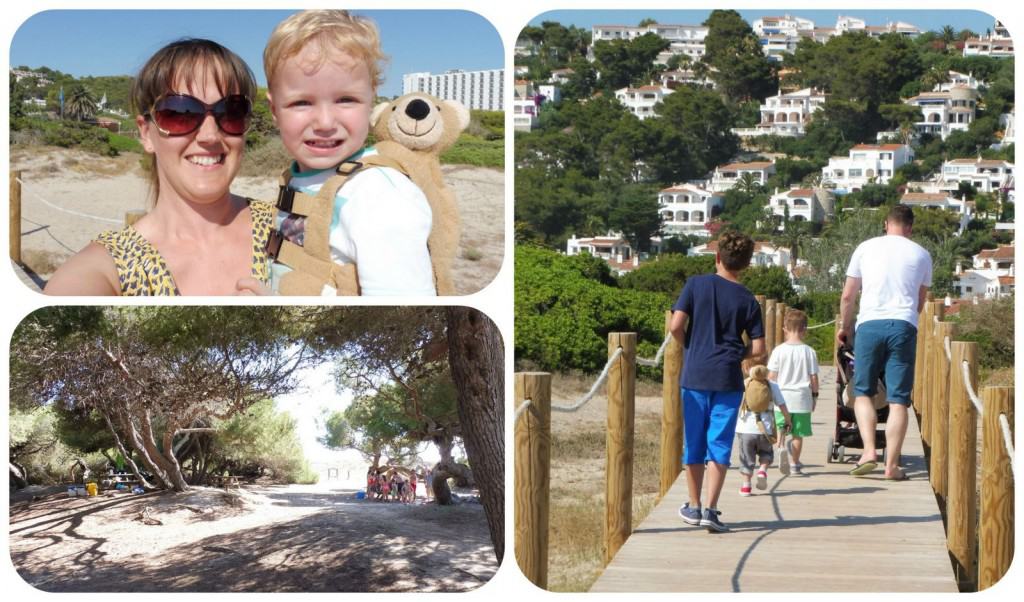 Little Bean loved the flowers that adorned the fronts of many of the houses and villas, she said that she felt like she was in Hawaii (which made us laugh since none of us have been there before but we knew what she meant). Beanie Boy was more intrigued by the sounds of the grasshoppers in the bushes which were perhaps the noisiest thing we encountered, there must have been thousands of them judging by the sound they made. We all commented on how the grass felt so different to ours at home, much thicker and more coarse. It was lovely to see that the Beans were really taking notice of their new surroundings, they didn't dismiss anything. They asked why some of the houses had fake grass for fences and why there were great big tall palm trees and why didn't we have them in our Country. These are the type of things that I wanted my Beans to experience, I wanted them to see that life outside of the UK is very different and that it's good to explore and see new places, try new things.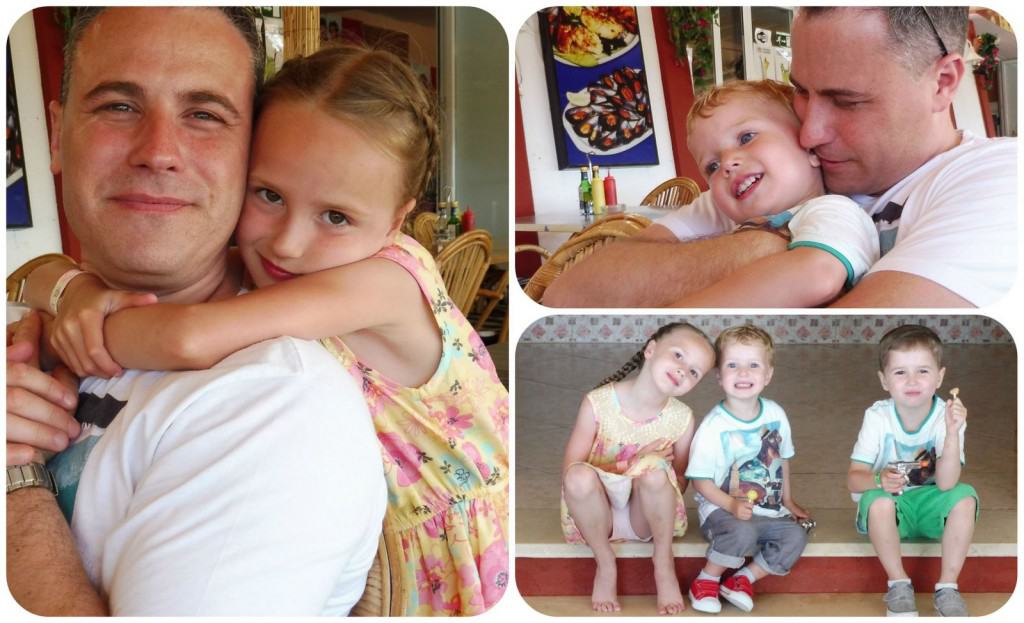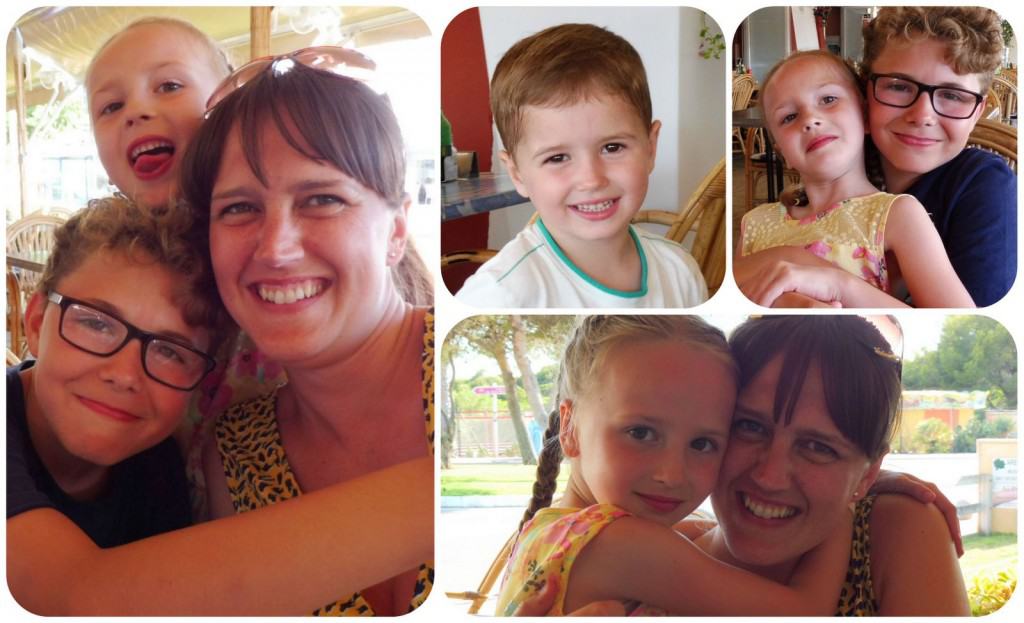 All our walking in the heat made us very hungry so we decided to have an early dinner and Beanie Boy had spotted just the place. As we had been walking through the town he noticed a name which he knew only too well. One restaurant was called 'Arthurs' which just happens to be the name of his best friend at preschool. As it turned out, it was a very good decision too, the restaurant was lovely, we sat in the shade to get some respite from the sun, the staff were brilliant with the Beans, even when Beanie Boy and Jelly Bean decided to start shooting them with their toy guns (at that point we didn't know about the tragedy in Tunisia or I would perhaps have directed them to a different choice of toy). At Arthurs there was a comprehensive menu with a nice selection for the children too and gluten free options for those who require it. I think what surprised us the most about eating out was just how inexpensive it was (around 50euros for the six of us including drinks).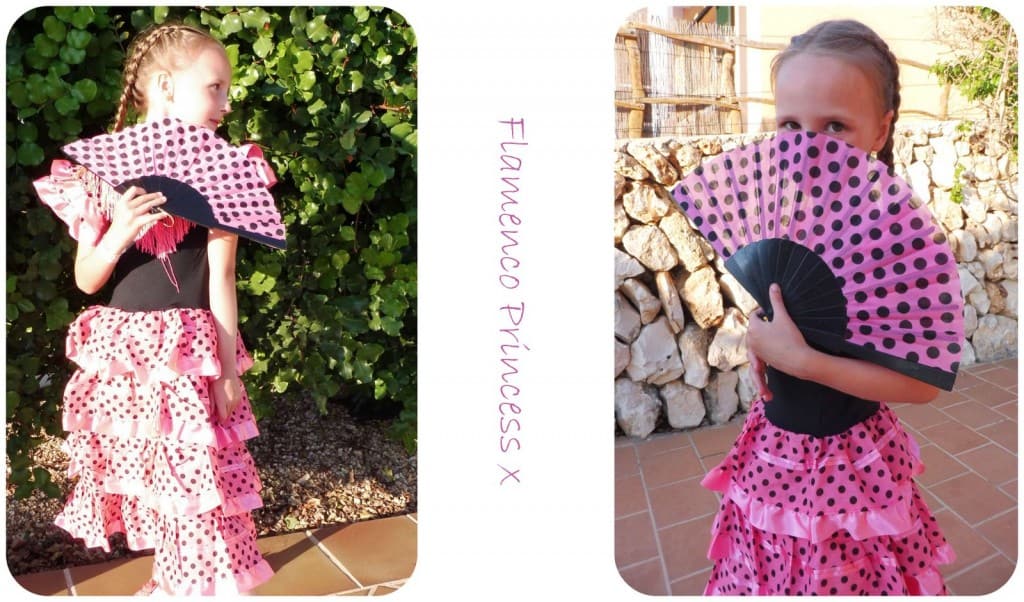 When we got off the land train the previous night we ran into a family who were staying nearby who had taken a taxi back to their Villa so we asked how much it had cost. At just 7euros for a 5-seater taxi, having two to fit us all in worked out cheaper than the land train but of course it didn't offer as much fun for the Beans so we made a deal that we would go on the land train again tomorrow night for our last 'trip' back to the Villa.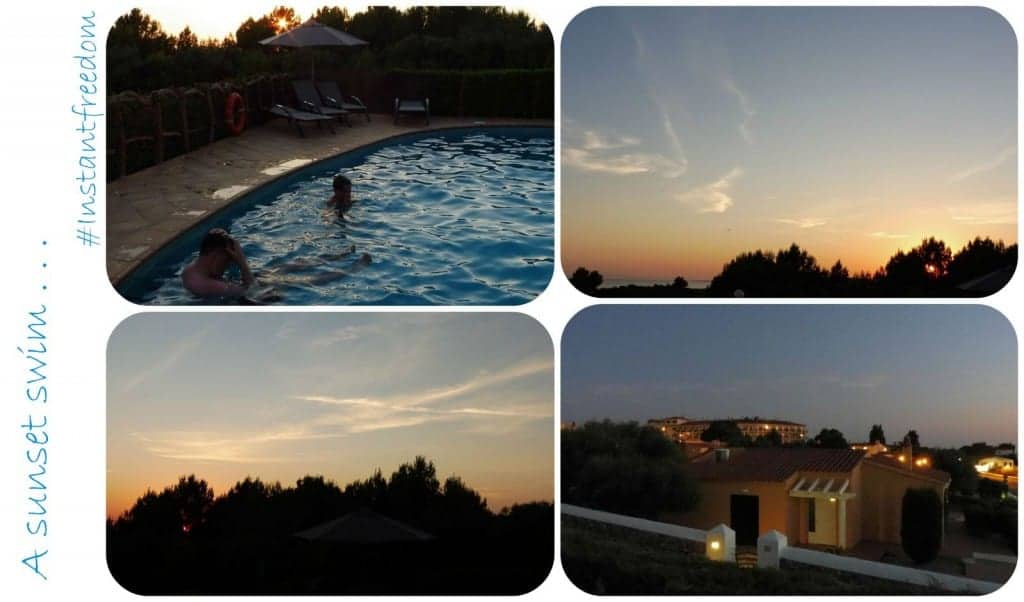 We arrived back at the Villa whilst it was still light but the Beans were tired from all their walking. They had a play in the jacuzzi bath followed by stories and then bed which meant that Hubby, Curly and I could swim and watch the sun set. It's my absolute favourite time of the day when in a hot country, when the heat of the sun is mellowing and the skies turn pink, I love nothing more than to swim for refreshment and then relax with a book and a glass of wine on a sunlounger. As darkness fell and Curly retired to bed, Hubby and I retreated to the patio chairs so that we could continue to talk, read and drink wine by the light of the Villa. Another end to another perfect day in Son Bou.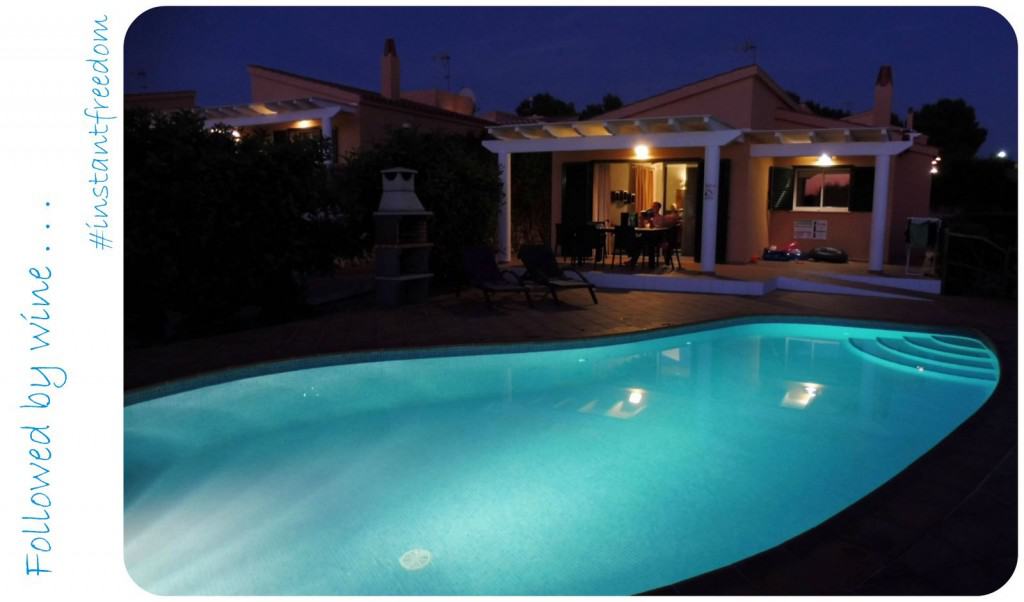 DISCLAIMER: Our accommodation, transfers, parking and a proportion of our flights were covered by Villas.com in exchange for an honest account of break and the customer service received. All words, images and opinions are my own and may not be copied without my permission.