Organising A Great Baby Shower
For any mother to be they love a baby shower, whether organising themselves or if the friends and family are organising it, a baby shower can be tough to get right. The more time you have to organise one the better but sometimes you have no choice but to organise it in a rush. Either way, there are always a few essentials to think about when organising a great baby shower. A baby shower is a celebration to shower mother and child with gifts and love at an important time in their life. So getting it right can be daunting, as no one wants to get a baby shower wrong.
If you are unsure how to throw a great baby shower or you are just in need of some great ideas and essentials for your shower. Then this guide should help you to gain a better understanding of what a baby shower needs and help you become a great baby shower planner.
Understand the budget and create a guest list
A great place to get started is to give yourself a budget for the shower, the last thing you want is to spend too much money on this celebration as it can soon add up. You should also look at creating a guest list and getting numbers for how the money will be coming, this can help with the creation of the budget and how many people you will need to cater for.
Decide on a venue and send out invitations
It is best to get the venue sorted early on. This gives you a chance to know what size of venue you will need and what you can afford in the budget. This is why getting a rough number of people that are going is important so you can make sure the venue is right and you have the budget depending on the amount going. Once you have your venue booked you can get your invitations sent out, this will the give you that true number of people coming and the sooner this is done the better, as it gives people a chance to book time off and make sure they can come, if it is too last minute then more people may not be able to make it.
When planning your shower, if you are doing food or a meal for the party you need to try and cater to the mum to taste. With mums they can get cravings during pregnancy and also not like certain things, so make sure you know what they do and do not like to make sure they enjoy the food and cake. You should also start planning the decor, if you need flowers then decide on what you want, but try not to buy them until the day before as they are perishable and will not be fresh. If you are doing anything fun like a theme or fancy dress then make sure to plan this early enough to include it on invitations and give yourself enough time to locate the decor you need for the celebration.
Sort out an agenda for the day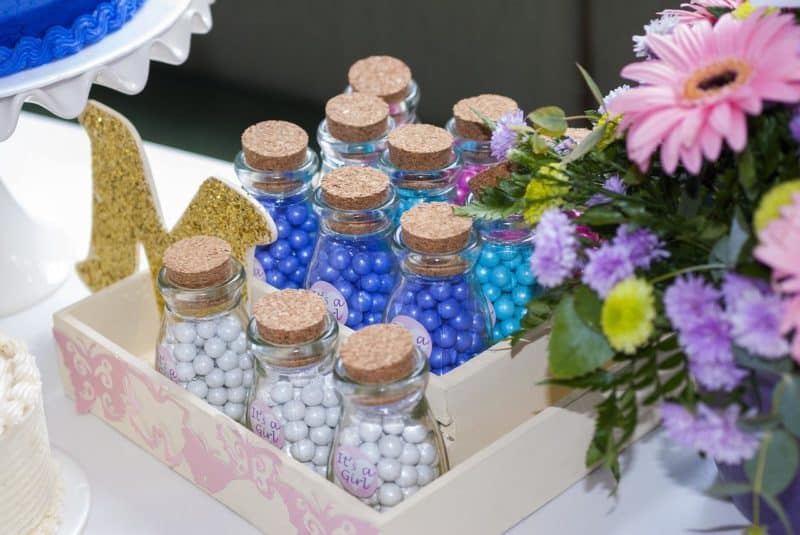 Some showers will follow a planned agenda for gift opening, sitting down to eat, games and so on. So make sure you plan this out in advance to make sure things can go smoothly, especially if you only have the venue for a certain amount of time. By having a good flow to the day and party you can keep people engaged and having fun without having to worry too much as everything is planned out.
Plan a gift list and party favours for the day
Like a wedding some baby showers can have gift lists, what this does is make sure the new parents and baby are receiving things they can use and want rather than people going out to get gifts that may not be ideal. Things like personalised baby gifts and certain things like car seats etc. are great gifts for new parents. Make sure to give people the option to buy from the list as people's budgets can vary and you do not want them to feel they have to buy certain things. You should also have some party favours for people to take away with them as a parting gift, to say thank you for attending. It does not have to be lavish, just a little thank you.
If you are planning a baby shower but are stuck for ideas and need some help structuring your planning. Then these few tips should help you to plan a great baby shower and make it a bit more stress-free.