Operation Smile UK announces Saira Khan as Ambassador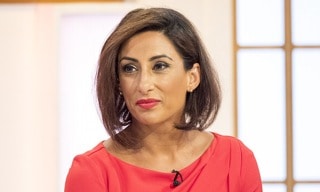 Saira Khan, TV presenter, columnist and businesswoman has announced she is to be an Ambassador for Operation Smile UK.
Over 300,000 Successful Surgeries
Operation Smile has provided over 300,000 successful surgeries for those born with cleft lip and cleft palate worldwide.
Saira said: "It is an absolute honour to be involved with such a life-changing charity. Every three minutes, a child is born with a cleft lip or cleft palate and without surgery, struggle to eat, speak and socialise. In many of the countries where Operation Smile operates, these children and their families are often shunned and therefore the implications go way beyond the health of the child. That's why the work of the charity is absolutely vital, helping to both treat patients in need and train local medical teams to support their long-term comprehensive care."
Lucky for some
In the UK, if a child is born with a cleft lip or cleft palate, they will be treated by the NHS before they are six months old. However, in many countries, these kinds of medical resources don't exist or the costs are prohibitive – in some countries the cost of an operation is equivalent to a year's salary.
International Women's Day

To mark International Women's Day on 8th March, Operation Smile will conduct its first all-women medical mission in Morocco with a team comprised entirely of female volunteers. 54 female volunteers from 27 countries will deliver the highest level of surgical and multidisciplinary care to patients affected by cleft conditions. This landmark mission will also demonstrate the lasting impact women have had on their programmes; on average a mission is comprised of 60 per cent female volunteers.
Saira said: "As a champion for women, I am excited and inspired ahead of Operation Smile's First All Women's Mission. Women are an integral part of the healthcare system, and this mission honours them. I am a proud Muslim woman, so the fact that it is taking place in Morocco, a predominately Muslim country, really connected with me. It's very meaningful that these women are going to be making such a difference for some of the most vulnerable children in the country."
Untouchable and Shunned
Children with cleft lip or cleft palate can be considered untouchable and shunned by the community who see them as cursed. Some untreated teenagers even report considering suicide.
Saira said: "It is shocking to hear about the stigma some children with cleft conditions face. As a parent of two children myself, it is heartbreaking and highlights just how important Operation Smile's community work is. They offer therapy for those affected and raise awareness about cleft conditions in remote areas where families have not heard about treatments for cleft lip or cleft palate."
Operation Smile's First Women's Mission
The team of female volunteers will be in Oujda, Morocco from March 5th to March 14th for Operation Smile's First Women's Mission.
Saira will be participating in an upcoming Operation Smile medical mission in the coming months.
Saira is supporting Operation Smile's First Women's Mission to Oujda, Morocco (5-14th March). Visit operationsmile.org for more details.