Iconic festival goes online 25th July with Nozstock The Hidden Valley @Home
With the global festival season thrown into disarray, it has been hard to know where to find a semblance of normality in the last few months. During a deeply difficult and challenging time, a traditional source of escapism, festivals, have largely been postponed until 2021 – including the much-loved independent odyssey Nozstock, which takes place in the rolling Herefordshire hills.
Nozstock The Hidden Valley @Home
Despite the disappointment of pushing ahead to next summer, the team at Rowden Paddocks Farm have been working hard to create a one-day special event hosted entirely online: Nozstock The Hidden Valley @Home.
Saturday 25th July 2020
Taking place on Saturday 25th July from 10 am to 2 am – 16 whole hours of glorious Nozstock goodness – the virtual extravaganza will feature a range of artists from Nozstock past, present and future representing all the different genres the festival showcases, alongside theatrics, oddities and even some backstage secrets.
Nozstock Classics
From acoustic musings to rub-a-dub beats, from sing-a-long shanties to pounding drum n bass, Virtual Nozstockers can expect a range of exclusive gigs from home, Nozstock classic sets, unreleased content from some festival favourites and even a few special treats recorded from the farm (with respect of social distancing) on the idyllic Bandstand, in the Cabinet of Lost Secrets, and on the hidden deck. Viewers will be treated to sets from the likes of London Elektricity, Calyx and Teebee, Dub Pistols (DJ Set), Krafty Kuts, Beans on Toast, Dutty Moonshine Big Band and Uncle Dugs.
Mockingbird Cinema
But Nozstock is about more than just music and Nozstock @Home is no different. Mockingbird Cinema will provide a range of short films, Lavrak brings some late-night burlesque naughtiness and there's even a lunchtime cook-along with The Beefy Boys.
Craft Workshops
Of course, Nozstock wouldn't be complete without something for the mini festival-goer, with craft workshops from Spare Room Arts, Renegade beatbox workshop, kids poetry from Spoz, Yeleni family fun dance workshop and yoga and even the chance to make your own Dino Tail!
Nozstock The Hidden Valley @Home is encouraging everyone to set a tent up in the garden, get those glow sticks out and get involved – a wonderful way to still connect with the festival this Summer, enjoy some amazing music and have fun.
Visit www.nozstock.com for more information and follow the livestream at www.nozstock.com/live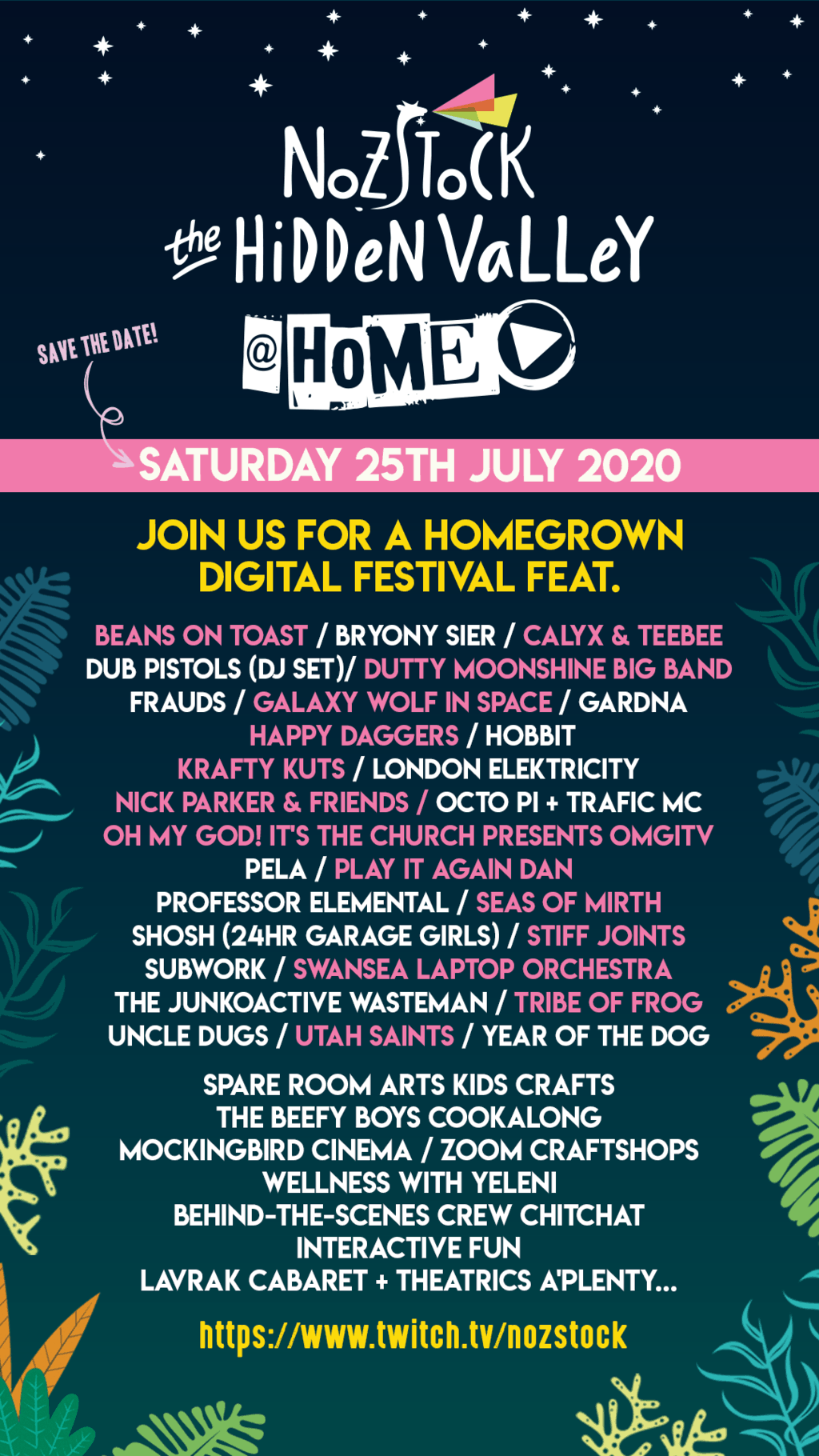 Artists and guests taking part include:
Beans on Toast, Beefy Boys Cook-A-long, Bryony Sier, Calyx and Teebee, Clean Campsite Competition, Clitty Sewage's Quizzy Dizzy Ding Dong, Dub Pistols (DJ Set), Dutty Moonshine Big Band, Frauds, Galaxy Wolf In Space, Gardna, Happy Daggers, Hobbit, Krafty Kuts, Lavrak, London Elektricity, Looking Sketchy Life Drawing, Mockingbird Cinema presents shorts from Flatpack Festival, MyElla Make A Dino Tail Workshop, Nick Parker & Friends, Octo Pi + Traffic MC, Oh My God! It's The Church presents OMGITV, Pela, Play It Again Dan, Professor Elemental, Renegade Beatboxing Workshop, Seas of Mirth, Shosh (24hr Garage Girls), Spare Room Arts, Spoz, Stiff Joints, Subwork, Swansea Laptop Orchestra, The Junkoactive Wasteman, Tribe of Frog, Uncle Dugs, Utah Saints, Year of The Dog, Yeleni Starlight Yoga for Kids and Family Fun Dance Workshop.