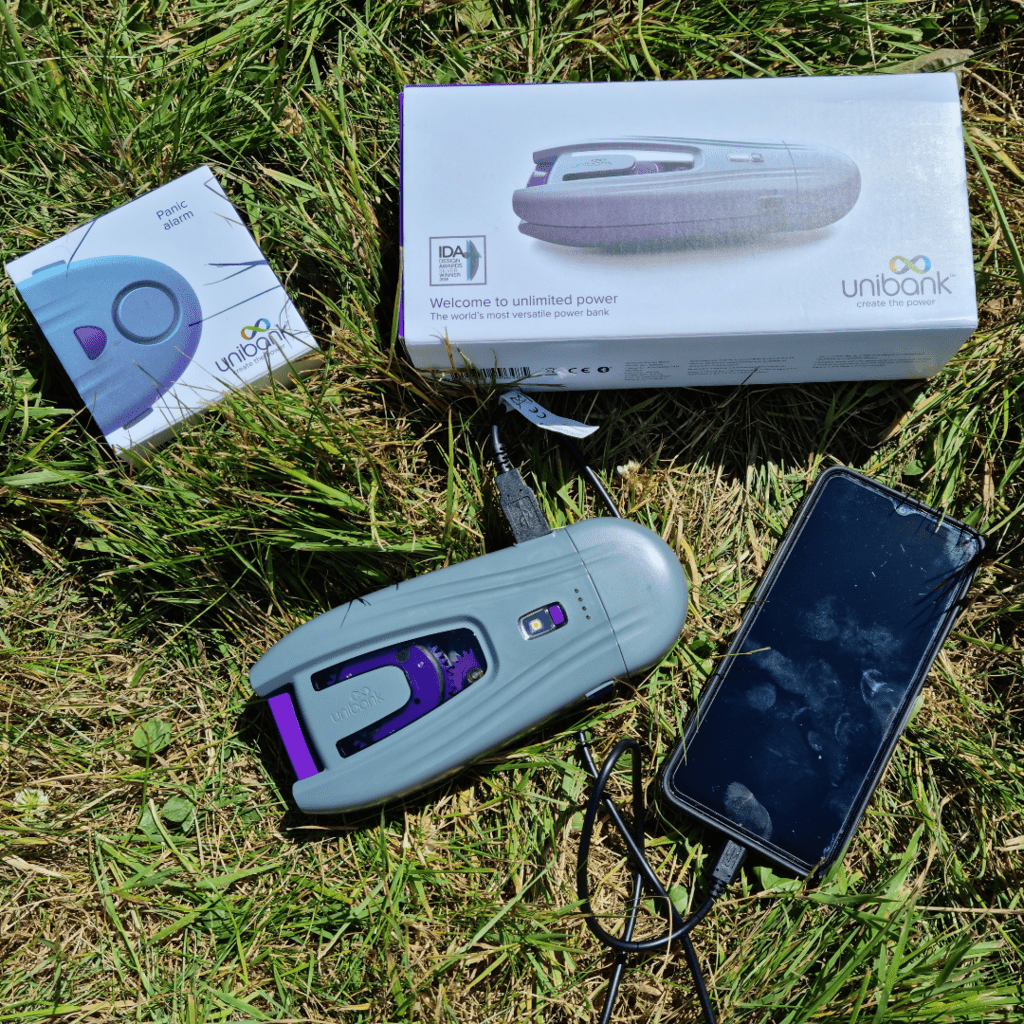 Never Be Without Power Again With Unibank's New Power Bank!
AD|PR PRODUCT
The Unibank Power Bank is the most versatile power bank portable phone charger yet. As well as its built-in LED torch and unique pull & power charger, Unibank offers a choice of accessories, including Ambient Light, Bluetooth® speaker, Panic Alarm, and Laser Measure Attachments. The Unibank is perfect for travellers, campers and anyone who needs an extra power source on the go.
Introduction: The Unibank Power Bank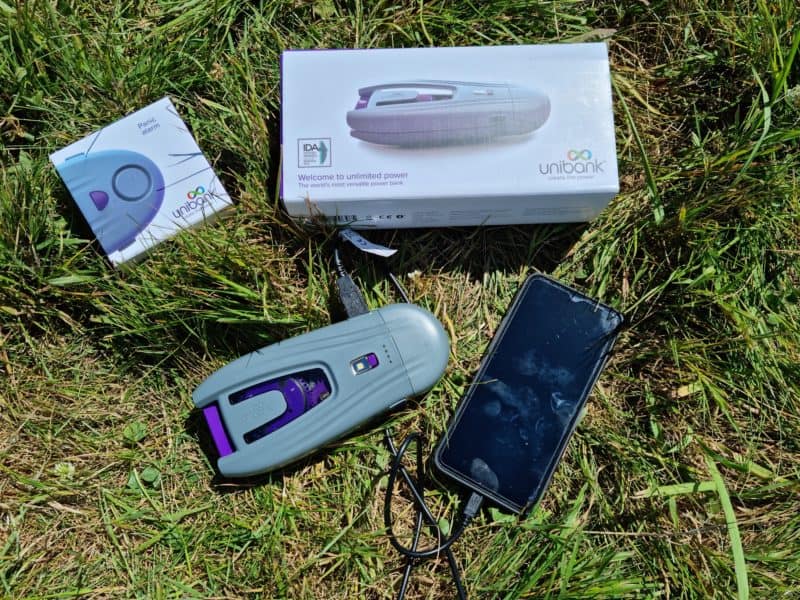 Are you looking for a versatile power bank that can also act as a portable phone charger? Look no further than the Unibank Power Bank. This device is not only a power bank but also comes with an LED torch and unique pull & power design, making it perfect for travellers and campers who need an additional source.
Features:
Quickly generate your own power
You can also charge it via USB
Environmentally friendly
High-grade components
Built-in LED torch
Input and Output 5v 2A
LED power indicators
Worldwide safety standards
Never run out of power again
How to Use Unibank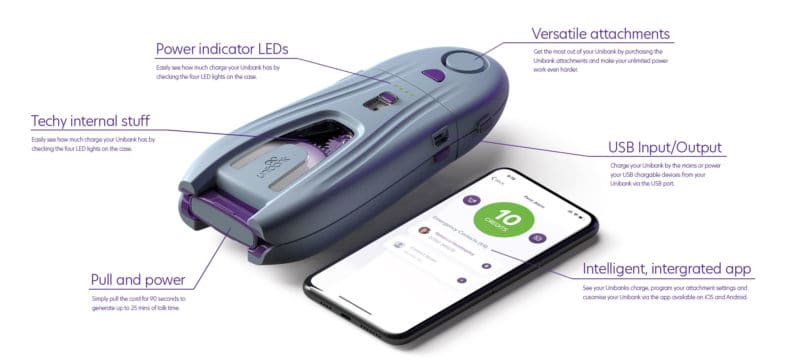 Pull the wire to charge the device or power it by USB. Pulling the cord for only 90 seconds can give you 25 minutes of talk time on a typical mobile phone.
With its 5000 mAh battery and innovative technology, Unibank maintains constant connectivity, providing unlimited power access wherever you are. The ultimate portable charger.
Attachments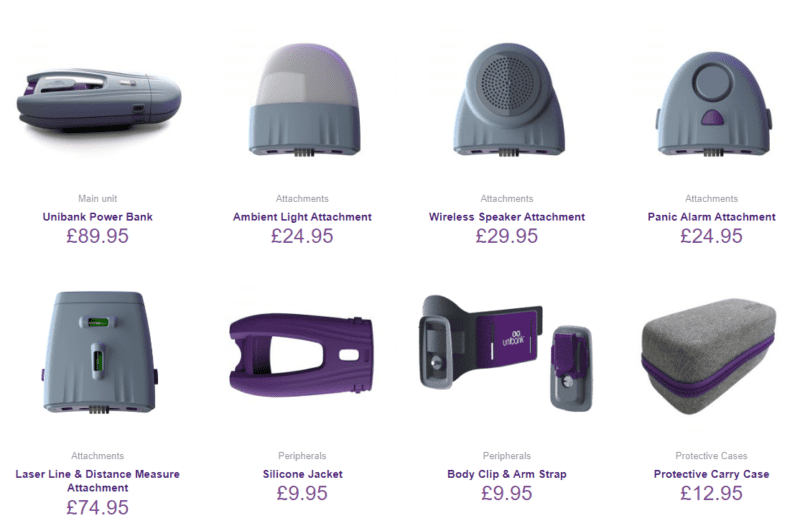 Ambient light attachment: Wherever you are, the light will be brighter and more colourful. An intuitive colour and brightness wheel and slider allow you to select your mood from a full-colour spectrum.
Wireless speaker attachment: Great sound with the bass boost never runs out of power with the unlimited capacity to connect a smartphone or tablet.
Buy Unibank Power Bank
Panic alarm attachment: Create more safety and peace of mind for your family. Maintain the volume at 120 decibels. Pair your smartphone with the device to send an emergency signal. Set it to send GPS coordinates and include your chosen custom message automatically. The alarm is lightweight and compact and connects directly to Unibank's main unit. A subscription service is available.
Laser line & distance measure attachment: The active measuring tool is the only one of its kind that includes a laser line and an accurate distance measurement on one single device. Use its tool to measure room size and volume. The app stores all your measurements, so you don't need to worry about a pen and paper.
Specification
Dimensions 182mm (l) x 84mm (d) x 45mm (w)
Weight 370.7g
Capacity 3.7V/5000mAH (18.5Wh)
Input DC 5V 2A
Output DC 5V 2A
American Standard. FCC ID 2AWDVUB001
Price: RRP £89.95
Conclusion
Last weekend we went to the Cornbury Festival, one of our favourite weekends of the year apart from one thing. It's back to basics camping for us because there is no electric hookup. We are fine for most things, but we need the ability to keep our mobile phones charged up, especially as we are usually away for 3-4 nights, which is quite a big ask for most power banks.
The Unibank was a lifesaver; we charged it up via USB before we left home so that we knew we already had a full charge in it. Then when we needed to charge it up again, I gave the Unibank to Ollie, who was more than happy to prove his strength by pulling the cable to charge it up. This goes to show how easy it is to use too.
From now on, the Unibank will be at the top of my camping packing list!