Small guest bedroom decorating ideas that pack a punch
For your visiting family and friends, the guest bedroom is the most important part of your home. Not only is it a place they can rest after a trip, but it also offers up some privacy, so they can escape for some downtime.
Follow our tips below to create a perfect home away from home that your guests will never want to leave!
Comfort is key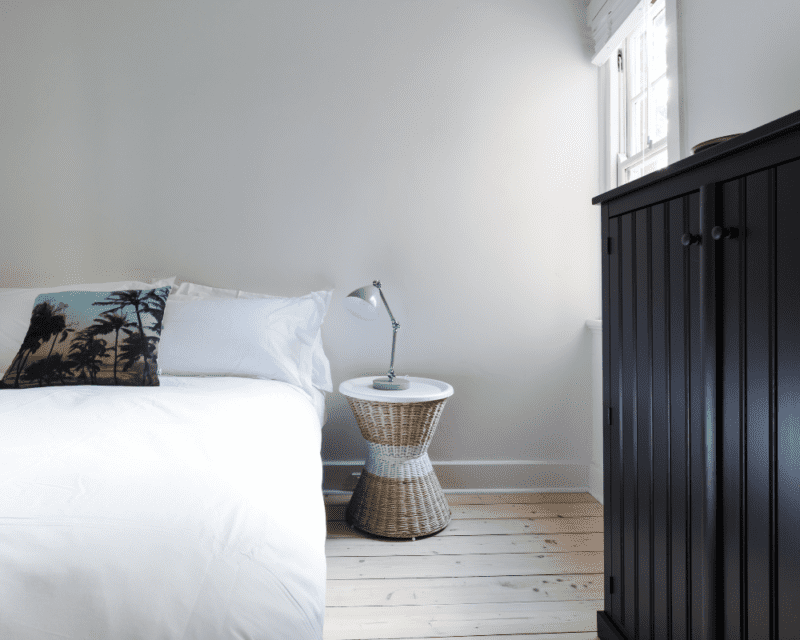 The guest bedroom should be as comfortable as every other room of the house, yet is often neglected. After all, it's easy for a guest bedroom to double as a study or storage room.
However, you want to make sure you give your guests all the comforts of home. The best place to start is with the bed. A good quality bed is essential to guarantee your visitors get a good night's sleep. The same goes for the mattress, which should cater for as many people as possible. A medium-firm mattress will suit most sleepers.
Create the perfect sleeping environment
It's important to give your visitors a comfortable, calming place to sleep after their travels. The best sleeping environment is cool, dark and clean, so take some time to prepare the room before your guests arrive. Give the space a quick tidy, dust and vacuum and make sure any clutter is stored away.
Make sure the room's temperature is comfortable – cool in summer and warm in winter. Curtains or blackout blinds are the easiest way to keep the bedroom dark, but the solution could be as simple as providing an eye mask.
Make your guests feel welcome with some thoughtful touches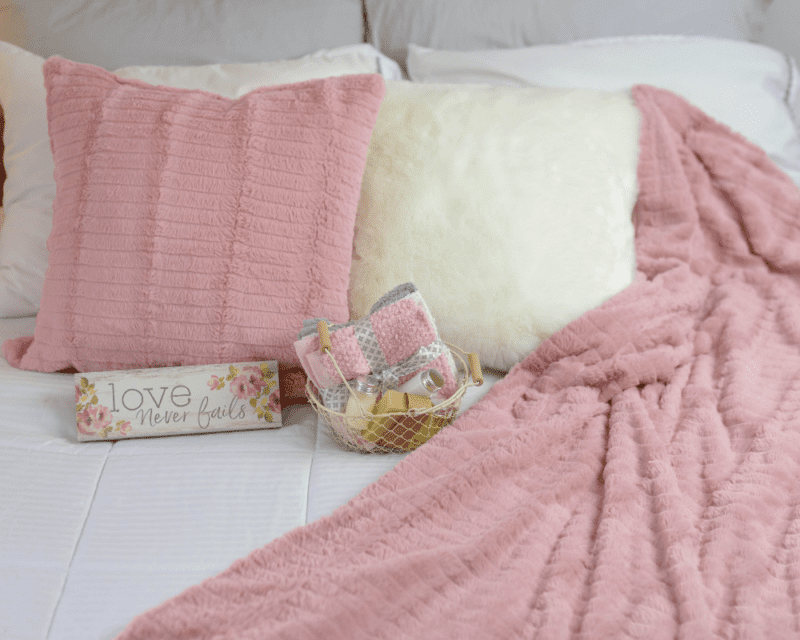 One of the best ways to make your overnight guests feel welcome is to fill the guest bedroom with plenty of thoughtful touches.
Keep bedside tables well stocked with spare phone chargers and tissues inside, and top it with some fresh flowers picked just before they arrive. It's also a lovely gesture to lay out some clean towels on the bed – you could even provide your guests with some slippers for an extra cosy touch.
Set the mood with lighting
Lighting is one of the most important features of any room – particularly bedrooms – but is often overlooked.
Create a calming, cosy space with layered lighting. Use a warm bulb in the ceiling light and add bedside lamps. If you're short on space, consider fitting lights on the wall next to the bed. This not only makes the room feel more complete and comfortable, it makes it easier for your guests to read before bed if they choose.
Keep clutter and mess to a minimum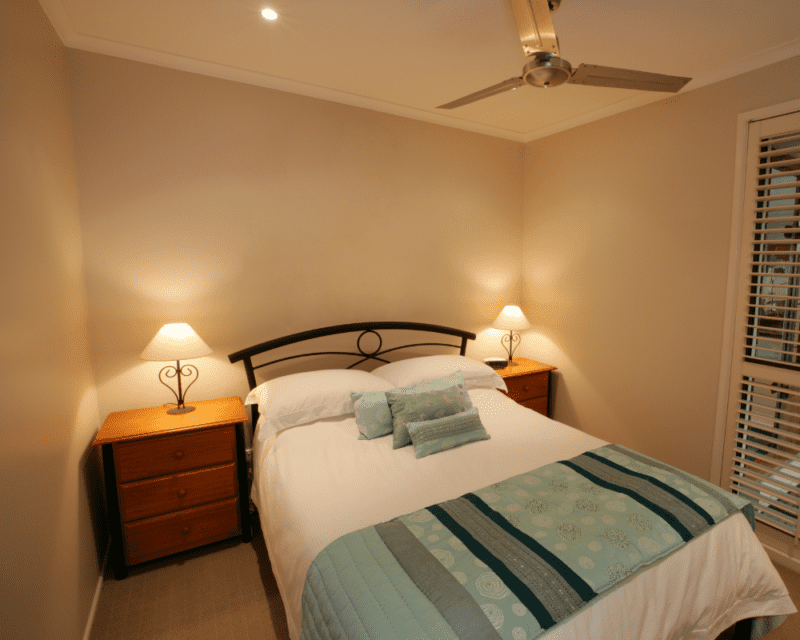 If your guest bedroom doubles as a spare room or storage space, implement some smart storage solutions to make sure there is no clutter when your guests come to town.
It's extra important to keep smaller spaces as free from clutter as possible.
It's also a nice touch to make sure your guests have plenty of storage. If you don't have enough space for a wardrobe, some wall hooks or a clothing rail with some spare clothing hangers do the job. You can also find affordable wall shelving at most hardware stores, which is a perfect storage solution when you're short on floor space.
Create drama with bright colours
Adding some pops of colour – think deep, rich pinks and purples – help to establish a cosy atmosphere, but also add style. Adding some depth can also make a small space feel larger.
There are so many ways you can add colour, however, bedding is often the easiest way. All you need to do is pick a theme and add some bright splashes of colour with accent pillows and bedding.
Just remember to style other elements with lighter tones of the same colour scheme – especially if you're working with a small space. This will make the room feel more breathable and less overwhelming.
Create a cosy feel by adding textures
Introducing different textures has a great impact on a small space, making it feel much more cosy and perfect for curling up after a long trip. Focusing on styling and décor for the bed works for a small space as you aren't adding extra clutter to the rest of the room.
Adding throws and accent pillows to the bed instantly creates an inviting look, and an extra throw also caters to different people's comfort. They are an easy-to-reach option for someone looking for some extra warmth.
A rug is a quick and easy way to make a room feel more enclosed and comfortable and can actually give the illusion of more space.
Use statement features to create glamour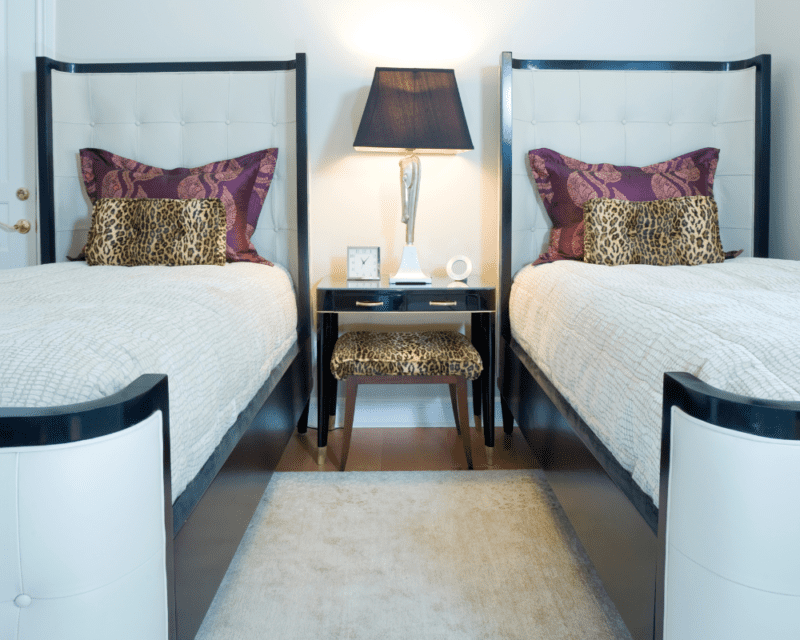 The beauty of a guest bedroom is that it will only ever be used for a short amount of time, so you can have some fun with the décor and colour scheme.
Patterned wallpaper is an affordable way to create a feature wall and will give the room a boutique hotel feel, while a fabric headboard creates a bit of luxe and extra comfort for your guests. Top it all off by hanging some colourful art and statement lamps for the bedside tables.
All of this makes the room feel lived in and ready to welcome your guests, rather than a neglected part of the house.
Remember that your guest bedroom is all about comfort. Whether you use it as an office or storage room, with these tips you can still make sure it doubles as a functional, inviting space. Now the only problem you'll have is making sure your guests do leave!