My Citroen DS5 5 Star Experience: Day 1
If you saw this post, you will know that a few weeks ago I was lucky enough to be chosen as one of 5 winners to be taken with a partner to St Tropez in the South of France for a 5 Star weekend to test-drive the new Citroen DS5. This is my story:
Our day began at 5.30am as we dragged ourselves out of bed to see a hefty covering of snow outside our windows and we wondered whether Nanny and Grandad would be able to make it to our house to look after the children for us, but at 6.30am they rolled up ready to start their own adventurous day ahead with two troublesome tikes.
Despite the snow the journey to Heathrow was relatively easy and we arrived at our car park in plenty of time to get to our meeting place at Terminal 5 at 10am. On arrival we were greeted by our lovely host who quickly introduced us to the rest of the winners and their partners. Our experience was about to begin . . .
We were each given an envelope containing 100euros spending money for France and £10 to buy ourselves breakfast before our flight. We were due to take-off at 12.15pm but already the board was showing a delay of 1 hour so we stretched ourselves out as long as possible before finally caving in and buying the biggest English breakfast we could find.
At 1.15pm we finally boarded our plane ready for take-off but no, there were to be more delays. Seated on the left side of the plane I watched out of the window as more and more people in fluorescent yellow jackets began pointing to the rear left of the plane and taking photographs. Oh how I wished I had wing mirrors to see what they were looking at! Then came the announcement "ladies and gentlemen, apologies for the delay but it seems we have some maintenance issues which need tending to before we can be cleared for take-off". Great, that doesn't make me nervous at all!!
Next a set of stairs is driven up to the side of the plane and the officials all begin pointing to the side of the stairs and then to the side of the plane and one official pulls a flappy bit of metal from the side of the steps and again points to the side of the plane before boarding the plane to speak to the captain. Cue next announcement "ladies and gentlemen, it would appear that the steps were accidentally driven into the side of the plane and have caused a rather large scratch. We need to get the Head of Safety out to look at the plane and decide whether we can take-off or not".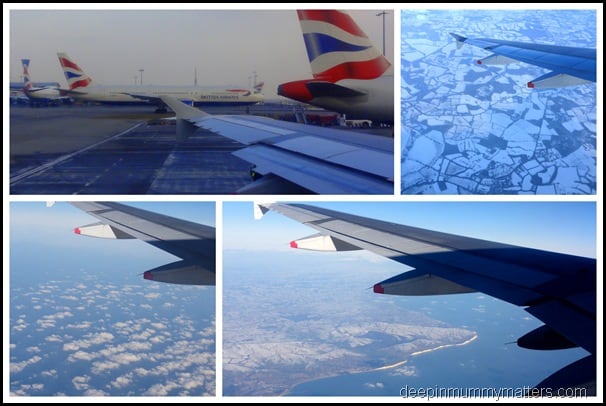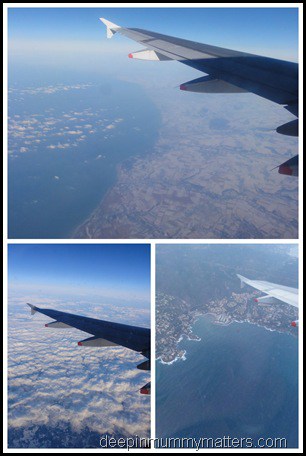 We sat on the tarmac for a further 40 minutes or so as men in yellow jackets continued to stand around watching the activities at the rear of the plane. I think they were probably sticking a huge elastoplast on the scratch but I couldn't be sure. Eventually, some two hours after we were supposed to take-off we took to the skies as our trip to the South of France began. We watched out of the windows as snowy England disappeared below us, we crossed the Channel and began our flight over, wait for it, snowy France! Oh come on!!!
The flight was actually pretty good apart from the last 10 minutes which were a bit bumpy, needless to say Hubby was quite green by the time we touched down. We passed through the airport with ease and were greeted by our lovely drivers who were going to transport us to St Tropez a little later than anticipated.
BUT the troublesome journey was not to end there, oh no! A four lane motorway suddenly turned into a 3 lane, then a 2 lane and then a 1 lane motorway until we were pretty much at a standstill with still a further 45 minute journey to complete. It turns out snow was expected so the authorities grounded all lorries and stacked them up at the side of the road, two lorries deep and from what we could count there were approximately 500 lorries (yes we were going that slow).
At around 9pm we arrived at the quayside in St Tropez (and yes I did drool over the beautiful yachts) to settle down to an evening meal at Le Cafe de Paris which was beautiful. We were greeted by 10 members of the crew who would be spending the weekend filming us, name after name was introduced to me but it was no good,  by that time my brain was mush. I would have to try again in the morning.
After an entertaining evening with some great company and good food we checked ourselves into our fab hotel The Kube and crashed for the evening ready to start all over again the next day . . .