Mummy Matters is in At Home Parenting with Jo Frost!!!
Squeeeeee I'm so excited today and I want to share this great news with you my lovely readers. Mummy Matters has been featured in the October edition of  fab parenting magazine "At Home Parenting with Jo Frost" as a Top 10 Parenting Pick!!!!! How 'bout them apples then?!?! I never consider myself to be a top blogger, in fact someone asked me yesterday if I was and I told them "noooo I'm a middle-ish blogger" but to be picked as a Top 10 has got me dancing in my dining room!!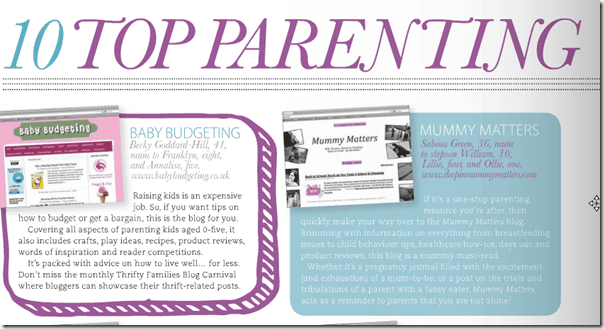 I have always been a big fan of Jo Frost aka Super Nanny for her no-nonsense methods of handling children's behaviour (which to be fair normally comes down to the parents anyway!). I particularly like the Super Nanny in US series because everything always seems so much more extreme over there. That said, I would still like Super Nanny to move in with us for a couple of weeks and sort out Little Bean's eating issues but I guess we can't have everything!
Message from Jo Frost:
"What a year it has been so far – while I have been in Los Angeles, you Brits have been celebrating like there is no tomorrow. What with the Diamond Jubilee earlier this year and the recent Olympics, missing out on the celebrations has made me feel quite homesick.

I was glued to my television during those exciting times and it was clear to see what a huge impact national events have on helping to draw families and their communities together to celebrate. And, in these financially difficult times, this can only be a good thing. Helping families is my passion and I will soon be hosting a new television programme in the US and here in the UK, that will give me the chance to work with the whole clan, not just unruly kids. It will no doubt be fascinating for us all and viewers alike. I hope with my input these struggling families will have a chance to get back on an even keel and work as one unit.

In this issue of Parenting With Jo Frost we have covered all sorts of parenting issues from cyber bullying to reading, from your baby's milestones to spending time together… yes, that's right… as a family! Enjoy it and have fun!"

Jo Frost xx