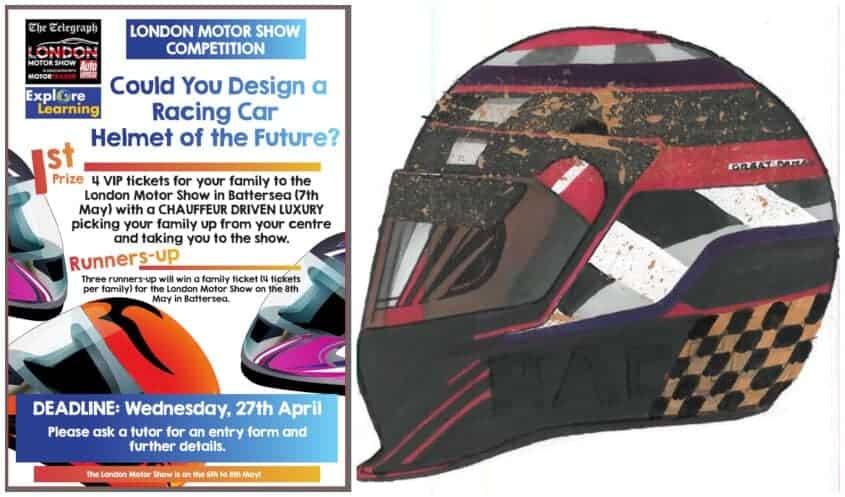 Mehdi Zafari designs the Racing Helmet of the Future #LondonMotorShow
This evening I was supposed to be attending the special preview of the London Motor Show, but in reality, I just couldn't fit it into my busy schedule this week. You see, I'm busy celebrating my 40th Birthday this week (I shall tell you all about it soon when my feet touch the floor) and so as much as I was excited to see the London Motor Show was back, I didn't have the time to squeeze it in. It had better be back again next year, though!!!
Nevertheless, I still wanted to keep you up to date with the latest news from the #LondonMotorShow, so I'm sharing this latest little newsflash . . .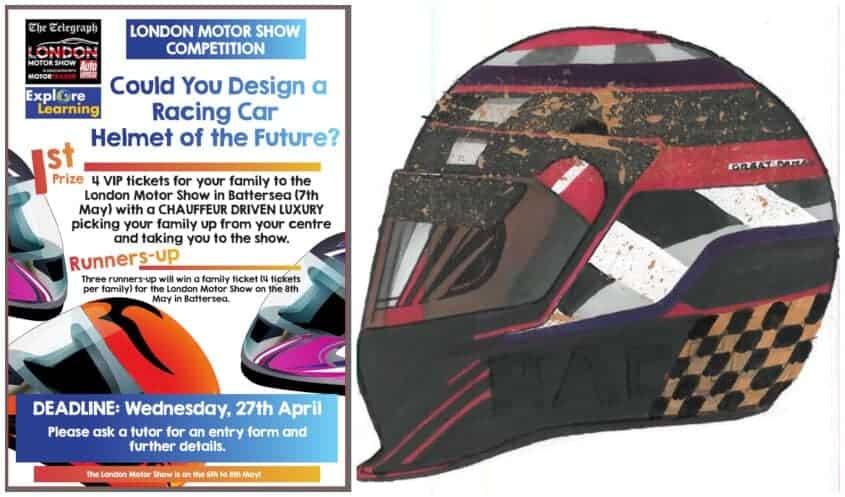 Mehdi Zafari, a 13-year-old boy from East Sheen, has beaten off stiff competition to design the above entry in the Racing Car of the Future competition ran by The London Motor Show in partnership with Explore Learning. To mark the London Motor Show's return to the capital this weekend, a competition took place across London, asking children who attend tuition providers, Explore Learning, to produce their dream design of the Racing Helmet of the Future. The lucky winner will now be driven to this weekend's show with his family in a chauffeur-driven luxury car, where he will meet the former Stig, Ben Collins!
As well as this, three runner ups have been given VIP tickets to attend the show on Sunday with their families. These runners who really stood out thanks to their exceptional entries were Richard Wellman, aged 11 from the Explore Learning Centre in Romford, John Pollard, a 9-year-old from the Orpington centre and Amber Hudson, who's 9 years old and from the Wallington centre.
The competition proved a real hit with the Explore Learning members, attracting around 2,300 entries.
Stephen Maitland-Oxley, Events Director at The London Motor Show says:
We were thrilled to team up with Explore Learning on this Racing Car Helmet of the Future. The quality of the entries was exceptional, and I think we found a very worthy winner! We look forward to welcoming Mehdi and the runner ups to the show this weekend, and well done to all those that took part."
Across The London Motor Show weekend, which is taking place from the 5th-8th May at Battersea Evolution, exhibitors will be showcasing their latest vehicles with prices ranging from £8,000 to more than £200,000. Alongside the vehicles, the lecture theatre will play host to a fantastic line-up of honoured speakers, including Sir Stirling Moss, Tiff Needell and Nigel Mansell, who'll be focussing on several major motoring issues.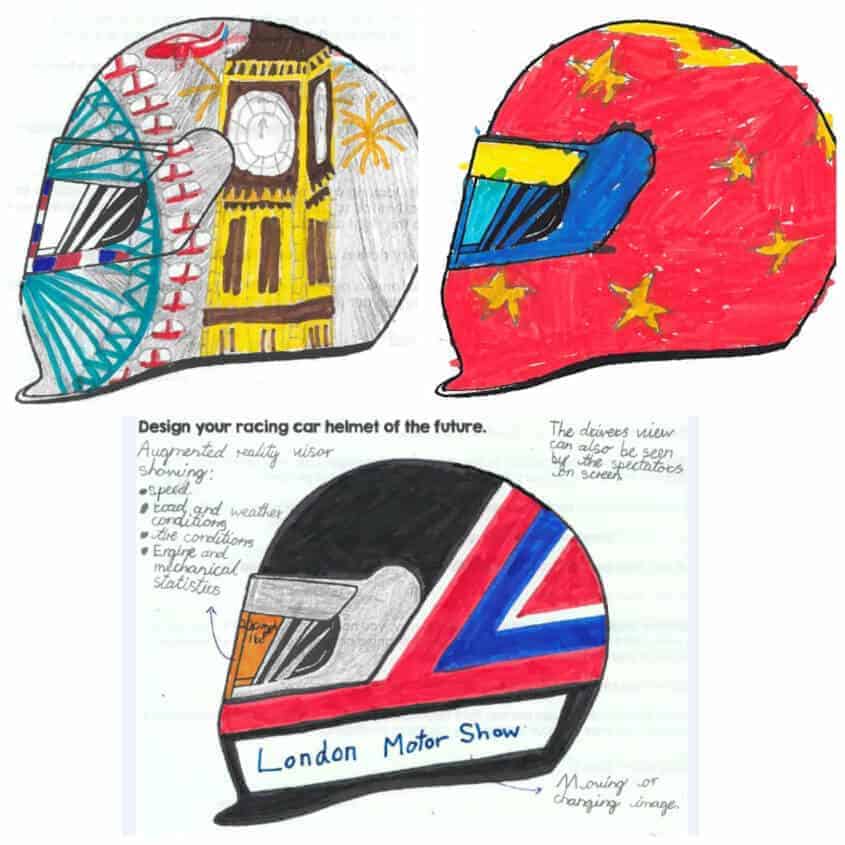 Carey Ann Dodah, Head of Curriculum at Explore Learning says:
We were amazed at the sheer response we had to the Racing Helmet of the future competition. We're always thinking of new and inventive competition ideas that will engage the children, and we jumped at the chance to work with the world-famous London Motor Show! Our members thoroughly enjoyed creating their entries, and I am so pleased for Mehdi; his design was brilliant, and I'm sure he'll have a fantastic time this weekend!"
Explore Learning provides English and maths tuition to children aged five to 14. Through their tuition, they create a fun and vibrant atmosphere for children to work in, helping them grow in confidence and fulfil their potential.
The general early bird admission ticket for The London Motor Show is £15 from 6th-8th May, and children under 10 go free. On the door ticket price is £20. For more information, visit www.thelondonmotorshow.co.uk/
Opening times:
Friday 6th May: 10.00am – 6.00pm, Saturday 7th May: 10.00am – 6.00pm, Sunday 8th May: 10.00am-5.00pm.
About London Motor Show
Battersea Evolution will play host to The London Motor Show from 5th-8th May. The Show provides an important platform for the motoring industry in Britain, which is enjoying considerable success in terms of vehicle manufacturing, technical innovation and new car registrations. Media partnerships have been announced with the Daily Telegraph, Auto Express and Motor Trader magazine. www.thelondonmotorshow.co.uk
About Explore Learning
Explore Learning provides maths and English tuition for 5-14 year olds.
Over 30,000 children attend Explore Learning centres every week. There is 120 centres across the UK.
All courses are aligned to the National Curriculum, Curriculum for Excellence and Curriculum for Wales. Explore Learning tutors select appropriate resources for each child to ensure they cover a combination of courses, enabling them to reach their potential in all areas.
All Explore Learning centres are located in areas that are convenient for families to attend – these include centres within shopping centres such as Westfield London, Lakeside, Cabot Circus and Sainsbury's supermarkets.
Explore Learning were named the best Private Tuition Centre Operator in the EducationInvestor Awards 2014 and 2015, the 57th best company to work for by The Sunday Times 2016, a One to Watch in The Sunday Times Virgin Fast Track 100 and were recently named a finalist in the European Business Awards.