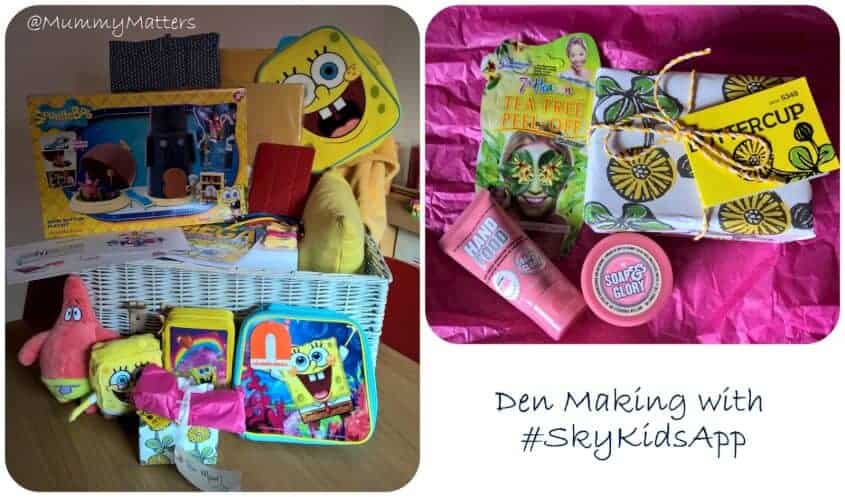 Dens, Sponge Bob and #SkyKids
A couple of weeks ago Little Bean was invited to her very first sleepover at a friends house with a group of her friends from school. She was naturally very excited at the prospect of having this time with her friends and sleeping somewhere different so she was talking about it for days before she went. Understandably, Beanie Boy and Jelly Bean felt like they were missing out on a great adventure being 'stuck at home' with Mummy but then help arrived in the form of a very large and very exciting hamper from #SkyKids.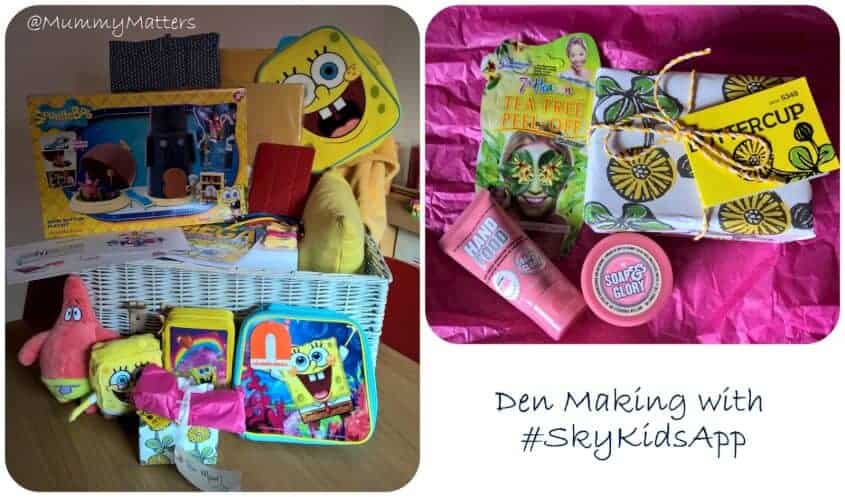 When we opened the hamper a sea of yellow greeted us and the boys excitedly pulled the contents out to see what delights were awaiting them. Inside we found a blanket, bed sheet, pegs, cushion, road, toys, colouring book, pens/pencils/crayons, rucksack and bag and even a few cuddly toys and an iPad Mini cover (though sadly we don't have the iPad Mini to put in it).
Our Hamper of Fun had been sent to us by #SkyKids to celebrate the release of their brand new and exciting Sky Kids App which features all of the children's favourite shows and characters from the popular Sky Kids TV channels. We haven't actually had Sky TV for a few years now so this has opened up a whole new world of TV to the Beans as they are discovering channels they have never even heard of before. From a parents point of view, it offers peace of mind that they aren't going to be watching content which isn't suitable for them because you can specify which channels they can and cannot see and each child can be given their own profile so it feels more personal to them as well as being directed to their age group rather than an older sibling.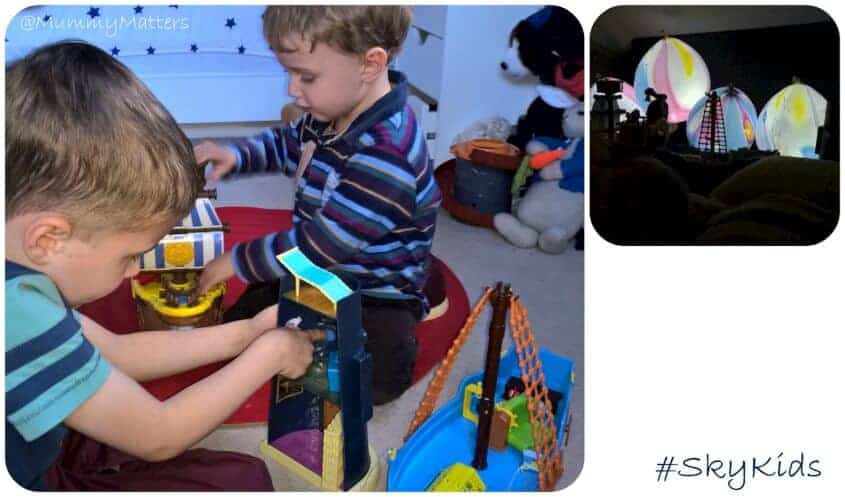 Once Little Bean had gone out with her friends we set to on making a cool den in the boys' bedroom. As we suspected the boys asked if they could sleep in their den too so we had to make sure that it was big enough for the two of them to sleep comfortably and with safety in mind. The most obvious choice for this was to make the den over the boys' sofa bed in their room. With the help of the towel rails from both bedrooms, a few pegs and the bedsheet we managed to create them a den they could be truly proud of.
As well as fabulous supply of kit which had been sent to us, I also bought some light up balloons from the Supermarket which the boys could have in their dens to provide a nightlight too. They thought this was amazing and they loved the den so much, they ended up sleeping in it for the next 4 nights until we decided that it was time to put their room back together again. Each night they would go to bed without a fuss because they were excited to be sleeping in their den. In the morning, Beanie Boy who is often the first to wake in the house, would stay in his den, pop his headphones on and watch #SkyKids on the iPad until he decided he needed some breakfast.
After breakfast the house would become suddenly quiet again and with a little exploration I would discover giggles coming from under the bedsheet roof of the den. Further inspection would present me with two little boys playing Spongebob Squarepants.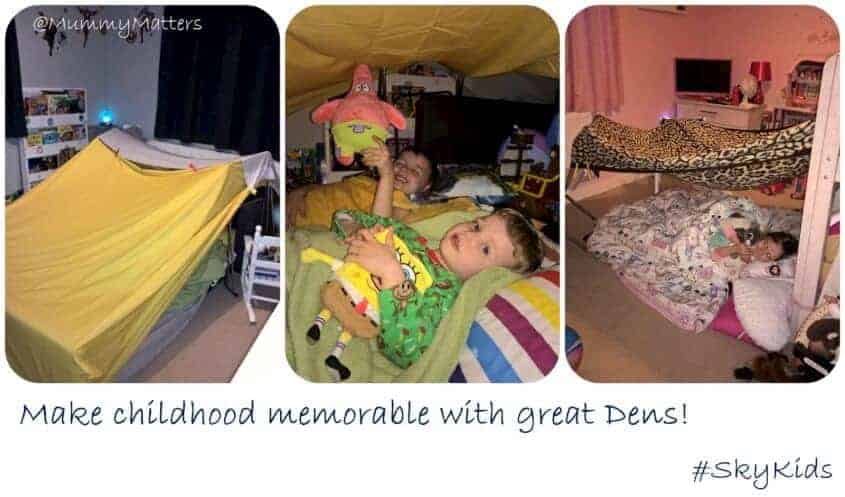 When Little Bean came back from her sleepover at her friends house, she was so impressed with the boys' den that she was inspired to build her own den in her bedroom where she also slept, played and watch Sky Kids on the iPad for the next few days.
Many of my happiest memories of childhood involved building dens with my friends, they can be whatever you want them to be, houses, pirate ships, fairy lands, caves. The only thing holding you back is your imagination but in case you are struggling a little, I would recommend watching a few of your favourite shows on Sky Kids App and seeing what special 'land' or 'home' you can create to bring your favourite TV program to life!
Disclaimer: We were sent all of the items in the Hamper as well as a code to access the Sky Kids App in exchange for our honest opinion.