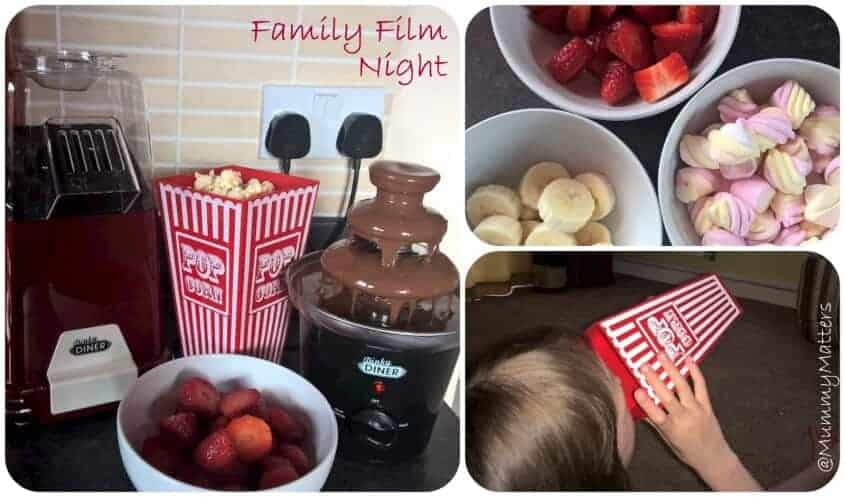 Make an occasion of #FamilyFilmNight
We have been regularly enjoying #FamilyFilmNight for a few years now. It's a great way to relax as a family at the end of a busy week. Apart from taking the odd photograph of us chilling out, all technology is banned (apart from the TV/DVD/Netflix of course). We usually snuggle up on the sofas, beanbags and floor with blankets, popcorn, drinks and rainbow drops and choose a film suitable for all of us to watch.
This week, we made more of an 'occasion' of our #FamilyFilmNight with the addition of a Chocolate Fondue and a Popcorn Maker from the Dinky Diner range from Liberty Trading Co. Having only just refurbished the lounge there was no way in the world that I was going to allow them into the lounge so we enjoyed the chocolate fountain in the kitchen first with strawberries, bananas and marshmallows before setting to work with the popcorn maker to make everyone snacks for the movie.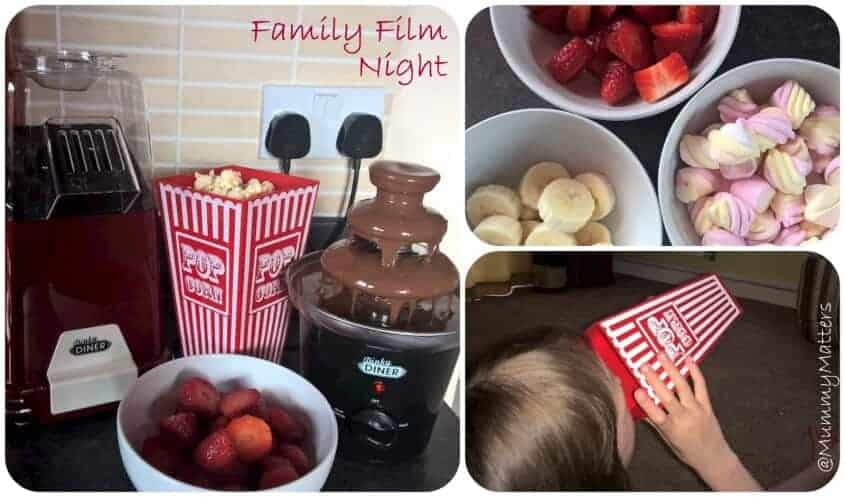 Dinky Diner Chocolate Fondue
I've only ever experienced a chocolate fondue at Weddings or parties in the past so I didn't really understand how they worked. I assumed that you put the chocolate into the base and it heated it until it was liquid and then pumped it through the fountain. What you actually had to do was melt the chocolate first and add a little vegetable oil to make it more fluid. We used cooking chocolate as per the instructions which worked a treat and tasted delicious. Once everyone had eaten as much as they could, we poured the remaining chocolate into moulds and popped them in the fridge (it's NEVER ok to waste chocolate!!).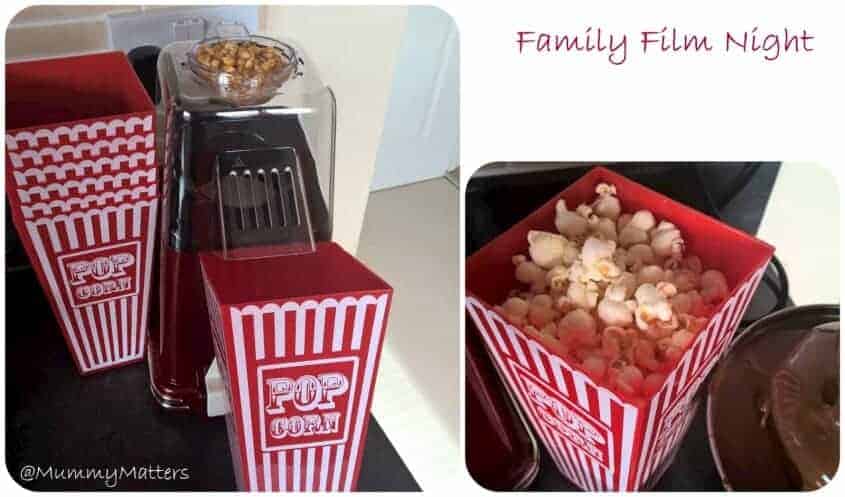 Dinky Diner Popcorn Maker
I remember as a child I always wanted a popcorn maker so the child in me couldn't wait to try it out. It didn't require any pre-warming at all, you just scoop up the corn kernels and pour them into the inlet cone, place the scoop back into the lid and then switch it on. Hot air is pushed around the popcorn maker and in just a few minutes the corn starts popping and pushes it's way out of the funnel at the front. Once the popcorn stopped falling out, I switched it off and tipped out the rest otherwise I found it burnt really easily. The popcorn tasted exactly as popcorn should so now we just need to experiment with adding flavours to make our own tasty snacks.
I found these cool Popcorn cones at Home Bargains store for just 69p each which work perfectly with our Dinky Diner collection and were just the job to hold the popcorn whilst we all relaxed in the lounge for a perfect #FamilyFilmNight.
Choosing the perfect Family Film
With children ranging from 3 – 14 years old it can be difficult to find a film that everyone will love. Apart from the odd DVD which we have bought from the shops when a new release has taken our fancy, we mostly choose films from Netflix whilst signed into one of the Beans' own profiles. We are lucky in that Curly tends to love most films provided they aren't completely babyish. As a family we love films with animals in and for the last 3 #FamilyFilmNight get togethers have enjoyed watching MVP, MVP2 and MXP which all follow a cute chimp by the name of Jack and the friends he makes on the adventures he finds himself in. For an adult the storyline can be quite predictable but the children LOVED them and they are really easy watching. The great thing about Netflix is that there is so much choice you are bound to find something that everyone likes and when the children have gone to bed you can switch profiles and watch the latest movies or TV Shows that you don't normally get to watch as a busy parent.
Do you have #FamilyFilmNight ? How do you do yours?
DISCLAIMER: We were sent the Dinky Diner products free of charge for the purpose of this post. All words, opinions, images and videos are my own and may not be used without my permission. I have not been instructed what to write.