Look what Clintons started . . .
When I was sent a few Halloween bits and pieces from Clintons I set a plan into motion. We're not big on trick or treating for Halloween in the Mummy Matters household but at the same time we don't want our children to not have fun and get into the spirit of Halloween so whilst out shopping last week with Little Bean and Beanie Boy I picked up a few other bits and pieces for a Halloween celebration. Little Bean and I formulated a plan to have our own little Halloween Party just Little Bean, Beanie Boy, Daddy and myself (Curly is at his Mum's this weekend). We found Halloween outfits for all of us and couldn't wait to get home to tell Daddy and that's where the plan began to snowball. I think Daddy was unsure about us sitting at home all dressed up in fancy dress just the four of us so he suggested that we invite a couple of our neighbours around with their children so that the children could have a Halloween Party but the proviso was, EVERYONE had to dress up.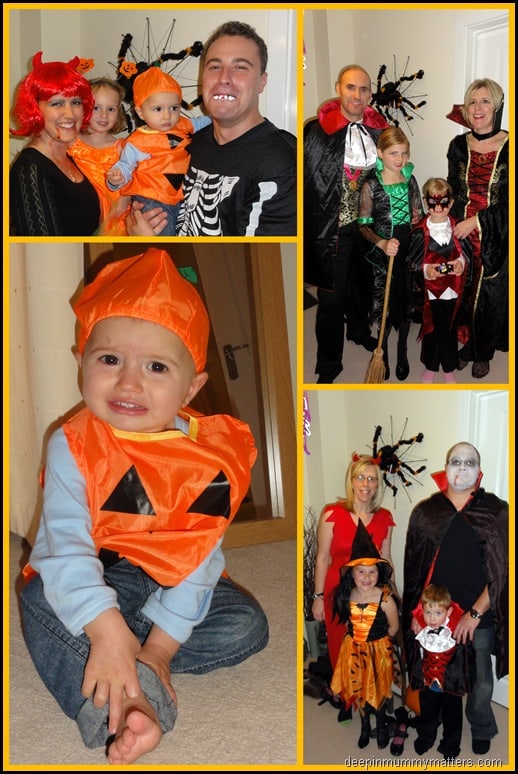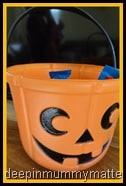 Yesterday morning Little Bean, Daddy and I set to work decorating the house with the Super Stretchy Black Cobwebbing that Clintons sent to us which was fab. When I first looked at the bag I didn't think we would be able to decorate very much at all but this stuff really is super stretchy and covers large areas. We used it in four different places throughout the house and then attached the spiders which came with it for ultimate effect. I had also bought some scary purple skulls and skeletons which we attached to for a bit of colour.
We were also sent a really cool Pumpkin Bucket which we filled with sweets for the children to delve into on their way home, a Halloween Chinese Lantern although we were too wary to let it go as it was a rather windy night last night and finally some vampire blood which finished off my outfit. When I first put it on I was a little worried that it would really stain my skin and get people giving me strange looks for the rest of the week but thankfully good old baby wipes saved the day and I look as normal as I will ever be again this morning!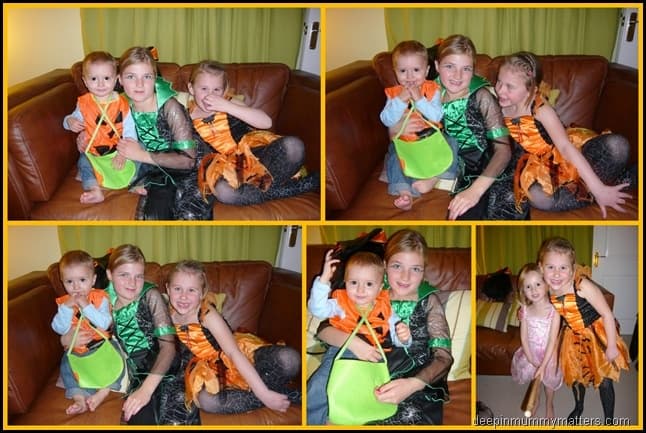 Our party was a big success, the children had a blast and loved seeing all the adults dressed up in outrageous costumes, although Little Bean was quite wary of Mummy with bright red hair to begin with, she said that she likes me better with brown hair.
We used shaped cookie cutters to make Scary sandwiches for the children which were a big hit, they all wanted to eat the bat shaped ham sandwiches.
This was my first attempt at carving a pumpkin which I have to say I'm pretty impressed with, although I didn't realise just how stringy they are inside, yuck!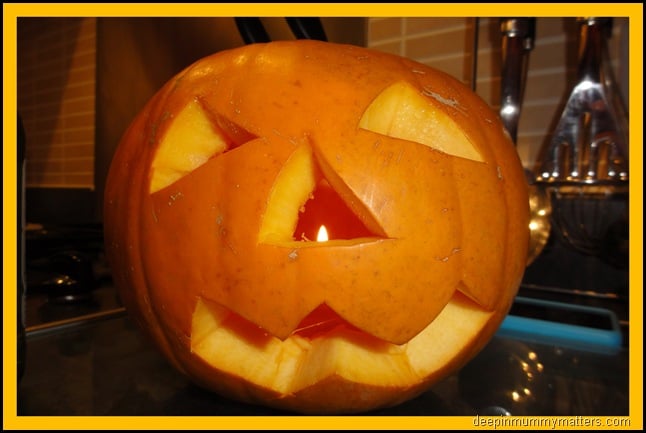 So even if you're not into trick or treating like us, Halloween doesn't have to be a no-no, our children loved their party last night and I think we have earned a few brownie points for being cool parents (at least for one day anyway!). Halloween is officially tomorrow night so you've still got time to head down to Clintons and pick up a few decorations for your party too.