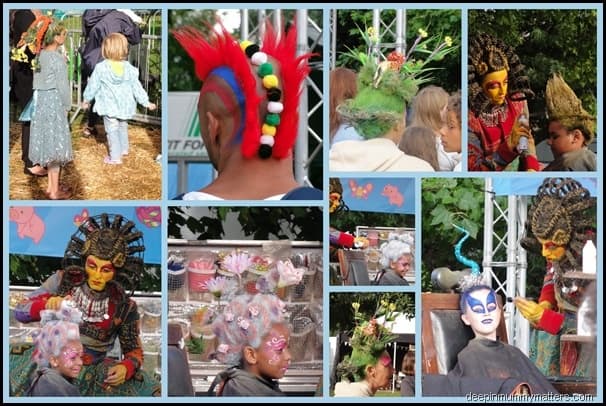 Lollibop 2011 – washout or winner?
Yesterday the Mummy Matters family attended Lollibop in Regent's Park. Our aim was to arrive for opening at 11am but anyone who knows me will not be surprised to hear that we were running a little late! We had two 40th birthday parties to attend the night before, one in Wellwyn Garden City and one near Peterborough. It was a late night and we had extremely tired little people in the form of Little Bean and Beanie Boy. When we finally arrived at our car park in London it was about 12noon and we had a 30 minute walk to Regent's Park. We easily found our way to Regents Park but we entered the Park near Lord's Cricket Ground and couldn't see any sign of Lollibop so we followed our instincts in the wrong direction!  Another 30 minutes later we found Lollibop signs and made our way in without any trouble because we were so late we had missed all the queues – every cloud has a silver lining don't they say?
As it was now lunchtime and I had read a fab post by SuperAmazingMum with some survival tips for Lollibop we had taken our picnic and decided to eat that before getting started on the fun stuff. Thankfully there were hay bales all over so that you could sit down and eat so you didn't have to set up camp on the damp grass. As lunch finished we got out our programme and asked Little Bean what she wanted to do first. She had spotted one of the Heroes from Herotopia and asked if she could go and see them first so off we toddled to see what it was all about. We were told that Little Bean could have her face painted and dress up like a Hero before standing in front of a green screen and having her photo taken with the rest of the Herotopia gang. She quite liked this idea so we waited in the queue for her turn to come around. I was amazed by how patiently she waited, she was quite happy to just keep watching the different characters interacting with the other children so I took the opportunity to leave Hubby with Little Bean and Beanie Boy in the queue whilst I stuck my head into one of the tents nearby to see what was happening in there. As I opened the tent I was pleasantly surprised to see the lovely Chocorangecitymum and her family enjoying some craft time. I had a quick catch up and chat to see what was worth doing at Lollibop and help me to plan our day before heading back to my family who were now standing in drizzle as it was starting to rain. I went back to the queue just at the right time as Herotopia were handing our rain ponchos and one look at the sky told me it was time to put it on, quickly!!
Within minutes the heavens had opened and emptied their bath water everywhere. Everyone made a dash for the shelter of the trees and set up camp until the rain slowed some 30 minutes or so later. It was freezing cold and very silly me had forgotten to take the raincover for the Phil & Teds so we were doing everything we could to keep the children warm and dry. After a while the sound of chatter and laughter from the crowds had turned to that of crying from the children and people's faces were starting to drop along with their spirits. Lollibop was starting to look like the pictures of so many festivals I have seen on the news which have been blasted by heavy rain leaving it a huge boggy mess. The flip flops I had worn were turning from white to a dirty shade of brown and Hubby and I were close to calling it a day before we had even got started. But then the rain slowed down and we were able to creep out from our now not so dry trees and attempt to run from tent to tent.
Creeping out from their dry haven we encountered Ben & Holly which Little Bean thought was fantastic, she even got to shake hands with Ben!! We had a quick look around some of the stalls and then headed into the H&M tent for a spot of dancing with Little Dance Flavourz which was very well timed as the rain came again. This time the dancing kept us warm and so we didn't need to even think about heading home.
We had a play in The Fairy School tent where potential Fairies and Wizards could try their hand at Wand Making, Fairy Wings, Fairy Crowns and other fun stuff. Little Bean was actually quite happy just playing in the sand but Mummy did her dutiful role and made a Fairy Crown fit for my Princess Fairy!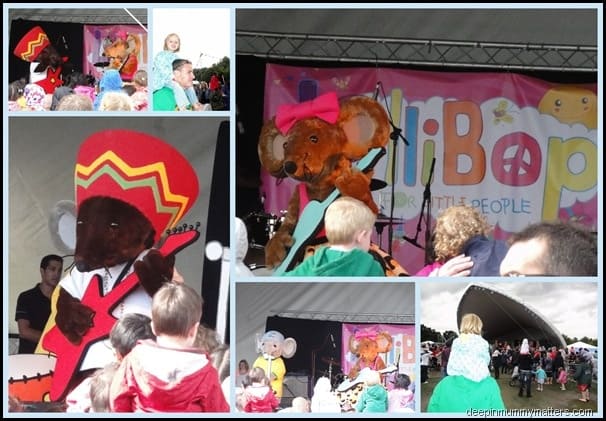 As the sun came out and the rain died down we were able to hear the music once more from the Live Stage and Little Bean excitedly told us she could hear Rastamouse and Da Easy Crew so we got down in the puddles to soak up the festival atmosphere and get our groove on. Throughout the afternoon we tried our hands at some of the other crafts, watched Charlie & Lola and then found ourselves drawn to the Alfresco Bandstand where a duo called Osadia were creating works of art with people's hair. The duo come from Barcelona and have wild imaginations and impressive creativity. Little Bean was transfixed by them but didn't fancy letting them loose on her hair!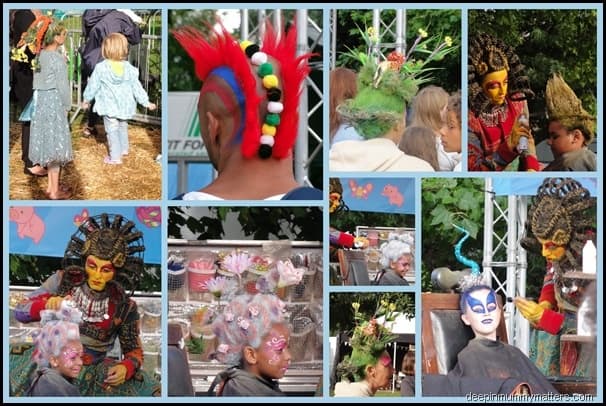 Our final reminder of Lollibop will be the Human Beatboxers who took to the stage and wowed us with their skills – amazing!!
The rain came and went throughout the day and its hard to say that it didn't dampen our spirits and spoil our experience of Lollibop somewhat. We made the most of it as best as we could and Little Bean certainly enjoyed herself. Unfortunately our day was marred even further by a Phil & Ted's pushchair with a mind of its own which didn't want to play ball in the slippery mud so at about 6.30pm we finally said enough was enough and headed for home. Will we go back next year? Possibly though I would be tempted to leave Beanie Boy with the Grandparents as I think he will be too young for it again and he will spend most of his time sitting in a pushchair. There were soft play areas but it was hard to please both him and Little Bean at the same time without everyone splitting up. Perhaps the Grandparents could come with us next year, who knows? Watch this space . . . .