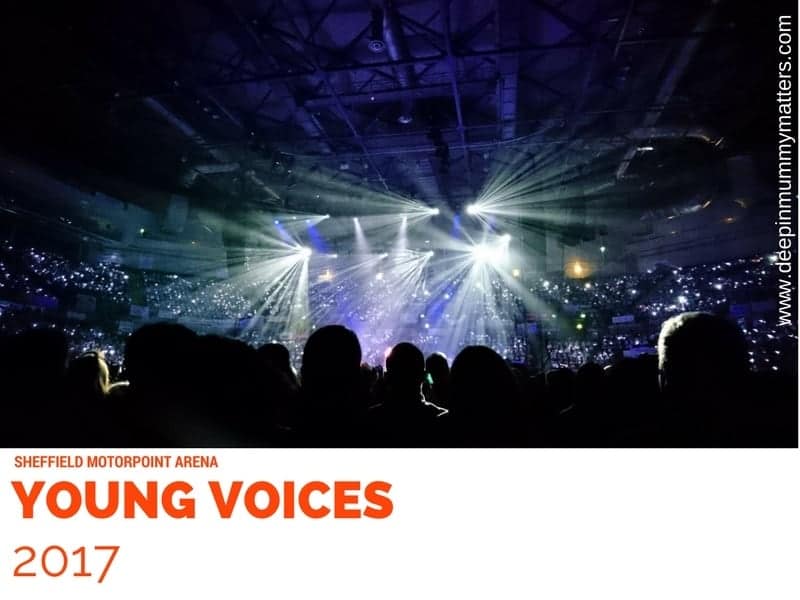 Little Bean and the Young Voices Choir at Sheffield
On Friday 13th January, my Mum and I boarded a bus at Little Bean's school bound for Sheffield. At the start of this school year, Little Bean asked if she could start doing Vocal lessons and join the school choir, it was something she has wanted to do for a long time, but I was loathed to let her start until I was sure she would stick at it.
Little Bean starts Vocal Lessons
In the first few weeks when we heard her sing around the house, it wasn't always pretty. There were a few times were we would pull the face as if nails were being dragged down a blackboard. The one morning as I was getting ready for the school run, I heard her singing again but this time it was different; controlled, gentle, harmonic almost. Even Jelly Bean said "ooh I didn't know you had a voice". The vocal lessons were certainly beginning to pay off.
Auditioning for the School Choir
Just before Christmas she came home upset as she had auditioned for the school choir and a few girls from her class had told her "you won't get in, you're rubbish and everyone thinks so". I told her to ignore them and only listen to what the teachers had to say as they were the ones who would make the decision. A week later she bounded out of her classroom and told me that she had been accepted for the school choir and for her that meant she would finally get to go to Sheffield to join the Young Voices choir, something she had heard her friends talking of for the past few years.
What is Young Voices?
Young Voices is the largest school choir concert in the world. The choirs range in size from 4,500 to 8,500 performing together to an audience of family and friends.
Every year, schools across the country practise our music in class with their teachers to prepare themselves to take part in these massive concerts. Over the years the children in the choir have performed with artists such as Alexandra Burke, Joss Stone, and Gary Barlow as well as raising over 1 million pounds for Children's charities such as CLIC Sargent.
With a full live band, backing singers and the internationally acclaimed conductor David Lawrence, it makes for one of the most exciting and memorable musical experiences you can imagine.
2014 was their largest ever concert tour with over 120,000 children taking part in the UK and Ireland. Every year Young Voices have concerts at The O2 in London, The LG Arena in Birmingham, The Phones 4U Arena in Manchester, and the Motorpoint Arena in Sheffield.
The Big Day
It was to be a long day for the children, they would arrive at Sheffield Arena around lunchtime and spend the afternoon rehearsing with the other 5000 or so children and then at 6.30pm the Arena would begin to fill up ready for the show to start at 7pm.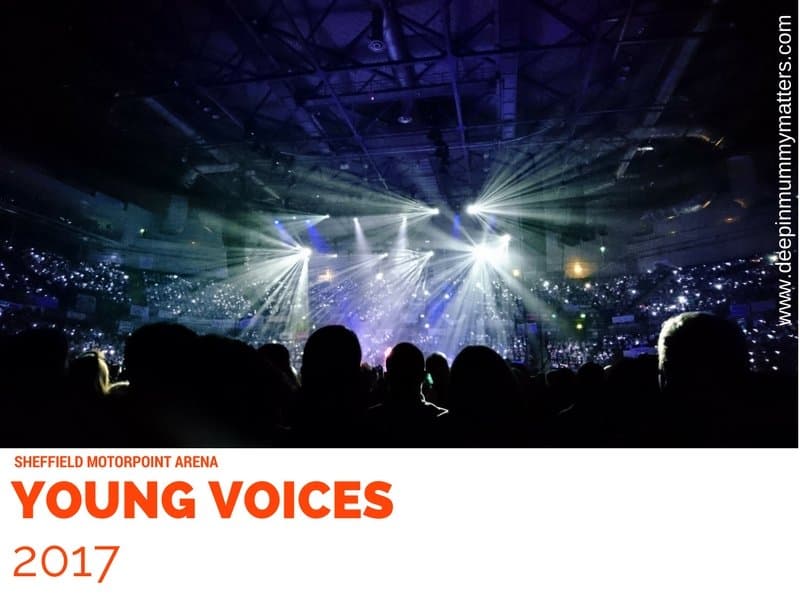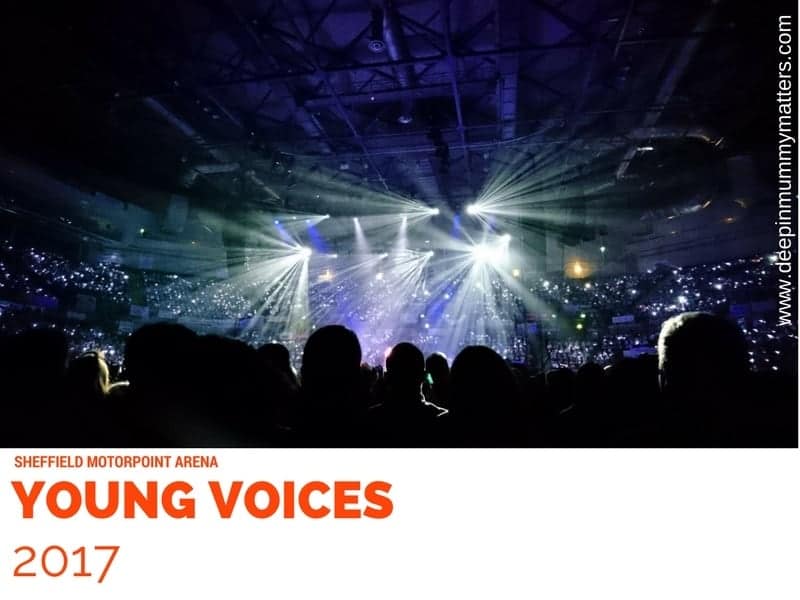 Tough day for the parents
Meanwhile, the parents coach was taken to Meadowhall Shopping Centre for the afternoon (I know such a hardship but sometimes you just have to do these things for your children) and then picked us up again at 6.15pm to head to the Arena.
Getting the party started
Walking into the Arena, the entire back wall and corners were awash with white Young Voices t-shirts and excitable children. I spotted another parent from our school who pointed me in the direction of our school and made my way down to give Little Bean a wave. She took one look at me and burst into tears so my heart sank. I couldn't get close to her so a hug was out of the question. I managed to mouth the words "what's wrong?" and she replied "I couldn't see you". After a hug from her friends and a teacher she gave me a big smile and then settled down with her friends.
The Young Voices Choir had an amazing buzz of energy about it, so many children together, singing the songs they have been practicing for months, dancing and joining in with the acts on stage. I am a HUGE fan of beatboxing, I think it's so clever and the sets which The Beatbox Collective did were amazing, I know that Little Bean would have enjoyed watching the dancers. The headline act was a beautiful singer by the name of Natalie Williams who is a soul/jazz artist. She is resident singer at Ronnie Scott's Jazz Club and her monthly sessions have sold out religiously for the last 10 years.
Little Bean said that her favourite act was Tabby Callaghan or "the rock star" as she called him. He was, admittedly, brilliant! He really knew how to work the audience and the Choir. Tabby was selected by Sharon Osbourne on the X Factor.

My thoughts
Personally, I would have enjoyed watching Young Voices anyway as I love a live show and I love music but having my beautiful daughter and her friends up there made it an even more special evening and I was bursting with pride for them. It's such a wonderful experience that I know she will treasure forever. I shall definitely look forward to watching her again next year. Well done Little Bean, you rocked xxx