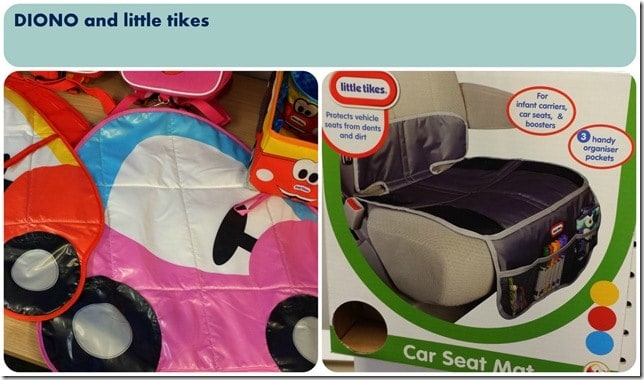 An introduction to Diono & Little Tikes plus giveaway
A couple of weeks ago once we had dropped Little Bean at school, the boys and I hopped on a train down to a very wet and gloomy London to see the new range of travel solutions from Diono who have recently teamed up with Little Tikes to create a fab range of nursery product for home and travel.
"Diono has a great track record for developing products for families that provide safety, comfort and convenience," stated Rachael Springett, International Marketing and Licensing Director, Little Tikes®. "Little Tikes® is now one of the leading preschool toy brands and by adding our name to their trusted line of products, we're making sure that parents not only think of Little Tikes when it comes to play, but also when it comes to well-being and comfort both at home and when travelling."
I was particularly interested to see their product range since my car has recently become a major focus of attention for our family. Jelly Bean is now 9 months old and will soon be looking to move into a forward facing car seat and so I will need to get my car a little more organised. I drive a Honda FRV which is a six seater car with two rows of three seats. At the moment, Jelly Bean sits in the front of the car with me but when he moves into a forward facing seat he will need to sit in the back with the tiddlers meaning they will lose their middle seat where they store all of their rubbish toys, boys, crayons and treasures. One product which really caught my eye was the car seat mat which is dual purpose in that it protect my car seats from being marked by their car seat bases and has pockets which had down the front of the seats big enough to hold pens, books and snacks. The other product which would work really well in conjunction with the seat mat is the Lifestyle kick mat which protects the back of the front seats from little ones' dirty shoes which are like a magnet for seat backs and feature storage pockets at the top to keep their treasures close at hand.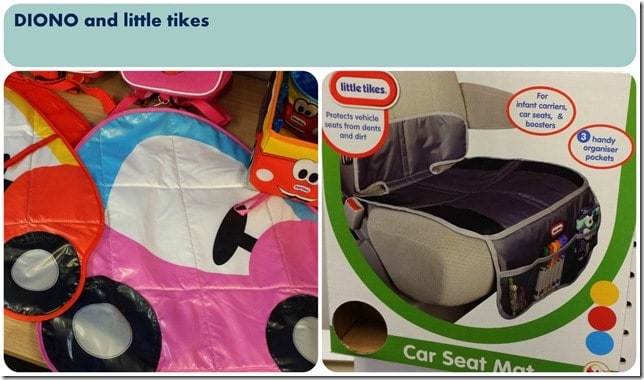 At the time that Jelly Bean moves up into a forward facing car seat, I will also need to move Little Bean into a more compact booster seat because unfortunately I will be unable to fit three of my current car seats side by side across the back seat. I would prefer to keep her in a booster seat with an integrated back for as long as possible to keep her well protected but they do a range of seats with or without the backs. They also do seats with cup holders which are a great idea – my husband need never get fed up with me again if I had the full range of organisation products from Diono and Little Tikes because they have thought of everything.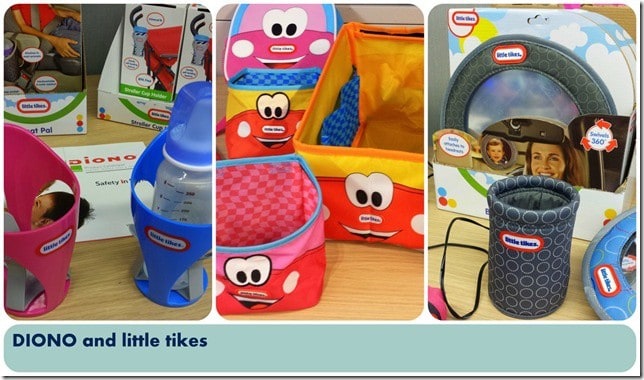 As the winter months are fast approaching there was one accessory which caught everyone's eye for more reasons than that for which it was designed and that's the Warm'n'Go bottle warmer made from stretchy neoprene fabric which plugs into the cigarette lighter. Obviously it's intended use it to warm up a baby's bottle but us clever Mummies thought it would also been great for keeping our coffee warm or even warming up hands on a cold winter's morning after scraping an icy windscreen!!
If you're a regular reader of Mummy Matters you may recall my previous Diono review of my Buggy Buddy which is still going strong today and comes in so handy. I have received so many compliments on what a clever idea it is.
From September 2013 many of their new products became available in major UK retailers Tesco and Halfords. All the products are currently only available in plain fabrics but from early next year the brightly coloured Little Tikes coloured accessories will also be in the shops. The friendly faces and vibrant colours are really attractive to children.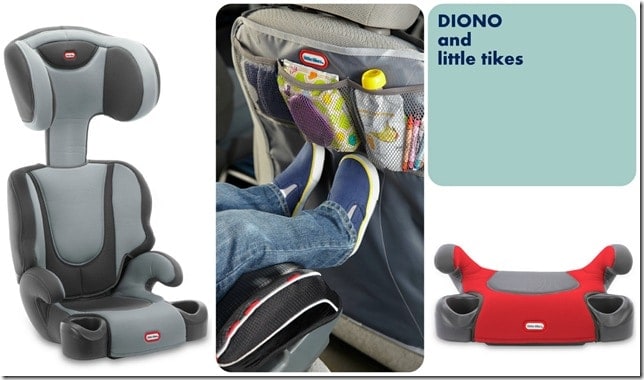 I have one Lifestyle Kick Mat to giveaway to a lucky Mummy Matters reader, just follow the instructions on the Rafflecopter form below. Good luck!!