How to Throw A Perfect First Birthday Party For Your Baby 

As a parent, you want to make your child's first birthday memorable and unique since it is a significant milestone.
Although organizing the ideal first birthday party may seem difficult, with careful planning and originality, you can design a memorable event that will be remembered for years.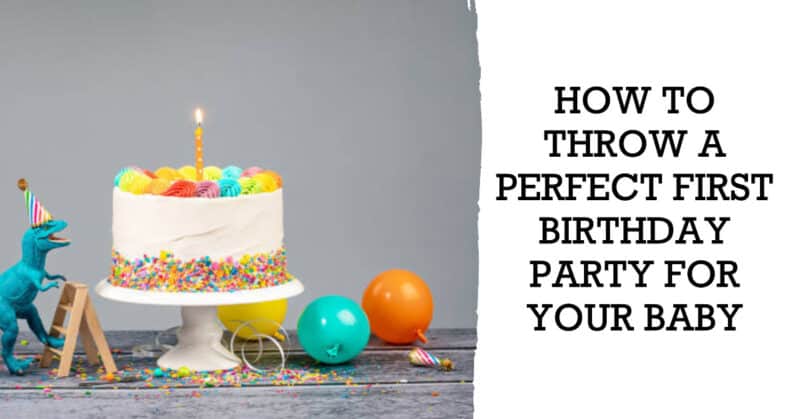 This guide will help you through the steps to have a wonderful first birthday party for your child, from picking a theme to planning enjoyable activities.
1. Selecting the Theme
Setting the tone and creating enthusiasm for the first birthday celebration requires choosing a theme.
Choose a theme that appeals to your baby's interests, such as animals, superheroes, etc. This theme will direct your choices for cake, invites, and 1st birthday decorations, resulting in a coordinated and enjoyable party.
Let your baby's favourite personalities or interests stand out for a memorable and fun occasion.
2. Invitations
Invites should be sent out well in advance to ensure that friends and family can put the day on their calendars.
You can create personalized invitations that go with the selected theme or choose ready-made ones from stationery shops. Include all pertinent information, including the party's location, the date, the time, RSVP information, and any special instructions.
Another great way to add a personal touch is to make a sweet photo invitation with your baby's happy face.
3. Venue and Decorations
Depending on the number of people and the atmosphere you want, the location can be your house, a park, or a community centre.
The decorations greatly influence the ambience of the celebration. Use table centrepieces, balloons, streamers, and banners consistent with the theme. Soft pastel hues are commonly used for first birthday parties but feel free to get creative and use colours that compliment the theme.
Remember, both children and adults will enjoy that modest yet lovely decoration.
4. Outfits for the Birthday Star
Dress your child in an appealing attire that matches the theme or enhances the colour palette of the celebration.
While some parents choose a miniature version of their favourite character's costume, others select a charming onesie or tutu dress.
Don't forget to bring an extra costume if there are any unanticipated spills or accidents during the celebrations.
5. Delicious Birthday Cake
The focal point of each birthday celebration is the birthday cake. Consider a tiny cake that can be customized to fit the theme for a first birthday.
To ensure your baby has no allergies, if they have never tasted cake, consider giving them a sample a few days before the celebration. If any visitors have dietary limitations, consider providing dairy-free or eggless choices.
Alternatively, you can choose a fruit cake or a smash cake made especially for the infant celebrating their birthday.
6. Snacks and Refreshments
Offer a variety of food and beverages appropriate for children and adults in addition to the cake.
Sandwiches, fruit platters, vegetable sticks with dip, and cheese cubes are all excellent finger meals. Make sure plenty of water and other drinks are available to keep everyone hydrated during the celebration.
If the celebration is at mealtime, think about providing a straightforward meal buffet style to satisfy hungry attendees.
7. Fun Activities and Entertainment
Engage the little ones with appropriate games and activities for their age. Create a play area with toys and activities for all ages.
You can organize entertaining events like a bubble station, a treasure hunt, or a kiddie pool for outdoor celebrations. If older children are present, plan activities for them as well, such as musical chairs or a sack race.
Hiring a children's performer, such as a magician or a face painter, can also lend a magical touch to the party.
8. Commemorative Keepsakes
Make lasting memories of this momentous day by gifting visitors with party goodies or mementoes.
Photo frames, miniature scrapbooks, and personalized pastries all make excellent giveaways. A photo booth with entertaining items can also be put up to entice attendees to pose for photographs.
After the celebration, collect these images into an album that your child will treasure when they get older.
9. Be Mindful of Naptime
Keep in mind that newborns have their own timetables, and a party can be too much for them.
Choose a time for the party when your child is typically awake and in a good mood.
Be sure to account for their naptime so they won't be too worn out for the celebration. A baby that has gotten enough sleep will be happier and more interested during the event.
10. Memory Wall or Time Capsule
To preserve memories from your child's first year, make a memory wall or a time capsule.
Create a special spot where visitors can leave messages, congratulations, or tiny keepsakes for your child.
This endearing activity not only gives the party a personal touch but also creates a memento that you and your kid will treasure for years to come.
Conclusion
It's important to commemorate your child's first birthday, and you can do so by carefully arranging and organizing an event that everyone will remember.
Each component helps to make this happy occasion a treasured memory, from choosing a theme and décor to planning entertaining activities and offering delectable refreshments.
Take a minute to enjoy the love and joy that surround this unique day, honouring the amazing journey of your baby's first year of life as you watch your little one blow out their first candle.