How To Give A Child's Party That Extra Wow Factor
It feels like only yesterday, that you were spending time researching and learning all of the tips and tricks to get your little baby to burp, now they are all grown into a pint-sized human.
They now know what they want and what excites them.
Nothing is more exciting to a child than a party. What makes it even more exciting is when that party is theirs! At school, it will be everything the kids are talking about, and it will leave them a lasting memory they will take into adulthood. If you are wanting to spoil your little (well actually, not so little) one, and give them a birthday party to go down in history, here are some ways to vamp it up and give it the wow factor.
Make It Unique To Your Child
Every child is different and it is important when you are getting into planning mode that this is their birthday party and it needs to be special to them.
So before you start making decisions, consider their personality and what their current interests are planned around that. It could be based upon a particular sports or team they follow, a favourite Tv program, activity or film.
To make your life easier, involve your child. Ask them what type of party they would like. You will be surprised at how willing they are to help with the planning, decorating and decision making when it comes to their birthday party. Although, a top tip is that when working with children allows them ample time to make decisions, and be mindful they are likely to change their minds. But, ultimately it allows you to have a little more quality time with them.
Have A Theme
You cannot deny that a themed party is impressive. It allows you to go all out with your creativity and tie the decorations and the food to the theme of your choosing. Depending on the theme you could even add some fancy dress into the mix.
The first step is to link the theme to the invites and commit yourself. Using a company such as aura prints will allow you to customise the invites to support your theme.
Once your theme is selected, you need to go all out with the decorating. This doesn't necessarily mean that you need to spend a small fortune, it means that you need to decorate, decorate and decorate and it will look fab.
Using the internet to search will reduce expenditures. If you are looking for birthday balloons, then you can order helium balloons online and you can also add personalized text and designs on balloons to make your children's birthday special.
There is an abundance of ideas online as to how to make your own decorations as well. From making your own wall prints to streamers and table accessories, there is no limit as to how far you can take it. If you're looking for affordable party supplies that will really wow your guests, you don't have to spend a lot of money. There are plenty of affordable options out there that will still make your party look amazing. You can find great decorations, tableware, and games for very reasonable prices.
Linking the food to the theme is also a fun way to add a little more wow to the party. If you are serving a buffet you could name each platter with a theme-related name or serve foods that match the theme. For example, if you have chosen a jungle theme, serve green, brown and orange foods such as cucumbers, orange segments, orange crisps, breadsticks. You could use shape cutters to make the other food tie in by cutting the sandwiches into the shape of animals such as monkeys, lions or elephants. Using some food colouring and fondant decoration you can spruce up the cupcakes.
Be Creative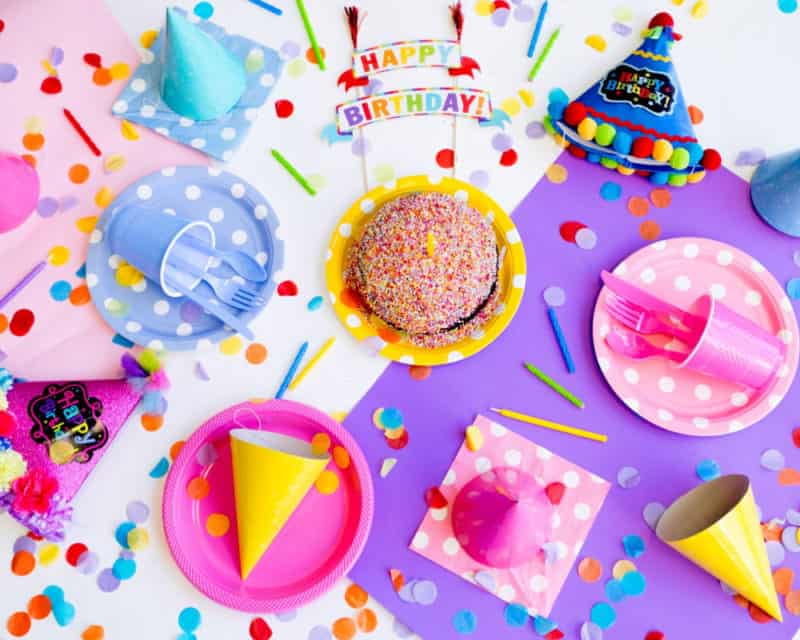 Sometimes you have to think outside of the box. Let's be honest not all themes or ideas they have will be easy for you to execute but when you take a moment you will be able to make it happen.
If your child is into football and wants that theme for their party, you could make different football-themed games up, for example. You can adapt the games, and instead of pinning the tail on the donkey, opt for putting the team badge on the shirt. You could set up 'football drills' and play a relay-style competition. You might even opt for cardboard cutouts of their favourite players.
Entertainment Is A Must
It can seem an extremely daunting task having a large group of kids together and finding ways to keep them entertained and occupied.
You will need to think about what fun and exciting entertainment you will offer. This will keep them happy, allow the party to run smoothly and take the pressure off you keeping them busy.
Think about the time of the year and where the party will be held. There are so many different ways you can entertain children. If you have hired a hall or venue, or even if the birthday is in the summer you could choose to hire a bouncy castle or other inflatable entertainment such as slides, you can hire soft play and ball pits, you could set up activities, get out a big paddling pool and get extra water pistols out. These are all tried, tested and foolproof ways to keep the kids busy.
Then there are games. Think back to your childhood, pass the parcel, musical chairs, pin the tail on the donkey. They are all classics and will offer just as much fun to your kids as they once did for you.
Depending on your budget, you could also consider hiring an entertainer. Long gone are the days when you could only hire a clown or a magician, you can now hire Disney princesses, superheroes or balloon artists.
Let Them Have Fun
Finally, the best kids parties are the ones where the kids have the most fun. Aesthetics are nice and as a parent, you love them, but hyped-up and overly excitable children will not care that much if the tables are laid out a particular way, they will ignore the name cards and sit where they want. So, embrace the excitement, wild chaos and mess and leave them to it.