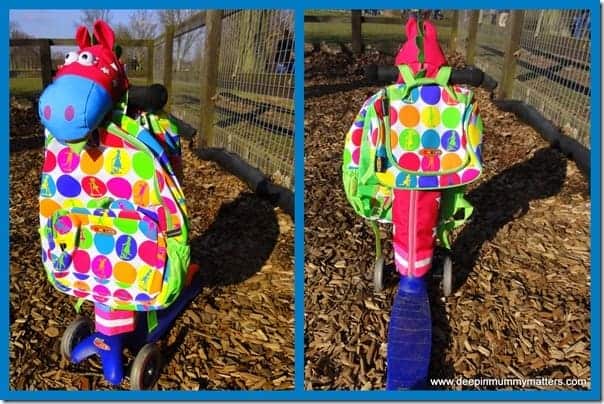 How to decorate your Micro Scooter Plus Giveaway!!!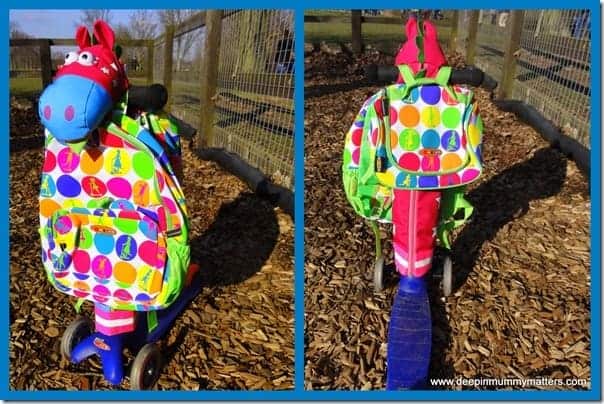 We love to make things 'our own' don't we, these days you can pretty much customise everything, mobile phones, laptops, teddy bears, hey you can even customise your car! So it doesn't come as a surprise that children want to be able to customise their Micro Scooters too. When doing the school run we see hoards of children on their Micro Scooters and it's rare to see two that look the same.
Little Bean and Beanie Boy have the same blue 3-in-1 Micro Scooter but they look completely different, Little Bean has a Trixy Zooter on hers and more recently has been seen sporting a Micro Rucksack and Lunch Box too. Beanie Boy, who still has the Micro Seat on his has Scoot Beamz and a Scoot Starz as well as Attach-Its which allow him to attach his favourite Buzz Toy to the handlebar so Buzz can enjoy the ride too. Really I think that Little Bean's Micro Scooter is quite tame, given the opportunity I would have ribbons, bells and bedazzles on my scooter as well as Scooterearz to keep my hands warm on a cold winter's day.
If you want some inspiration on how to decorate your Micro Scooter why not check out the video above or head on over to Micro Scooters for some great instructional videos on how to decorate your scooter.
Micro Rucksack & Lunch Box Giveaway!!!
The Micro Rucksack is big enough to carry PE Kit and books and comes with a detachable insulated lunch bag. It attaches easily to the handlebars of your Micro Scooter with velcro straps without affecting it's balance. Why not make the school run less stressful by letting your child scoot to and from school and to keep them happy they don't even have to carry their school bag, their Micro Scooter can take the strain. For your chance to win a Micro Rucksack (worth £29.95) just like this one here complete the simple steps below;
Mandatory Entry
Google+ this post using the widget at the bottom of the post (let me know that you did so in a comment below with your Google+ name/id)
Head over to Micro Scooter and tell me your favourite accessory in a comment below
Additional Options
'Pin It' – using the widget at the bottom of the post and then let me know that you did so in a comment below with your Pinterest name/id.
Tweet about this competition including @MummyMatters @MicroScooters and the URL of this competition – tell me you did so in a comment below with your Twitter ID.
'Like' Mummy Matters on Facebook and tell me that you did so in a comment below with your Name/ID.
Giveaway Closes 11.59pm on 31st March 2013!!!!!
Terms and Conditions
All entrants must be over 18 years of age
Entries are open to UK residents only unless otherwise stated.
Prizes can only be sent to a valid UK address unless otherwise stated.
Only entries received by the closing date will be submitted to the competition.
Winners will be chosen at random from all valid entries within 14days of the closing date.
Winners will be contacted via email names displayed on our website.
The Judges decision is final and no correspondence will be entered in to.
There is no cash alternative to any prize.
Mummy Matters is compliant with the data protection act.
Our policy is such that we will not pass on your details to any third party without your prior consent.