How do you #BringHolidayHome ?
For as long as I can remember holidays have always been my 'happy time' with family and/or friends. A time where memories are made and moments in time are captured. Trips to the beach meant collecting special stones and shells, holidays abroad would see me coming back with local pottery, crafts and handmade jewellery. I still have trinkets and special objet d'art from holidays going back as far as I can remember and seeing them and holding them still brings those happy memories flooding back.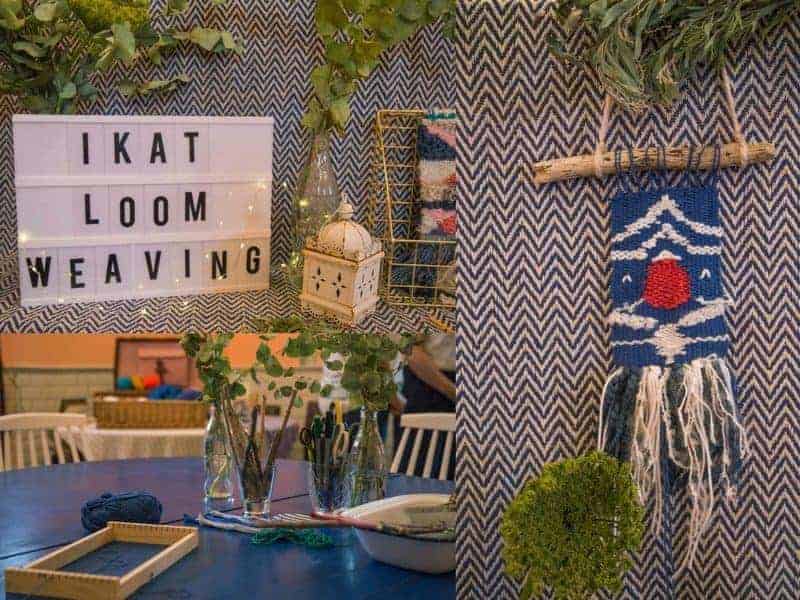 #BringHolidayHome with James Villas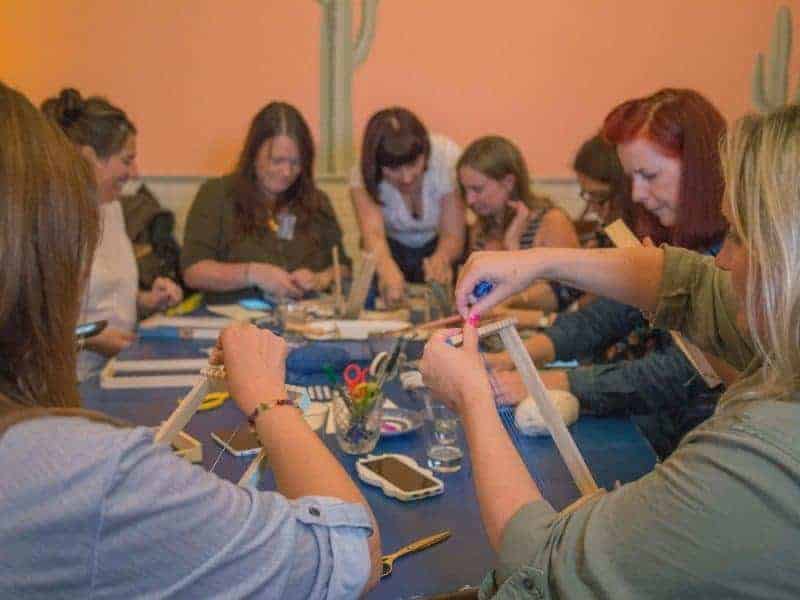 On a Friday afternoon not far from Kings Cross station in London I was invited down to a special Morjacan themed event hosted by holiday experts James Villas to learn new ways to #BringHolidayHome. In the pretty Dome Room at the back of Drink, Shop, Do a group of my favourite bloggers gathered together to talk about the 'good old days' of blogging over cocktails, mocktails and a fun crafternoon in the form of Majorcan crafts; Ikat Weaving and Espadrille making. Sadly I couldn't stay for the whole event as I had a wedding to attend but I had LOADS of fun learning Ikat Weaving so let me tell you more . . .
Ikat Weaving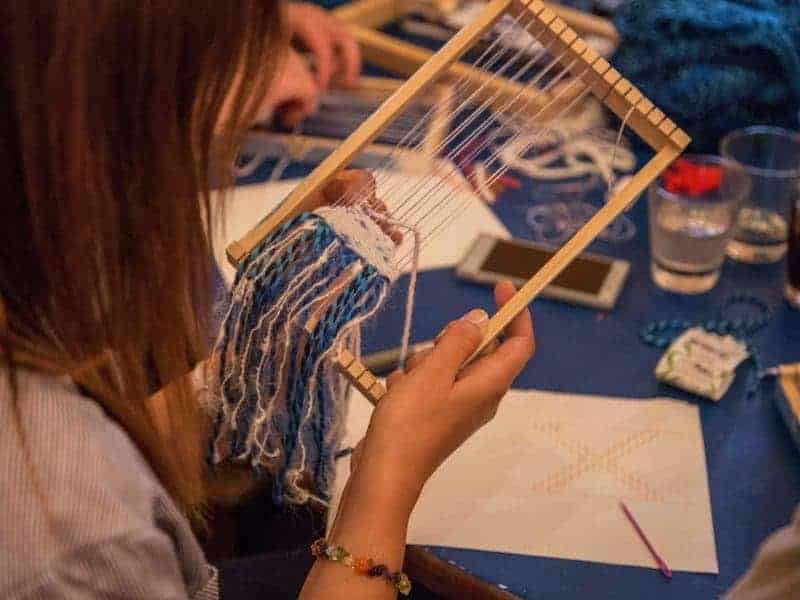 James Villas invited @DaughtersofWeave to tell us about their love of weaving and give us a crash course in creating something of our very own which will have us reminiscing over sunset beaches and crystal blue waters every time we look at it.
Ikat is the term used for a particular style of weaving where the yarns are dyed to pattern the textiles prior to weaving them. We were encouraged to search online for images of Ikat Weaving to get some inspiration for our designs before letting us loose on the looms.
When I first began I thought it seemed pretty simple and straightforward, then when I started to incorporate my pattern I realised it wasn't quite so easy (although that could have been the pink cocktails I had been drinking too) and I decided to go a little more 'freestyle' with my design and that's when it became much more enjoyable.
What's in a holiday?
The first (and last) time that we holidayed abroad as a family of 6 we were lucky enough to an amazing villa holiday in Son Bou, Menorca. We had always discounted going on holiday oversees with the children as we figured it would be too stressful as a large family. We'd had visions of losing children at the airport, in the pool, in the restaurant – well just about anywhere to be honest. We couldn't have been further from the truth, stayed in a villa was PERFECT, we didn't have to worry about the children being too noisy because of adjoining rooms, we could relax by the pool whilst they splashed around in the sunshine and had fun. Isn't that what a holiday is supposed to be about?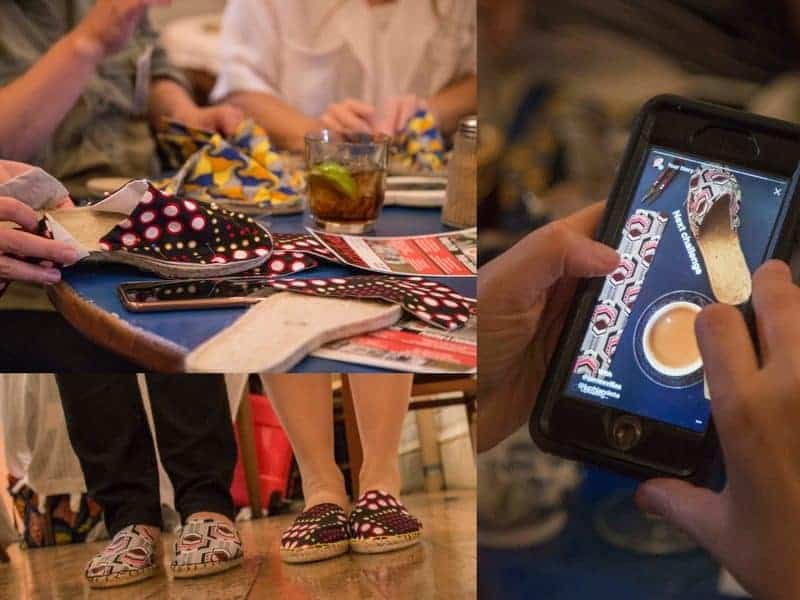 Having our own kitchen mean that we could cater to our fussy children at the villa and not have to worry about what food was on offer in restaurants and when the children went to bed we could still enjoy a swim in the pool or a bottle of wine on the patio watching the sun set over the sea. We even found a children's play area at the end of our street. Having a villa allows you to live like a local and enjoy a totally different kind of holiday experience. A villa holiday was nothing short of paradise and we hope one day to return again.
Whilst staying in our villa we took lots of photographs and videos to #BringHolidayHome and we bought a little mosaic gecko as a reminder of the one we had seen in our garden. It works too, whenever the Beans see the gecko they will come up with a story of "do you remember on holiday in Son Bou when . . . ".
We haven't yet holidayed with James Villas but even from talking to the team on that Friday afternoon in London, you could tell that they are all passionate about what they do. They want to make a holiday memorable for all the right reasons which is why they go to great lengths to ensure that they only offer amazing Villas for every budget ranging from Simply and Classic through to Ultimate and Individual. They are, of course, only too happy to advise on the best accommodation for your needs. Next time I think we shall be looking at villas in Majorca as it comes so highly recommended from friends and family.
How do you #BringHolidayHome?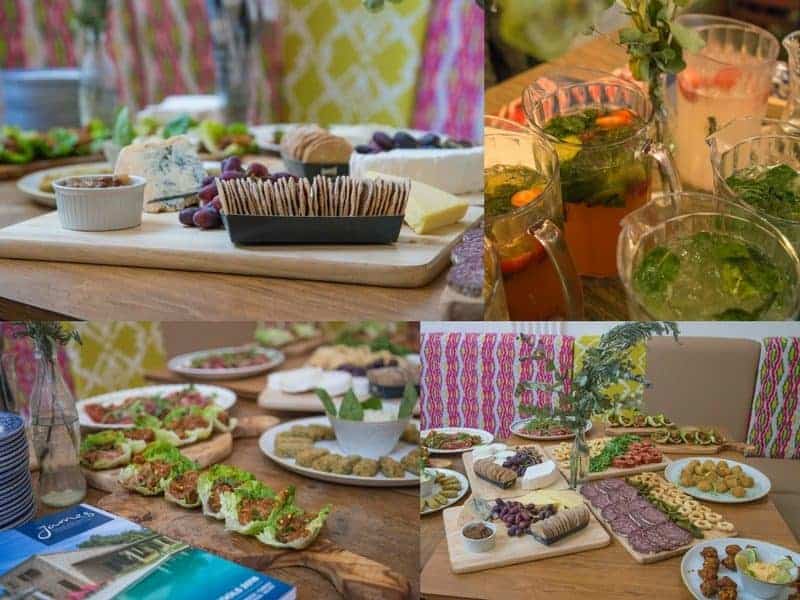 I'm not particularly a 'foodie' person but I know that many people will recreate dishes from their favourite restaurants on holiday or paint pictures of a special beach. Depending on where you go on your holiday you might find a specific music or a local artists print. Whilst staying in St Tropez, Hubby and I created our own fragrances at Molinard on a day trip to Grasse, every time either of us wears our fragrance we are transported back to our special weekend away.
So what do you do? How do you #BringHolidayHome?
DISCLAIMER: My travel to the event was covered by James Villas and I received a goody bag as a thank you for my time. All words and opinions are my own and may not be copied without my permission. I have not been instructed what to write.