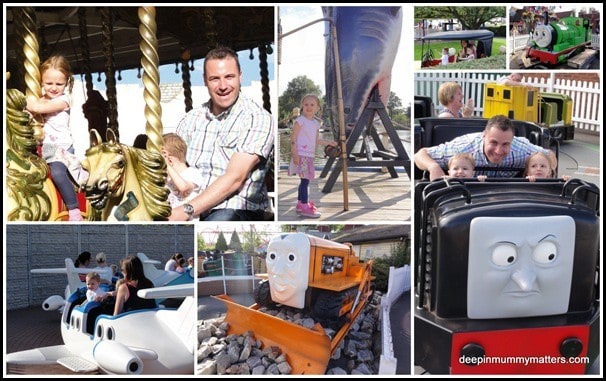 How about Drayton Manor Park this half term?
It's hard to believe that we are already just a couple of week's away from Little Bean's half term. No sooner has she started school than her first holiday is hurtling towards us at full steam. It reminded me of some of the rides which I saw at Drayton Manor Park when we visited at the end of the Summer holidays for a pre-school treat.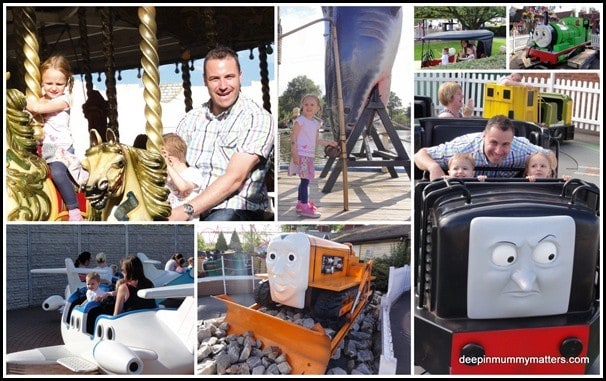 We had never been to Drayton Manor before but I had always heard good things about it and was surprised to learn that it wasn't as far away as I thought. We set off at 8am to attend a blogger's event to celebrate the release of a new Thomas & Friends DVD and to enjoy the park (and Thomas Land) whilst we were there. We arrived around 10.30am only to discover that Daddy had forgotten to put the wheels in for our new pushchair. I tweeted my delight at this discovery and Twitter responded with welcome news, Drayton Manor Park hire out pushchairs for such mishaps.
Car Park
There was a huge car park and there looked to be plenty of overflow car parks too so no need to worry about getting there late and not being able to find a space.
Booking In
Since we were attending the Park as a guest we had already had our tickets booked online. We were given a code which we needed to pass on to the lady at the ticket desk who confirmed our booking and gave us our tickets so allow us into the park. We asked here about hiring a pushchair and it was just £6 to hire with a £10 refundable deposit. We were given a ticket to collect our pushchair and just had to fill out a simple form before being given the pushchair. It wasn't the most stylish of pushchairs and looked more like a luggage trolley from the airport but it didn't matter, it was clean and functional and saved carrying our bags and chasing Beanie Boy all day!
Thomas Land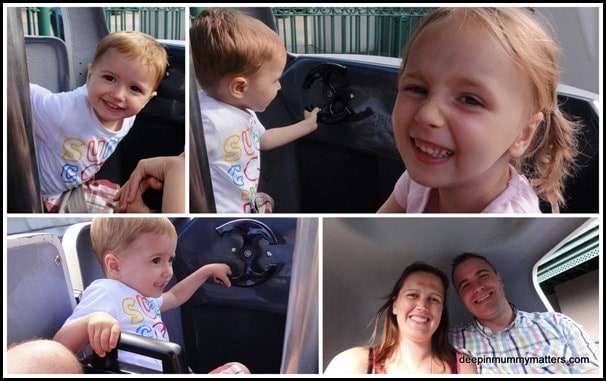 Thomas Land was on the left as we walked into the park and I have to say, this is where we spent the majority of our day. When I first got there I didn't think it looked like there was very much to it but it was like a little maze with rides and amusements tucked in all over the place. The queues looked quite daunting but the majority of them moved very quickly, generally having to wait no longer than 15-20 minutes.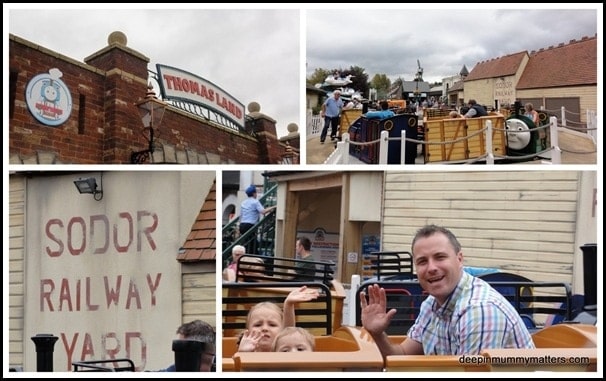 Little Bean felt quite brave when she arrived and asked Daddy if they could go on the rollercoaster, not one to missed out on a rollercoaster Hubby quickly joined the queue with an eager Little Bean. As they boarded the train, Little Bean gave me a big beaming smile but as she came past me to begin the second loop the smiles were gone replaced with tears. Hubby said that although the ride wasn't too bad, the last corner had a bit of a whip to it and it had frightened her. Perhaps keep this ride for the bravest children.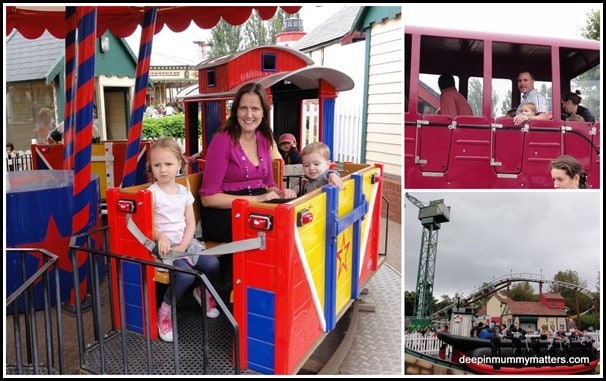 Choosing rides was easy as they all had height indicators to tell you who could go on them and whether or not they needed an adult to accompany them. Unfortunately on a couple of the rides only one adult could go on or we had to ride as one adult, one child separately which initially we felt was a shame but at least it meant that we could take photographs from the sidelines.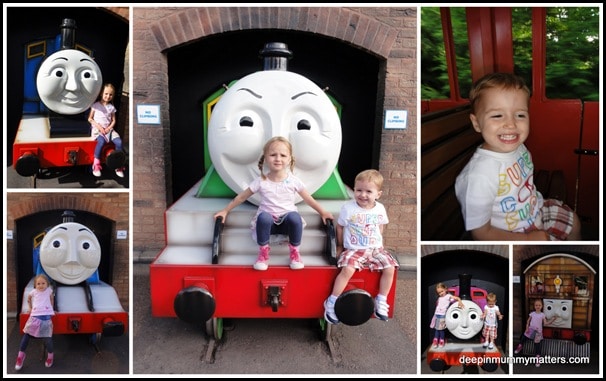 Refreshments
There are so many different eateries at Drayton Manor I think they have got everyone's tastes covered. We took the children to the Rainforest Cafe which was really cool, although Beanie Boy was a little nervous of the moving animals and hid his head on my knee throughout lunch! My only negative to this experience was the customer service from the young girls serving wasn't the best and it wasn't even busy so they had plenty of time to be courteous.
The Zoo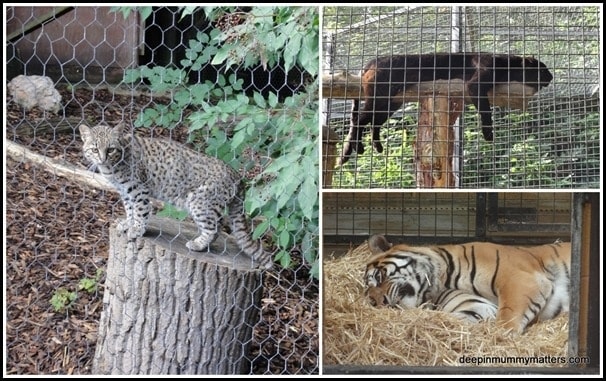 I didn't realise that there was a Zoo there and was pleasantly surprised by the variety of animals that were there. It was really nice to walk off our lunch and see the animals before heading back to the rides. The pace was much slower here and very relaxing, we particularly loved the Black Leopards who were stunning.
Adventure Playground
Unfortunately this was where Little Bean suffered her rather frightening accident but up until that point both her and Beanie Boy were having a wild time and loving burning off a bit of energy. There were different climbing frames for different age groups and it was big enough to cater for lots of children at once.
The Dinosaur Park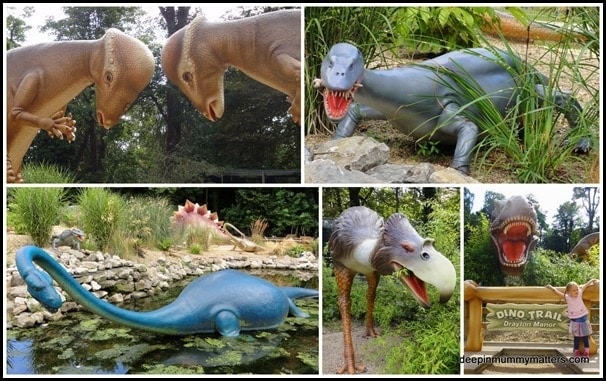 Again I wasn't expecting to find this hidden away at the back of the park but Little Bean LOVED it! She ran from one dinosaur to the next shouting "look Mummy another one". Beanie Boy was a little more apprehensive but he managed to make it all the way around without too much trauma.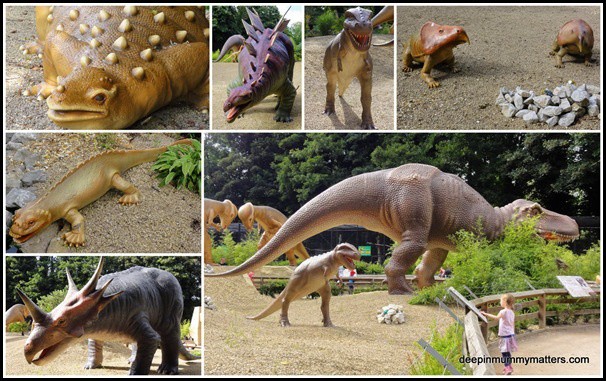 On the whole we were really impressed with Drayton Manor, obviously we had been given free entry but when I looked into the price I was pleasantly surprised especially when you consider just how much there is to do there and we didn't even manage to get to any of the rides of the older children and adults because we were too busy with the little ones. We will DEFINITELY be coming back here again and again, I highly recommend that you do too!