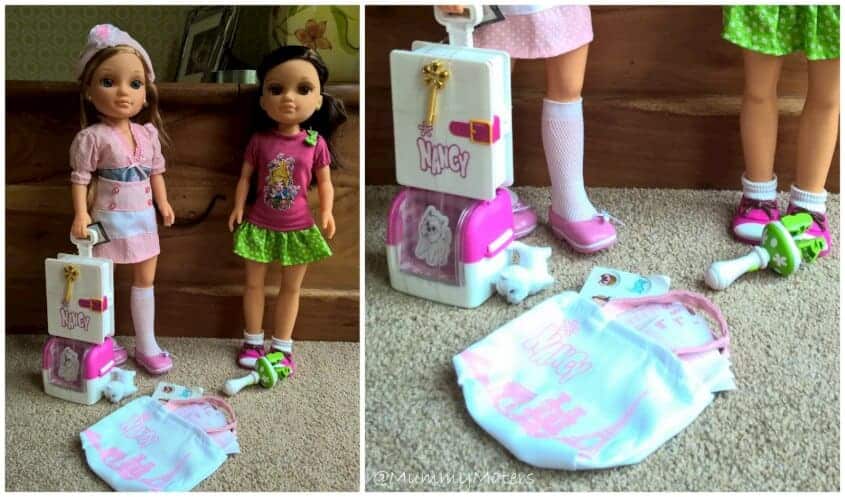 Have you met Nancy?
When Little Bean was a small girl, say 4 or 5 years old she played with 'baby dolls' but only really to undress them and then leave them somewhere generally with their head trapped in a box or behind a door. I used to think to myself 'she doesn't seem very maternal' or 'girly' when it came to dolls. I remembered playing with dolls all the time when I was younger but actually, the older she is getting, the more she has become interested so when I was asked if she would like to review the beautiful new Nancy Dolls from Bandai, I thought it was worth a shot.
Little Bean loves Nancy
Little Bean was very lucky to receive two Nancy dolls; World Adventures – Paris and Nancy Hair Braids. Since she opened their boxes I can testify that they have barely left her side, she even took World Adventures Nancy to school for 'Golden Time' on Friday so that she could show her off to her friends and at night when she goes to bed, Little Bean has set up a bed for Hair Braids Nancy to sleep in and World Adventures Nancy sleeps at the end of her own bed – all very cute.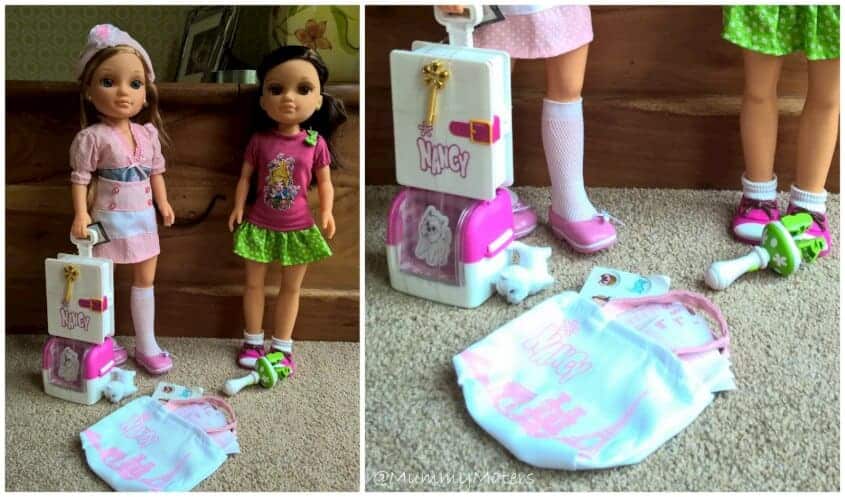 Who is Nancy?
The Nancy Doll was first launched by Famosa in 1968 and is the leading Fashion Doll in Spain, now crossing the water to make new friends in the UK. Nancy is a modern girl in her looks, tastes, interests and hobbies. She is a sweet, supportive and pretty girl with an eye for fashion and the most beautiful eyelashes I have ever seen on a doll! She enjoys wearing beautiful clothes in a natural style and going on adventures with her friends and her pets. Standing tall at 42cm, Nancy is a doll that stands out from the crowd – and why not!
World Adventures – Paris
I think that World Adventures Nancy is Little Bean's favourite, she is the one who goes most places with her and the one who gets to share her bed. She comes complete with a shoulder bag, pet carrier with dog, travel documents, stickers and a secret diary with key. She looks super chic with her Parisian beret and very girly in her pretty pink clothes.
There are four dolls available in the World Adventures range; Paris, Rio, London and New York. I know that Little Bean would also love the London doll so no doubt I will be seeing her added to her Christmas list in the coming months.
RRP £29.99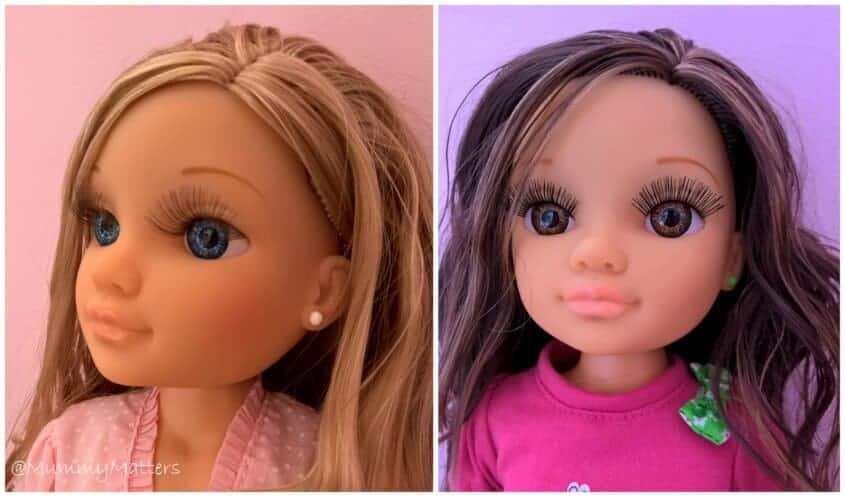 Hair Braids Nancy
Girls just love to play with hair don't they! I remember sitting at school during reading time playing with my friends hair or vice versa and Little Bean is the same. She will often have her dolls hair done up in weird and wonderful styles so Hair Braids Nancy will fit right in. Dressed in a cute flippy skirt, t-shirt and pumps, Hair Braids Nancy comes with a cute braider and bows. Little Bean has already been using the braider on a number of her other dolls too, I'm just waiting for her to ask me to do her own hair with it next.
RRP £19.99
Further Nancy Doll Ranges
As well as World Adventures and Hair Braids, there are a number of other dolls available to buy now;
Nancy Dolphins – vet Nancy takes care of her dolphins and everything she needs is included in the medical carry case kit and she even has a magic tattoo which appears when she is in the water – RRP £26.99

Pink Princess

– beautifully dressed in a stunning pink ball gown with pearl necklace and lace gloves – RRP £24.99

Nancy Flowers

– have fun with your flowery themed Nancy (3 to collect). Each one comes with flower accessories, jewel stickers and glitter for decorating your doll. Choose from Rose, Violet and Jasmine – RRP £16.99
Check out the Toytesters.TV video of Nancy from London Toy Fair on their YouTube Channel https://youtu.be/wq-TEAAr6TY
Nancy is available to buy at The Entertainer, Toys R Us, Very and Amazon. You can follow her adventures on Facebook and in Pink Magazine.