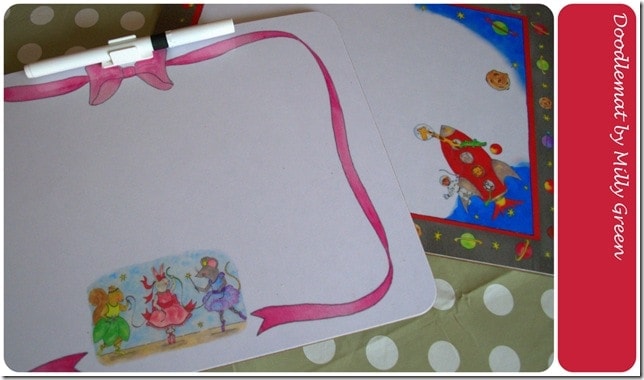 Don't you get fed up with giving the same old gifts over and over again? I know I do, so it's great to find something a little different to put a smile on someone's face. We have been sent these fab Doodlemats by Milly Green and again it is one of those products that you think to yourself "now why didn't I think of that?"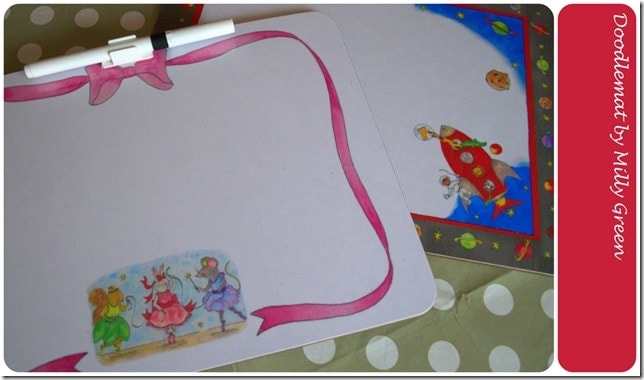 The Doodlemat is a corkboard placemat available in two sizes with a dry-wipe surface and comes with it's own dry-wipe pen and a self-adhesive pen clip which can be stuck wherever you want, on the Doodlemat or perhaps on a nearby wall or noticeboard? Use the Doodlemats at the dinner table or on a desk, they can doodle away, practice writing, spelling, maths or just funny faces then rub them off and start again. They are compatible with the full range of Crayola Dry-Wipe pens and crayons, also available from Milly Green.
Milly Green is a mummy of two who started the business when her first-born daughter Matilda was just a baby. Milly wasn't able to find suitable artwork for Matilda's bedroom so she set to work and designed her own. Once you see the designs you will understand why her business soon grew with requests from friends and word of mouth. Now Milly Green has an extensive range of beautiful products which would make original gifts for Christmas.
I know that you will love the Doodlemats just as much as I do so if you pop over to Milly Green and type in 'Mummy Matters' at the checkout, you will receive 20% discount from your order.
Merry Christmas xx
DISCLAIMER: We were sent two Doodlemats free of charge for the purpose of this post. All words, opinions and images are my own and may not be copied without my permission. I have not been instructed what to write.