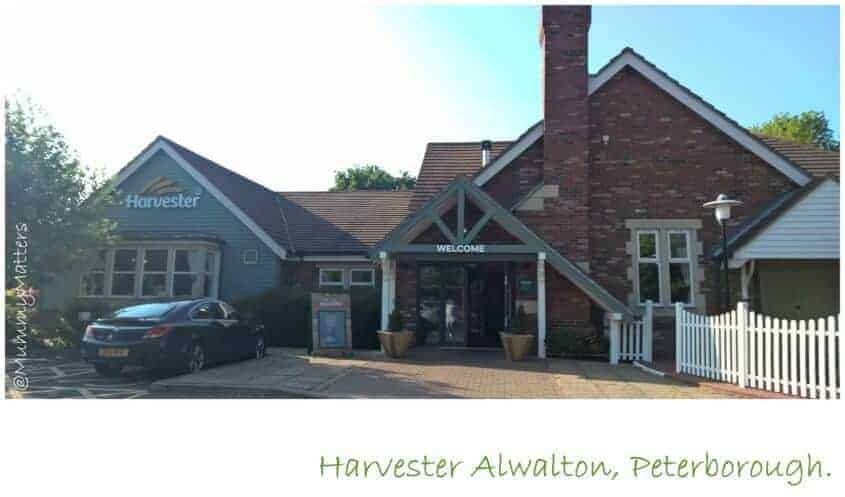 Getting the weekend off to a good start with Harvester
Now that I have two of the Beans in Primary school the school holidays seem all the more important as the house feels very quiet (sometimes pleasantly so) without them there. I like to celebrate the start of the holidays and so for most of this school year we have enjoyed a family meal out on the evening they break up from school. This time we tried somewhere a little different as we had been invited to try the Harvester at Alwalton on the entrance to the East of England Showground in Peterborough. It is somewhere that Hubby I used to eat at regularly with friends before the Beams came along and then like most things, it got forgotten about in the baby haze of family life.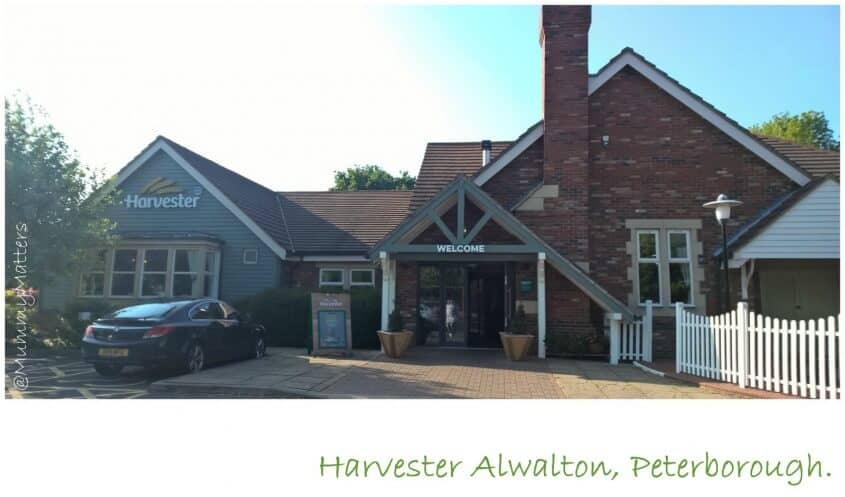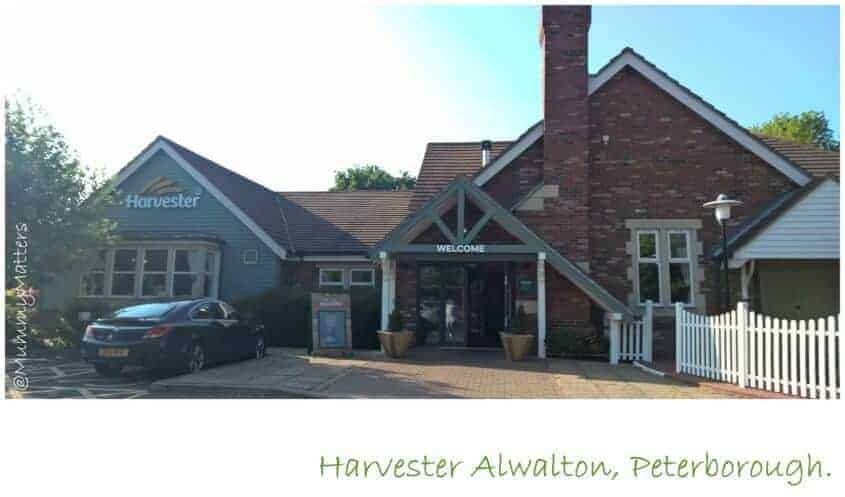 This time we invited Hubby's lovely sister along to join us for a meal and were delighted when she accepted. We arrived at the Harvester expecting it to be busy because it was the start of the Modified Nationals weekend at the showground but it wasn't too bad, busy but comfortable and there were plenty of staff to keep everything running smoothly.
We received a warm greeting when we arrived and invited to order a drink at the bar and wait until we were called through to our table which was being prepared. I mentioned that we were waiting for Auntie E to arrive so we would let him know when we were all ready and he was happy with this. Whilst waiting we chatted about our day, played games and made each other laugh, then just as we were about to go through to our table Jelly Bean somehow managed to fall and bang his head on the table edge. The Manager straight away came to his aid with some ice wrapped in a towel which was very much appreciated.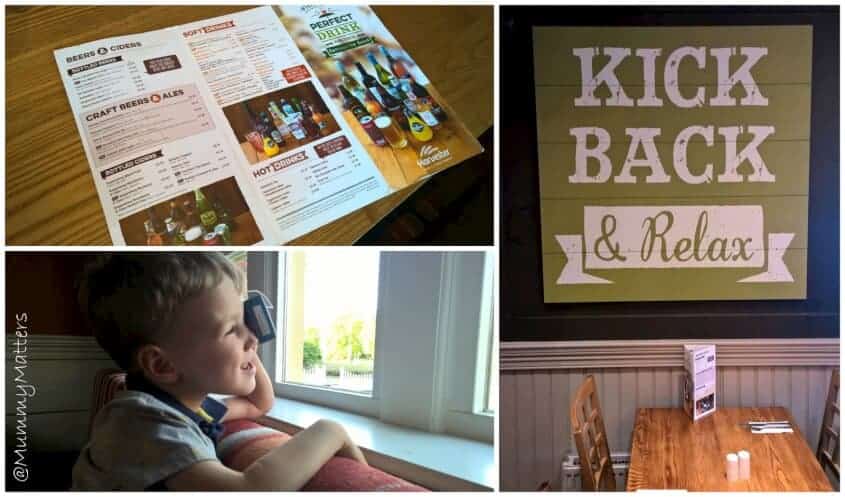 As we sat at our table, we managed to knock two drinks over and at this point I think Hubby seriously wondered what had got into us all. We were introduced to Natalie who would be waiting on us and was a lovely young lady, very keen to help and very efficient. She was brilliant with the children and played along with their daft jokes and games which is exactly what you want when you are trying to entertain a family.
Bearing in mind that the restaurant was becoming more and more busy, we were really impressed with how quickly our food arrived although it could also be the fact that we had been introduced to the salad bar which kept us all suitably amused until our food arrived. It was lovely for the Beans that they were able to help themselves to their food, it made them feel very grown up. I think Little Bean ate her body weight in bread rolls and Beanie Boy the same in cucumber and red pepper!
Just as our meals arrived, Jelly Bean's tummy started to hurt him so I had to juggle eating my meal with a screaming toddler on my knee. Hubby ended up eating his meal as quickly as he could so that he could then take Jelly Bean outside for a walk and for me to eat my meal. I had ordered the Signature Fish and Chips which was mouth-wateringly good. Coming from the seaside I'm very particular about my fish and chips but they passed the test with flying colours. Hubby chose a UK and Irish Beef Burger and said that despite having to bolt it down he did really enjoy it and Auntie E went for Smoked Pork and Bramley Apple Sausage Whirl (unfortunately I didn't get a pic as I was too busy with said screaming toddler).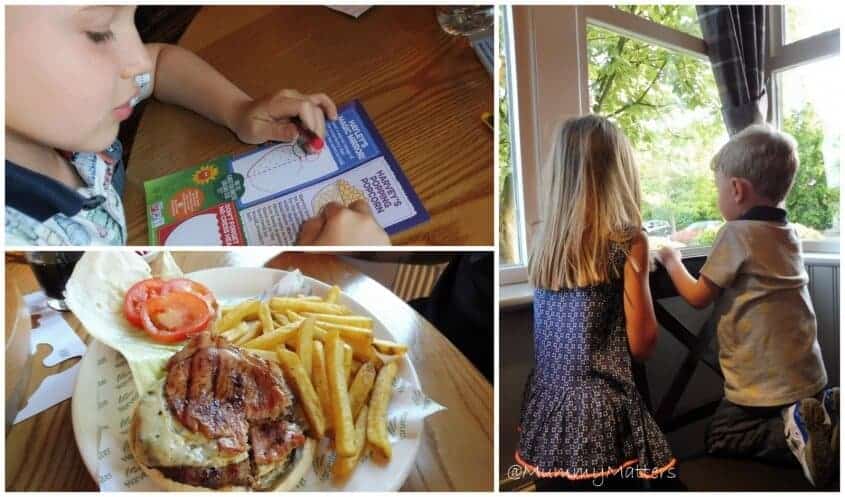 We struggled with the children's menus as our children are sooooo incredibly fussy with food. Little Bean will only really eat Pizza when she goes out and they didn't have pizza on the menu so she chose Fish Goujons with chips, she tried one mouthful (good for her) of the Fish Goujons before deciding it wasn't for her and just ate her chips. Beanie Boy and Jelly Bean ordered Simply Pasta which Beanie Boy gobbled down in record time and sadly Jelly Bean didn't even try his because he was feeling so rough.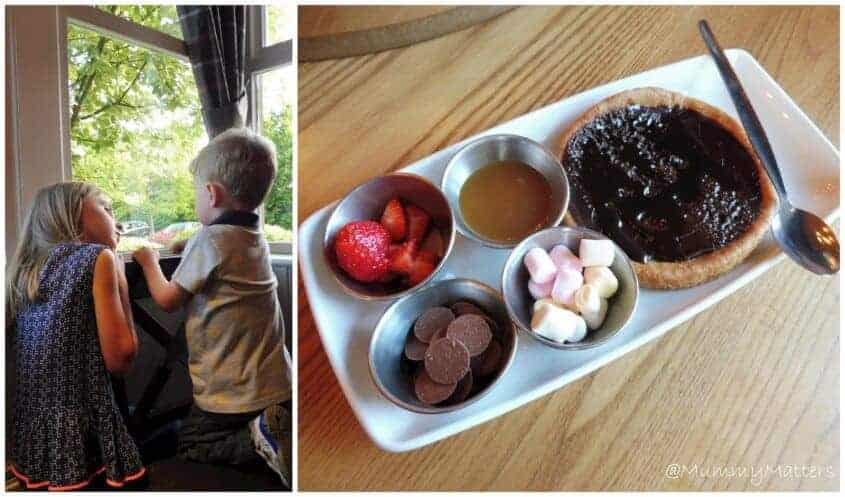 Hubby decided to take Jelly Bean home early so that Auntie E, the Beans and myself could enjoy our evening and Jelly Bean could get to bed. Little Bean and Beanie Boy both had dessert; Build your own Chocolate Cookie Pizza which was definitely a hit and also much bigger than their tummies so Auntie E and I had to help them finish off, such a hard life!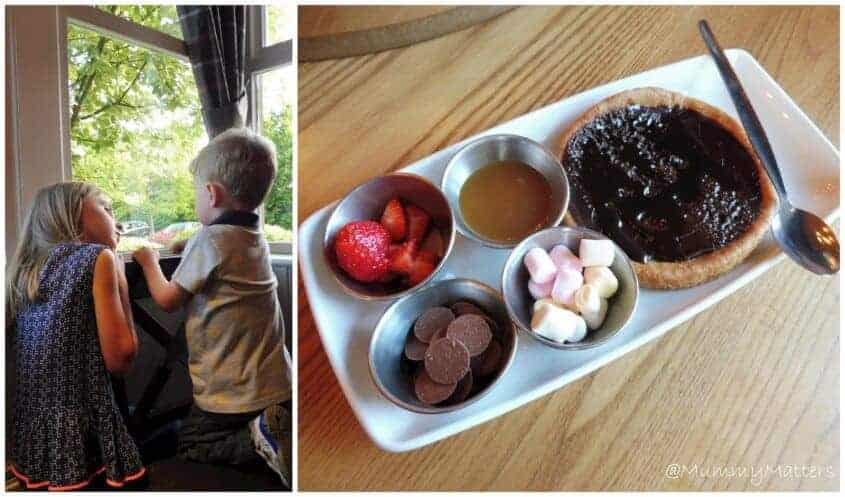 Despite our rather eventful evening, none of which was the Harvester's doing we did enjoy our time out and would definitely return again, with or without the Beans as the restaurant had a lovely atmosphere and great food. We had been given a £50 voucher towards our meal and I fully expected to pay around £15-£20 on top of that with our drinks included but was pleasantly surprised to find we only had an extra £7 to pay.
So how do you get your weekend off to a good start?