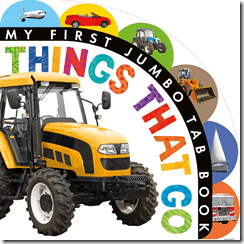 I have told you often enough now, my children LOVE books and that is something I am immensely happy about. Jelly Bean will be celebrating his 1st birthday at the end of January and already he has the same enthusiasm for books as his older siblings and can turn quickly from a very weary little boy into a very excited one if you produce a book to read at bedtime. All of my children have a similar trait in that they don't sit still very often (a bit like me then) but if I get a book out to read to them, they snuggle up to my side and will sit and listen very calmly until the book is over and then it's "can we have another one?". We always include books as gifts for our children for birthdays and Christmas so I wanted to share with you some of our favourite new books.
These books aren't due for release until January/February 2014 but luckily for us we have had them for a little while now as a sneak preview and they are lovely books. We really like the brightly coloured, chunky books which will stand up to some rough and tumble from an over-eager reader. Our favourites are the My First Jumbo Tab books 'My Busy Day' and 'Things that go' books with the large tabs around the edge which are perfect for Jelly Bean's little fingers to get hold of. Also being released are: My First Lift and Learn: First Words/Baby Animals – perfect for inquisitive little fingers and durable enough to stand up to a bit of heavy-handedness. Baby Look books: Baby Sparkle and Baby Twinkle which are very eye-catching and engaging.
Prices start from £4.99 each.
I absolutely love these books, the colours used and the images are perfect for grabbing the readers attention. Have fun in the sun with Louis the Lion, make music with Michael the Monkey, enjoy tea with Margot and Mo and meet all the animals with Collette the Cow. These books create a fun learning journey of colours, shapes, numbers and sounds.
RRP £5.99 each
A beautiful soft toy and book gift set with a reusable keepsake box. Cuddle Cleo as you read along the story and act out your favourite parts. A very heart-warming tale which is sure to be asked for over and over and over and over again.
RRP £12.00
This gift set features a cute puppy snuggle blanket and a soothing lullaby board book, perfect for settling your little one down for bedtime each night and making them feel calm, relaxed and most of all loved and secure.
RRP £7.68
I love you wild, I love you loud
I shout it out and I feel proud
I love you night, I love you day
In every moment come what may
This is just the sort of book which I would search out and buy for my little ones in a book shop. I love a book which reaffirms just how much I love them and in so many ways. If you are a fan of Guess how much I love you? then you will love this one too.
RRP £6.99
This is a book about Elliott a little boy who loves finding new things. One day he discovers a 'machine' but it confuses him because it doesn't buzz and bing like his other machines and then one day Elliott gets the machine to work and realises it makes letters. He thinks it's a Story Machine. Unfortunately Elliott isn't very good with letters and words but that's when he realises that some of the letters look like pictures which Elliott is very good at and so he begins making picture stories.
Written by Tom McLaughlin, The Story Machine is based on Tom's own experiences as a boy with dyslexia who finds it frustrating getting the words from his head onto a page. Tom's message is: " . . . you don't always have to use words to make stories".
RRP: £10.99
Herman's Letter
What do you do when your best friend in the whole wide world has to move a long way away? Promise to write to each other ALL the time and to stay best friends FOREVER, that's what. But it's easier said than done – especially when your best friend seems to be having much more fun than you are . . .
A heart-warming 'lift the flap' book which will capture readers young and old.
RRP £10.99
Hubby loves reading this book because it rhymes. It is the story of an intrepid child who sets out to prove the Yeti really does exist.
With only a map, a woolly hat and a tin of spaghetti in his rucksack, George sets off on his quest up the steep mountain path . . . and spots the Yeti immediately! But wait . . . just look at that lipstick! Can it really be a Yeti?
RRP: £6.99
The tiddlers are big fans of Tilly and Friends since she hit our screens on CBeebies this year and they have loved reading stories of Tilly and Friends in four picture books. Tilly's world is all about friendship and imagination and learning through play.
RRP £3.99 each
The story of a caterpillar who doesn't like change, he wants everything to stay exactly as it is, he doesn't want to be a butterfly. His friends try to tell him about the beauty of butterflies but he isn't listening, he just doesn't want to change. Then one day he suddenly realises that he has changed, but he is still him but with wings and he loves it!
Little Bean loves this one very much, it will be a great book for reading in the spring as the flowers and blooming and the butterflies are fluttering in the air.
RRP £5.99
DISCLAIMER: We have received the above books to review free of charge. All words and opinions are my own and may not be copied without my permission. I have not been instructed what to write.